Delaware Rockets Baseball: Welcome
The Delaware Rockets are a 503(c) non profit travel baseball organization that is dedicated to developing highly skilled youth baseball players into winners on the field as well as off the field. As an organization, we pride ourselves on integrity, friendships, and being highly organized. As teams, we pride ourselves on focusing on baseball fundamentals, fitness, confidence, character, and most of all creating lasting player friendships through teamwork. Additionally, we strive to place players in highly competitive tournaments while maintaining low costs.
Monday, July 21
10U TRAVEL BALL TRY-OUTS - JULY 31ST!
10U Travel Baseball Try- Outs
Must be 10yo before 5/1/2015
The Delaware Rockets is a non- profit, youth organization that is dedicated to teaching the game of baseball to players with advanced skills for their age in an environment that fosters player development, a sound mental understanding of the game, and good teamwork. Our goal is for players to improve individually, improve as a team, and have fun! A Majority of our current players are from Middletown/Bear/Newark, DE area.
Open Tryouts will be held at Weiss Park in Newark On Thursday July 31st from 6pm -7:30pm Please Send Email to c.fleming2@verizon.net
Friday, January 17
2014 11U Rockets
Sunday, December 15
9U Indoor Training
Our team is working hard this off-season! Check out some shots of them in action!
Interested in Sponsoring Our Team - See Packages Below!!
Sponsorship Levels
Grand Slam -$1000 (top website advertisement with link to your organization, team photo, spot on team banner, public announcement/recognition at any/all Rockets sponsored events /tournaments, referrals to business)
Home Run -$500 (website advertisement with link, spot on team banner, team photo, distribution of business cards at public events.)
Double Play -$250 (website advertisement with link, team photo)
Single - Any monetary donation under $250
If interested in sponsoring, please email us at jcwootten@gmail.com
*All sponsorships are TAX DEDUCTIBLE.
---

Like us on Facebook!
Wednesday, November 27
2014 9U Rockets Spring Schedule is out!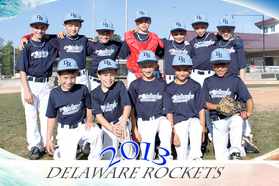 8U SATB Harvest Moon Festival Champions