Delaware Hayes Pacers HS Baseball Team: Hayes Baseball News
Monday, May 7
HAYES BEATS ORANGE 2-0!!!!!!!!!!
In completion of the suspended game from Friday, Delaware Hayes beats Orange 2-0.
Monday, April 30
Central District Division I Bracket
Delaware Hayes will play at Marysville on May 9th at 5 pm.
Monday, April 30
Updated OCC Capital Standings
Orange 9-2
Big Walnut 9-2
New Albany 7-4
Watkins Memorial 6-5
Delaware Hayes 5-6
Mount Vernon 5-6
Hilliard Bradley 3-8
Franklin Heights 0-11
Thursday, April 5
Mr. 200
Game time temparaute was in the high 40's and there was an artic breeze blowing in from left field. It appeared to be just another Ohio High School baseball game on the westside of Columbus at Westland High School. There was a freshman on the mound and an assortment of seniors, juniors and sophmores in the linuep. This being the "norm" at Delaware Hayes where the best players play regardless of graduating class. The game moved along quickly as the Pacers took a 2-0 lead into the top of the 5th inning. The Black and Orange put an 8 spot up in the top half of the 5th inning to lead 10-0 going into the bottom half. Westland failed to score and the game concluded in a 10-0 run rule victory for the Pacers after 5 innings of play. Just another game? Not likely, as the win was coaching victory #200 for Coach Yinger. Congratulations!
Thursday, April 5
Delaware Hayes Tied for Top Spot
The Pacers sit at the top of the OCC Capital standings after one week of play. They share the top spot with New Albany and Orange. The three teams all sport a 2-0 conference record. The Pacers have won their last 4 overall heading into play on Thursday at Westland.
Sunday, March 25
Delaware Hayes Wins 2012 Season Opener
In a matchup of teams whose high schools are separated by less than 5 miles, the Pacers earned an 11-1 victory over the Buckeye Valley Barons. The season opener for both teams was over after 5 innings due to the run rule. The teams took to a damp Fouts-Wood Field for a 1 o'clock first pitch. The Pacers struck for 2 runs in the first, added 6 runs in the third and added another 3 in the fourth. Jake Wright picked up the pitching win. Wright threw 5 innings, giving up 1 earned run on 1 hit while striking out 4 and walking 1. Offensively, the Pacers were led by Jacob Bosiokovic who was 2-2 with a double, homerun, 4 RBI and 3 runs scored. Kenton Ulmer was also 2-2 and scored 3 runs.
Monday, June 13
Bosiokovic named Player of Year
Friday, June 10, 2011
06:03 PM
ThisWeekSPORTS.com
Hayes junior standout Jacob Bosiokovic recently was named the Division I Player of the Year by the Ohio High School Baseball Coaches Association.
Jacob Bosiokovic batted .500 with 36 runs, 32 RBI and a .908 slugging percentage for the Delaware Hayes High School baseball team in his junior season, which ended last month.
Those were impressive numbers considering he suffered through a slump near the middle of the season. The numbers impressed the Ohio High School Baseball Coaches Association, which named Bosiokovic its Division I Player of the Year.
"Coach (Mike) Yinger called me to his desk during class (on June 6) and showed me the text message he received (notifying him of the award)," Bosiokovic said. "I was severely surprised. I thought it must be a typo or something. I didn't even know I was being considered. It's a big honor."
Bosiokovic went 38-for-76 at the plate with 16 extra-base hits: eight doubles, one triple and seven home runs. He also was 26-for-27 in stolen-base attempts.
"Jacob is so unassuming, so humble," Yinger said. "He can't see the talent he has and wonders why people think so much of him. When he struggled a bit this season, it was because he was questioning himself as to how good he is."
Bosiokovic became the Pacers' second recipient of the award in the past three seasons, joining 2009 graduate Caleb Wilburn.
"That says something about our program and our coaching staff," Bosiokovic said. "They want to make you the best player you can be, and they'll work just as hard for your goals as you do."
Bosiokovic, who wants to add bulk to his 6-foot-6 frame, verbally committed to Ohio State last fall.
"I took my visit last fall and I really like the facilities and coaches," said Bosiokovic, who played catcher as a freshman, shortstop as a sophomore and shortstop, first base and pitcher as a junior. "I've always been an Ohio State fan in all sports, and I think that was in the back of my mind. Staying near home also gives my parents a chance to come watch me play, and I know they appreciate that."
Bosiokovic's numbers on the mound this season were better than his 1-5 record indicated. Opponents batted .250 against him and he had a 3.12 ERA in 33 innings, with 39 strikeouts and 19 walks. He pitched well in a 7-3 loss to Westerville Central in the second round of the district tournament May 11, allowing two earned runs with eight strikeouts and one walk. He also hit a home run and an RBI single.
The Warhawks ended up being a regional runner-up, and the Pacers finished 12-12 overall and fifth in the OCC-Capital Division at 6-7.
"He really showed how good of a pitcher he can be and I think we'll see more of that next season," Yinger said of Bosiokovic. "What is impressive is that he has all five tools, and I think this honor represents that. It's a tribute to how hard he's working, how much he has improved and how much skill he has. He's an impact player."
Bosiokovic will compete for Team Ohio when it travels to play in a tournament in Oklahoma on June 16-19. He is not eligible to play in the Mizuno All-Star Classic, which only is for seniors.
"It will give me the opportunity to showcase my talent and I'll have the chance to meet other players, which is kind of neat because I've only played with and against players from central Ohio to this point," Bosiokovic said. "I'm excited about it."
Yinger said he expects to see a big leap in Bosiokovic's maturation and confidence next season.
"I think he'll come back a different person for his senior season," Yinger said. "When he sees how much others believe in him and he doesn't question it, that's when it will click for him. I think he started to understand that this season and that's when he came out of his slump and finished on a tear."
"I don't like the star mentality because I consider my teammates my best friends," Bosiokovic said. "But if it helps the team that I step up and be more confident and more vocal, then that's what I'll do because I want to win. That's the way I tried to finish this season. But there is a balance between being a confident leader, taking control and respecting your teammates. Like coach Yinger said, 'If you play to win, other things will take care of themselves.' That's what I intend to do."
Wednesday, June 1
2011 Season Honors and Awards
Player of the Year (POY) / 1st Team All Ohio DIV 1
Jacob Bosiokovic
1st Team All-Metro (Columbus Dispatch)
Jacob Bosiokovic
1st Team All-District
Jacob Bosiokovic
Honorable Mention All-District
Tyler Miller
1st Team All-OCC
Jacob Bosiokovic
2nd Team All-OCC
Jake Wright
Special Mention All-OCC
Tyler Miller
Honorable Mention All-OCC
Kenton Ulmer
Team MVP
Jacob Bosiokovic
Tuesday, May 17
Pacers Finish the '11 Season 12-12
The Delaware Hayes Pacers moved to 12-12 after defeating county rival, Olentangy Orange, 9-3. Jake Wright picked up the pitching victory and many Pacers contributed offensively. In a season that will be most remembered by all the rain, 19 different players saw action at the varsity level. The season had a new twist with back to back conference games against the same conference opponent. The team finished 6-7 in Ohio Capital Conference (OCC) play with an unfinished suspended game at Watkins Memorial.
With the conclusion of the season, 4 seniors finished their careers as baseball Pacers. They are Joe Wertz, Kyle Winston, Alex Boger and Nick Ratliff.
More end of season updates forthcoming. Stay tuned…..
Thursday, May 12
Sectional Final – Westerville Central 7 Delaware Hayes 3
The Pacers put together five-plus innings of steady ball, taking a 3-2 lead into the sixth inning of Wednesday's Division I sectional final in Westerville, but the opportunistic Warhawks plated five runs with two outs in the sixth to seal the deal in a 7-3 win. It was a gutsy performance, but Hayes wasn't looking for any consolation prizes. Jacob Bosiokovic played like the leader he's been all season, boosting Hayes from both the mound and the plate. He set the tone right from the start, smashing a solo homer in the first inning to give his team a 1-0 lead. The junior pitcher, who went the distance, blanked Westerville Central in the bottom of the opening inning, allowed a run in the second, but helped his crew get back on top with an RBI single in the third — a hit Alex Rafeld followed up with a sacrifice fly to score Justin Vanhoesen and give the Pacers a 3-1 lead heading into the fourth. The ball started to bounce the Warhawks' way after that, though. Kyle Pollock blasted a solo home run off Bosiokovic in the fourth and, with two out in the bottom of the sixth, Central managed to plate five runs to take a lead it never relinquished, benefiting from a dropped third strike and a pair of Hayes errors. Bosiokovic, who was 2-for-3 with a run and two RBIs, struck out eight while walking one to pick up the tough-luck loss. Of the seven runs he allowed, just two were earned. Tyler Miller was also steady, finishing with a pair of hits in the loss.
Monday, May 2
Pacers Start Tournament Play on Monday, 5/9
The Delaware Hayes baseball team will host Walnut Ridge at 5:30 on Monday, 5/9. The winner will move on to play at Westerville Central on Wednesday, 5/11.
Monday, May 2
Team Leaders After 16 Games
AVG
Bosiokovic .400
Ratliff .295
Miller .294
Boger .286
Heber .277
K Ulmer .244
RUNS
Bosiokovic 22
Vanhoesen 15
K Ulmer 12
Rafeld 11
Boger 10
RBI
Bosiokovic 19
Boger 12
Heber 12
Rafeld 9
Ratliff 9
HR
Bosiokovic 4
Ratliff 2
Rafeld 1
SB
Bosiokovic 17
Boger 7
Ratliff 4
K Ulmer 4
Vanhoesen 4
Pitching W's
Heber 2
Miller 2
Ratliff 2
Wright 2
ERA
Miller 1.75
Ratliff 2.95
Bosiokovic 3.41
K's
Miller 28
Bosiokovic 27
Ratliff 18
Wright 15
Monday, May 2
Delaware Splits DH Verse Bellefontaine
Hayes 9, Bellefontaine 6
Bellefontaine 8, Hayes 4
The Pacers got a pair of complete-game efforts, but only one win, splitting a pair of non-league battles Saturday afternoon.
Jacob Bosiokovic and Aaron Heber led the way in the win. Heber tossed all seven innings on the mound, allowing 10 hits, but wiggling out of several sticky situations to preserve a lead built on the strength of Bosiokovic's fourth-inning grand slam — a shot which was part of a seven-run inning that gave Hayes an 8-2 lead.
Nick Ratliff tossed the complete game in the loss as the Pacers (9-8) battled back from a 6-0 deficit, but were done in by a defense that committed seven errors.
Saturday, April 23
Rain!
Rain washes out another pair of Saturday games on 4/23. After 4 weeks, the Pacers record stands at 8-5 overall and 4-3 in the OCC. Player and game stats can be viewed on the MaxPreps webpage at

http://www.maxpreps.com/high-schools/CREWazhV10O-HZxbr24AsQ/hayes-pacers/baseball/home.htm

.
Wednesday, April 20
Tonight's Game (4/20) Moved to Ohio Wesleyan
Sunday, April 10
Delaware Hayes now 6-2 After Picking Up 2 Wins on Saturday
The 2nd week of the high school season concluded for the Pacers' baseball team with 2 wins on Saturday during the Fritz Classic. Delaware Hayes won the early game 13-6 over Teays Valley. Aaron Heber picked up the pitching victory and went the distance on the mound. He also contributed at the plate with 2 hits and 3 RBI. Alex Boger led the offense with 3 hits and also collected 3 RBI. Others collecting RBI were Tyler Miller (2), Justin Vanhoesen (1), and Kenton Ulmer (1). The Pacers earned an 11-10 come from behind victory in the late game over the Golden Gales of Lancaster. The good guys built up a 9-2 lead after 4 innings only to see it turn into 10-9 deficit going into the bottom of the 7th. The Pacers completed the comeback when Kyle Winston connected on a walk off single to drive in the winning run. Players with multiple hits in the game included: Jacob Bosiokovic (4), Aaron Heber (3), Kenton Ulmer (2), and Kyle Winston (2). Players driving in runs included: Aaron Heber (4), Alex Boger (2), Jacob Bosiokovic (2), Justin Vanhoesen (1), Jake Wright (1) and Kyle Winston (1). Jake Wright picked up the pitching victory and went the distance on the mound. The win capped a day where Delaware Hayes only used 2 pitchers (Heber and Wright) and picked up 2 victories.
Wednesday, April 6
Follow the Pacers at MaxPreps
Nice place to find stats and other team info......
Tuesday, May 31
Delaware Hayes Hammers Hamilton Township!
The Pacers defeated the Rangers 12-5 on Thursday. Jacob Bosiokovic led the way offensively going 4-5 with 3 doubles and 5 RBI. Connor Ulmer contributed offensively going 2-3. Nick Ratliff came to pitch the 6th inning and earned the pitching victory.
Tuesday, March 29
Pacers Drop Game Verse Twinsburg 9-4.
Twinsburg 100 310 4 — 9 9 2
Delaware 010 001 2 — 4 3 6
Effross, Havens (7) and Laubscher; Bosiokovic, Weirtz (5), Ratliff (7) and Boger. W: Effross. L: Bosiokovic
Monday, March 28
Pacers Win Season Opener!
Behind a strong pitching performance from junior Tyler Miller, the Pacers prevailed over the Presidents 14-2. Miller threw the full 5 innings, allowing 1 earned run, 4 hits, a walk, 2 hit batsmen while striking out 8 for the win. Leading the offense were Nick Ratliff with 2 singles and 2 runs scored, Kenton Ulmer with a double and 3 RBI and Jacob Bosiokovic with an inside the park HR, 2 RBI and 4 runs scored. Also contributing were Alex Rafeld and Kyle Winston with doubles, Rafeld driving in 1 run. Aaron Heber and Alex Boger each added a single and an RBI each.
Monday, March 28
Play Ball!
The Pacers begin their quest on 3/28 for their first District Championship since 2007. The Pacers return 11 players with experience, including 10 letter winners and 6 starters. As well as a challenging conference schedule, the Pacers will play a strong out of conference schedule. The schedule includes games against Twinsburg, Gahanna, Olentangy Liberty, Tallmadge, Thomas Worthington and Pickerington Central. Go Pacers!
Tuesday, October 26
2011 Schedule Released
scrimmage

March 17

Thursday

Upper Arlington

5:00
March 22

Tuesday

Worthington Kilbourne

4:30
March 23

Wednesday

@ Dublin Jerome

4:30
March 25

Friday

Westerville North

5:00

regular season

see Varsity Game Schedules
Tuesday, June 8
Pacers optimistic despite losing mark
By BRAD EMERINE
ThisWeek Staff Writer
Delaware Hayes High School baseball coach Mike Yinger is pleased with the direction of the program despite the team posting its first losing record since 2005."We began this season with a brand new infield. We didn't have a player back in the same position as last year on the infield," Yinger said. "We showed progression and, with only two seniors on the roster this year, we'll be more mature and experienced next year and I think we'll see that."Although it was a losing season, the Pacers weren't far from being on the plus side. They finished 12-13 after losing to ninth-seeded host Pickerington North 12-2 in six innings in the second round of the Division I district tournament on May 13.The Pacers were 10-7 after beating Franklin Heights 12-2 in five innings on April 21. That matched their high-water mark, as it was the last of four times they were three games over .500. But they lost six of their final eight and had three other games canceled because of weather."We never really had a big winning streak or losing streak. We just kind of treaded water in terms of our record," Yinger said. "But I could see our improvement, our progression. It may not have shown in our record, but it was there."Delaware went 6-7 in the OCC-Capital Division to finish sixth behind Mount Vernon (13-1), New Albany (9-5), Olentangy Orange (9-5), Watkins Memorial (9-5) and Hilliard Bradley (7-6). Delaware did not complete a suspended game against Bradley on April 30. Big Walnut (2-12) and Franklin Heights (0-14) rounded out the standings.New Albany and Mount Vernon won district championships. New Albany beat Mount Vernon 4-2 in a regional semifinal before losing to Cincinnati Elder 6-1 in a regional final to finish 20-13 overall. Mount Vernon finished 26-4. Other league teams to finish above .500 overall were Bradley (17-10), Orange (17-11) and Watkins Memorial (15-12).Delaware will lose seniors Nate Stuntz (CF) and Kody Akers (OF). Stuntz batted leadoff and hit .404 with team highs of 34 runs and 22 stolen bases. He was second-team all-league and honorable mention all-district. Akers batted .316 with 29 RBI. Stuntz and Akers were selected as OCC scholar athletes.Stuntz signed to play at Walsh University. Akers, an option quarterback for the football team, accepted an appointment to the U.S. Naval Academy to play football."They both had good seasons," Yinger said. "In fact, Nate made the most one-year improvement of any player I've coached in my 10 years. It says a lot about him, and it says a lot about our program and our hitting facility. It showed the younger guys what can be accomplished with some hard work."Award winners expected to return are sophomore shortstop Jacob Bosiokovic and junior pitcher Nick Ratliff. Bosiokovic had a team-high .513 average with 21 RBI and was first-team all-district and first-team all-league. Ratliff (7-1, 2.74 ERA) was honorable mention all-league.Other starters expected back include juniors Alex Boger (C), Tyler Dennis (DH), Brandon Johnson (P/1B) and Joe Weirtz (P/1B/3B), sophomores Tyler Miller (3B) and Kenton Ulmer (RF) and freshman Justin Vanhoesen (2B). Dennis batted .356 with 16 RBI.The rest of the expected returnees include junior Troy Willis (2B), junior Kyle Winston, sophomore Jake Wright (P/OF) and freshman Alex Rafeld."I think they'll all improve, come back better players and will be hungry next season," Yinger said."All of our pitching will be back, which is a plus. I'm excited about a number of things, like watching how guys like Tyler Miller and Justin Vanhoesen and Tyler Dennis progress."
At a glance
Record: 12-13 overall, 6-7 (sixth) in OCC-Capital
Seniors lost: Kody Akers and Nate Stuntz
Key returnees: Alex Boger, Jacob Bosiokovic, Tyler Dennis, Brandon Johnson, Tyler Miller, Nick Ratliff, Kenton Ulmer, Justin Vanhoesen and Joe Weirtz
Sunday, May 16
Baseball team falls in second round
BRAD EMERINE
ThisWeek Staff Writer
For four innings last Thursday, it appeared the game plan for the Delaware Hayes High School baseball team might work against ninth-seeded host Pickerington North in the second round of the Division I district tournament.

But just as the Pacers were nearing the top of the hill, the Panthers sent them spiraling backward.

After Delaware's threat to tie the game in the top of the fifth inning was thwarted, North turned its precarious 3-2 lead into a 12-2 six-inning victory that propelled it into a district semifinal Monday against Mount Vernon at Grove City.

"For four innings we played well and we did compete," coach Mike Yinger said. "Then, the roof caved in and I guess you could say we showed our youth."

The Panthers, who improved to 20-8, were limited to four hits and two earned runs through four innings by Brandon Johnson.

Although Kyle Price struck out two Pacers in every inning, Delaware also had four hits through four innings. The Pacers got to him when Jacob Bosiokovic hit a one-out double in the fourth and Tyler Dennis followed with a home run to left-center field to make it 3-2.

"A lot of our guys were seeing a really good curveball for the first time," Yinger said. "We got the big hit and put some pressure on them, but we had too many guys worried about what the pitcher was going to throw rather than just making the adjustment to the pitch."

Delaware got the potential tying run to second base with one out in the fifth as Alex Boger's grounder turned into a two-base error on shortstop Zach Huskey. But Price got leadoff hitter Nate Stuntz and No. 2 hitter Justin Vanhoesen to strike out.

"Delaware always plays us tough no matter what, and the final score just isn't an indication of the type of game this was for a long time," North coach Tim Thomas said. "Price getting those strikeouts (in the fifth) was the key to the game. You never know how things change if they tie the game or take a lead."

North clean-up hitter Austin Butler led off a seven-run fifth with a single to left. Kyle Jeffries then hit a bunt single and Kyle Sorenson sacrificed. Alex Green hit a line drive that just skipped off the glove of diving third baseman Tyler Miller to make it 4-2 and P.J. McDonald hit an 0-2 pitch from Johnson in the hole between shortstop and third base to make it 5-2. No. 9 batter Scott Pancoast then ripped a double to left field to break open the contest.

Joe Weirtz relieved, but the Panthers didn't stop, as they sent 13 batters to the plate, with eight getting hits.

"They hit the fastball and Brandon throws from an angle and uses his offspeed pitches well," Yinger said. "The wind was blowing out to right field and they have four starters who hit left-handed. Brandon did a good job keeping the ball low and keeping them off-balance for a while."

Bosiokovic and Kody Akers both were 2-for-3 and Nick Ratliff had a pinch-hit double in his only at-bat.

The Pacers reached the second round after beating Westland 7-3 last Monday.

Leading 5-3 in the bottom of the fifth inning, Akers and Miller walked. Akers scored on a passed ball and a single by Stuntz scored Miller.

Bosiokovic relieved starter Ratliff in the seventh and the Cougars loaded the bases with one out before the Pacers got out of the jam.

Delaware took a 1-0 lead in the third when Bosiokovic's groundout scored Stuntz, who was hit by a pitch and advanced to third on a single by Vanhoesen.

After Westland tied the score at 1-all in the top of the fourth, the Pacers made it 5-1 in the bottom half. Ratliff hit a one-out single and Kenton Ulmer walked. Stuntz and Vanhoesen followed with RBI-singles. Bosiokovic then ripped a two-run triple to right-center field.

Westland, which finished 3-23, pulled within 5-3 in the top of the fifth when Jake Cook's single scored Junior Reyes and Lineurys Sanchez.

Stuntz and Vanhoesen both went 2-for-3. Stuntz had two runs, two RBI and a stolen base. Bosiokovic had three RBI.
Tuesday, May 11
Delaware Hayes Wins First Round Game!
Courtesy of Delaware Gazette
Like life, young teams are a lot like a box of chocolates: you never know what you're going to get.
Hayes, a squad with just two seniors, brings life to the phrase each time it hits the field. And Monday's Division I sectional semifinal in Delaware was no exception. The Pacers weren't flawless by any means, but they did more than enough to advance with a 7-3 win over the visiting Westland Cougars.
After a slow start from the plate, Hayes nabbed an early lead in the bottom of the third inning. Kenton Ulmer poked a solid single through the infield, Nate Stuntz was hit by a pitch to put two on with none out, and, after Ulmer was picked off second, Justin Vanhoesen smoked a shot to the outfield, getting to second on the hit while Stuntz cruised into third. Jake Bosiokovic followed by grounding out to second, picking up the game's first RBI when Stuntz easily scampered home on the fielder's choice.
Westland answered with a run in the top of the fourth, evening the game 1-1, but Hayes had a response as well.
Nick Ratliff connected for a one-out single to get the Pacers going in the fourth; Ulmer followed with a walk; Stuntz singled to score Ratliff, who stole second and got to third on a passed ball; and Vanhoesen singled to score Ulmer. Bosiokovic followed with a triple, scoring Stuntz and Vanhoesen to make it a 5-1 game.
But, as was on display in the top of the very next frame, the Pacers are guilty of inconsistent play from time to time. For them, it can be an inning-to-inning problem.
After working for the lead, Hayes gave a couple runs back in the fifth, following its best offensive inning with its worst defensive one.
The Cougars' junior Reyes struck out to start the inning, but got to first when Pacer catcher Alex Boger couldn't catch the pitch cleanly. Linevrys Sanchez followed with a single, but moved to second after the throw from the outfield went to third in a failed attempt to gun down the lead runner. Jake Cook calmly connected for a two-run single and, just like that, it was a 5-3 game and there still wasn't anyone out in the inning.
It got worse before it got better — Cook moved to second on a wild pitch — but Ratliff, who picked up the win with six solid innings of work, struck out back-to-back batters before snaring a liner to end the threat and preserve the lead.
Fortunately for Hayes, the club was clutch when it counted most.
After the bumpy stretch, the Pacers put it in cruise control. Kody Akers, who started the bottom of the fifth with a walk, eventually scored on a passed ball before Stuntz singled to score Tyler Miller, who walked earlier in the frame. The RBI single made it a 7-3 game Hayes maintained from that point on.
Bosiokovic came on to close things out in the seventh, loading the bases after striking out the leadoff batter, but got a ground ball to short to close out the contest.
Monday, May 3
Central Ohio Area Leaders
Courtesy of the Columbus Dispatch
Batting Avg.
Bosiokovic 36-67 .537
Stuntz 36-82 .439
RBI
Akers 27
Pitching (Minimum 5 Decisions)
Ratliff 6-0
Monday, May 3
Stuntz thriving in role as Delaware's leader
By BRAD EMERINE
ThisWeek Staff Writer
With only two seniors and three returning everyday starters on the roster of the Delaware Hayes High School baseball team, coach Mike Yinger knew he would have to do a lot of teaching this season.
But the good news for Yinger is that senior center fielder Nate Stuntz has helped in that capacity.
"It's one thing to hear it over and over again from a coach," Yinger said. "It means more when it comes from a leader, someone who has been in the program for a while and someone who has worked so hard to improve his game."
Stuntz batted .261 last season and scored 21 runs. He knew that in order to help lead the team, he had to lead by example. According to Yinger, Stuntz has accomplished that goal.
Through 19 games, Stuntz was batting .448 (30-for-67) from the leadoff spot. He had 25 runs, 14 RBI, seven walks and 18 stolen bases. He is the team's best base runner and has been a catalyst for a squad which lacks power hitting.
"I worked real hard last summer, and the hitting facility (which was completed last winter) was a tremendous asset," Stuntz said. "I hit five or six times a week. Coach Yinger is a good hitting coach and stressed to me what I was doing wrong last season. But he couldn't coach us (because of OHSAA rules) for long stretches.
"So, (former Delaware) players like Evan Shaw and Caleb Wilburn were there to help us as well."
Stuntz said once his main problem was identified, he worked on several drills relentlessly to correct it. He said he would have someone throw soft-toss to him while he was on one knee. He used one hand on the bat and choked way up. That drill helped his hands go straight to the ball. Then he would use two hands on the bat, making sure to make contact with the ball away from his body.
"In addition to that, there were several Tee drills and then a soft-toss drill when the ball is thrown from behind you," Stuntz said. "That means you see it, identify it and swing through it. It's about keeping your bat in the zone for a longer period of time before rolling your hands. From there, I'd go to live pitching, higher speeds and hitting curveballs. It was drill after drill after drill. But it worked."
Yinger said the change has been dramatic and exciting.
"He is an example of perseverance paying off and it's something every player in our program can point to and emulate," Yinger said. "Nate is a product of our system, which makes us extremely proud."
When the Pacers are hitting, Stuntz is usually standing at the edge of the dugout, talking and encouraging the batter and on-deck batter. When his teammates make an out, he greets them and talks to them about the at-bat.
"I wish I had at least five more of him," Yinger said. "He works so hard and just competes."
Reserve Your Baseball Seat Today!
Reserve your very own seat at the Baseball Diamond, complete with nameplate, for only $100 for 4 years or $60 for 2 years. Send request to Jerry Fouts (659 Congress Ct. Delaware, Ohio 43015). There are 21 seats available with 20 more being added by spring. Proceeds to indoor hitting facility.
Thursday, April 29
Hayes beats Big Walnut 10-7
Recap courtesy of the Delaware Gazette
An old baseball axiom warns that bases on balls will come back to haunt you. Just ask Big Walnut. Delaware Hayes scored five of its first six runs as the result of walks en route to a 10-7 Ohio Capital Conference Capital Division victory over the Golden Eagles Wednesday in Sunbury. Mike Yinger's 11-9, 6-4 (OCC) Pacers jumped out to a 3-0 first-inning lead thanks to a trio of two-out walks by Big Walnut starting and losing pitcher Dillon Walls. After Walls issued free passes to Jake Bosiokovic, Tyler Dennis and Kody Akers, Hayes starter Nick Ratliff hammered a bases-clearing double off the left-center field fence. "After retiring the first two Delaware batters on five pitches, Dillon lost command of the strike zone before he grooved one to Ratliff, who cleared the bases with his double," Big Walnut head coach Kyle Bennett said. "For us, walks made the difference tonight." Delaware kept adding to its early lead, scoring two runs in both the second and third inning to open up the seven-run lead. The Pacers turned Brandon Johnson's leadoff single, Joe Weirtz' RBI-ground out, a walk and Bosiokovic's run-scoring double into a 5-0 advantage after two. They stretched it to 7-0 in the third on Akers' leadoff walk and Johnson's first home run of the season, a blast which carried over the left-center field barrier and ended Walls' afternoon on the mound. "We took advantage of our early opportunities with some clutch two-out hitting," Hayes head coach Mike Yinger said. "When we were up 7-0 after two-and-a-half innings, we pretty much thought it was over." In his 2 2/3 innings, Walls gave up seven runs, all earned, on four hits and five walks in taking the loss. He did not strike out a batter. If walks were bad for Walls and Big Walnut, errors were almost disastrous for Hayes. The 7-13, 1-10 (OCC) Golden Eagles, with some help from the Delaware defense, which committed six errors — errors which led to seven unearned runs — were not about to go off into the sunset quietly. With two out and the bases empty in the bottom of the third, the Pacers committed three fielding miscues which, combined with Tyler Beam's single and a walk to Luke Woerner, led to four Golden Eagle unearned runs thanks to a pair of throwing errors by Bosiokovic and Ratliff … the Golden Eagles were down by only three, 7-4. "Our defense, or lack of it, has plagued us all season," Yinger said. "We have them four runs in the bottom of the third and let them back in the game thanks to three two-out errors. But give Big Walnut credit they kept battling." The Pacers answered with solo runs in the fourth and sixth off reliever Blake Gulley to take a 9-4 lead. Nate Stuntz, who was 2-for-4, led off the fourth with a double, moved to third on Justin Vanhoesen's sacrifice bunt and scored on a fielder's choice. In the sixth, the Pacers picked up a run on walks to Dennis and Akers, who executed a double steal to help the cause. In his 3 1/3 innings, Gulley allowed two runs on two hits, a hit batsman and two walks. He fanned one. Big Walnut looked to the Pacer defense to tack on three more unearned runs in the sixth. Two more throwing errors, coupled with Joe Curran's bunt single and Andrew Bower's sacrifice fly, had the Golden Eagles back within striking distance of the lead at 9-7. But that was as close as it would get. Johnson, who led Hayes at the plate with three hits, three runs and three RBIs in four trips, greeted reliever Tyler Beam with his second home run of the game, a towering fly ball down the left field line, and Ratliff slammed the door on the Golden Eagles in the seventh to secure his sixth win in as many decisions. "We were able to add to our lead and Nick stayed with it," Yinger said, singling out the bottom of the seventh inning as the key to the win. "After giving up the three unearned runs in the sixth, we came back out in the seventh and did a nice job … we made the plays we needed to make." Going the distance, Ratliff scattered five hits, walked two and struck out six. For Kyle Bennett and the Golden Eagles, Wednesday's game had a familiar ring to it. "We can't find any consistency as a team, especially in our pitching staff," The BW head coach said. "One night its walks, the next night its errors … but the one positive is that we continue to battle."
Sunday, April 25
4/25 Update
Delaware Hayes enters the final 2 weeks of the regular season with an overall record of 10-9 and with a league record of 5-4. League victories have included wins at New Albany and at Watkins Memorial. The Pacers also beat state ranked Fairport Harding in non-league action. Remaining league games include contests verse county rivals Big Walnut and Olentangy Orange. Sectional tournament play takes place on May 10th and 12th with the draw taking place on May 2nd. There are a total of 41 teams in the Division 1 Central District Sectional Tournament.
Tuesday, April 20
Central Ohio Area Leaders
Akers, Bosiokovic, Ratliff, Stuntz among area leaders
Delaware Hayes represented by 4 players that are among the area leaders as published by the Columbus Dispatch.
Hitting
Bosiokovic .489 avg
Stuntz .429 avg
RBI
Akers 20
Pitching
Ratliff 4-0
Thursday, April 15
A Good Day in New Albany!
Hayes beats New Albany 8-6 by scoring 3 runs in the top of the 7th. The Pacers improved to 4-2 in the conference after handing New Albany their first OCC loss. Kody Akers, Nick Ratliff and Tyler Dennis had clutch hits in the top of the 7th to lead the comeback. The rally started after there were already 2 outs in the inning. Brandon Johnson pitched into the bottom of the 7th and picked up the win. He struck out 2 and walked 3 along the way. Jacob Bosiokovic relieved Johnson in the 7th with one runner on and one out and retired the 2 batters he faced to preserve the win.
Monday, April 5
Delaware Hayes Wins OCC Opener
The Pacers beat visiting Franklin Heights 11-1 in a 5 inning run rule game. Nick Ratliff picked up the pitching victory, going all 5 innings while striking out 8 batters. Offensively, the Pacers were lead by Kody Akers, who had a hit and 3 RBI, Alex Boger, who had a hit and 3 RBI, Ratlifff, who had a hit and 2 RBI, and Jake Bosiokovic who was 2-2.
Wednesday, March 31
Hayes Beats Bexley 7-5 in the Season Opener
Joe Wertz delivers a pitch verse Bexley
Saturday, March 27
Pacers ready to see reloading process
Pacers ready to see reloading process
Saturday, March 27, 2010 3:09 PM
ThisWeek Staff Writer
Kody Akers of Hayes bunts for a hit during a victory over Franklin Heights last season. Akers, a senior outfielder, is among the top returnees for the Pacers.
Although the Delaware Hayes High School baseball team is returning five starters, only two are back at the positions they played last season.
In fact, when the Pacers open Monday at Marion Harding, none of the infielders will be playing the same position they were last year on varsity.
"You're supposed to lose your best players every year and then you make adjustments the following year," coach Mike Yinger said.
"Your seniors are your most experienced players and, being in your program for so long, should be your best players. If you're not losing your best players every year, you're not doing something right."
Last season, the Pacers finished 18-7 overall after losing to Pickerington North 2-1 in a Division I district semifinal. It was the Panthers' closest tournament game until they lost to Cincinnati Moeller 5-2 in the state championship.
Delaware finished third at 8-4 in the OCC-Capital Division behind champion Mount Vernon (11-1) and New Albany (9-3) and ahead of Big Walnut (5-7), Olentangy Orange (5-7), Watkins Memorial (4-8) and Franklin Heights (0-12).
The returning starters are seniors Kody Akers and Nate Stuntz, junior Nick Ratliff and sophomores Jacob Bosiokovic and Tyler Miller.
Akers (LF) and Stuntz (CF) are returning to their positions. Bosiokovic is moving from catcher to shortstop and Miller is moving from second base to third base. Ratliff will be starting at first base after being a designated hitter last season.
Bosiokovic was first-team all-district after batting .407 with seven home runs, five doubles, 25 runs and 34 RBI. He was second-team all-league. He will be replacing Caleb Wilburn at shortstop. Wilburn was the Player of the Year in the league, district and state after hitting .529 with 10 home runs, 12 doubles, four triples, 43 runs and 42 RBI. He signed at Belmont University (Nashville, Tenn.) and played well in the fall before transferring to Ohio Dominican.
"Jacob Bosiokovic is a very hard worker who strives for perfection," Yinger said. "There's no such thing as perfection in baseball, but it's nice to see someone want to make himself great."
Akers and Stuntz are the lone seniors on the roster. Akers batted .341 with 21 runs and 14 RBI and Stuntz batted .262 with 21 runs.
"Those two guys are great ones for our young guys to emulate," Yinger said. "Nate has been in the program for four years and is a hard worker, which makes him very valuable. Kody is just a flat-out competitor. He'll do anything to win. That's something that's very valuable, too, teaching our young guys how to compete."
Junior Joe Weirtz is the most experienced pitcher returning and is expected to be the team's No. 1 starter after the graduation loss of Kees Burns (9-2, 2.72 ERA, first-team all-league and all-district). Burns started the season as the team's closer and became its ace.
Yinger also anticipates using Bosiokovic, Miller and Ratliff, as well as juniors Brandon Johnson and Tyler Dennis and sophomore Jake Wright. Dennis is the lone left-handed pitcher.
"I don't know if all of them think they are pitchers, but with Joe Weirtz being our only varsity pitcher with experience, we're searching," Yinger said. "We've got those guys, and we'll see who develops, much like we did last year with Burns."
Vying to fill infield positions are junior Alex Boger and freshman Alex Rafeld at catcher and junior Troy Willis and sophomore Kenton Ulmer at second base.
Battling for time in the outfield are freshman Justin VanHoesen and junior Kyle Winston. Also expected to see action in the outfield when not pitching are Dennis and Wright. Weirtz could also play first base and Ratliff also could see time at catcher.
"I'm excited to see how some of these guys respond," Yinger said. "I think Miller can really develop well and Ratliff worked hard on his swing and could take it to the next level. Weirtz could become a real leader and I'm excited to see Ulmer and Johnson as well."
Friday, January 29
School unveils upgraded facility (By BRAD EMERINE / ThisWeek Staff Writer / ThisWeeknews)
The second part of a two-phase facilities upgrade at Delaware Hayes High School was completed last Tuesday when members of the Dugout Club handed over paperwork and presented the keys to a new baseball facility to members of the school board.
The baseball facility, located on the first base side of the field, is 35 feet by 150 feet. After the construction was complete, the capacity permit was received on Jan. 14, giving Hayes the go-ahead to start practicing there.
"The room was primarily created to help the baseball team have a place to work out since we were moved out of the main school building to create a much-needed wrestling room," said baseball coach Mike Yinger, who noted the building is 18 feet high with 16 banks of lights. "Hitting, pitching and maybe even a little fielding will be part of the building's functions.
"Now we are able to find times to work out after school and have a real location to do our sport-specific activities. It also frees up slots for other activities in our building."
There are four cages, two of which are 60 x 12 x 14 and two of which are 80 x 12 x 14. There will be three mounds added in the near future.
"We're so fortunate to have quality parent-booster groups here, like the Dugout Club, that can raise 100 percent of the funds for a building like this," said Jennifer Ruhe, director of communications for Delaware City Schools. "It's lien-free, a paid-for facility."
The push for a new facility began last spring when wrestling coach Josh Heffernan and Yinger began lamenting the fact that neither team, nor the softball team, had enough practice time.
All three teams previously used the room above the old gymnasium, where freshmen and junior varsity basketball teams were practicing on the floor below.
"They shared the room, but the mats would have to be rolled up after each wrestling practice to be able to use the batting cages," athletics director Kevin Reed said. "Plus, the times and lengths of practices were determined by the wrestling team and it was a hassle for all the coaches. Plus, we were trying to get youth wrestling and youth basketball scheduled in there somewhere."
It's not that the coaches minded the other teams practicing, but time and space was limited.
"The wrestling team wanted its own room and those kids deserved it," Yinger said. "We're a Division I school and the kids should have their own room. When they were pushing for that, (the baseball team) decided that we'll need a place of our own if that happens.
"So we decided to look for a place and the school said they'd provide the space, but we'd need to get the funds and go through the City for all the permits and make sure things are up to codes and guidelines."
The wrestling team began putting its touch on its existing room and upgrading some equipment and the baseball team began to look at fundraisers. From the outside, that may have looked as if the wrestling team was forcing the baseball team out. That wasn't the case, according to both Heffernan and Yinger.
"This facility upgrade is just one of many things our coaches and our administration are doing for kids to give them the best opportunity to succeed," Heffernan said. "The upgrades and the work that went into making them happen are the results of a lot of people mutually invested in both the wrestling and the baseball programs, working together to help kids.
Yinger said he and the Dugout Club chose to have a series of fundraisers over an eight-month period that earned $5,000 to $10,000 apiece rather than one big fundraiser. Yinger, who teaches business, also saw the process as a hands-on teaching tool.
"It was one of the biggest eye-opening experiences I've ever had," he said. "The City was fantastic helping me to understand things. I had no idea how difficult this would be."
Heffernan and Yinger have been friends a long time, but Heffernan said this process helped him understand that a unique situation exists at Hayes.
"It truly was a Delaware family effort," he said. "It wouldn't happen if coaches didn't support each other. It wouldn't happen if coaches were selfish or thought only of their programs and worked against each other."
Yinger said in addition to the boosters, coaches, parents, players and alumni, the Delaware community stepped up in a big way.
"The volunteer work was outstanding and proves that this is a great community," he said. "Those who donated to the baseball facility included BKM Construction, Crane 1 Services, Defabco, Home-Tech Construction & Maintenance, Industrial Combustion Services, Liberty Casting Company, Marion Industrial Electric, Mike's Roofing, McKee Door, National Lime & Stone, Sargent Enterprises, Sunbelt Rentals and Testa Trucking. Plus there were more who wished to remain anonymous."
Tuesday, August 18
2009 Team Leaders
AVG
Wilburn .529
Harkenrider .442
Bosiokovic .407
Steele .372
Burns .366
Akers .341
Shaw .333
AVG w/ RISP
Wilburn .485
Bosiokovic .432
Shaw .400
Steele .366
Akers .333
Price .333
HR
Wilburn 10
Bosiokovic 7
Shaw 1
Steele 1
RBI
Wilburn 42
Bosiokovic 34
Steele 23
Runs
Wilburn 43
Bosiokovic 25
Harkenrider 22
Akers 21
Stuntz 21
Wins
ERA
K's
Monday, July 20
2009 Honors
All OCC Capital
First team - Caleb Wilburn and Kees Burns
Second team - Jacob Bosiokovic and Ben Steele
Honorable mention - Jake Shaw
Players of the year - Caleb Wilburn
All Central District Division 1
First team - Caleb Wilburn, Kees Burns and Jacob Bosiokovic
Honorable mention - Ben Steele
Division 1 Player of the Year - Caleb Wilburn
The Columbus Dispatch All-Metro Baseball Team
First team - Caleb Wilburn
Second team - Jacob Bosiokovic
Tuesday, May 26
WILBURN HONORED BY THE DISPATCH
Going to school: Caleb Wilburn, Delaware
Tuesday, May 26, 2009 3:17 AM
THE COLUMBUS DISPATCH
FRED SQUILLANTE | Dispatch
Caleb Wilburn, Delaware
• Age: 18
• Class: Senior
• Grade point average: 3.3
• Sport: Baseball
• College: Belmont University (will play baseball on scholarship and major in business)
Question: Tell us about your family.
Answer: My mother is Tina and she is a homemaker. My father is Andrew and he works in check cashing in the banking industry. I have a brother, Josh. He's 25 and recently graduated with a business degree from Marshall.
Q: You were on a district championship baseball team two years ago. That had to be something else. And you've been good for three years now.
A: We're one of the smallest Division I schools in Ohio and we always get criticism for not winning in sports. That felt so good. It starts with coach (Mike) Yinger. He always says that winning is important. Then new players come in and the players tell them that philosophy. We've been determined and dedicated.
Q: You're about 6 feet 4 and 200 pounds? Why no football?
A: I'm 6-4, 205 and (football coach Mike Loparo) used to throw out some sarcastic comments. Why aren't you playing? I'm a one-sport player. I actually had a torn ACL the summer of my freshman year and couldn't play that year anyway. I got caught in a rundown during summer baseball, threw a little juke move and went down. That was surgery and six months of rehab.
Q: You had to know the knee was gone before you hit the ground.
A: I felt a pop and knew something was wrong. I went down right away. They told me at Grady (Memorial Hospital) that it was just a sprain. But an MRI a week later said it was different, a tear. Rehab was so hard. You have to start from scratch.
Q: I would think you'd be the ideal rehab guy. You are so serious.
A: I didn't miss one day. I wanted to get back to 100 percent and nothing was going to stop me.
Q: You have been in a zone at the plate. At one point, you led the central district in average, home runs and RBI. But coach said pitchers avoid throwing to you.
A: That's a lot of fun seeing the ball so well. The game has slowed down as I've matured. The ball looks bigger coming to the plate. I try to humble myself and be selective. If they walk me, I shrug it off and think they're going to pay for it. I see a lot of bad pitches. Patience is really a key for me.
Q: Belmont University? How did they find you? Or did you find them?
A: I went to a camp, Buckeye Scout in Dublin, and their scouts were there. They got in contact with me. The school is in Nashville. They plan on moving me from shortstop to third base.
Q: That has to be a nervous time with all those college scouts watching. You must feel like a piece of meat with them holding radar guns and notebooks.
A: You have to ignore it. That's hard to do. To be honest, I did get nervous. I'd rather them watch me play in a game. It was great, a relief, signing the national letter of intent. We had a ceremony at school. There was no more mail and no more phone calls. You just get sick of it after a couple of years. I have some letters in a shoebox in my room.
Q: What is your room like?
A: I have awards around my desk for motivation. I have a Derek Jeter poster. He's my favorite player. I have motivational quotes. My favorite is "We are only beaten when we cease to believe we can't be."
Q: Do you attack your schoolwork the same way as baseball?
A: I'm a senior and it is getting tougher, but I do hit it hard.
Q: Is there a big graduation party planned?
A: Yes. My best friend, Joey Haught, and me are having a party together at Mingo Park the day of graduation. We sent an invitation on Facebook. About 80 have responded. It should be a nice number. The parents are taking care of all the food. We do want wings. That's one of our favorites.
Q: What about leaving town for college?
A: I'll have mixed emotions. I'll miss Delaware and have some pangs, but I really want to play college baseball. I'll be in a big city, too. Nashville is nice. I'm looking forward to it.
Q: Do you have a nickname?
A: C-Will.
Q: What's your reward food?
A: Chipotle. I get steak, no black beans, corn, sour cream, cheese and lettuce. I'll get chips and guacamole sometimes when I'm extra-hungry.
Q: Did you get the free Chipotle burrito coupon in The Dispatch?
A: I sure did. I got a bunch of them, really, from friends. I used every one of them.
Q: What's your routine on the team bus?
A: I put my headphones on - I listen to rap and a little bit of rock - and sit by myself. I like to get prepared for the game. I'll listen to Lil Wayne.
Tuesday, May 26
HAYES LOSES TOUGH GAME TO #1 SEED PICK NORTH
Pacers come up one run short
Saturday, May 23, 2009 8:52 PM
ThisWeek Staff Writer
For the second season in a row, the Delaware Hayes High School baseball team came up one run shy of playing for a Division I district championship. The 10th-seeded Pacers lost to top-seeded Pickerington North 2-1 last Tuesday at Dublin Coffman to finish 18-7. Delaware, which won a district title in 2007, lost to Gahanna 10-9 in a semifinal last season.
"These seniors have gone 61-22 the past three years and I'm really proud of them," coach Mike Yinger said. "They have played in a lot of big games and it's just a shame they were one play, one hit short against Pickerington North in what was a great high school baseball game."
Yinger considers the loss to Gahanna last season to be the one more difficult to stomach.
"Last year we outhit Gahanna big time (10-6), we scored in nearly every inning (except the last) and we played very strong defense (one error)," he said. "We trailed 4-0 before we came to bat and we battled back. But we struggled with our command on the mound and that hurt us. Gahanna went on to the regional final. That's how close we were."
As for the loss to North, Yinger found little fault with the way the Pacers played.
"I was very impressed by how we played and executed and kept battling to the last pitch," he said. "We made a key double play, threw out a runner at the plate and caught a runner trying to steal. We backed up an overthrow at third base to save a run, we had hitters taking pitches to the backside. We played the game right."
But in the end, it wasn't enough.
Tim Knorr made a diving catch in left field to keep North from falling behind in the top of the sixth inning. Then Xander Uxley's single through a drawn-in infield in the bottom of the sixth inning scored the winning run.
The Pacers trailed 1-0 after five innings. Caleb Wilburn led off the sixth with a line single to left field. Ben Steele then lined a single to right field with one out and Jake Shaw hit a sacrifice fly to right field to tie the score. Kody Akers followed with a bunt-single to set up the play of the game.
Kees Burns hit a fly to deep left field and Knorr ran 12 to 15 yards then dived and caught the ball while parallel with the ground. As Akers was midway to third base, Knorr got up and showed the ball to the umpire for the out.
"If that ball is two more feet toward the third-base line or two feet deeper, we're up 3-1," Yinger said. "That's what baseball is all about, making plays. That kid made a great play and it saved the game for them."
In the bottom of the sixth, Kenny Yurasek reached second on a throwing error, Delaware's second of the game. He moved to third on a groundout and scored when Uxley's grounder clipped off the glove of Burns on the mound and rolled past second base into the outfield.
"If that grounder is a few inches further to Kees' right, he makes the play, the runner holds and we move the infielders back with two outs," Yinger said. "We may have gotten out of the inning."
Instead, Burns, the pitcher, was relieved one batter later with the bases loaded. Wilburn got out of the inning without further damage.
Nate Stuntz had a single with two outs in the seventh to bring up Wilburn, who led the area in home runs and RBI. He had singled twice and flied out to deep right field. Alex Borgan got him to fly out to center to end the game.
"He has lots of power, home runs and RBI, but I had to challenge him because we didn't want the tying run on second base," Borgan said. "It worked out, thankfully."
Borgan allowed seven hits, walked two and struck out nine. Burns allowed seven hits and one earned run. He had one strikeout and four walks.
"Kees pitched well and we made plays behind him," Yinger said. "He only struck one out, so the defense had to make plays."
The Pacers did not have a hit until the fourth inning and left the bases loaded that inning.
"Once we started to get runners on base, we became better offensively at picking out the pitches we wanted to hit," Yinger said. "We gave ourselves a few good opportunities, we just lost in a game of inches."
Thursday, May 14
HAYES DEFEATS MARYSVILLE IN SECTIONL FINAL
Behind the pitching of Kees Burns and Caleb Wilburn, and some timely hitting, Delaware Hayes defeated Marysville 5-4 to move into district play. Burns pitched the first 5 2/3 innings and Wilburn came in to get the save as Marysville came back from 5 runs down to cut the lead to 1 run in the top of the 7th inning. Hayes offense was lead by Ben Steele's 2 hit night including a solo home run that proved to be the final difference. Hayes will return to tournament play Tuesday afternoon at Dublin Coffman versus #1 seeded Pickerington North. Delaware is now 18-6 on the year (OCC Capital final 8-4).
Baseball
Hayes to play North in district semifinal
Saturday, May 16, 2009 7:34 PM
ThisWeek Staff Writer
The Delaware Hayes High School baseball team is looking to post its third consecutive 20-win season and earn its second Division I district championship in the past three years.
The Pacers will have to do it the hard way, as they will battle top-seeded Pickerington North in a district semifinal at 2 p.m. Tuesday at Dublin Coffman. The winner will play in a district championship at 4:30 p.m. Thursday at Coffman against third-seeded Olentangy Liberty or 12th-seeded Westerville North.
But the Pacers won't be worried about seeds.
"The district tournament in Division I baseball has to be one of the hardest situations," said coach Mike Yinger, whose team held off Marysville 5-4 in the second round last Thursday to improve to 18-6. "As soon as you get past the (first round), anyone can win. I mean, look at the games (that were played last Thursday). Even if you're a three, four or five seed, you've got to beat a very good team that has played a lot of good competition."
An example of that was last year when top-seeded Hilliard Davidson lost to 12th-seeded Pickerington Central in a district semifinal. The three district champions last season were Hilliard Darby (seeded second), Gahanna (10th) and Newark (unseeded).
Pickerington North was 24-3 after beating Briggs 15-1 in the second round last Thursday. The Panthers were No. 1 in the final area poll and No. 3 in the state poll behind Strongsville and Liberty.
The Panthers are led offensively by Alex Bayer, Alex Borgan and Jake Isabel. Through 24 games, Bayer was hitting .514 (37-for-72) and Borgan was hitting .470 (31-for-66).
Kyle Price was 6-0 and Borgan was 4-1.
Although Delaware has not played the Panthers this season, the teams met the past two seasons as members of the OCC-Central Division. North swept the Pacers in 2008, winning 8-1 and then 10-9 in nine innings at North. The nine-inning game was for a share of the league title. The Panthers won the title at 9-1 and Delaware was second at 7-3.
The teams split in 2007 when North finished second at 7-3 and Delaware third at 6-4 as Thomas Worthington won at 8-2.
"I know all their their players," Yinger said. "We've played them every year (until this season), and they're pretty much the same group. They're all seniors this year. I can tell you who's going to hit. I would imagine (Borgan will pitch)."
Liberty improved to 21-4 by beating Westerville South 8-1 in the second round last Thursday. It was fourth in the final area poll.
Through 20 games, among the offensive leaders were Michael O'Neill (.460), Andrew Eckhardt (.392, 19 RBI) and Josh Dezse (.373, 19 RBI). Tyler Stage and Dezse are the Patriots' top pitchers.
Westerville North improved to 17-10 by beating St. Charles 2-1 in the second round last Thursday. Through 25 games, the Warriors were led offensively by Brandon Natale (.400, 19 runs, 29 RBI), Jacob Thuman (.395, 22 runs, 29 RBI), Wyatt Tucker (.391) and Tyler Antonides (.349).
Andrew Forrest (4-4, 3.15 ERA) and Jake Miller (5-2, 5.15 ERA) are the team's top starters and Antonides (4-3, 2.95 ERA) is expected to be the first reliever.
The Pacers won the last meeting against the Warriors 11-0 last season.
Against Marysville, the Pacers led 5-0 after five innings but the Monarchs scored three in the sixth and one in the seventh and had the potential tying run at third base and another runner at first base when reliever Caleb Wilburn struck out Zach Bradford to end the game.
The Pacers led 3-0 after the first inning. Wilburn had a single and Jake Shaw had an RBI-single as the Pacers also used two wild pitches and two hit-batsmen from starter Ian Hotham, who plunked four of the five Pacers' hit-batsmen in his four innings on the mound.
Alex Price had a big RBI-single in the fourth when a pair of base-running mistakes halted a potential big inning for the Pacers, who made it 5-0 in the fifth when Ben Steele hit a home run to left field. Steele was 2-for-2 and Shaw was 2-for-3.
"Alex had a big hit for us and it was nice to see Ben turn on a pitch (in his final home at-bat)," Yinger said. "He deserves it. He works hard."
Kees Burns allowed three runs on five hits to improve to 9-1 and set the program record for wins in a season.
At a glance
Below are the recent results and coming schedule for the Delaware Hayes baseball team:
May 8 -- Game against River Valley canceled
May 9 -- Defeated Ready 20-16. Kees Burns got the win in relief to improve to 8-1, but his streak of innings pitched without allowing an earned run was snapped at 28.
Last Thursday -- Def. Marysville 5-4 in second round of Division I district tournament
Tuesday -- At Dublin Coffman vs. top-seeded Pickerington North in district semifinal. The winner will play third-seeded Olentangy Liberty or 12th-seeded Westerville North in a district final Thursday at Coffman.
Of note: The Pacers are 18-6 overall and finished 8-4 in the OCC-Capital behind Mount Vernon (11-1) and New Albany (9-3) and ahead of Big Walnut (5-7), Olentangy Orange (5-7), Watkins Memorial (4-8) and Franklin Heights (0-12).
*OCC-Capital game
Tuesday, May 12
FINAL 2009 DISPATCH /COACHES POLE
Final Dispatch-coaches poll
Division I
TEAM
REC
PTS
1.
Pickerington North (5)
21-3
124
2.
Dublin Scioto (2)
20-2
110
3.
Gahanna (1)
19-4
94
4.
Olentangy Liberty
20-4
86
5.
Grove City
19-6
52
Mount Vernon
18-3
52
7.
Delaware
17-6
14
8.
Hilliard Davidson
17-5
10
Sunday, May 10
HAYES DOWNS BISHOP READY/PREPARES FOR TOURNAMENT PLAY
Delaware Hayes used their high powered offense to jump out to a 9 run lead then held on in the high winds in a game that featured 31 hits and 36 runs. The Pacers hit three home runs by Caleb Wilburn, Jake Bosiokovic (grand slam) and Jake Shaw in upping their record to 17-6 on the season (OCC schedule completed 8-4). Wilburn also added a triple and a single.
Hayes opens sectional tournament play Wed night at 5:30 at Dublin Coffman versus the winner of Monday's game between Teays Valley and Marysville.
Sunday, May 10
2009 SEASON STATS THROUGH GAME 22
BATTING
Caleb Wilburn 533% (1133% slg)
Bill Harkenrider 442% (654% slg)
Jake Bosiokovic 417% (764% slg)
Cody Akers 375% (417% slg)
Ben Steele 357% (457% slg)
RBI'S
Caleb Wilburn 40
Jake Bosiokovic 30
Ben Steele 20
Cody Akers 13
Nate Stuntz 11
HITS
Caleb Wilburn 40
Jake Bosiokovic 30
Cody Akers 27
Ben Steele 25
Bill Harkenrider 23
HOME RUNS
Caleb Wilburn 9
Jake Bosiokovic 6
PITCHING
Kees Burns (7-1) 38.33 Inn 1.28 era
Joe Weirtz (2-0) 27.67 Inn 3.29 era
Tyler Miller (2-0) 13.33 Inn 3.68 era
Jake Shaw (3-2) 35.33 Inn 6.14 era
Sunday, May 10
BURNS TAKES OVER AS ACE OF PACER STAFF (This Week News)
Baseball
Burns sizzles after move to rotation
Saturday, May 9, 2009 5:12 PM
ThisWeek Staff Writer
A change in roles has helped Kees Burns emerge as the ace pitcher for the Delaware Hayes High School baseball team.
Burns, who was a spot starter last season when the Pacers finished 21-7, began this season as a closer, then moved to the first reliever and now is the top starter.
With the starters struggling, coach Mike Yinger gave Burns his first start this season April 24 against Mount Vernon. After throwing a no-hitter in an 11-0 win over Olentangy Orange last Thursday, Burns was 4-0 as a starter and had not allowed an earned run in his last 27 innings. Overall, he was 7-1 with a 1.28 ERA in 38 1/3 innings.
"As a closer, I was coming in with runners on base and throwing fastballs for strikes and trying to hit locations," Burns said. "I didn't want to fall behind in the counts and was just doing my job.
"As a starter, I go in with a game plan in mind. Coach Yinger walks me through it and explains things to me in school on game days and before the games. He even makes sure when we're batting that I understand what we want to do and how we want to approach certain hitters."
Burns had started some last season, but usually against non-league competition.
"I was behind two seniors (Scott Sheets and Frank Eastman) who had experience and had pitched all the big games for a couple years," Burns said. "So I rarely pitched in big games. I love this. I'd love to have the ball every game if I could."
Freshman catcher Jacob Bosiokovic caught Burns last summer for the Delaware Junior Cows 18-and-under team.
"He's a much different pitcher now than he was last summer," Bosiokovic said. "He threw more fastballs and curveballs last year. Now he's got a split-finger (fastball) that is just nasty. It breaks down and away real hard and that's really keeping hitters off-balance."
The Pacers have turned things around since being 7-4 two days before Burns' initial start. They had won nine of their previous 11 before playing Ready last Saturday, including 4-2 over New Albany last Monday.
Caleb Wilburn hit a two-run home run in the third inning to give the Pacers a 3-1 lead over the Eagles and Burns yielded two unearned runs.
Burns expects to be the starter Wednesday when the Pacers open play in the Division I district tournament. The Pacers will play host to Marysville or Teays Valley in the second round. Delaware was seeded 10th and had a first-round bye.
"I talked with (Yinger) and he told me the plan is I'm going to pitch as much as I'm allowed in the tournament," Burns said. "That's great. I'm competitive and I want to do the job. We've come together as a team and are really playing well. The defense is playing much better and everyone is getting after it and working hard. We have a lot of energy and we're doing all the little things that can make a difference."
Delaware lost to Marysville 7-6 on April 2 in the third game of the season. The Pacers had 11 hits off starter Eric Spaulding and reliever Cameron Chambers.
"We gave up a lot of unearned runs against them in that game," Yinger said. "Neither team really played well. You can't judge anything from that game because it was so early in the season. But Marysville has some talent."
Spaulding, the No. 2 pitcher behind Ian Hotham, also plays shortstop. He led the team in hitting at .493 (33-for-67) before last Monday. Hotham catches when not on the mound. Another key player is left-handed hitting center-fielder Justin Hayes. Hotham threw a four-hitter in a 1-0 loss to Dublin Scioto last Tuesday as the Monarchs slipped to 9-11 overall. He gave up a solo home run to Eric Stamets. Scioto, fourth in the area poll, improved to 17-2.
Teays Valley was 6-14 before last Wednesday.
•PACER PATTER -- Through last Wednesday, Wilburn led the area in home runs (7) and RBI (35). He was hitting .521 (37-for-71) with 34 runs, 11 doubles, three triples, 14 stolen bases and a 1.056 slugging percentage. He hit two more home runs last Thursday.
Bosiokovic was also among area leaders in home runs (6) and RBI (30). He was hitting .435 (30-for-69), had five doubles, 20 runs and a .797 slugging percentage.
Wilburn had six game-winning RBI, two more than Bosiokovic.
Billy Harkenrider was second on the team in average and runs (.442, 22). Also contributing were Kody Akers (.362, 19 runs, 12 RBI), Ben Steele (.353, 14 runs, 19 RBI), Burns (.310, 13 runs, 9 stolen bases) and Jake Shaw (.317, 14 runs).
Joe Weirtz was 2-0 with a 3.29 ERA in 27 2/3 innings. Tyler Miller was 2-0 with a 3.68 ERA in 13 1/3 innings and Shaw was 3-2.
At a glance
Below are the recent results and coming schedule for the Delaware Hayes baseball team:
May 2 -- Defeated Centennial 7-2; def. Centennial 10-8
*Monday -- Def. New Albany 4-2
*Last Thursday -- Def. Olentangy Orange 11-0. Kees Burns threw a no-hitter. The game was postponed from last Wednesday. A scheduled game against Watterson was canceled.
Last Saturday -- Played Ready
Wednesday -- Home vs. Marysville or Teays Valley in second round of Division I district tournament. The winner will play in district semifinal May 19 at Dublin Coffman against top-seeded Pickerington North, Briggs or Marion-Franklin. The Pacers are seeded 10th and had a first-round bye.
Of note: The Pacers were 16-6 overall before last Friday and finished 8-4 in the OCC-Capital.
Friday, May 8
HAYES DOWNS OLENTANGY ORANGE ON SENIOR NIGHT
On a night that Delaware Hayes honored their 5 seniors, it was fitting that the seniors lead the way in an 11-0 Hayes victory. Behind the 1 hit,pitching of Kees Burns (7-1 on the season) and the power of Caleb Wilburn's bat, Delaware finished their OCC Capital schedule with a 8-4 record and improved to 16-6 overall. Wilburn hit two more home runs to bring his season total to 9, and contributed 5 more RBI's (40 total for the season). Ben Steele, Jake Shaw and Nick Ratliff also added rbi's.
The five seniors, Kees Burns, Jake Shaw, Ben Steele, Caleb Wilburn and Taylor Wood have a 3 year record to date of 59-21 with a district title. The five have earned a combined 21 varsity letters and carry an average GPA of 3.48.
Hayes next game will be Saturday morning at 10:00 am at Bishop Ready.
Wednesday, May 6
HAYES DOWNS NEW ALBANY BEHIND BURNS' PITCHING
Delaware Gazette
Hayes 4, New Albany 2
Kees Burns is quickly becoming a force in the Pacers' pitching rotation.
The senior was solid for the third straight outing, giving up just two unearned runs on his way to his sixth win of the season.
Burns is now 6-1. He's pitched all seven innings in each of his last three starts and opponents haven't managed a single earned run over the 21-inning span.
Offensively, Caleb Wilburn was the story. He crushed his seventh home run of the season, a two-run bomb in the third inning, to give Hayes a 3-1 lead. It was Wilburn's seventh homer of the season.
Hayes is now 15-6 on the year and 7-4 in the OCC Capital Division.
Sunday, May 3
TOURNAMENT DRAW COMPLETED/BRACKET
Delaware Hayes received a #10 seed and a first round bye and will play the the winner of Teays Valley vs Marysville at home in central district sectional play. The full Division 1 central bracket can be viewed at
http://www.cdab.org/sports/bb/2009/d1brkt09.pdf
Sunday, May 3
BOSIOKOVIC COMING ON FAST
Hayes Roundup
Baseball team helping freshman feel more at ease
Saturday, May 2, 2009 7:01 PM
ThisWeek Staff Writer
As a freshman starting on the Delaware Hayes High School baseball team, Jacob Bosiokovic may have felt a little out of place early, but it didn't take long for him to settle in for a couple of reasons.
First, he had worked his way into the starting lineup in basketball. And if that experience didn't help ease the adjustment period for baseball, having senior Caleb Wilburn to look up to was a bonus.
Wilburn, who will play next season at Belmont University in Nashville, Tenn., became the starter at third base early in his freshman season.
"It is a little unusual, a little awkward," Wilburn said. "That's why we've tried hard to make him feel welcome. He definitely has the talent to be here as a freshman. He's got amazing potential and he can do a lot of big things."
Through 17 games, Bosiokovic was the second-most productive offensive player for the Pacers, behind Wilburn. He was hitting .439 with four home runs, five doubles, one triple and 25 RBI. Wilburn was hitting .506 with six home runs, eight doubles, two triples and 30 RBI. Wilburn also was hitting .500 with runners in scoring position and was slugging better than 1.000.
"Statistically, he's much better right now than I was when I was a freshman," said Wilburn, who is in his second season playing shortstop. "He's really putting up a lot better numbers than I did. He's also very humble and kind of private, but I try talking to him and helping him as much as I can. He's a great teammate to have."
Coach Mike Yinger has been able to use the 6-foot-4 Bosiokovic in many roles.
"We've played him in many positions, including catcher, first base and pitcher," Yinger said. "He'll do whatever you ask of him. We recently moved him to third in the batting order to protect Caleb because teams were pitching around Caleb. His numbers leaped when we put him there, so he's really handling the pressure of being protector and coming up with clutch hits."
Yinger agreed with Wilburn's assessment of Bosiokovic.
"Jacob is advanced and seems to have played a lot more baseball than Caleb had when he was a freshman," Yinger said. "Caleb made his biggest progress between his freshman and sophomore seasons when he really worked at becoming a better hitter. I think he hit under .200 as a freshman."
In a 5-0 win at Watkins Memorial last Monday, Wilburn came to the plate with the bases loaded and nobody out in the fifth inning of a scoreless game. He hit a 3-1 curveball to center field for a sacrifice fly and a 1-0 lead. Bosiokovic then hit a home run to left-center field to make it 4-0. In the seventh inning, Wilburn singled, stole second and third bases and scored on Bosiokovic's single.
Kees Burns improved to 5-1 and lowered his ERA to 1.86.
"I think we're finally starting to get the feel of things with so many new faces," Wilburn said. "As a team, we're trying to peak right now to reach our goals, which are to win 20 games and win a district championship. I believe we can do that. It's within our grasp. We're playing better and now we just need to do that consistently the rest of the way."
The Division I district tournament draw is today.
Against Big Walnut, Wilburn was 2-for-2 and earned the save in relief of Billy Harkenrider, who pitched six innings. Nate Stuntz had a three-run single. Harkenrider, who bats leadoff, is hitting .447 with nine doubles.
Sunday, May 3
HAYES TAKES TWO FROM CENTENNIAL MOVES TO 14-6 ON THE YEAR
The Hayes baseball team took two from Centennial by the scores of 7-2 in the first game and 10-8 in the nite cap to move to 14-6 on the season (6-4 OCC Capital). Game details to follow later in the day as well as the pairings for the central district tournament draw.
Wednesday, April 29
HAYES DOWNS BIG WALNUT
Delaware Hayes downed Big Walnut in an OCC Capital division game 8-5 tonight at Fouts / Woods field. Delaware is now (12-6) on the season and (6-4) in the OCC. The Pacers play Jonathan Alder in a home and home series beginning at Hayes Thursday at 5:00 and continuing Friday night in Plain City. The week will conclude with a Saturday doubleheader at Centennial starting at noon.
Tuesday, April 28
Delaware Hayes 5 Watkins Memorial 0
Delaware Hayes 5-8-0
Watkins Memorial 0-5-1
HR Bosiokovic (4) 5th inning, 2 on.
Burns pitches complete game shutout to improve to 5-1
Delaware Gazette:
Kees Burns pitched a complete-game four-hitter and Jake Bosiokovic clubbed a three-run home run in the fifth inning to power the Pacers past the Warriors 5-0 Monday in Pataskala.
Burns walked four and hit one batter, but struck out eight batters for Hayes (11-6, 5-4 OCC Capital), shutting down the Watkins Memorial (9-8, 3-5) offense all day long.
But a run didn't come across until the fifth, when Hayes loaded the bases. Caleb Wilburn drove in the first run of the game on a sacrifice fly, then Bosiokovic blasted his three-run jack to give the Pacers a 4-0 lead.
Hayes scored again in the seventh, with Bosiokovic striking again with an RBI single, scoring Billy Harkenrider.
Bosiokovic finished with four of the team's five RBIs. Harkenrider had a double for the Pacers and scored twice, while Wilburn, Burns, Ben Steele, Jake Shaw and Kody Akers added a single apiece.
The Pacers return to play at home Wednesday at 5 p.m. against league and county rival Big Walnut
Saturday, April 25
Delaware Hayes 16 Westerville Central 6
Westerville Central 6-8-1
Delaware Hayes 16-17-1
HR Wilburn (6) 2nd inning, none on.
Shaw pitches complete game victory.
Delaware Gazette:
Baseball's tough to figure out sometimes.
All three teams had their moments at Saturday's Fritz Daniel Classic at Delaware Hayes, but none nabbed anything better than a split.
Buckeye Valley started its day in style, dropping Hayes 15-8 after scoring three runs in the first frame, five in the second and six in the third. The early cushion helped BV withstand a grand slam by Hayes' Caleb Wilburn and a three-run shot by Jake Bosiokovic.
The Barons turned around and lost to the Warhawks of Westerville Central in the second game.
The Westerville squad gave BV a taste of its own medicine, scoring four runs in the first inning off starter Joel Myers and another tally in the second to take a 5-2 lead. A five-run sixth sealed the deal.
But just when the Warhawks thought they were the team to beat, the Pacers, thanks to multiple runs in four of the seven innings, smoked them 16-6 in the finale.
Wilburn's second home run of the day gave his team a 5-0 lead. Hayes never looked back.
Saturday, April 25
Buckeye Valley 15 Delaware Hayes 8
Buckeye Valley 15-6-2
Delaware Hayes 8-7-9
HRs Wilburn (5) 2nd inning, 3 on. Bosiokovic (3) 6th inning, 2 on.
Saturday, April 25
Mt. Vernon 6 Delaware Hayes 3
Delaware Hayes 3-6-2
Mt. Vernon 6-7-1
HR Bosiokovic (2) 3rd inning, 1 on.
Burns allowed 0 earned runs over 6 innings.
Friday, April 24
HAYES 11 ORANGE 10 (8 INNINGS)
Delaware Hayes 11-5-4
Olentangy Orange 10-11-4
HR Wilburn (4) 2nd inning, 3 on.
W - Wilburn
Thursday, April 23
Delaware Hayes 11 Franklin Heights 1
Courtesy of thisweeknews
By Brad Emerine
The Delaware Hayes High School baseball team was 7-4 entering play last Monday.
That record was not bad, but it was the team's play which forced seniors to call for a players-only meeting after the first two games of last week were postponed because of bad weather.
"It was great to see," coach Mike Yinger said. "It's nice to see guys understand what is expected of them. They don't want to be the ones who let their guards down and disappoint the players on previous teams who helped build this program back up They want to continue the tradition."
The meeting came after the Pacers had won two of their previous three. They rallied for five runs against LaGrange Keystone in the bottom of the seventh inning to force extra innings April 17 in a game they won 12-11 in nine innings. They split an OCC-Capital Division doubleheader the next day, beating Franklin Heights 5-2 and losing to Big Walnut 6-2.
"It's not so much the record, it's the way we've been playing that bothered them," Yinger said. "Rallying against (Keystone) was a great boost, but it still felt like a loss in terms of our overall play."
Delaware responded after the meeting by beating Franklin Heights 11-1 in five innings last Wednesday as Jacob Shaw was 3-for-3 with two doubles and two RBI, Kody Akers and Kees Burns were 2-for-2 and Caleb Wilburn and Jacob Bosiokovic were 2-for-3. Wilburn had a double. Ben Steele had a two-run single.
Joe Weirtz went the distance on the mound.
"I think we're starting to turn the corner," Yinger said. "But it has been difficult for us. We've got so many new pitchers that have to get innings in and experience pitching in big games. Instead, we get on guy some innings and then the weather shuts us down again. It wouldn't be as much of a problem if we have veteran pitchers, but we just haven't been able to get the innings in. It's like we've stopped and started our season four times. There's been no flow to the season.
"Another thing which has been troubling at times is that we have some guys playing not to fail instead of playing to win. For instance, I'm preaching to them to hit the ball on the ground hard somewhere. So we've got guys up at the plate telling themselves not to pop out. That's taking away their aggressiveness. It's like playing not to lose instead of playing to win."
Friday, April 17
PACERS CLAW BACK TO TAME WILDCATS
Courtesy of the Delaware Gazette
ERIC CLINE
Sports Writer
No, it was not a work of art, but come-from-behind wins don't have to be.
The Delaware Hayes baseball team trailed by five runs in the last half of the seventh inning, but tied the game to force extra innings and scored the winning run in the bottom of the ninth for a 12-11 non-league win over the LaGrange Keystone Wildcats Friday at Fouts-Wood Field.
For a game that wasn't even on the schedule at the beginning of the week, Hayes (6-3) showed its intestinal fortitude in the gut-check win.
"Our kids are trying to find the team they want to be this year," Hayes coach Mike Yinger said. "These kinds of games, when we come back and win and refuse to lose, are the ones where you start to find out what kind of people you are and what kind of character you have as a group."
Keystone (2-5), playing its fourth game in two days, generated plenty of offense and had solid pitching, but was uncertain on the defensive side. The Wildcats committed seven errors in the game, allowing six unearned Hayes runs to score.
"This is what we're down here for," Keystone coach Mark Clement said. "We have five games in three days, and we're here not only to get some baseball in but also learn where our weaknesses are, and we found a few of them today. We're trying to get things figured out so we have everything in order when we go home."
But the Wildcats rebounded from a 4-2 deficit in the fifth, scoring five times to take a 7-4 lead. Keystone added another run in the sixth and three more in the seventh to push the lead to 11-6 going to the bottom of the seventh.
"We played a game earlier today, and we talked about that earlier — staying in the game and playing with some heart," Clement said. "But Delaware is a good ball club, and you can't give a good ball club extra outs, and that's what we did."
Sophomore starter Joe Weirtz and freshman reliever Tyler Miller pitched well, but took their lumps, especially in the later innings. Weirtz worked 4 1/3 innings and allowed five earned runs on just three hits, walking three while striking out four. Miller pitched two innings, giving up three runs, four hits and four walks with two strikeouts.
"We've got a lot of young guys, but I thought Joe Weirtz did a nice job on the mound and I thought Tyler Miller did a good job," Yinger said. "They're just learning. They're being thrown into the fire and they're just going with it."
But in the bottom of the seventh, the Pacers used a mishap on the bases to spur them to a rally. Senior left fielder Kees Burns was hit by a pitch, junior right fielder Kody Akers singled him to second an out later and junior second baseman Nate Stuntz followed with a walk to load the bases.
Senior shortstop Caleb Wilburn then hit a ball on the ground to Wildcat sophomore third baseman Caleb Staller, who attempted to tag out Akers going to third, but Akers knocked the ball away out of Staller's glove, allowing both Burns and Akers to score.
"You just have to keep playing hard," Yinger said. "When you hit the ball on the ground, good things usually happen. We talk about it all the time. When you hit the ball in the air, you take the pressure off the opposing defense. Hit it on the ground and you never know what can happen."
Junior center fielder Bill Harkenrider then ripped a long fly ball over the center fielder's head to to score Stuntz and Wilburn, cutting the deficit to one. Senior first baseman Ben Steele then reached on an error, sending Harkenrider to third, and Jake Bosiokovic tied the game on a hard hit RBI ground out that deflected off the Keystone pitcher, scoring Harkenrider.
"Jake hit a really hard ball there," Yinger said. "If that ball gets through, we probably win the game in seven."
Wilburn, called on to finish the seventh inning, struck out the side in the eighth, and Burns, who started the ninth, set down the Wildcats 1-2-3, giving the Pacers their second chance at the win. Hayes pitching retired the last eight Keystone batters in order.
Stuntz opened the bottom of the ninth with a perfect bunt single down the third base line past the pitcher, then went to second on a wild pitch. Wilburn then took the count to 2-and-2 before slapping a ground ball past the shortstop and into left field, and Stuntz sprinted home, scoring the winning run ahead of the throw.
"That was a great bunt, and he decided he wanted to do that on his own," Yinger said. "That told me he wants to play and wants to win, and that's exciting. Caleb got a ground ball through and Nate ran hard all the way from second. Nate got us that run, and he deserves a lot of credit for that."
Burns earned the win, his fourth of the season, striking out one in his inning of work. Wilburn also kept the Pacers in the game, working 1 2/3 innings and striking out four, despite a walk and a hit batter.
Wilburn and Akers topped the offense, Wilburn hitting a double and two singles and driving in five runs in the game. Akers had three singles, scored three times and added one RBI. Stuntz had two hits, both on bunts, scored twice, and drove in another run, while Harkenrider's double in the seventh drove home two.
Keystone junior Andrew Pearce took the loss, allowing the winning run on two hits in one-plus innings while fanning two. Pearce and Tyler Minnich also had two hits apiece to lead the Wildcat offense
Thursday, April 16
DELAWARE HAYES DROPS LEAGUE GAME TO NEW ALBANY
New Albany 12-13-0
Delaware Hayes 6-13-7
HR Wilburn (3) 3rd inning, one on.
Sunday, April 12
TEAM LEADERS AFTER 7 GAMES
Billy Harkenrider - hitting .500 with 10 runs scored and a .679 OBP
Jake Shaw - hitting .450 and a .560 OBP
Caleb Wilburn - hitting .412 with 2 HRs, 9 RBI, 11 runs scored and a .560 OBP
Kody Akers - hitting .364 with 8 RBI
Jacob Bosiokovic - hitting .350 with 8 RBI
Ben Steele - hitting .348 with 9 RBI
Kees Burns leads the pitching staff with a 3-0 record and a 3.71 ERA. Jake Shaw and Tyler Miller each have 1 pitching victory.
Saturday, April 11
TWO WINS FOR HAYES ON 4/11
Delaware Hayes 13-16-0
Hilliard Darby 10-9-0
W-Burns
Groveport 5-9-2
Delaware Hayes 8-6-0
W-Miller
HR-Wilburn (2) 6th inning, one on.
Thursday, April 9
Mt. Vernon 14 Delaware Hayes 3
Mt.Vernon 14-14-1
Delaware Hayes 3-6-4
HR Wilburn (1) 3rd inning, one on.
Wednesday, April 8
Hayes wins OCC opener 17 to 7 over Watkins Memorial in 5 innings
Hayes had a big first inning, highlighted by a two-out three-run home run by Jacob Bosiokovic. Jake Shaw went the distance on the mound for the win. Shaw and Cody Akers had 3 hits apiece. Akers had a triple, double, and a single, scoring 3 times and driving in 4 runs. Shaw added a double and 2 singles, also scoring 3 times and adding 1 RBI. Bosiokovic added a double to go with his home run and drove in 4 runs. Billy Harkenrider added a double, single and 1 RBI. Caleb Wilburn had a triple and 2 RBI and Kees Burns singled and scored twice.
Friday, April 3
HAYES DROPS 1st GAME OF THE SEASON AT MARYSVILLE
Delaware Gazette April 3, 2009
MARYSVILLE 7,
HAYES 6
Delaware finally got the bats going, but defense deserted the Pacers during Thursday's 7-6 loss to host Marysville.
Hayes (2-1) scored the game's first run in the top of the first inning, but Marysville (1-2) responded with an equalizer in the bottom of the inning and four more in the second to take a 5-1 lead.
The Pacers battled back, plating two runs in the fourth inning and another three in the fifth to take a brief 6-5 lead, but the Monarchs answered again, tallying two runs to regain the advantage for good.
Hayes hammered out a season-high 11 hits — more than the combined totals from the previous two wins — but poor baserunning and five errors led to the loss.
Marysville managed to finish the game without a defensive miscue.
The Pacers' Ben Steele led the way from the plate, connecting on three singles while scoring a run and knocking in another. Kody Akers was solid, too, driving in two while going 2-for-3 with a single and a double.
Hayes will look to get back on track at 5 p.m. today against host Franklin Heights in their OCC Capital league opener.
Thursday, April 2
Delaware Hayes 5 Hamilton Township 4
It was another solid game defensively for the Pacers who won in 8 innings. Jake Shaw had 2 hits and Ben Steele drove in the winning run in the top of the 8th inning. Billy Harkenrider started on the mound and gave way to Kees Burns who picked up his second pitching victory.
Monday, March 30
PACERS TAKE SEASON OPENER
Baseball: Pacers off and running
Tuesday, March 31, 2009
Staff reports
The Pacers aren't exactly off to a great start at the plate, but they still managed to win their first game of the season, clipping the visiting Presidents 4-2 Monday at Fouts-Wood Field.
Delaware (1-0) managed just two hits, but a pair of freshmen played hero in helping Hayes pull away from Marion Harding (0-1).
The squads were knotted at 2 until the Pacers, who didn't have a hit until the sixth inning, stepped to the plate in the bottom of the successful frame.
Billy Harkenrider laced a double to open the sixth, Ben Steele walked and freshman Jake Bosiokovic singled to drive in Harkenrider for what proved to be the game-winning run.
A wild pitch moved the runners up, Jake Shaw was hit by a pitch to re-load the bases and, an out later, freshman Tyler Miller laid down a suicide squeeze to add a little insurance.
Joe Wertz started on the mound for the Pacers, working into the fifth inning. After getting the first two outs, he walked two and was replaced by Taylor Wood. Wood walked the first batter he saw to load the bases, making things a little tense in the Hayes dugout, but struck out the Presidents' number 5 hitter to end the threat. Kees Burns preserved the win by tossing a scoreless sixth and seventh.
Harding's Davis Endsley was pegged with the loss.
Hayes returns to action at 5 p.m. Wednesday against host Hamilton Township.
sports@delgazette.com
Sunday, January 9
Delaware Hayes Baseball 2008 Highlight Video
Sunday, March 29
News Article from This Week
Baseball
Solid foundation helping Hayes as retooling begins
Saturday, March 28, 2009 7:01 PM
ThisWeek Staff Writer
By Adam Cairns/ThisWeek
Kees Burns of Hayes locks in on a pitch during a scrimmage against Worthington Kilbourne last Tuesday. Burns is among the top returning pitchers and also plays outfield.
With so many new names on the Delaware Hayes High School baseball roster, it might look as though the program is experiencing a complete overhaul.
Fifth-year coach Mike Yinger looks at it differently.
"Because we had so many outstanding seniors in last year's class, these guys didn't have the opportunity to move up and gain much experience," said Yinger, whose team will open Monday at home against Marion Harding, followed by games Wednesday at Hamilton Township, Thursday at Marysville and Friday at Franklin Heights. "Now they have their opportunity and I think we'll see them succeed. Just because they are inexperienced on the varsity level doesn't mean there's not talent there."
There also is a solid foundation with senior Caleb Wilburn and junior Billy Harkenrider returning from a team which finished 21-7 after losing to Gahanna 10-9 in a Division I district semifinal.
Wilburn, who was first-team all-district and all-state, has signed to play at Belmont University in Nashville, Tenn. Wilburn, a fourth-year starter, returns at shortstop after leading the team in hitting (.453), RBI (35), home runs (6), doubles (11) and slugging (.791). He was second on the team in runs (37) behind graduate Evan Shaw (40).
Harkenrider, a left-hander who played right field, batted .317 with 22 runs and 25 RBI.
"Caleb is one of the top players in the area and even in the state," Yinger said. "He works hard and is very dedicated to improving. The scary part is he's just scratching the surface of how good he can be and he has so much baseball ahead of him.
"Billy had a great end to his sophomore year and we're moving him from right field to first base and he will also be a huge part of our pitching staff. But even though we'll depend on him more, he needs to realize this is still high school baseball and just go out and play like he's capable of playing. Sometimes we put too much pressure on ourselves."
Harkenrider was 3-0 with a 2.47 ERA in 34 innings. Seniors Kees Burns (5-2, 1.21 ERA, 29 innings) and Jake Shaw (1-0, 4.67 ERA, 9 innings) also will pick up added duty. They will be joined by first-year senior Taylor Wood, junior Kody Akers and sophomores Tyler Dennis and Joe Weirtz. Freshmen Jacob Bosiokovic and Tyler Miller may also see time on the mound.
Yinger said the philosophy is to use two or three players in a game to keep opponents from seeing the starter three or more times in a game. That's much different than the past two seasons when the bulk of the pitching was done by graduates Scott Sheets and Frank Eastman, who helped the Pacers compile the top team ERAs in a season (2.84 in 2007, 2.92 in 2008). Sheets was second-team all-district and Eastman was second-team all-league last year as the team set a record for lowest opponents' batting average (.215).
"Shaw and Burns throw three pitches for strikes, but Shaw throws a little harder," Yinger said. "Then we've got Billy, our only left-hander. Taylor is working on his curveball and should give us a lift. We have a lot of potential pitchers and we want to keep hitters off balance."
Delaware also must replace key graduation losses of first baseman Zack Nowland, who is now playing at Ohio State, and three-year starters Hobie Jurden at catcher and Evan Shaw in center field. Nowland was first-team all-state and Evan Shaw was second-team all-state. The Pacers went 43-14 the past two seasons and won a district title.
Senior letterwinner Ben Steele is expected to replace Jurden behind the plate.
Also returning is junior letterwinner Nate Stuntz, who played third base last season and will move to second base this season.
Yinger said the the defensive positions will change depending on pitching. When they are not pitching, Burns will be in the outfield, Jake Shaw will be at third base and Wood will be in the outfield.
Wilburn, Akers (CF), Steele and Stuntz appear to be the only players with constant positions. Also on the roster are sophomores Alex Price (OF) and Preston Marks (OF).
En route to finishing second at 7-3 in the OCC-Central Division behind Pickerington North (9-1), the Pacers set season records for runs (261), runs per game (9.5), stolen bases (97), home runs (15) and batting average (.352).
"We're going to have to execute well, we can't rely on just swinging away like we have in the past," said Yinger, whose team will compete in the OCC-Capital this season with Big Walnut, Franklin Heights, Mount Vernon, New Albany, Olentangy Orange and Watkins Memorial. "We'll bunt, run the bases aggressively and put pressure on defenses. We've got some strong bats and a lot of speed, so it's a pretty good mix. But the strength of the team will be our pitching depth and defense."
At a glance
•Coach: Mike Yinger, fifth season
•Opener: Monday vs. Marion Harding
•Key players: Kees Burns, Billy Harkenrider, Jake Shaw, Ben Steele, Caleb Wilburn and Taylor Wood
2008 All OCC Honors
Congratulations to the following student athletes!!!!!!!
First Team
Evan Shaw CF
Zack Nowland 1B
Second Team
Frank Eastman OF/P
Caleb Wilburn SS
Honorable Mention
Hobie Jorden C
Ben Steele C/ 1B/DH
Scholar Athlete
Zack Nowland 1B
2008 Baseball Stats and Awards
BATTING LEADERS 2008

Batting Average: Wilburn 440. RBI: Wilburn 38. Runs: Shaw 44. Doubles: Wilburn 12. Triples: Nowland 3. HR: Wilburn 6. SB: Shaw 39.
PITCHING LEADERS 2008
ERA: Burns 1.21. Wins: Sheets 7. Ks: Sheets 40. Innings: Sheets 62.7. Average: Eastman 183.
2008 Baseball Awards

Zack Nowland: 1st Team All-Ohio (Coaches Poll), Mizuno All-Ohio, Mizuno TEAM OHIO, 1st Team All-District, 1st Team All-Agonis, Academic All-Ohio, 1st Team All-OCC, Academic All-OCC. Caleb Wilburn: 1st Team All-Ohio (Coaches Poll), 1st Team All-District, 2nd Team All-OCC. Evan Shaw: 2nd Team All-Ohio (Coaches Poll), Mizuno All-Ohio, Mizuno TEAM OHIO, 1st Team All-District, 1st Team All-OCC, Fritz Daniel Award. Scott Sheets: 2nd Team All-District Honorable Mention All-District. Hobie Jurden: 2nd Team All-District Honorable Mention All-District, Honorable Mention OCC. Frank Eastman: Academic All-Ohio, 2nd Team All-OCC, Academic All-OCC. Ben Steele: Honorable Mention OCC
Monday, September 29
BATTING LEADERS 2008

BATTING AVERAGE:

Wilburn

440

PITCHING LEADERS 2008

AWARDS:

Mizuno All-Ohio

1st Team All-District

2nd Team All-District

Honorable Mention All-District

Academic All-Ohio

1st Team All-OCC

2nd Team All-OCC

Honorable Mention OCC

Academic All-OCC
Friday, May 9
2008 DELAWARE HAYES SENIOR CLASS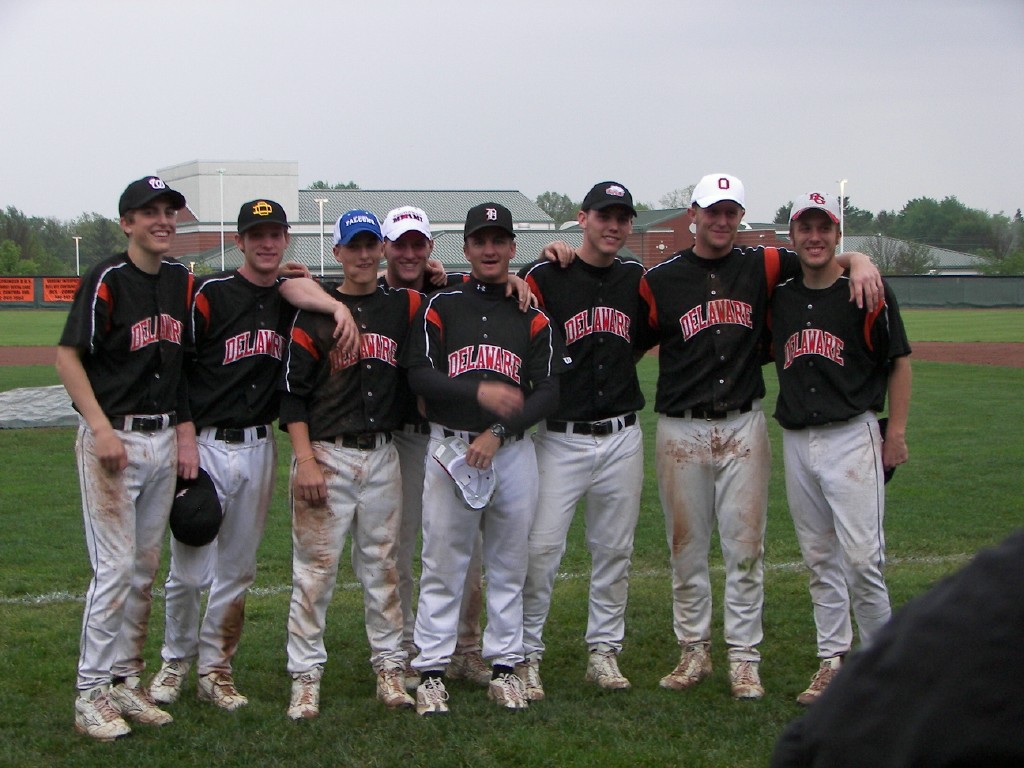 2008 Seniors and Coach Yinger
Monday, May 19
PACERS FINISH THE YEAR 21-7 AFTER LATE INNING 10-9 LOSS TO GAHANNA LINCOLN
The 1st inning turned out to be a glimpse of how the remainder of the district semifinal game against Gahanna Lincoln would play out. Gahanna scored 4 runs on only 2 hits in the 1st before the Pacers had an opportunity to bat. Delaware clawed back to take the lead on three seperate occasions, 7-4 , 8-7 and later 9-8 on an RBI single by Ben Steele in the 6th inning. However, the lions scored 2 in the top of the 7th and the Pacers were unable to score in their half of the inning. For the game, Gahanna scored 10 runs on only 6 hits while the Pacers collected 10 total hits. Bill Harkenrider led the Delaware attack with 3 hits, a single, double and home run. Evan Shaw added two more hits. The Pacers closed out the season with an overall record of 21-7. Hayes outscored their opponents this year by a total of 262- 131. Delaware will say goodbye to 7 seniors who have led the team to an overall record of 43-15 with a district championship in the last two years. Gahanna will play Pickerington Central, an upset winner over Hilliard Davidson on Wednesday for the district title.
Thursday, May 15
HAYES MOVES ON TO DISTRICT SEMIFINAL
Behind the 3 hit, 6 strikeout pitching of Scott Sheets, Delaware Hayes beat visiting Reynoldsburg 8-1 in the sectional final. Zack Nowland's bases loaded triple in the third inning helped Hayes to an early 4-0 lead. Bill Harkenrider contributed 3 hits and 3 RBI's and Evan Shaw added two more hits. This along with several Reynoldsburg errors in the field helped to expand the Hayes lead to 8-0. The Raiders scored their only run with 2 outs in the 7th inning. Their potential rally was immediately stopped by a Nowland to Hobie Jurden throw for the final out of the game at the plate. Hayes moves on to the district semifinal at 5:00 PM Monday against Gahanna Lincoln at Hilliard Davidson High School . The winner will play the winner of the Pickerington Central/ Hilliard Davidson game on Wednesday May 21 for the district title.
Sunday, May 11
2008 SEASON STATS LEADERS (ALL GAMES)
SEASON STATS LEADERS

ALL GAMES THRU GAME 26 OCC GAMES ONLY

BATTING AVERAGE

1) Caleb Wilburn 453% 1) Frank Eastman 467%

2) Zack Nowland 438 2) Caleb Wilburn 448

3) Evan Shaw 383 3) Ben Steele 370

4) Frank Eastman 369 4) Hobie Jurden 361

5)Cody Dalga/ Hobie Jurden 333 5) Zack Nowland 357

TOTAL HITS

1) Evan Shaw 41 Hits 1) Evan Shaw 16 Hits

2) Caleb Wilburn 39 2) Frank Eastman 14

3) Zack Nowland 35 3) Wilburn/Jurden 13

4) Hobie Jurden 30 4) Steele/Nowland 10

5) Bill Harkenrider 26 Harkenrider

RBI's

1) Caleb Wilburn 35 RBI's 1) Ben Steele 14 RBI's

2) Zack Nowland 30 2) Evan Shaw 11

3) Bill Harkenrider 25 3) Caleb Wilburn 10

4) Ben Steele 22 4) Eastman/Jurden 9

5) Evan Shaw/Hobie Jurden20 5) Bill Harkenrider 7

HOME RUNS

1) Caleb Wilburn 6 HR's 1) Frank Eastman 1 HR

2) Zack Nowland 2 Caleb Wilburn

Frank Eastman Ben Steele

Bill Harkenrider Zack Nowland

3) Ben Steele 1 Evan Shaw

Evan Shaw Bill Harkenrider

STOLEN BASES

1) Evan Shaw 36 SB's 1) Evan Shaw 9 SB

2) Caleb Wilburn 17 2) Caleb Wilburn 6

3) Cody Dalga 9 3) Cody Dalga 2

4) Bill Harkenrider 7 Kees Burns

5) Kees Burns 5

PITCHING

1) Scott Sheets 6-2, 3.50 ERA, 46 Strikeouts

2) Frank Eastman 5-2, 2.12 ERA, 50 Strikeouts

3) Kees Burns 5-2, 1.21 ERA, 5 Strikeouts

4) Bill Harkenrider3-0, 2.47 ERA, 34 Strikeouts

5) Jake Shaw 1-0, 4.67 ERA, 3 Strikeouts
Sunday, May 11
FINAL OCC CENTRAL DIVISION STANDINGS
FINAL OCC CENTRAL STANDINGS
Pickerington North 9-1
DELAWARE HAYES 7-3
Thomas. Worthington 6-4
Westerville Central 5-5
Central Crossing 2-8
Marysville 1-9
Friday, May 9
2008 HAYES SENIOR PLAYERS, PARENTS AND COACHES
Saturday, May 10
HAYES SWEEPS DOUBLEHEADER FROM ST. CHARLES AND PICKERINGTON CENTRAL. PACERS NOW 20-6 OVERALL
Game 1: Delaware Hayes 14, St. Charles 4
The Pacers scored 11 runs before St. Charles had a chance to bat and cruised to a lopsided 14-4 victory over the Cardinals in 5 innings. The big 1st inning was highlighted by Zack Nowland's bases clearing triple and a 3 run bomb to deep left field. He had 6 RBI's in the inning. Bill Harkenrider and Scott Sheets split the 5 innings on the mound and never allowed St. Charles to mount a serious rally.
Game 2: Delaware Hayes 6, Pickerington Central 3
The Pacers completed the doubleheader sweep with a workmanlike victory over Pickerington Central. Frank Eastman pitched a complete game .
Friday, May 9
DELAWARE HAYES 11, Westerville North 1 (18-6 overall, 7-3 OCC)
The Pacers were clicking on all cylinders in defeating Westerville North 11-1 in a 6 inning game. The defense was led by the pitching of Kees Burns who allowed the Warriors only 5 singles and didn't walk a batter. The Pacer offense was spearheaded by Evan Shaw who was 3-4 at the plate, scored 3 runs and knocked in another. Seth Frentsos (3 RBI's) and Hobie Jurden were both 2-3. Delaware travels to St. Charles on Saturday for a three way doubleheader with Pickerington Central and St. Charles beginning at 10:00 AM.
Wednesday, May 7
Delaware Hayes 11, Central Crossing 1 (17-6 Overall, 7-3 OCC)
It was fitting that on Senior Night at Delaware Hayes, 4 Pacer seniors led the way to a 6 inning run rule game against Central Crossing. Centerfielder Evan Shaw (3 RBI's) and rightfielder Frank Eastman each had three hits while catcher Hobie Jurden added two more. On the mound, Scott Sheets allowed only 4 hits in collecting the victory. The Pacers finished OCC league play with a 7-3 record. Hayes will travel to Westerville North on Friday night for a 5:00 PM game.
Wednesday, May 7
Delaware Hayes 5, Marysville 2 (15-6 Overall, 6-3 OCC)
May 5, 2008
The Pacers spotted Marysville 2 early unearned runs in the first inning then proceeded to score the next five runs in the 2nd and 3rd innings to down the Monarchs. The offense was led by Cody Dalga's 3 hits and a good pitching effort from Frank Eastman. Eastman went 6 innings giving up 5 hits while striking out 8. Scott Sheets came in to work the 7th inning and get the save. Delaware travels to London Tuesday for a non-league game before returning Wednesday to close out the OCC schedule at home against Central Crossing.
Tuesday, May 6
Delaware Hayes 9, London 1 (16-6 Overall, 6-3 OCC)
Caleb Wilburn hit a pair of two run home runs (his 5th and 6th of the year) to lead the Pacers past London in a non league game. Zack Nowland had a single, double and a triple in 4 at bats while Cody Dalga and Bill Harkenrider each contributed two hits. On the mound, Harkenrider retired the first 13 batters he faced and sailed the rest of the way for a complete game victory. He limited London to 3 hits and struck out 11. Hayes returns to action Wednesday for the final OCC game against Central Crossing
Wednesday, April 30
Pickerington North 10, Delaware Hayes 9 (10 Innings) (14-6 Overall, 5-3 OCC)
In a battle of the conference leaders, Delaware Hayes jumped out to an early 9-3 lead against Pickerington North but was unable to hold the lead. North scored 5 times in the 6th inning and once in the seventh to send the game into extra innings. The game remained tied until Pickerington scored the decisive run in the bottom of the tenth. The Pacer's offense was lead by Frank Eastman who went 4 for 6 from the plate and Hobie Jurden who had 3 hits and 2 RBI's. Ben Steele had 2 hits and 2 RBI's while Seth Frentsos, Bill Harkenrider and Caleb Wilburn had 2 hits and an RBI each. Delaware returns to action this weekend with non-league games against Olentangy (Fri) and Gahanna (Sat.).
Monday, April 28
Delaware Hayes 18, Thomas Worthington 2
In a key conference game that will help decide the O.C.C. champion, Thomas Worthington scored 2 runs in the top of the first inning then watched Delaware Hayes explode for the next 18 runs of the 5 inning game. All nine batters in the Hayes lineup had at least one hit led by Evan Shaw's 3 hits and Bill Harkenrider's two. Shaw, Hobie Jurden, Ben Steele and Frank Eastman had two RBI's each. Eastman went the distance on the mound giving up 5 hits and striking out 6. The Pacers travel to Pickerington North with first place on the line Wednesday afternoon.
Saturday, April 26
Delaware Hayes 25, Big Walnut 3
Hayes exploded in the 5th and 6th innings to turn a close game into a route in a light rain in Sunbury. Caleb Wilburn led the attack going 4 for 6 at the plate with 2 home runs and 8 RBI's. Evan Shaw, Cody Dalga and Zack Nowland all had 3 hits and scored 12 combined runs, Hobie Jurden and Frank Eastman had two hits each to contribute to the 17 hit Pacer attack.
Big Walnut attempted a rally of their own in the bottom of the fifth. The rally ended with a triple play on a liner

to

Seth Frentsos who flipped to Caleb Wilburn, who threw to Zack Nowland to complete the 4-6-3 triple play. Bill Harkenrider pitched all 6 innings for the win allowing just 4 hits and 2 earned runs.
Saturday, April 26
Westerville South 10, Delaware Hayes 3 (13-5 Overall, 4-2 OCC)
Playing their 6th game in 7 days, all but one on the road, a tired Pacer team misfired at the plate and in the field in their loss to Westerville South. Hayes returns to O.C.C. action this week with key conference games with Thomas Worthington (Mon) and at Pickerington North (Wed) that will go a long way to deciding the conference champion.
Friday, April 25
Delaware Hayes 7, Grove City 2
Delaware Hayes (12-4 overall, 4-2 OCC) beat Grove City 7-2. Frank Eastman started on the mound and got the win with relief help from Kees Burns and Bill Harkenrider. Seth Frentsos had 3 hits to lead the Pacers
.
Thursday, April 24
Westerville Central 5, Delaware Hayes 4
Delaware Hayes completed the Westerville Central Game tonight and lost 5-4 on a 7th inning two run walk off homer. Delaware Hayes took a 4-3 lead in the 5th inning after the game had been suspended by rain on Wednesday night. Scott Sheets went the distance, 4 2/3 innings Wednesday and the remainder on Thursday. Caleb Wilburn hit a two run homer and Evan Shaw had a solo shot (both in the 1st inning)
Monday, April 21
Delaware Hayes improves to 4-1 in league play with victory over Central Crossing
Frank Eastman picks up the victory on the mound as the Pacers club Central Crossing 12-3.
Saturday, April 19
Delaware Hayes doubles up Liberty Union 14 to 7
Pacers improve to 10-3 overall.
Friday, April 18
Eastman tosses 1 hitter in Pacers 9-0 victory over Bexley
Eastman (2-1) allowed only three baserunners while striking out 8 Lions. Hayes collected 13 hits in the victory. Zack Nowland led the way with two singles and a double. Billy Harkenrider added a single and a double and Evan Shaw a pair of singles.
Thursday, April 17
Delaware Hayes pounds Marysville 13-5
Pacers improve to 8-3 overall and 3-1 in the OCC Central. Junior designated hitter Ben Steele had three singles, junior shortstop Caleb Wilburn added a double and a single, senior first baseman Zack Nowland had 2 singles, and senior outfielder Frank Eastman smashed a 2 run homer.
Wednesday, April 9
Delaware Hayes defeats defending league champion Thomas Worthington 8-4
A bizarre play in the 6th inning and the stellar pitching of Scott Sheets lead Hayes to a come from behind 8-4 win at Thomas Worthington. The Cardinals took an early lead on the Pacers with a two run, 1st inning home run and lead 4-3 going into the 6th inning. With the bases full and two outs, the Cardinals left the field after what they thought was a strikeout for the 3rd out of the inning. However, the catcher failed to control the last strike and all four Pacers rounded the bases and scored to give Delaware a 7-4 lead. Billy Harkenrider's homer helped power the Pacer offense and Sheets was dominate after the early innings not allowing Worthington to ever gain control of the game.
Tuesday, April 8
Delaware Hayes 5, Marion Pleasant 4
Pacers were powered by Caleb Wilburn's first inning 2 run home run. Frank Eastman had a RBI single and Cody Dalga and Ben Steel added sacrifice flies to give the Pacers an early 5-1 lead. Junior Jake Shaw, making only his second varsity start, pitched 5 2/3 innings of 4 hit baseball allowing only 2 runs (1 earned). Kees Burns came on to retire the last four batters to get the save.
Monday, April 7
Westerville Central scores six runs in the top of the seventh to beat the Pacers 9-8.
Ben Steele belted a grand slam homer in the third, while Zack Nowland had a solo home run in the first for Hayes.
Tuesday, April 1
Delaware Hayes wins season opener 15 -11
Kees Burns picked up the win in relief. Evan Shaw went 3-3 from the plate and stole 6 bases. Billy Harkenrider drove in 4 runs.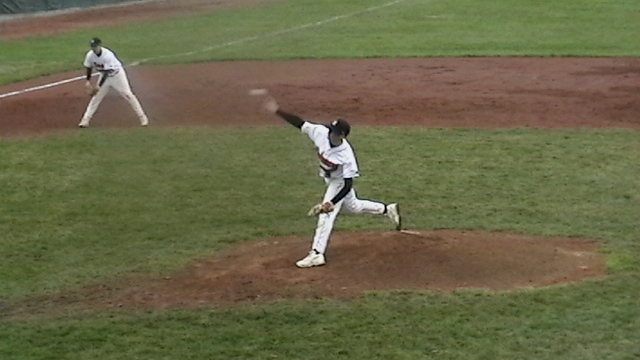 Kees Burns
Friday, April 4
Hayes victorious over Upper Arlington 7-2
Hayes scored early in often. In the first inning, Evan Shaw led off with a single and stole second, and Hobie Jurden drove him home for the first run. Zach Nowland was hit by a pitch, Caleb Wilburn doubled to drive home Jurden and Bill Harkenrider followed with another double to plate both Nowland and Wilburn. Cody Dalga later finished the scoring in the inning with a RBI ground out that scored Harkenrider. Kees Burns added two singles for the Pacers and Ben Steele one.
Harkenrider with the win to improve to 1-0, allowing just one run and two hits over five innings with three walks and four strikeouts. Frank Eastman worked the final two innings, allowing an unearned run on a hit and three walks while striking out two.
2007 All OCC Honors
Congratulations to the following student athletes!!!!!!!
First Team
Evan Shaw CF
Zack Nowland 1B
Second Team
Scott Wise SS
Caleb Wilburn 3B
Honorable Mention
Hobie Jorden C
Scholar Athlete
Anthony Gardner
Zack Nowland and Evan Shaw named to The Buckeye Scout top 100 of 2008 Class