Delaware Fillies Fast-Pitch: Welcome
Welcome to Delaware Fillies Fast-Pitch!
Our goal is to provide life-long learning experiences for the players through the game of softball. We teach our student-athletes to compete at the highest level in preparation for high school and college, while developing strength and character through commitment and hard work, good sportsmanship, and teamwork. We encourage players to excel in the classroom as well as on the field.
Delaware Fillies FastPitch Contact Info:
John "Kidd" Breeden, delawarefillies@aol.com

Tom Sheehan, twsheehan@yahoo.com

Please visit the Fillies news page on this site, or check out the Fillies FastPitch Facebook page and "like" to keep up with news, events, pictures, and much more.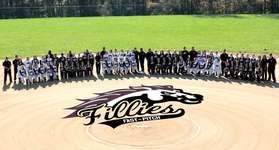 Fillies Organization 2012-2013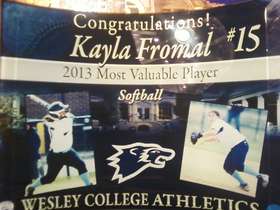 Kayla Fromal 3B/C 2013 MVP Wesley Softball
2013 Wesley Softball MVP
Congratulations to Fillies alum Kayla Fromal for winning the 2013 MVP award for Wesley Softball!! Way to go Kayla- we are all very proud of you!!!