Decatur Force VBC: Decatur-Hosted Tournaments
Sunday, March 8
MAPL Event for 10s on Sunday
Host location for MAPL is St Joseph School, Decatur. See handout below for pool format.
Handout:
MAPL 10U 3-8-15
Saturday, March 7
T3 LEAGUE This Saturday for 13s and 14s *CLICK HERE*
Host locations on Saturday for T3 are Bellmont High School and Fort Wayne Volleyball Club.
Additional info: http://www.angelfire.com/in/veeball/tournaments/Triple3Handout.pdf
---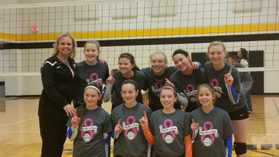 13Royal Win Gold at T3
---
2015 DECATUR HOSTED TOURNAMENTS
REGULAR ONE DAY EVENTS:
Feb 22: 15 & 16s $200
Mar 14: 12s $200
Mar 15: 10 & 11s $200 *no spectator admission*
TRIPLE THREE LEAGUE--commit to all three date: 2/7, 3/7, 4/18 $450
MAPL--hosted in Decatur: 1/25, 2/8, 3/8
Please email decaturforce@hotmail.com to request entry.
Admission for all events is $3 per person except 3/15. Children 10 & under are always free.
Full concessions available. Free parking. Up refs provided in all our tournaments.