Decatur Force VBC: Welcome
Tryout Times Posted For the 2017 Club Teams
If you have any questions about which tryout sessions you should attend, please text the club director at 260-223-2125 or decaturforce@hotmail.com. With the exception of Little Diggers, all other players should attend two tryout sessions.
Registration for tryouts begins 45 minutes before each tryout session. Note: Player Profile & Medical Release forms (see "Registration Forms" below) must be filled out prior to stepping on the court. Tryout cost is $40. Little Diggers have evaluations, not tryouts. Tryout fee is waived for this group.
Tryout number will be assigned at registration. If players have a t-shirt or jersey with a visible number on both the front and back, they may use that number. Otherwise duct tape will be available.
October 9 (Sunday) at Bellmont High School
6-8:00pm: 11/12U or 5th/6th graders
October 10 (Monday) at Monmouth/Region 8
6-7:30pm: 11/12U or 5th/6th graders
October 23 (Sunday) at St Joseph School
1-3:00pm: 14U or 8th graders
3-5:00pm: 13U or 7th graders

5:30-7pm: 14U call backs

7:30-9pm: 13 & 14U call backs
November 6 (Sunday) at St Joseph School
1-3:00pm: 15/16U/17U/18U (all high school players)

3:30-5pm:

Little Digger Evaluations

5:30-7pm

15/16U/17U/18U call back session 1

7:30-9pm

15/16U/17U/18U call back session 2
Registration Forms
Handout:
Two Registration Forms
*
Sunday, September 25
VOLLEYBALLOOZA CAMP 2016
A
fall
volleyball
camp is being offered to girls in
the
second through fifth grades
from any school. The
2016 Volleyballooza Camp
will take
place on
Sept 25, Oct 2, & Oct 9 from 3:00-5:00pm at Bellmont High School in the main gym.
Quality instruction of
volleyball
fundamentals in a positive,
fun atmosphere is the main focus of the camp.
Registration forms can be downloaded below.
The completed form
& $35 fee is due
to Julie Luginbill
by Friday, September 23. Julie's address is
4227 N Piqua Rd, Decatur, IN 46733. Form & payment can also be brought to the first day of camp.
A camp T-shirt is included in the fee.
For more information, please call Debbie Baker at 260-223-2125.
Handout:
VOLLEYBALLOOZA CAMP 2016 FORM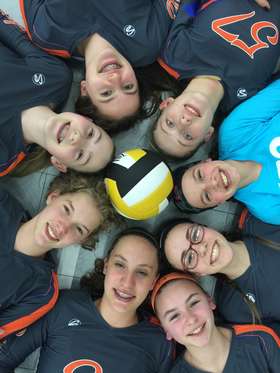 13Royal Enjoy Weekend in Urbana
View past Decatur Force Photos....
Anyone may submit a photo to club director for posting....
Email photo to
decaturforce@hotmail.com
& include caption of when and where taken. thx.