Decatur Force VBC: Welcome
Club Registration & Tryouts
Plans are currently being made for the 2015 club volleyball season. Detailed registration and tryout information will be posted sometime this month. Registration will begin in October...and tryouts will take place in October and November.
Sunday, September 28
VOLLEYBALLOOZA CAMP
A fall volleyball camp is being offered to girls in the second through fifth grades from any school. The 2014 Volleyballooza Camp will take place on Sept 28, Oct 5, Oct 12, & Oct 19 from 2:00-4:00pm at Bellmont Middle School. Quality instruction of volleyball fundamentals in a positive, fun atmosphere is the main focus of the camp. Registration forms can be downloaded from the website below. The completed form & $35 fee is due to Julie Luginbill by Friday, Sept 26. Julie's address is 4227 N Piqua Rd, Decatur, IN 46733. A camp T-shirt is included in the fee. For more information, please call Sara Rhymer at 260-701-4408 or Debbie Baker at 260-223-2125.
Handout:
Volleyballooza Camp Form
View past Decatur Force Photos....
Anyone may submit a photo to club director for posting....
Email photo to
decaturforce@hotmail.com
& include caption of when and where taken. thx.
Another Gold For 13Royal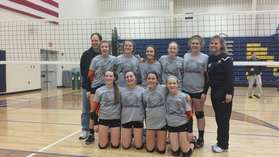 13Royal Earn Gold at New Riegel 3/15/14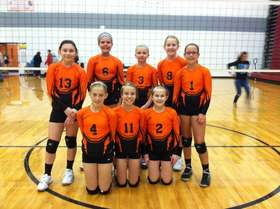 12Royal in Lima, OH