Decatur Force VBC: Welcome
Club Registration & Tryouts
Registration for tryouts for the 2015 season will be held on Oct 14 & Oct 16 from 6:30-8:30pm & Oct 19 from 12:30-5:30pm at St Joseph new gym commons. This will be an opportunity to fill out forms, ask questions, and view uniforms and club apparel. Staff will also be available to register players 1/2 hour prior to each tryout session on Nov 2. Players must be registered prior to stepping on the court.
Two forms (below) along with the $35 non-refundable tryout fee are required for registration. Copy of birth certificate is also needed, if not a prior member of Decatur Force. As another option, forms & fee may be mailed to Decatur Force, c/o Julie Luginbill, 4227 N Piqua Rd, Decatur, IN 46733. A tryout t-shirt is included in fee. Players registering thru the mail may pick-up their shirts at tryouts.
Tryout dates are listed below & all sessions will be held at St Joseph School new gym. Ideally, girls should attend two tryout sessions. The session a player should attend is based on the age of the player on Aug 31, 2015 or her current grade in school. Girls participating in the IHSAA state finals are eligible to tryout beginning Nov 9. If you have any questions on which session to attend, please contact the club director at decaturforce@hotmail.com or 260-223-2125.
Tryouts--at ST JOSEPH SCHOOL, DECATUR
Oct 19: 11s-14s (fifth thru eighth graders only)
* 1-3pm: 14s or 8th graders
* 3:15-5:15pm: 13s or 7th graders
* 5:30-7:30pm: 10s-12s or 5th/6th graders
Nov 2: 11s-18s (all ages/teams except Little Diggers)
* 1-2:15pm: 14s or 8th graders
* 2:30-4:30pm: 16s-18s
* 4:45-5:45pm: 11s-12s or 5th/6th graders
* 6-7:15pm: 13s or 7th graders
* 7:30-9:15pm: 15s
Nov 9: 15s-18s (high school players) times will be posted after the Nov 2nd tryout
* 1-2:30pm Little Digger evaluations
Nov 16: (tentative--if needed to make-up tryout session for high school state finalists)
Handout:
Medical Release Form USAV 2015
Handout:
Player Profile 2015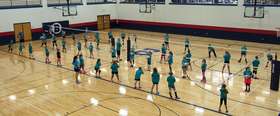 Volleyballooza Fall 2014
Sunday, October 19
VOLLEYBALLOOZA CAMP
Volleyballooza is concluding this coming Sunday. Participants have enjoyed many hours of quality instruction in a fun & positive atmosphere. A big thank you to those Decatur Force coaches who helped make Volleyballooza 2014 a big success.
View past Decatur Force Photos....
Anyone may submit a photo to club director for posting....
Email photo to
decaturforce@hotmail.com
& include caption of when and where taken. thx.
Another Gold For 13Royal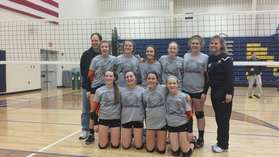 13Royal Earn Gold at New Riegel 3/15/14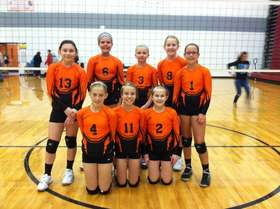 12Royal in Lima, OH