Decatur Force VBC: Welcome
Sunday, January 25
MAPL Event Held on Sunday at St Joe
LITTLE DIGGERS MAPL 10U EVENT *revised*: see handout below.
Handout:
MAPL 10U Tournament Format
Sunday, January 25
11Royal in Marysville on Sunday
Marysville High School
800 Amrine Mill Rd
Marysville, OH 43040
Click on headline link above for more details.
Saturday, January 24
13Orange in Columbus on SATURDAY
Click on headline link above for tournament details.
Buckeye Volleyball Club
6810 Oak Creek Drive
Columbus, Ohio 43229
Sunday, January 25
14Crow Plays at Pioneer High School on Sunday
Cass County VBC @ Pioneer High School
Directions: 317 S. Chicago St. Royal Center, IN--which is 10 miles north of Logansport on Hwy. 35. Please turn into the south parking lot and enter the school at doors #15.
Please bring chairs (limited bleacher seating). No Concessions available.
Sunday, January 25
15Krull at Plainfield *UPDATE*
Gate fee: $5 for spectators. CLICK ON HEADLINE LINK ABOVE FOR DETAILS.
No outside food or drink is permitted; fully-stocked Concession Stand.
CHANGE OF VENUE: CAPITOL SPORTS, 1915 GLADDEN RD, PLAINFIELD, IN 46168
Saturday, January 24
15Royal and 16Royal at FWVBC on Saturday
Doors open at 7:30am. Competition begins at 8:00am and concludes around 4:30pm.
Ft Wayne VBC training center located at 5335 Bass Road, Fort Wayne (behind The Pointe Church).
BRING CHAIRS. NO CONCESSIONS. Carry-in food and coolers are permitted.
See handouts below.
Handout:
1/24/15 Fort Wayne VBC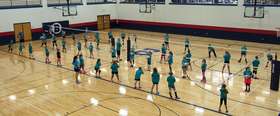 Volleyballooza Fall 2014
Sunday, October 19
VOLLEYBALLOOZA CAMP
Volleyballooza is concluding this coming Sunday. Participants have enjoyed many hours of quality instruction in a fun & positive atmosphere. A big thank you to those Decatur Force coaches who helped make Volleyballooza 2014 a big success.
View past Decatur Force Photos....
Anyone may submit a photo to club director for posting....
Email photo to
decaturforce@hotmail.com
& include caption of when and where taken. thx.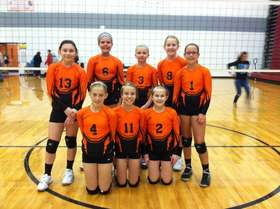 12Royal in Lima, OH