WELCOME TO OUR SITE


PLEASE FEEL FREE TO CHECK US OUT. ANY COMMENTS AND SUGGESTIONS ON ANYTHING SOCCER OR HOW TO IMPROVE THE SITE WILL BE GREATLY APPRECIATED.
FEEL FREE TO POST A MESSAGE ON OUR "MESSAGE BOARD". JUST SCROLL TO THE BOTTOM OF ANY PAGE, CLICK ON "MESSAGE BOARD",THEN CLICK ON "NEW POST", OR CLICK ON THE "FIREBALL".



NEW TO THE SITE ?


WE'D LIKE TO KNOW WHEN SOMEONE VISITS OUR SITE. PLEASE LEAVE A MESSAGE ON THE MESSAGE BOARD. FEEL FREE TO LET US KNOW WHAT YOU THINK OF THE SITE. CLICK ON THE "BOUNCING BALL" TO GO TO THE MESSAGE BOARD.

IF YOU LIKE, YOU CAN CLICK ON THE
"GUESTBOOK" ICON BELOW TO SIGN OUR GUESTBOOK.
THANKS FOR STOPPING BY!



PLEASE SIGN OUR GUEST BOOK




SYSTEMS OF PLAY


WE HAVE BEEN PLAYING THE 4-4-2 SYSTEM. IT IS ONE OF THE MOST VERSATILE SYSTEMS FOR BOTH THE ATTACK AND THE DEFENSE. IT ALLOWS THE TEAM TO STAY ORGANIZED AND CREATE THE DESIRED "NUMBERS UP" SITUATIONS AT BOTH ENDS OF THE FIELD.



WE MAY CHANGE THE SYSTEM TO 4-3-3 DEPENDING ON THE PLAYERS INVOLVED THAT SEASON.
BOTH SYSTEMS OF PLAY ARE VERY EFFECTIVE AND HAVE THERE STRENGTHS AS WELL AS WEAKNESSES.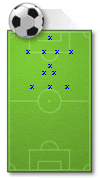 THE 4-3-3 SYSTEM




PRACTICE MAKES PERFECT: TRY THESE MOVES


WATCH THESE DRIBBLING MOVES THEN GO OUT AND TRY THEM YOURSELF. ADD A FEW OF YOUR OWN. REMEMBER, THE MORE YOU PRACTICE HAVING A BALL AT YOUR FEET, THE MORE COMFORTABLE YOU WILL BE OUT ON THE FIELD.
CHECK OUT THE NEW VIDEOS ADDED 10/22/2003.


DOUBLE SISSORS MOVE