Dixie Chicks 18U: Welcome
Welcome to the Dixie Chicks Fastpitch Website
Dixie Chicks 18u are a competitive fast-pitch tournament travel team. We have just finished another successful season and we are getting ready to play our 2013 Fall Season. Dixie Chicks are a non-profit organization dedicated to the promotion and development of girls fast pitch softball in the greater Richmond area. Our players have a love for softball and a special enthusiasm and dedication to the game. The outcome of which has been a higher level of play, at a very competitive level. We have seen the fast-paced growth of our ballplayers individual and team related softball skills. This leads to a mental attitude that is focused on the need for conditioning, commitment, and hard work. More importantly, we have seen the evolution of such life skills as self-confidence, leadership, and sportsmanship. They have created new friendships and have learned that sports are about having fun. We are seeking sponsors for our upcoming season. If you know of anyone interested in becoming a primary or secondary sponsor please contact Allan Spencer at 804-564-9467 for more information.
Wednesday, February 5
Wingate freshman Amy Wingfield earns SAC Player of the Week honors
Wingate, N.C.----Wingate University freshman first baseman Amy Wingfield (Mechanicsville, Va.) has been named the South Atlantic Conference softball Player of the Week, league officials announced Monday. Wingfield led the Bulldogs to a doubleheader sweep over GRU Augusta in Saturday's season-opening doubleheader.

Wingfield went two-for-three in the doubleheader, hitting .667 with two homers, two RBI and four runs scored. She hit a homer in each game for Wingate, while going perfect in the field, notching seven putouts and an assist without an error in the two victories.

In her first collegiate at-bat, Wingfield lined the first pitch she saw over the fence in left to give Wingate a 1-0 lead over GRU Augusta. Wingfield's second homer of the season came leading off the second inning of game two. She also drew a walk in the fourth inning, then scored a run to help the Bulldogs win 6-5 to complete the doubleheader sweep.

The Bulldogs return to action Wednesday, hosting Erskine for a doubleheader at 1 p.m. Wingate travels to Columbus, Ga. this weekend for the Columbus State Tournament. The Bulldogs will face Pfeiffer and Columbus State Saturday, then take on King and Belmont Abbey on Sunday.
Tuesday, January 28
Chicks start Winter Workouts
The Chicks will be starting our Winter workouts this Sunday, Feb. 2nd 10:00 at Manchester High School. We will be having our workouts every Sunday in February.
We are also looking to add at least one player and possibly two players for our upcoming Summer season. I would like you to come to our Sunday workouts in February if interested. If you want to truly learn about team first concept, win a lot of ball games, take your game to the next level and play College Softball then contact Allan Spencer at 804-564-9467 or Alspencer3@aol.com for more information.
Thursday, November 21
Toth headed to Randolph Macon
Skylar Toth will continue her softball career at Randolph Macon. Skylar has been weighing her options for awhile and finally decided to play in the center of the universe in Ashland, VA and now she will be a yellow jacket starting next fall. I'm sure she will enjoy her 4 year experience there and I know she will make us proud. Great job kid and we all wish you the best of luck in all your future endeavors.
Tuesday, November 19
Chicks finish Fall in Myrtle Beach
The Chicks went back on the road for the final time of 2013 and closed out our fall winning 4 games, losing 1 and tying 1 in the Early Signing Showcase in beautiful Myrtle Beach, SC. We couldn't have had much better weather with temperatures in the 70's both days. We got some big performances from everyone at one time or another and finished the Fall with a 22-7-1 record. We finished the Fall with a gawdy .416 team batting average and scoring 215 runs and only giving up 81. I'm sure the girls are looking forward to some down time from softball as they have all been going strong at it since February. I am looking forward to some time off also but I'm sure I will be missing it in a couple weeks. I will be wandering around looking for something to occupy my weekends. I had a great time this season and I hope all the girls and parents did also. I think we have a really good team and next Summer should be a blast. Enjoy your break from Softball and I hope to see everyone at the Christmas party in December. Final stats are posted, as always GO CHICKS !!!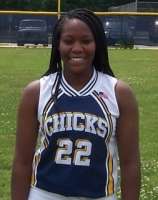 Sunday, November 10
Mitchum, Wells and Tester all headed to CNU
Kiandra Mitchum, Sydney Wells and Brandi Tester are all headed to Christopher Newport University to continue their softball careers. All 3 girls committed this past week and now they can relax and just play ball. I am sure they will all enjoy the CNU experience as it is a great school with a great college atmosphere. CNU is always in contention for the College World Series and I'm sure they will all contribute and help the program continue their winning ways. I'm very proud of all these young ladies. They have worked hard and deserve to play for a great school. Have fun and make the Chicks family proud.
Tuesday, November 5
Little Chicks Win Fall States
The 14u Dixie Chicks continued their impressive fall going 7-0 and claiming the 16u Fall State Championship. I am really proud of the little Chicks as they are getting better every time out. Both teams are headed to the Early Signing Showcase in Myrtle Beach in a couple weeks and I expect great things from both teams. I'm looking forward to coaching some of these skilled young ladies in the near future. Great job by the Coaches Steve Ruch and Tommy Slater and all the hard working Little Chicks, although they aren't so little. I guess I should call them the younger Chicks. As always, GO CHICKS !!!
Monday, October 28
Chicks finish 3rd in Powhatan
Our Chicks got to stay at home this past weekend and play in the College Showcase in nearby Powhatan, Va. Conditions were quite frigid on Saturday morning but as it warmed up so did the Chicks bats. We hit the ball really well overall for the weekend but fell a run short in the semi-finals. We needed a another timely hit or two in some key spots and we could have won every game. Our pitching deserved a better fate as we got good pitching most all weekend. We finished the weekend 4-2 and had a respectable 3rd place finish. Our record for the Fall is now at 18-6 with only 6 showcase games left in Myrtle Beach in 3 weeks. It seems like it just started but we are almost done for the Fall. Let's finish the season strong with 6 wins in South Carolina. Stats are posted, as always GO CHICKS !!!
Wednesday, October 23
Clark and Wells both verbal to Wingate
Jordan Clark and Taylor Wells both verbal to Wingate University just outside of Charlotte, NC. They will be joining fellow teammate Amy Wingfield in a couple years. This is a unique experience for these two young ladies as they have played every year of travel ball together, they will play 4 years of high school ball together at Manchester and now 4 years of College together. I guess that has happened before for someone but I have never heard of it. These young ladies are really excited and I am very happy for them as well as very proud of them. I think they both have a great chance of doing great things at Wingate as both of them nearly broke the Virginia High School League record of Home Runs in a single season as sophomores. They will have 2 more seasons of High School and it would not shock me to see either one of them break the State record. Great job ladies, I guess it will be GO BULLDOGS in a couple years but for now it is still GO CHICKS !!!
Monday, October 14
Chicks go 2-2 in ASA Showcase
The Chick went back on the road this past weekend to Roanoke for the second time this fall and the results were not near as good as the first time. We went 2-2 for the weekend playing really well in the wins and not so well in the losses. We gave one away on Sunday morning blowing a 4-0 lead and leaving 10 runners on base. We have to learn to put teams away when we have our chances, if you leave them in the game bad things can happen and it was a perfect example of that this weekend. We will move on and get better from it. We need to get ready for the Powhatan Showcase in 2 weeks. Practice is Sunday Oct. 20th 1:00 at Midlothian High School. Stats are posted. As always, GO CHICKS !!!
Tuesday, October 1
Chicks Dominate Beach
The Chicks went on the road to Virginia Beach over the weekend to play the Fall Galaxy Showcase and dominated the competition going 5-0 and scoring 44 runs and allowing only 2 unearned runs. The 5 wins at the Beach ran our winning streak to 11 for the Fall. We need to keep working hard as the competition will heat up over the next month. We need to keep improving at every practice and in every game. We have practice this Thursday at Midlothian High School to get ready to take our show on the road to Botetourt in two weeks. Nice job this past weekend ladies, stats are posted. As always, GO CHICKS !!!
Monday, September 16
Chicks Win Play The Valley Showcase
The Chicks went on the road to Roanoke this past weekend to play in our first tournament with the newest version of the Chicks and we didn't dissappoint as we went 6-0 and claimed the Play the Valley Championship with a hard fought victory over the local rival Richmond Diamonds. We had big game performances from every player on the team at different times. Every player on the team contributed and that is what makes a team good and that is also what it takes to win Championships. I'm very proud of how this new team started the season and excited to see how good we can become. We still have a long way to go but winning the first time out is a great way to start. We will practice on Thursday this week at Midlothian High School to start getting ready for Virginia Beach in two weeks. Great job ladies !! Stats are posted, as always GO CHICKS !!!
Monday, September 2
Chicks get started
The Chicks got the Fall season started this past weekend in a round robin friendly at L.C. Bird High School in Chesterfield, VA. The Chicks went 1-2 for the day but had the lead late in every game and could have won them all. We let 2 games slip away in the last inning and that is not typical Chicks play. I expect us to get better rather quickly as we did not play bad, just didn't catch any breaks. I expect us to get better every week and we will learn how put teams away when we have the opportunity and also how to finish games strong. We got to look at a lot of things this past weekend and know what we need to work on before we head to Salem in two weeks for our first tournament of the year. Practice is Wednesday 5:00 at Midlothian High School. Stats are posted, as always GO CHICKS !!!
Saturday, August 17
Coaches Information
For information about the Dixie Chicks 18u program contact Allan Spencer 804-564-9467
For information about Dixie Chicks 14u program contact Steve Ruch 804-677-3401. The 14u Chicks are still looking for another quality pitcher. This team is going to play mostly 16u ball in the Fall, Steve has numerous years of coaching experience in Florida, California and Virginia and will help your daughter take her game to the next level. Contact Steve if you think your daughter is up to the challenge.
Sunday, August 4
Chicks fall just short in World Series run
The Chicks went on the road to Salisbury, Maryland to play in the World Series and fell just short finishing runner up to the East Coast Xplosion from Delaware. The young ladies did put on quite a show with the bats scoring 109 runs and hitting 18 home runs in our 12 games. We finished with a 10-2 record for the tournament. We fell into losers bracket the last game on Friday and it put us in a tough spot having to win 5 straight on Saturday to claim the title. We did pull off 4 straight wins on Saturday and had 4-0 lead going to the 5th inning in the final Championship game but that slipped away and ended our season with a 11-7 loss to the Xplosion which we did beat twice in the tournament but they beat us when it counted the most, the last game. I was still very proud of our team as we played really good ball all week. Chicks All-State First Teamer Jordan Clark was named tournament MVP and fellow Manchester teammate Sydney Wells was named Defensive player of the tournament. It is always tough after a World Series because you have to say goodbye to the Seniors that are off to college and I always want to figure out a way to keep them 17 forever but as you know, time stops for no one. I'm going to miss my 2 seniors that are both off to play college ball and I wish nothing but great things for both Amy Wingfield and Taylor Balmaz. We get a week off and then we will get our new team started next Sunday at Midlothian. We will be headed to Salem twice this fall, Va. Beach and Myrtle Beach and one local in Powhatan. Final stats are posted. Again, great job this season as we ended up with 36 wins, 8 losses and 2 ties. See everyone next Sunday, as always GO CHICKS !!!
Sunday, July 21
Chicks go unbeaten in Cardinal Classic
The Chicks traveled to hot and humid Raleigh, NC this past weekend for the ASA Cardinal Classic Showcase and we had 4 wins with 0 losses but we did tie 2 games. We played really well most of the weekend and had some good wins over tough teams but we did have our moments when we didn't play well. We still managed to not lose any games and got in front of some college coaches. The girls seemed to play their best when the coaches were watching and that is the most important thing in showcases. We have only lost 1 game out of our last 23 and have a 26-6-2 record for the Summer.
We head out for the World Series next week and our last tournament of the Summer. We will have our last practice of the season on Thursday at Midlothian High School to get ready to claim the World Series Championship in Salisbury, Maryland. We need to play our best and bring home the Championship. I know everyone will be ready to play our best and that is all I can ask from you. Give it everything you got for one more week and then we will take a week off and get ready for the Fall with some new faces as we send off Amy and Taylor to college to continue their softball careers. Stats are posted, as always GO CHICKS !!!
Monday, July 8
Chicks go 10-1 in Mid Summer Showcase
The Chicks went back on the road for a long 4 day tourney in Virginia Beach and played really well. We had won this this tourney for the last 2 years and went back to defend our crown but came up a little short finishing 3rd with a 10-1 record. I'm still very proud of the girls as our bats were as hot as the soaring temperatures. We got great pitching and defense and impressed everyone. It's hard to believe but we only have 3 weeks left of the season and it seems like we just got started. We head back to the Beach for the ASA Atlantic Coast Showcase at Princess Anne on Friday. Nice job ladies, lets play hard again this weekend. Stats are posted, as always GO CHICKS!!!
Monday, July 1
Chicks finish first road trip with State Championship
The Chicks took their first of many road trips for the Summer with a trip to New Jersey for Thursday and Friday games in the Newtown Rock Showcase and finished Saturday and Sunday in Sterling with USSSA State Championship. We started a little sluggish going 2-2 and battling rain both days in New Jersey but went to Sterling and went 6-0 and claimed the State Championship. I knew we would start playing better as soon as we got some games under our belt. We had numerous stars this week and expect we will have more next week at the Beach. We have lots of ball coming up as we are on the field most of the month of July. Thanks for a great week of ball, lets keep it rolling next week. See you at the Beach on Thursday, as always GO CHICKS!!! Stats are posted.
Monday, June 17
Chicks open season
The Chicks finally got some sunny weather and started the season this weekend in State Championship here in Richmond. We didn't play our best and started the season with a 4-3 record and a seventh place finish. That's not our typical performance and I expect to get better quickly. We have a weekend off then we go full throttle the rest of the Summer. We are having practice next Sunday at 4:30 Midlothian High School to get ready for Newtown Rock Showcase starting Thursday, June 27th. Stats are posted. As always, GO CHICKS !!!
Sunday, August 5
Chicks finish runner up in Nationals (2012)
The Chicks went to Nationals in Orlando, FL this past week and fought hard from start to finish but came up one win short of a National Championship. We had some great come from behind wins to get to the final four on Saturday. We dropped our first game of the double elimination tournament early Saturday morning but then won the final of the losers bracket 6-4 to make it to Championship but we would have to beat the unbeaten Florida Hurricanes Gold twice to claim the rings. We did force the if game by winning the first game 2-0 only to lose 3-1 in 8 innings and finish runner up. It was still a great run to get there and we fought to the bitter end. We ended our Summer with a 49-8-2 record and combined with our fall record of a perfect 36-0 puts us at 85-8-2 for the 2011-2012 season. The Chicks won 3 tournaments this Summer, finished 2nd in States and 2nd in Nationals. I don't know many teams that can match those accomplishments. I'm really proud of these young ladies as we went into every tournament this year shorthanded because of injuries and they made no excuses and stepped up and played like a team. We had a good mix of veterans and youngsters and everybody had their moments. I'm really going to miss our Seniors that are off to college to get an education and play some softball on the side. Remember to work hard on both, they won't let you play ball if you can't keep the grades. I'm sure all of you will work hard and make me and the Chicks proud. Some of you Seniors have been here longer than others but I will miss you all. If you ever need anything or just want to talk, please call me. I will even holler at you if you want me too. I plan on coming to see some games next year. I wish all of you success in school and in life, I hope you get everything you deserve. You also need to remember Rule #3 will be become more important over the next few years, follow it. Thanks for a great season !! Tryouts for our 2012-2013 team will be next Sunday, August 12th 11:00 at Midlothian High School. Final stats are posted, as always GO CHICKS !!!
Friday, July 29
Chicks fall short in Nationals (2011)
The Chicks made a run at the Nationals but fell a little short in the Championship round losing 3-2 to Quebec Rebelles Performance. We were leading 2-0 going to the 5th but gave up 2 in the 5th inning and 1 more in the 6th to get eliminated in 5th place. We made a great run from the losers bracket to get to the Championship round winning 5 in a row and 4 straight in that 100 degree heat on Thursday and won them all in shutout fashion. I think the 15 hour day on the field on Thursday left us a little drained for Friday. I was still extremely proud of the young ladies as we saw every teams best pitcher. No team there saved their pitching against us. We saw every teams best and still went 8-2 and for the 8 days that we were in Raleigh and Cary we went 13-2. That ran our record for the year to 51-4. We still have 1 final tournament next weekend in Williamsburg, let's go there and win the Championship and finish our season strong. We will have practice this Wednesday, August 3rd 6:00 at Midlothian High School. We also will be having tryouts on August 13th at 11:00 at Midlothian High School to pick our Fall 2011 and Summer 2012 team. Stats are posted, as always GO CHICKS !!!
Sunday, August 8
Chicks finish 3rd in FAST Nationals (2010)
The Chicks went to sunny, hot Florida this past week and finished 3rd in FAST Nationals. Unlike the previous 2 weekends we did not have to battle the rain but we did battle some hot humid conditions and some really good teams. We played great ball all week but fell into losers bracket on Thursday losing 1-0 to the eventual National Champions from Miami. I was proud of our Friday effort as we had to win four straight games to make it to Saturday and we did it with some hard fought battles. I think the four games on Friday took some gas out of our tank for Saturday but we still played hard. We came up just a little short, we had a 1-0 lead going to 6th inning and with 2 outs and nobody on the South Florida Cruisers came up with 3 runs to beat us 3-1 and give us our 3rd place finish. It was still a great Summer season going 38-9-1 and a combined Fall and Summer record of 63-10-2. I'm going to miss all our seniors going off to college. I hope all these young ladies will accomplish all they want in life. You are all getting ready to start a new chapter in your life but remember to have a little fun sometimes because after college the real world starts and you will be going to work full time and there isn't that much time to have a lot of fun after that. All of you girls know my phone number and if you need anything all you have to do is call, I will do anything to help any of you at any time. Thanks for a great season and putting up with me for one more year. Final Summer stats are posted . As always, GO CHICKS !!!
Monday, August 10
Chicks finish 4th in FAST Nationals (2009)
The Chicks went South to play our final tournament of the Summer in sunny Ocoee, Florida and didn't disappoint. We lost early in elimination play and had to battle thru the losers bracket to a 4th place finish. We played 13 games in the Florida heat and played some really good teams. I was proud of the girls performance, they played great. Especially on Friday with our backs up against the wall we won 4 straight games and all of them in shutout fashion. 28 straight shutout innings on Friday. Then we had to be back on Saturday morning at 7:00 am for a battle with local rival Richmond Storm and pulled out a 4-1 victory only to get beat in the next game to a very good Team Hammer from Florida. They gave us both our losses in the double elimination tournament, 1-0 and 2-1. I had a great time this past week and I hope all the girls and parents did also. I'm going to miss our Seniors that are leaving for college, some of you have been playing for the Chicks for a long time. I've seen you grow from little girls with pigtails to pretty young women. I wish all of you the best in college and hope you achieve everything in life you want. You girls deserve the best so don't settle for anything less. Work hard in school and play hard on the field. I will make it to some games to see you play and I want all of you to know that anytime you need anything or you just want to talk or just say hello please call me. You girls have been a big part of my life for a long time. Final Summer stats are posted. As always, GO CHICKS !!!
Friday, August 1
Chicks finish 2nd in PONY Nationals again (2008)
Our Chicks went north to Youngstown, Ohio this past week for PONY Nationals and finished 2nd out of 80 teams going 9-1 for the week. We played some really great teams and had some really exciting games winning 6 games by 1 run. We eventually lost the National Championship to a great Connecticut Eliminators team in 10 innings 3-2 in another exciting game. That one gave me a few more gray hairs but was still a great game and I was proud of everyone. The girls had a great showing and I'm sure they made all their parents proud. We did show the rest of the country we can play ball in Virginia and everyone there knew when they play the Chicks they were in for a game. The girls got along great and everyone had fun all week. We play next week in our last tournament of the Summer in Softball Nation Nationals, let's go finish strong and Win this thing. As always, GO CHICKS !!!
Saturday, July 28
Chicks Win NSA World Series !! (2007)
The Chicks played great ball all week and claimed the NSA World Series Championship by beating a very good Wildfire team in the Finals. We had quite a few World Series performances and everyone contributed in winning the Championship. You have to have a total team effort to win Championships and we had it. It's off to Youngstown, Ohio to win the PONY Nationals next. I am really proud of everyone, see you in Ohio. As always, GO CHICKS !!
Monday, August 6
Chicks finish 2nd in PONY Nationals (2007)
The Chicks went north to play the PONY Nationals in Youngstown, Ohio and came back with a 2nd place finish out of 88 teams and showing that we can play ball in Va. We played some great ball and things looked bleak a couple of times but we never quit and thats what makes a great ball team. We played 2 different 10 inning marathons and came out on top in both. We won our pool and also won our bracket coming back from the losers bracket and beating a very good Rampage team from New Jersey twice to advance to the Sweet Sixteen. We cruised thru the first round and the Elite Eight round with 9-1 and 7-0 wins to put us in the Final Four. We then played a very good Valley Extreme Blue team winning 4-3 in 10 innings to advance to the Championship game,
Click here: Tribune-Chronicle
. We then lost in the Championship game 4-1 to Valley Extreme Red to end our season with a record of 68-12-2 winning the State Championship and NSA World Championship and a Runner-Up in the PONY Nationals, not to shabby. The ball just bounced funny for us in the last game but we had our opportunities leaving 12 runners on base. I am really proud of all the girls, it was a great year. I am going to miss the girls that are leaving us next season, I wish you all the best and hope you prosper at all your future endeavors. For the girls returning take a couple weeks off and I'll see you at tryouts on Monday, August 20th at L.C. Bird at 6:00 pm as we will start getting prepared for another great fall and 2008 summer season. As always, GO CHICKS !!