Dixie Chicks 18U: Welcome
Welcome to the Dixie Chicks Fastpitch Website
Dixie Chicks are a competitive fast-pitch tournament travel team. We have just finished another successful season and we are getting ready to play our 2015 Fall Season. Dixie Chicks are a non-profit organization dedicated to the promotion and development of girls fast pitch softball in the greater Richmond area. Our players have a love for softball and a special enthusiasm and dedication to the game. The outcome of which has been a higher level of play, at a very competitive level. We have seen the fast-paced growth of our ballplayers individual and team related softball skills. This leads to a mental attitude that is focused on the need for conditioning, commitment, and hard work. More importantly, we have seen the evolution of such life skills as self-confidence, leadership, and sportsmanship. They have created new friendships and have learned that sports are about having fun. We are seeking sponsors for our upcoming season. If you know of anyone interested in becoming a primary or secondary sponsor please contact Allan Spencer at 804-564-9467 for more information.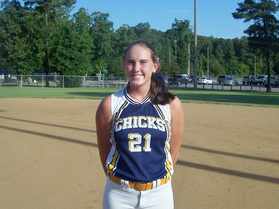 Wednesday, September 30
Chicks moving on
3 more of our Chicks will be moving on to play softball in college. Erin Doyle, Maddie Stone and Laura Kate Moss have verballed to their schools and I couldn't be prouder of them. It always a special feeling for me when the girls that I have coached for years move on to play at the next level. Erin verbals to Lipscomb University in Nashville, TN but still has a couple more seasons with us. Maddie verbals to Randolph-Macon right here in the center of the universe and Laura Kate will be headed to Newports News to play at Christopher Newport next Fall. I'm sure they are all excited to get the recruiting process behind them and can just concentrate on playing ball and getting good grades. I will miss all 3 of you young ladies but I still have some more time with you so let's keep working hard and win some ball games !!! Way to go ladies.
Monday, September 21
Chicks out early in Heartland
The Chicks went on the road to Roanoke this past weekend to play in the Heartland Showcase and got knocked out on Sunday by the team that eventually won the tournament. It wasn't our best weekend as we went 1-1-2. We had some bright spots for the weekend but unfortunately we had some not so bright spots also. We need to work on getting better real fast because it's not going to get any easier next weekend in the Cardinal Clash in Raleigh. Stats are posted, as always GO CHICKS!!!
Monday, September 7
Chicks start Fall 3-0
The Chicks got the Fall season started with 3 wins this past weekend in our annual Labor Day Sunday round robin friendly. We saw some good teams and got good pitching and defense. We need to get better with the bats quickly as in 2 weeks we play in the ASA Heartland Showcase in Salem and there will be plenty of good teams there. Stats from Sunday are posted. See you at practice on Wednesday. As always, GO CHICKS !!!
Tuesday, August 4
Chicks Finish 5th in Triple Crown Nationals (2015)
The Chicks went on the road for the Triple Crown Nationals in Myrtle Beach last week and finished our season with a 5th place finish. We played some really good ball at times but the bats went quiet late in the tourney and we had trouble putting runs on the board. We did finish our Summer with 3 Championships including the Virginia State Championship. We also had a 35-8-1 record. The last tournament of the season is always the toughest for me as I have to say goodbye to my Seniors that are off to play ball in College. This year I had to say goodbye to Taylor Wells and Jordan Clark whom have played with us since their Freshman year at Manchester. They will be missed a lot but maybe we can talk them in to playing with us some next Summer. We start practice for the Fall next Wednesday, August 12th at Midlothian High School 5:30. We are not having tryouts but anyone interested in playing with the Chicks this year can contact me and they are welcome to come workout with us. We may have room for a couple players. Thanks for another great season, already looking forward to the Fall. Final stats are posted, as always GO CHICKS !!!
Tuesday, July 21
Chicks Contacts
If you are a high level player and are looking for a team for the upcoming season then contact the coach in your age group for an individual tryout or maybe even come practice with our current players. Dixie Chicks are offering teams in every age group this upcoming season.
18u - Allan Spencer 804-564-9467
16u - Eric Kuester 804-400-1648
14u - Steve Ruch 804-677-3401
12u - Trent Melhbrech 804-690-3734
10u - George Gerdes 804-399-2100
Monday, July 20
Chicks go 4-1 in shortened showcase
The Chicks headed back to the Beach for another long 3 day tourney this past weekend and got a little bit of everything. We got our 3 games in on Friday and played really great ball. We also got our 4th pool game in Saturday afternoon with another Chick like performance. Then as we were warming up for elimination play we got thunder, lightning and then some hard rain to cancel the rest of the day. Then Sunday morning we got a forfeit win and then we played our last game as the final 3 rounds of the tournament were canceled for extreme heat as temperatures reached 98 degrees and 108 heat index. We are down to our last practice of the season as Nationals approach next week in Myrtle Beach. We need some players to step up and finish this season strong with a National Championship. Stats are posted, as always GO CHICKS !!!
Monday, July 13
Chicks go 6-2 in Va. Beach
The Chicks went back on the road again for another long 4 day event in Virginia Beach and went 6-2. This was our first tournament of the Summer that we didn't win the Championship. It wasn't our weekend as we didn't play our best ball. We did play well at times but we hit a bunch of balls right at people and didn't catch any breaks. The ball bounces funny sometimes and it did for the Chicks last weekend. We will move on and try to finish our Summer strong in Virginia Beach again next weekend and Myrtle Beach Triple Crown Nationals at the end of the month. Every Summer seems to just get started and before you know it is over. Only 2 tourneys left and we will be saying good-bye to our college bound kids and starting our Fall season with some new faces. Practice is Wednesday this week at Midlothian High School. Stats are posted, as always GO CHICKS !!!
Monday, June 29
Chicks Stay Hot
The Chicks took our show on the road for a long hot 4 day trip to Rock Hill, SC and brought home our 3rd Championship in a row this Summer in the Carolina Cardinals East Coast Fireworks. This was a tough format as 78 teams started the tourney on Thursday and only the top 23 even got a chance to play on Sunday in the Championship Elimanation round. We made our way in and won 4 straight on Sunday to claim another Championship. We showed a lot of guts as we fell behind in the quarter finals, the semi finals and the Championship game and found ways to win them all. They were all 1 run games and the semis took 2 innings of ITB to get the win. It took a total team effort to win this tournament and we got some great play from every player on the team at one time or another. These ladies are warriors and I couldn't be prouder of them. Our record for the season now stands at 20 wins 2 losses and 1 tie. We have practice on Thursday at Midlothian to get ready for our next road trip in Virginia Beach July 9-12 in the ASA Elite Showcase. Stats are posted, as always GO CHICKS !!!
Monday, June 15
Chicks Win States
Our Chicks played in States this past weekend and did not disappoint as we went 6-0 and claimed the State Championship for the second straight year. After a tie in the first game of the season we have ran off 12 straight wins to run our record to 12-0-1 for the Summer and 2 Championships. It was a brutal hot few days with heat indexs over 100 and the girls never faltered. Staying in the winners bracket the whole way certainly helped to win the tournament. We had some great pitching and defense and big hits from multiple players. It was another great team effort, I'm very proud of how we are playing with just limited practices but we need to keep working hard and improve every week, we have some tough games coming up in Rock Hill in a couple weeks and we need to be at our best. Stats are posted, as always GO CHICKS !!!
Monday, June 8
Chicks Start Season with Championship
The Chicks got the 2015 Summer Season started on the right track with a Championship in the USA Elite Select Showcase in Annandale, VA. We started a little shaky in our first game but got on track after that posting 6 straight wins all in shutout fashion. We were shorthanded and had some injuries but everyone stepped up and we took home the hardware going 6-0-1 for the weekend. I am proud of the girls, the played hard all weekend and left the field worn out and dirty but still Champs. We don't have much recovery time as we start again Friday night in States. See you at practice on Wednesday, Stats are posted. As always, GO CHICKS !!!