Dayton Fangs Women's Ice Hockey: News
Saturday, February 26
POWHA Championships
Please start to book your hotel rooms for the POWHA Championhip. We have set up a group rate on suites at the Dayton South Doubletree. There will be a 15 passanger van available at the Doubletree to take you and your teammate to the POWHA End of Season Party. This years party will be a Beer Garden at the barn at Benham's Grove. So please start to gear up for playoffs, they'll be here before you know it! When booking the rooms, mention you're with the POWHA group.
Thanks.
Thursday, October 1
Saturday, August 8
Dayton Fangs Announce 2009-2010 Schedule
Tuesday, September 22
Support the Dayton Fangs as they Make Strides Against Breast Cancer
You are invited to join the Dayton Fangs in the Fight Against Breast Cancer.

The Dayton Fangs Women's Hockey Team is participating in the American Cancer Society's Making Strides Against Breast Cancer 5K Walk. Family and Friends (female and male) are encouraged to come walk with your player or coach.

The walk starts out at Fifth Third Field on October 17, 2009. Registration begins @ 9:00a.m. and the walk begins at 10:00a.m. If you can not join us for the walk, we ask that you please donate and help us reach our goal.

You can join our strides team or make a donation by clicking on the American Cancer Society image above. If you prefer to make a donation by mail, please click on the image above and then click on any of the walkers/team members names and you can print out a form and mail it in.
Hope starts with one walker and one dollar at a time. Hope starts with our team. And hope can start with you.
THANK YOU FOR YOUR SUPPORT!
Friday, October 12
Want More Info? Check out the article in the Dayton Daily News
Thursday, February 23
Dayton Fangs, the Miami Valley's first women's team, begin play - by Katherine Ullmer of the Dayton Daily News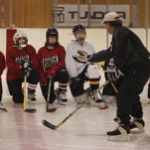 Coach Gary Instructing
Thursday, February 16
Women's hockey isn't just for Turin, it has come to Dayton Flyer News Article by Sara Stuckey
Once every four years the Winter Olympics roll around and fans across the world are able to see women's ice hockey, ...
Guardian Feature Article September 28, 2005
Dayton Fangs seek players
By Katie Strayer // Strayer.6@wright.edu
Published: Wednesday, September 28, 2005
Article Tools: Page 1 of 1
The Dayton Fangs Amateur Women's Ice Hockey team is having an information session at SouthMetro Ice & Inline in Centerville. It will be on Oct. 1 for any woman 18 and older who is interested in playing. Don't worry; you don't have to be experienced.
According to the team's Web site, topics such as costs, practice times, locations, coaches, sponsors and sponsorship, equipment and travel will be covered.
"The goal is to put together a team which will be able to play regional exhibition games, travel tournaments and eventually become a member of the Pennsylvania-Ohio Women's Hockey Association (POWHA)," said the site.
If you are interested in playing and cannot attend, send an e-mail to info@daytonfangs.com.
Vice President of POWHA Marianne Graham said, "I worry about the opportunity for other women in the area to learn and compete on the ice. This year I have put aside some time so that I could help create a women's hockey team in the Dayton area."
As the league boasts, come out and see if you're "sugar and spice...but not on the ice."
Wednesday, September 26
About Us- Team History (updated 9/26/07)
Saturday, June 21
Too Young to play with the Fangs? Never fear a new girls' team is here
Team Dayton Girls' Hockey
Prior to June 2008, there was no team for girls in the Miami Valley. Now there is a team for any girl under the age of 19. Interested in playing on the inaugural girls' ice hockey team in the Miami Valley? Just click on the link on the right....