Davenport Angels: Welcome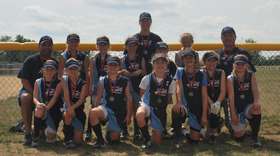 2nd Place in Center Point!
Welcome to the DAVENPORT ANGELS Website !!
"It Could Happen" in 2012
---
BIG NEWS!!!
We are excited to announce that our
Davenport Angels
are expanding to 12u for the 2012 Fall season
*See 12u roster page and schedule for more info *
---
The Angels are on break in July...
We will return to the fields in August!
---
We are a 10u girls Fastpitch Softball Tournament Team
from
DAVENPORT, IOWA
ASA Registered and Insured with ACE Certified coaches
"Whether you win or lose, you really won't be much different, as a person, than you were 2 hours ago... Never allow the scoreboard to dictate your self worth!... It's a highly unreliable and completely irrelevant indicator of your true value as a human being."
Calling All Angels by Train