DARBY TOWNSHIP EAGLES FOOTBALL: Welcome

On behalf of the Christopher Arnold Athletic Association,
Welcome to the Home of the Darby Township Eagles

"Off the Corner, Onto the Field", is the motto of the Christopher Arnold Athletic Association. The corner is the place to "hang", a bland place of non-progression. The field is an exciting evolving place of dynamics and achievement. The corner is the place to watch the world go by. The field is the place where the world turns.

Chris Arnold AA was formed by a small group of former students, athletes and teachers from Darby Township. Recognizing the decline of and absence of many social and recreational activities, CAAA members wanted to find a way to bridge this void. These individuals were further motivated by a developing medical situation. One of Darby Township's citizen-athletes had developed a life threatening disease.

Christopher Arnold was a star athlete at Darby Township High School, as well as in college. He later reached the professional football level. The news of his illness struck a nerve among his friends within the community. It was in his honor that the Christopher Arnold Athletic Association was named.

Through community support we were able to form intra-community soccer, softball, and little league baseball. However, it is our football program that has proven to be our greatest success. It began with flag football and developed into an independent traveling contact team. In 1998 CAAA entered 3 teams known as the Darby Township Eagles into the Liberty Conference of the the Pop Warner Football Association. By 2000 the Eagles had fielded 5 cheerleading and football teams and had captured 4 conference & 2 league championships.

Today the Chris Arnold Athletic Association and the Eagles are continuing to move around, over and through the obstacles that arise during growth and progress. We will be successful as long as we continue to expand and interact with Darby Township's young citizens and introduce them to new horizons.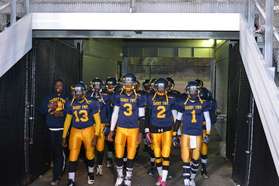 e-a-g-l-e-s
Saturday, September 9
Sunday, October 15
WEEK 8 - DT EAGLES HOST SPRINGFIELD FOR THE FINAL GAME OF THE REGULAR SEASON
WEEK 8
vs

EAGLES welcome the Springfield Cougars to town this weekend, as they play the last game(s) of the regular season. All 3 teams for both clubs had impressive victories last weekend. The 80lb and 105lb EAGLES will face undefeated teams from Springfield, while the 130lb EAGLES look to finish the season undefeated as they face the 6-1 Cougars. Please come out and show your support, as it will be great games!!
GO →E-A-G-L-E-S!
Click on the link below to keep current with team schedules and game score results:
http://www.eteamz.com/darbytownshipeagles/news/index.cfm?cat=603843
Check the Local Weather Report for Darby Township