DARBY TOWNSHIP EAGLES FOOTBALL: Welcome

On behalf of the Christopher Arnold Athletic Association,
Welcome to the Home of the Darby Township Eagles

"Off the Corner, Onto the Field", is the motto of the Christopher Arnold Athletic Association. The corner is the place to "hang", a bland place of non-progression. The field is an exciting evolving place of dynamics and achievement. The corner is the place to watch the world go by. The field is the place where the world turns.

Chris Arnold AA was formed by a small group of former students, athletes and teachers from Darby Township. Recognizing the decline of and absence of many social and recreational activities, CAAA members wanted to find a way to bridge this void. These individuals were further motivated by a developing medical situation. One of Darby Township's citizen-athletes had developed a life threatening disease.

Christopher Arnold was a star athlete at Darby Township High School, as well as in college. He later reached the professional football level. The news of his illness struck a nerve among his friends within the community. It was in his honor that the Christopher Arnold Athletic Association was named.

Through community support we were able to form intra-community soccer, softball, and little league baseball. However, it is our football program that has proven to be our greatest success. It began with flag football and developed into an independent traveling contact team. In 1998 CAAA entered 3 teams known as the Darby Township Eagles into the Liberty Conference of the the Pop Warner Football Association. By 2000 the Eagles had fielded 5 cheerleading and football teams and had captured 4 conference & 2 league championships.

Today the Chris Arnold Athletic Association and the Eagles are continuing to move around, over and through the obstacles that arise during growth and progress. We will be successful as long as we continue to expand and interact with Darby Township's young citizens and introduce them to new horizons.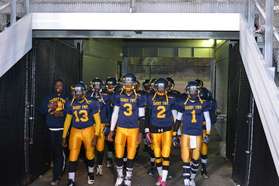 e-a-g-l-e-s
Saturday, September 9
Sunday, November 18
THANK YOU FOR A SUCCESSFUL CAMPAIGN THIS SEASON!
DT EAGLES Senior Squad lost their bid for a championship losing to Coatsville 23-0 in Week 10 competition.
The EAGLES coaches, staff, players and cheerleaders would like to thank the entire community for their overwhelming support throughout the season. Every year the CAAA enables young men and women to experience the sense of teamwork, camaraderie and responsibility. THANK YOU for being part of the process.
2018 BERT BELL CHAMPIONSHIP FINAL RESULTS
Playoffs Round #1 - October 27/28
Playoffs Round #2 - November 3/4
Playoffs Round #3 - November 10/11
Championship Games - November 17
**********************************************************
2018 CHAMPIONSHIP GAMES
**********************************************************
Sophomore
AWAY TEAM
HOME TEAM
2. Coatesville
0
1. Downingtown
6
Junior
AWAY TEAM
HOME TEAM
2. Coatesville
20
1. Drexel Hill
13
Senior
AWAY TEAM
HOME TEAM
2. Downingtown
26
1. Coatesville
24
**********************************************************
2018 PLAYOFFS ROUND #3
**********************************************************
Sophomore
AWAY TEAM
HOME TEAM
4. Coatesville
12
1. Clifton Heights
8
3. Springfield
6
2. Downingtown
7
Junior
AWAY TEAM
HOME TEAM
4. Coatesville
6
1. Springfield
0
3. Drexel Hill
6
2. Downingtown
0
Senior
AWAY TEAM
HOME TEAM
4. Drexel Hill
0
1. Coatesville
26
3. Downingtown
32
2. Brandywine DE
6
**********************************************************
2018 PLAYOFFS ROUND #2
**********************************************************
Sophomore
AWAY TEAM
HOME TEAM
8. Haverford
13
1. Clifton Heights
26
7. Avon Grove
0
2. Downingtown
16
6. Prospect Park
7
3. Springfield
38
5. Brandywine PA
6
4. Coatesville
13
Junior
AWAY TEAM
HOME TEAM
8. Clifton Heights
0
1. Springfield
21
7. Kennett/Unionville
6
2. Downingtown
21
6. Avon Grove
13
3. Drexel Hill
20
5. Ridley
2
4. Coatesville
33
Senior
AWAY TEAM
HOME TEAM
8. Darby Twp
0
1. Coatesville
23
7. Springfield
0
2. Brandywine DE
30
6. Ridley
0
3. Downingtown
32
5. Drexel Hill
38
4. Marple
7
**********************************************************
2018 PLAYOFFS ROUND #1
**********************************************************
Sophomore
AWAY TEAM
HOME TEAM
12. Drexel Hill
6
5. Brandywine PA
14
11. Haverford
13
6. Ridley
0
10. Avon Grove
12
7. Brandywine DE
7
9. Darby Twp
6
8. Prospect Park
14
Junior
AWAY TEAM
HOME TEAM
12. Greater 69th St
0
5. Ridley
21
11. Darby Twp
0
6. Avon Grove
33
10. Rose Tree
6
7. Kennett/Unionville
34
9. Clifton Heights
20
8. Brandywine PA
0
Senior
AWAY TEAM
HOME TEAM
12. Greater 69th St
26
5. Marple
40
11. Norchester
6
6. Ridley
39
10. Oxford
0
7. Springfield
25
9. Darby Twp
28
8. Prospect Park
16
Check the Local Weather Report for Darby Township