DALLAS STARLINGS VOLLEYBALL: Welcome
14' Blue Silver Champs Premier Shoot Out
DALLAS STARLINGS VOLLEYBALL CLUB
We are all different......
but yet we come together to form a common bond
"Giving Girls A Chance to Fly"
Dallas Starlings VBC was formed in 1998 and is part of a national volleyball program; Starlings Volleyball, USA; www.starlings.org. We have created an affordable opportunity for young ladies to play club volleyball. We create a positive and healthy environment for young ladies wishing to better themselves in the sport of volleyball. We assist in all aspects of our players lives by promoting strong academics through mentoring programs for college entrance, nutritional awareness, and career guidance. We believe every player deserves the right to play. We are here to make all players dreams come true and change lives for the better using volleyball as our tool. Anyone wishing to donate to the Dallas Starlings VBC for the player's dream, please contact our director,
Laurie Bruscato
.
"I am only one, but I am one.
I cannot do everything, but I can do something.
What I can do I ought to do.
And what I ought to do, by the grace of God, I will do."
-Canon Farrar
I am passionate about helping every young lady realize her dream of playing volleyball. I will do everything I can to assist in that process. Dallas Starlings will provide every player a professional vb club, provide fair club pricing, expect the best out of every player so she may reach her highest playing potential.
Dallas Starlings training motto: Greatness takes work!
Thank you and enjoy our site.
Laurie Bruscato
Owner/Director, Coach
CLEARER MIND BETTER PERFORMANCE
Positive Coaching to Change Lives through positive interaction with parents, coaches and athletes
Katy Perry Dark Horse
DALLAS STARLINGS PRE-TRYOUT CLINICS!!!
COME CHECK US OUT! SEE WHAT WE'RE ALL ABOUT!
Pre-Tryout Clinics Dates and Times:
*PRICE: $10 Each Session (all ages welcome every session)
TX Assault VB Facility 12750 Perimeter Dallas, TX 75228
Sat., Oct. 4th: 10-11:30am Sun., Oct. 5th: 5-6:30pm
Sat., Oct. 11th: 10-11:30am Sun., Oct. 12th: 5-6:30pm
Sat., Oct. 18th: 10-11:30am Sun., Oct. 19th: 5-6:30pm
Sat., Oct. 25th: 10-11:30am Sun., Oct. 26th: 5-6:30pm
Sat., Nov. 1st: 10-11:30am Sun., Nov. 2nd: 5-6:30pm
Sat., Nov. 8th: 1-2:30am Sun., Nov. 9th: 5-6:30pm
Sat., Nov. 15th: 1-2:30am Sun., Nov. 16th: 5-6:30pm

*Positional training and skills improvement clinics plus game play will also be used for a learning environment.
Come work on skills and positionals with the Dallas Starlings coaches.
Attend as many as you like. The more the better.
2014-2015 PRE-SEASON PARENT INFORMATION MEETINGS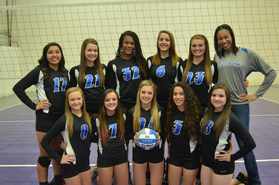 2014 15's Black
Parent Information Meetings:
We'll discuss the Ins and Outs of Dallas Starlings Volleyball Club
*Oct. 19th at 2pm Forney Sports Center
12950 FM 1641 Forney, TX 75126
*Oct. 19th at 5pm TX Assault Facility
12750 Perimeter Dallas, TX 75228
See our flyer attached!
Print off our Parent Information!
See you at the meeting. We look forward to introducing our club to you and saying hello again to our returning parents:)
Handout:
2014-2015 TRYOUT FLYER & PARENT INFORMATION MEETING
CLICK HERE TO SEE MORE INFORMATION ABOUT OUR 2014-2015 TRYOUTS
We Are Proud of Our Starlings