District 16 NJ: Welcome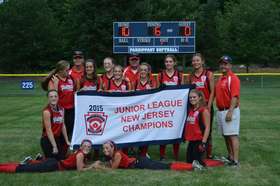 NORTHFIELD JLS STATE CHAMPS
Friday, July 10
Welcome to Little League District 16 Web Site
CONGRATULATIONS NORTHFIELD JUNIOR SOFTBALL * STATE CHAMPIONS *
LEAGUES INCLUDE: Absecon, Brigantine, Cape May County, Egg Harbor City, Greater Wildwood, Hammonton, Lower Cape May, Linwood Baseball, Margate, Middle Township, Mullica Township, Northfield, Ocean City, Somers Point, Upper Township Baseball, Upper Township Softball, Ventnor.
---
2015 TOURNAMENT BRACKET CHANGES and
IMPORTANT INFORMATION
Weather Related Changes:
X
***************************
General Information:
** Best Way To Print Bracket: Click Printer icon at right side. Click "PDF View" hyperlink at top of page, then print the bracket in the window that opens. ***
---
Congratulations to our 2015 District 16
Tournament Champions!
9/10 Baseball / Upper Township
9/10 Softball / Hammonton [Auto-Advance w/o Play]
10/11 Baseball /
10/11 Softball / No D16 Team
Little League Baseball / Upper Township
Little League Softball / Hammonton
Junior League Baseball / Middle Township
*****************
Junior League Softball / Northfield [Auto-Advance w/o Play]
Also: Section IV Champions / NJ State Champions
********************
Senior League Baseball / Lower Cape May-Gr. Wildwood
Senior League Softball / Lower Cape May [Auto-Advance w/o Play]
---
~ WEB SITE ADDRESS ~
For your surfing pleasure and recollection ease, this District 16 Little League site can be accessed at the following NEW web address:
---
~ Umpire Information ~

Interested in learning about the annual District 16 Little League Baseball and Softball umpire clinic? Interested in learning the OBR (Official Baseball Rules) Rule Set, upon which Little League, Babe Ruth, and most all baseball leagues rules are based? Questions about rules, training, etc. Communicate any such desires or questions via the below listed email address. -Bill Scull
UIC Email address: D16UIC@Comcast.Net
XXX
Wednesday, June 17
2015 9/10 Baseball - COMPLETE
Wednesday, June 17
2015 LLB - COMPLETE
Sunday, June 21
2015 JLB - COMPLETE
Wednesday, June 17
2015 LLS - COMPLETE
Sunday, June 21
2015 SLB - COMPLETE
Thursday, June 18
2015 10/11 Baseball Pool - COMPLETE
Thursday, June 18
2015 10/11 Finals - COMPLETE
Thursday, June 18
2015 SLB - COMPLETE