Christian Youth Soccer League: Welcome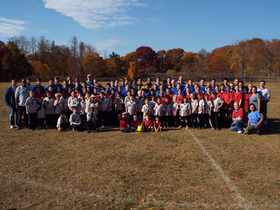 Celebrating 10 years in ministry
WELCOME TO THE CHRISTIAN YOUTH SOCCER LEAGUE
WE WOULD LIKE TO THANK OUR LORD AND SAVIOUR JESUS CHRIST FOR ESTABLISHING US AND SUSTAINING US FOR THESE PAST 12 YEARS. WE WOULD ALSO LIKE TO THANK ALL WHO HAVE PARTICIPATED IN THE CYSL SINCE ITS INCEPTION IN THE FALL OF 2003 ALL OUR PLAYERS, VOLUNTEERS, FAMILIES AND FRIENDS! WE HAVE BEEN ASSOCIATED WITH SO MANY OVER THE YEARS AND WE ARE GRATEFUL FOR ALL OF YOU. MAY GOD CONTINUE TO RICHLY BLESS THE CYSL AND ALL WHO WE HAVE MINISTERED TO. THANK YOU FOR ALLOWING US TO SERVE YOU.
Hello and welcome to the CYSL website. We are a Christ centered organization dedicated to glorifying the Lord Jesus Christ and providing a family friendly atmosphere where our children can enjoy healthy sports competition playing soccer. On this website you can obtain information on the league, teams, rosters, standings, schedules, location, registration information , donations and all the latest updates. You can also read our purpose statement as well as our statement of faith. Thank you for your interest in the CYSL.
All games played on Saturday mornings at Cornerstone Bible Church
324 Jayne blvd., Port Jefferson Station, NY
HISKIDS practice every Saturday at 11:15am
Practices are held each Thursday also at the church. For more information please click on the links to the left of the homepage.
REGISTRATION FOR THE FALL 2015 SEASON BEGINS ON AUGUST 1ST WITH OUR DISCOUNTED 'EARLY BIRD' SPECIAL WHICH ENDS AUGUST 21ST.
REGULAR REGISTRATION CONTINUES ON AUGUST 22ND TO SEPTEMBER 12TH.
LATE REGISTRATION FROM SEPTEMBER 13TH TO SEPTEMBER 26TH.
FOR RATE INFORMATION CLICK ON THE REGISTRATION TAB ON THE LEFT SIDE OF THIS PAGE.
TRYOUTS - September 12th 9:30am
SEASON BEGINS - September 19th
SEASON ENDS - November 14th
BLESSINGS IN THE NAME OF JESUS CHRIST !!
*** Email address for the league is : HIScysl@gmail.com ***
Please utilize for all email contacts with the league.
"WALK WITH THE KING TODAY AND BE A BLESSING"

WHO IS THE KING OF GLORY? HIS NAME IS JESUS- KING OF KINGS
AND LORD OF LORDS.
HE'S COMING SOON ARE YOU READY?