CyFair Intruders '04: Welcome
FALL HIGHLIGHTS
CY FAIR INTRUDERS '04
WE ARE A SECOND YEAR 8U YEAR TEAM OUT OF DYESS PARK IN CYPRESS, TEXAS.
WE ARE PROUD TO BE PART OF THE INTRUDERS GOLD PROGRAM THAT HAS PROVIDED YOUNG WOMEN THE OPPORTUNITY TO EARN COLLEGE SCHOLARSHIPS FOR OVER 15 YEARS.
Monday, November 19
Intruders Take 2nd Place at USFA Fall State
The Intruder's Dominated the USFA Fall State Tournament, going into the Championship game undefeated.
Even though they finished with 2nd, the girls played fantastic ball all weekend and showed us a glimpse of what spring will look like.
WAY TO GO INTRUDERS!!
Monday, November 12
Intruders Bring Home 2nd Place!!!
THIS PAST WEEKEND THE INTRUDERS FOUGHT A HARD BATTLE IN THE TEXAS SMASH TURKEY BASH IN CHANNELVIEW. AFTER FALLING TO THE LOSERS BRACKET ON SATURDAY, THEY RETURNED ON SUNDAY READY TO PLAY!!
THE INTRUDERS WON FOUR CONSECTUTIVE GAMES TO MAKE IT TO THE CHAMPIONSHIP GAME.
WAY TO GO GIRLS!!!
THANK YOU CYPRESS STATION!!
On October 13th, the Intruders had a very successful fundraiser at Cypress Station Carwash. Their generosity along with their patrons is greatly apprecited by all our girls and their families!
Check out our sponsor page for more information on Cypress Station!!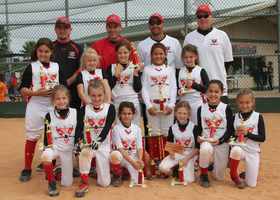 2ND PLACE AT KATY COBRA'S BATTLE OF THE BATS
CONGRATULATIONS INTRUDERS!!
Contact Coach Wendell Budisalovich at 281-961-0352 orwendell@ameriquipeagle.com, if you have any questions or need further information regarding the Intruders.
"It is the mission of the Cy-Fair Intruders to promote a girl's all around well-being by providing them an arena to experience leadership, teamwork and unity, discipline, commitment, competitiveness, a desire to be their best both on and off the field, and to give them an opportunity to have a quality education by obtaining a college scholarship."
FOLLOW OUR RESULTS ON GAMECHANGER
Become a fan of