: Welcome

Combined Teams - 2011
Welcome to South Dakota Cyclone Basketball's Website! - Where Summer Sweat = Winter Wins!
"You have 100% control of 2 things: Your effort and Your attitude. PLAY PRESENT!"
"You can be comfortable or outstanding, but you can't be both"
"In life and in basketball, people will hate on you for the great things you are doing, because they are not doing them. Welcome to Success!" - Ganon Baker
~Play Hard - Play Smart - Play Together~
In 2012, we will have 2 teams competing: a 10th-grade girls team with players from Sioux Valley, West Central, DeSmet, Estelline and Tri-Valley and an 8th-grade girls team with all players from Sioux Valley.
2012 will be our fifth season for the 10th grade team. The 8th graders will be competing in their second season.
The ABCs of Successful Basketball Teams (Attitude, Belief & Chemistry)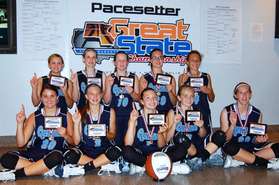 4 State Champs!