Welcome to Cyclones Baseball
17u Full Time Travel Baseball Team
The Greatest Show On Dirt.
The Cyclones Baseball Team is a group of players that want to play a high caliber competitive baseball. They are dedicated boy's that train hard,they play hard,and love the game of baseball. The Cyclones are a boys travel baseball team out of Crete,Illinois. We are committed to providing our player's with the devolopmental skills to ensure their growth as athletes on the field as well as off the field. Our belief is a strong emphasis on academic excellence, good sportmanship and positive behavior. Our goal each season is to have fun,improve our skills,showcase our talents,form ever lasting friendships,and to play hard and win tournaments.
2014 Important Dates
Wednesday June 4 Cyclones vs TBA
Wednesday June 11 Cyclones vs Joliet 730pm
June 13-15 Tournament @ Lisle Illinois Benedictine
Wednesday June 18 Cyclones vs Midlothian Braves 730pm
June 20-22 Tournament @ Joliet Silver Cross
Wednesday June 25 Cyclones @ Midlothian Braves
Wednesday July 2 Cyclones vs Kankakee 730pm
Wednesday July 9 Cyclones @ Kankakee TBA

July 11-13 Tournament @ Kankakee CC

Wednesday July 16 Cyclones @ Joliet

July 18-20 Tournament @ Chicago Invitational @ South Suburban College

Wednesday July 23 Cyclones vs TBA

July 25-27 Tournament @ Bloomington Invitational

Saturday August 2,2014 Cyclones Swim Party 1pm
Friday, April 26
Beecher's Wyatt throws a no-hitter
Beecher's Chase Wyatt struck out nine and walked two as he threw a no-hitter in his first varsity baseball start on Thursday.
Beecher beat Grant Park 3-0 in a River Valley Conference game
Nice job Chase
Marian Catholic's Michael Bainbridge named All Conference
Congratulation to Michael Bainbridge who was named to All conference for East Suburban Catholic Conference as Infielder / DH .
Nice job Michael. http://www.eastsuburbancc.com/html/documents/baseall-con_001.pdf
Congratulations to Illinois Lutheran trio Grant Famer was named to River Valley Conference All Conference team for Pitcher and infielder and was named to All area baseball second team by the NWI Times . Jared Buzan ,and Dylan Gould was named honorable mention for All Conference team and Dylan Gould was named ILHS Defense player of the year Nice Job Guys
Beecher's Wyatt receives honors
Chase Wyatt was named honorable mention for River Valley All Conference team and was name Rookie of the year for his team. Nice Job Chase.
Congratulations
To all of our guys for making their High School teams Jared Buzan, Grant Farmer, Dylan Gould (Illinois Lutheran) Michael Bainbridge, Ryan Brown (Marian Catholic ) Brian Mayer, Justin Roggemann, and Chase Wyatt (Beecher High School) and Justin Kozinski (Crete Monee) Matt Francesconi (Kenwood Academy) Rich Szabo (Oak Forest) Justin Esposito (Lincoln Way) nice job boys .
2013 Ho Chunk Fall Ball 1st place
2013 Pony North East Regionals 1st place
2013 Pony North East 16u 1st place Conference
2012 SWILA Fall Ball 1st Place
2012 Pony North Colt 16u Zone 2nd Place
2012 Pony North Zone Colt 16u Regionals 2nd Place
2012 Pony 16u Colt 2nd place Conference
2012 Battle Creek 3rd Place
2011 Wisconsin Dells Summer Slugfest 1st place
2011 I80 14u Champions 17-1 season
2011 West Chicago Railroad Days 2nd place
2011 West Chicago 3rd place
2011 SouthBend Golden Dome 3rd place
2010 I80 13u Champions 15-2 season
2010 Oak Lawn 1st place
2010 Battle of Dells 3rd place
2010 Kankakee 3rd place
2009 I80 12u Champions 20-0 season
2008 Orland Park 3rd place
2008 New Lenox 1st Place
2007 Orland Park 1st Place
2007 Tinley Park 2nd Place
2007 Richton Park 3rd Place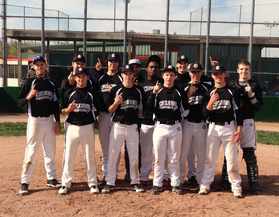 2013 Fall Ball Champs
2012 SWILA Fall Ball Champs 14-1

2011 West Chicago Railroad Days 2nd place

2011 Wisconsin Summer Slugfest Champs

2011 I-80 Champs 3 peat

1st place 2010 Oaklawn

Lenz Field

Wisconsin Dells

New Lenox 1st place

Tinley Park 2nd Place

Orland Park 1st Place






Cyclones Baseball

Spotlight Site Winner

January 2009 EZ Team Top Web Site

Thank you eteamz! On Friday January 2, 2009 ETEAMZ the website company that this site runs on with over 2.5 million team web pages worldwide, named Cyclones Baseball.com as their eteamz.com Spotlight Site.

We appreciate this worldwide acknowledgement from eteamz.






Click Here to Donate to Cyclones Baseball If you would like to donate to the Cyclones Baseball on line click on the link above or go to sponsor's info tab for sponsor form or Please contact John Farmer at (708) 609-8077 or Jack Bainbridge at (773)842-9806 . Donations of any amount are greatly appreciated. Donations will be used for purchase of new uniforms, equipement, and tournament fees. If you or your company donates we will put your name on the team banner that is hung at the fields. Thank you for your supporting the Cyclones Baseball. See our sponsors http://eteamz.active.com/cretecyclonesbaseball/sponsors/






Dave Griffin Baseball & Softball School & Let It Rip Baseball are the offical hitting and pitching school of the Cyclones. They are the best in the area . www.davegriffinbaseball.com or(219) 922-1107 or www.letitripbaseball.com or (815) 806-1166. Tell them John and Jack sent you.






Spirit Wear






Sports Station





.




thunderstruck by ACDC