Creekview Mustangs : Welcome
Saturday, March 8
Mustangs tops Highland Park
The Creekview Mustangs defeated Highland Park 5-2 on Friday night at Highland Park to qualify for the playoffs for the fourth consecutive year.
Creekview would go up 1-0 midway through the first half when senior Herson Iglasias fired in a shot off a ball crossed by sophomore Jacob Meachum. Iglasias would score again after getting his shot off in the midst of multiple defenders after receiving a long service from freshman David Jaime to make it 2-0 going into halftime.
Creekview would increase their lead to 3-0 when senior defender Farbricio Lianos headed home a corner taken by Jaime. But Highland Park would cut the lead to 3-2 off a PK and direct kick. A great play by junior keeper Javier Grande off a point blank shot and clearance by sophomore Jay Martinez prevented Highland Park from evening the score. Creekview would get some breathing room, off nifty quick passing in that attacking third that included Meachum, junior Austin Soles, Iglasias, and finished nicely by sophomore Michael Neale. Creekview would add their final goal when Meachum would convert a pk after being taken down in the box after a 30 yard sprint to the goal.
With the win Creekview evens their district record to 3-3 and improves their overall record to 10-7-1.
Wednesday, March 5
Mustangs stomp Trojans 4-2 on senior night
The Creekview Mustangs defeated their rival, Carrollton Newman Smith, 4-2 in district play on senior night at Standridge stadium.
Creekview would all behind 1-0 when Newman Smith scored off a quick counter with the ball played over the defense. Creekview evened the game up quickly when junior Austin Soles would score on header over the keeper on a direct kick from freshman David Jamie from 50 yards out.
In the second half Creekview would take a 2-1 lead when Soles took the ball from a Newman Smith midfielder and played sophomore defender Jacob Meachum, who took off sprinting with the ball and received a wall pass from sophomore Michael Neale before playing the ball inside to senior Christian Guerra, who would find net with a rip to the inside post. Creekview would increase their lead to 3-1 when Soles and Meachum would combine to dispossess Newman Smith of the ball, Soles would play Guerra, who then quickly played senior Herson Iglesias, who would beat the keeper with a shot to the upper 90.
Newman would strike back with a goal to make it 3-2 off another quick over the top long ball. Creekview though would put it away when Soles took a throwin and dribbled to the touchline before playing the ball back to senior David Moralez, who onetimed a shot perfectly in the corner.
Creekview honored seniors Fabricio Lianos, Christian Guerra-Barbosa, Herson Igelias, Joe Martinez, Brandon Teasdale, Jose Lopez, Eleazar Villanueva, and team manager Miguel Ojeda. Congratulations seniors.
The win improves Creekview to 2-3 in the district and 9-7-1 overall.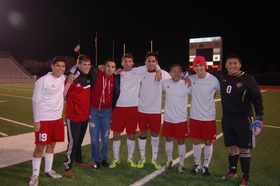 2014 Creekview Seniors