Cranford Hockey Club: Welcome
Welcome to the Cranford Hockey Club Home Page
---
Cranford Hockey Club Squirt B Team Wins Thanksgiving Tournament.
On Sunday (December 1st) the Cranford Hockey Club Squirt B Team won the BSA/USA Thanksgiving Tournament. No one expected much from this team going into the season. In fact, they lost all but one of their pre-season games. They are currently undefeated in league play (8-0-2) and won all 5 of their games in this tournament including the Championship Game, defeating the Union Thunder Blue Team 4-1.
Pictured left to right
Back - Asst. Coach Tim Hughes, Head Coach Bob Devaney, Asst. Coach Anthony Tittanegro
Jack Cartnick, Mark Jacobello, Jonathan Ludwig, Eemil Korpela, Simon Thompson, Grady Calder, Tommy Hughes, Jake Winn, Jake DeVito, Jake Toth, Matthew Moran, Will Devaney, Bobby O'Brien, Anthony Tittanegro On Ice - Ryan Jaros
Try Hockey for Free Day!
On November 2, 2013, USA Hockey and over 500 local programs across the country encourage kids, ages 4 to 9, to come to a local participating rink and try youth hockey as part of the NHL's Come Play Hockey Month. Cranford Hockey Club held their event at Warinanco Ice Skating Center.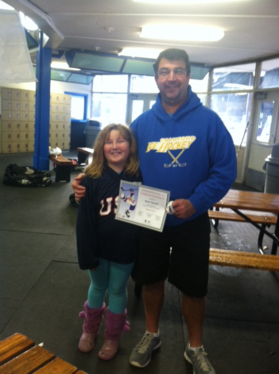 President Mike Plick awarding certificate for USAs Try Hockey Free Day
Recent Games
Date
Event
Time
Location
Fri 11/29
Cranford Peewee A: 0 - MONTCLAIR: 5
11:00 AM - 12:30 PM
Ice House (Avalanche, Wild)
Fri 11/29
Cranford Peewee A: 1 - White Plains: 4
8:00 PM - 9:30 PM
Ice House (Avalanche, Wild)
Fri 11/29
Cranford Bantam AA vs. TBA
8:15 PM - 9:45 PM
Ice House (Avalanche, Wild)
Fri 11/29
IceHouse Avalanche: 3 - Cranford Bantam A: 3
9:30 PM - 11:00 PM
Ice House (Avalanche, Wild)
Sat 11/30
Cranford Bantam B: 1 vs. Mamaronek: 5 (Tournament)
9:30 AM - 11:00 AM
Ice House (Avalanche, Wild)
Sat 11/30
Cranford Bantam B: 8 @ NJ Wild: 1 (Tournament)
9:30 AM - 11:00 AM
Ice House (Avalanche, Wild)
Sat 11/30
Cranford Bantam AA vs. Montclair Blues (Blue)
11:00 AM - 1:00 PM
Ice House (Avalanche, Wild)
Sat 11/30
Beaver Dam: 1 - Cranford Bantam A: 4
11:45 AM - 1:15 PM
Ice House (Avalanche, Wild)
Sat 11/30
Cranford Peewee A: 2 - NJ ROCKETS: 0
6:00 PM - 7:30 PM
Ice House (Avalanche, Wild)
Sat 11/30
Cranford Bantam AA vs. White Plains Plainsmen
8:15 PM - 9:00 PM
Ice House (Avalanche, Wild)
Sat 11/30
Cranford Bantam A: 2 - Montclair Blues (White): 2
9:15 PM - 10:45 PM
Ice House (Avalanche, Wild)
Sun 12/1
Cranford Peewee A: 0 - MONTCLAIR: 1
7:00 AM - 9:30 AM
Ice House (Avalanche, Wild)
Sun 12/1
Brebeuf College: 5 - Bantam A: 0 Semi-Finals
10:00 AM - 11:30 AM
Ice House (Avalanche, Wild)
Sun 12/1
Cranford Bantam B: 0 @ Mamaroneck: 5 (Tournament)
11:30 AM - 1:00 PM
Ice House (Avalanche, Wild)