Mountain View Girls Tennis: Welcome
Welcome to Mountain View High School
Cougar Tennis
For more information in regards to the girls tennis team, please contact:
Coach Shane Therrian at therrian.shane@gmail.com
COUGARS TAKE 2ND PLACE AT DISTRICTS
Mountain View girls returned home from the district tournament held in Hermiston, Oregon with 2nd Place honors. The doubles pairings of Kelsey Leighton and Nichole Collins placed sixth. Quarterfinalists include singles player Kim Santaguida and the doubles teams of Hollie Kloos/Miah Cronen and Erin Taylor/Moruya Harvey. Also picking up wins (and points) were Alexi Overland and Maya Hatch. What an amazing season!! GO COUGS!!
Cougar Cup Challenge Champions!!
Sophomore Moruya Harvey and Freshman Riley Morgan won the 2017 addition of the Cougar Cup Challenge mixed doubles tournament! Congrats!
GO COUGS!!!!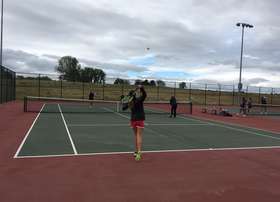 Two MVHS doubles teams square off in a quarterfinal match-up in Hermiston