This website is dedicated to the hardworking athletes and parents of the Corona High Cross Country program!

GIRLS LEAGUE CHAMPIONS
1989, 1991, 1992, 1993, 1998, 2001, 2002, 2003, 2004, 2005, 2006, 2007
GIRLS CIF FINALISTS
1991, 1992, 1993, 2002, 2003, 2004, 2005, 2006, 2010, 2011, 2013
GIRLS CALIFORNIA STATE CHAMPIONSHIPS
1993, 2003, 2004, 2006, 2010, 2011

BOYS LEAGUE CHAMPIONS
1961, 1962, 1963, 1974, 1975, 1976, 1982, 1984, 1993, 1994, 1998, 2001, 2003, 2004, 2005, 2006, 2007, 2008, 2009, 2013
BOYS CIF FINALISTS
1993, 1994, 2003, 2005, 2007, 2008, 2009, 2010, 2011, 2012, 2013
BOYS CALIFORNIA STATE CHAMPIONSHIPS
1994, 2009, 2010

2014 Corona High Cross Country Information
Alum Amber Withrow and Meb, 2014 Boston Marathon Champ
We are preparing for another GREAT Cross Country season here at Corona High School.
We are looking for new faces to join us here in 2014 - incoming 9th graders; spread the word and recruit your friends! We will be still accepting freshmen until Friday, August 15th.

While part of our team is training up in Big Bear from July 31-August 6, all others will still do workouts on:
Thursday, July 31 - Meet at the track
Friday, August 1 - Meet at the track
Saturday, August 2 - Please put in a 45-60 minute run on your own
Monday, August 4 - Meet at the track
Tuesday, August 5 - Meet at the track
Wednesday, August 6 - no workout
Thursday, August 7 - Meet at the track
Friday, August 8 - Optional Workout at the Beach - more details to come!
Improvements for the 2014 season:
We are only accepting a maximum of 100 athletes on this year's squad. Managing over 110 kids has diminished the quality of the team the past several seasons and we are restricting our numbers here in 2014. We are placing our top athletes into 1st period so we can better focus on strengthening, injury prevention and to get several more easier runs to better our aerobic strength. We will only train before school when it is predicted to be 95 degrees or above. Varsity athletes will be able to get in two workouts a day, 2-4 times a week under this new schedule. We will have greater access to the pool and the weight room as well.
All first year athletes will be automatically included into the program. All returners must show improvement to be allowed to stay on the team.
2014 Important Dates
Aug. 16 Team Car Wash
Aug. 21 Red & Gold Meet XI
Aug. 28 Riverside Summer Meet (tentative)
Sept. 5 Seaside Invitational
Sept. 13 Laguna Hills Invitational
Sept. 20 Woodbridge Cross Country Classic
Sept. 25 Big VIII League Meet #1
Oct. 11 Inland Empire Championships
Oct. 16 Big VIII League Meet #2 @ Butterfield Park
Oct. 25 Mt. SAC Invitational
Nov. 6 Big VIII League Finals
Nov. 15 Division I CIF Prelims
Nov. 22 Division I CIF Finals
Nov. 29 California State Champioships
Dec. 5 CXC Awards Night
Don't be upset with the results you didn't get by the work you didn't do!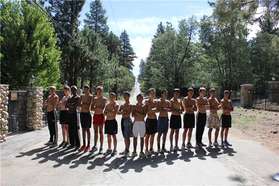 2013 League Champs on the Road to Success
Motivating for Life
This list was originally introduced to Coach Gardner from Joe Newton's book "Coaching ...



Want to Know How Far We're Running?



Athletes - simply click onto the title and go to the map of Corona. Follow the directions and you'll be able to map out how far you've run through the streets of Corona! Enjoy and have fun! It will all make you more aware of all of your runs!

You can also click onto Running Routes in the land hand column to see previously marked out runs.


The Kenyan Summer (for high school athletes)
Click onto the link for the following article - it's a great read with great advice.
The Value of Chocolate Milk
A great must-read article about the value of using chocolate milk as a post-workout drink to get the very most from your training.
ALL ATHLETES: Bring a postworkout drink (Gatorade, Powerade, chocolate milk) and a sports nutrition bar to all workouts to ingest once we are done.
Shannon Rowbury Four Mile Tempo with 5x200
Watch more video of Workout Wednesday Season 7 on flotrack.org