Corona Angels 14u Barroso: Welcome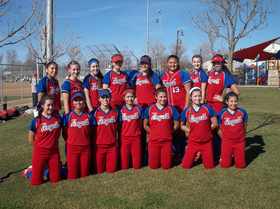 So Cals Finest Worth Cup 16u Tournament 2014
Welcome to the home of the Corona Angels 14u (Barroso) website.
We are a 14U fastpitch softball team that consists of athletes from all over Southern California with one thing in common - the desire and commitment to succeed. Manny Barroso and John Ramirez with the guidance of Marty Tyson, oversees the progress of this special group of talented young ladies and is building them both physically and mentally. This team is, as all Corona Angels are, preparing to compete for the PGF, USA, ASA National Championships.
Our Goals:
1. Create a positive environment where players work hard, learn and grow.
2. Develop and improve our players skills from fundamentals to a mental approach.
3. Provide the tools and Knowledge they need to learn, grow and be successful. We will pursue excellence on the field and in doing so develop girls physically and mentally.

---
Team Manager Manny Barroso
(909)549-4291 or email: manny6barroso@gmail.com
---
Weekly Team Practices
Tuesday's 6:00 pm - 8:00 pm
Red Practice Shirt, Black or Blue Shorts, Turf Shoes
*All players required to attend 2 EM sessions weekly
Saturday's: 08:00 am - 01:00 pm
Field: Blue Practice Shirt, Blue Pants, Red Socks
Cages: Black or Blue Shorts ok, Turf Shoes
---
Roar