Corona Angels 02: Welcome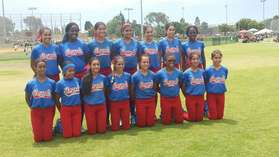 17th Place PGF Nationals 2014
Welcome to the home of the Corona Angels '02.
Under the direction of Marty Tyson, this team is coached by Manager Dom Tyson, Coach Ray Lerma and Coach Al Thompson. We are a returning 12u team that did very well during the 2014 season and we are looking forward to another great season of softball.
Our goal is to place in the top five at PGF Nationals in 2015.