Corona American Little League: Welcome
2014 Senior All Stars

District 72 Champions


CA Section 9 Champions

2015 Junior All Stars

District 72 Champions

2014 Junior All Stars

District 72 Champions

2014 11yr All Stars

District 72 Chmapions
CA Section 9 Champions
2014 Junior Angels

District 72 TOC Champions

2014 Minor AAA A's

District 72 TOC Champions
---
---
---
CONGRATULATIONS TO OUR 2015 ALL STARS
We look forward to an exciting 2015 All Star season. Come out and cheer on our post season play!
9/10 All Stars - Ronnie Fierro, Tyler Giannatasio, Ethan Holloway, Marcus Jasso, Landon Kersey, Evan Koehler, Arian Mason, Tommy Mitchell, Tommy Novasel, Matthew Park, Michelle Ruelas, Aidan Taylor, Andrew Wolesky, Tyler Xayavong
10/11 All Stars - Jonah Eaton, Emerson Harrington, Michael Keenan, Micah Madrid, Ruben Mendoza, Dominic Morton, Tyler Nelson, Bryant Poland Jr., Max Ryan, Alex Sanfillippo, Ryan Sanfillippo, Brennan Schuld, Luke Taylor, David Zamarripa
Little League All Stars (12) - Jacob Bejines, Mitch Burandt, Laura Kropko, Colin Lemus, Caden Siemsen, Conner Smith, Gavin Ball, Levi Crouch, Mario Landeros, Jacob Bisset, Parker Davis, Daniel Perez, Taylor Sanfillippo
Junior All Stars - Christian Dandridge, Tyler Dandridge, Andrew Diaz, Blake Diaz, Noah Eaton, Matthew Keenan, Shawn Hepler, David Martin, Jacob Riddle, Dylan Rutherford, Garrett Sherwood, Blake Siemsen, Josh Smevog
Senior All Stars - Griffin Ball, Travis Crumpton, Casey Dykstra, Trevor Ferrante, Cole Hoyme, Kevin Lemus, Roger Mejia Jr., Louis (Trey) Petro III, Trevor Poe, Derrick Taranto, Tim Westbrook, Gabe Zamora
______________________________________________________________________________________________________________
Winter Ball - Sign Up Information
Two more Winter Ball sign ups, July 8th and 15th @Grazianos Pizza from 6-9PM. Cash, Credit/Debit only please. Registration is $75 and includes a hat and jersey. We will be offering teams for the Minor A through Senior Divisions (Age 6 years old in calendar year 2015 through 16 years old).
Interested in coaching a team for Winter Ball? Either send your interest to our league President, Jeff Schuld, via email at jeffschuld@mac.com .
______________________________________________________________________________________________________________
AA Championship and AA MVP Exhibition Game
Congratulations to the AA Dodgers winning the end of season tournament!
The AA Division will play their final MVP Game Exhibition Game on Saturday, May 30th at 11AM following Closing Ceremonies.
The GOLD team will be managed by Coach Sean Bangert (#1 Dodgers) and the ROYAL team will be managed by Coach Bryant Poland (#2 Athletics). The teams are comprised of 4 MVP players from each team in the division voted on by the team's coaching staff.
It's a fun game to watch and celebrate another step for these AA players that worked so hard throughout the season!
2015 End of Season Tournament Winners Advancing to TOC's
Congratulations to our tournament winners! These teams will be representing CALL in the District 72 Tournament of Champions (TOC) starting on June 6th at their respective tournament locations throughout District 72 fields. Check back for TOC brackets, locations and results. Come out and support all our TOC teams!
Play hard.
Show great sportsmanship.
Compete.
Bring home the banners!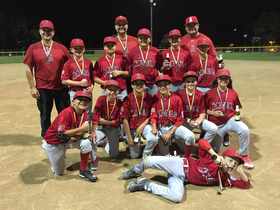 2015 Major Angels
Who is on Facebook? No Who is on First!
Corona American Little League is on Facebook. If you have an account, please "Like" our page!. You'll be able to get league updates from Facebook as well as our web site.
Our District 72 is also on Facebook. This is an open forum to get information on TOC, All-Stars and the rest of the leagues in our District. Click on this link and "LIKE" their page today!
2015 Volunteer Application
THE VOLUNTEER APPLICATION HAS BEEN UPDATED!! If you are interested in managing, coaching, umpiring, being a team parent, being a Board Member, working in the concession stand or working with the players regularly in any way, the 2015 volunteer application is for you.
Download and complete
the application and turn it in with a copy of photo identification at any of our Spring registration dates which are still to be determined.
Field Conditions, Games Status and Graffiti Hotline
Check back here on our website or LIKE us on Facebook - Corona American Little League for updates on field conditions and games.
For Field Conditions on Mountain Gate Park, please check with your managers and player agents as they will have the most current information on the field conditions. The hotline can be used as a resource, but the great volunteers we have will give it their best effort to get the fields playable. The field conditions hotline is (951) 736-2244 and is updated on weekdays after 3:00 PM or after 7:00 AM on weekends.
If you see graffiti at Mountain Gate park, or anywhere in the City of Corona, call (951) 817-5841 to put in a request to have your park and community cleaned up.
When it's going to be hot out there - HYDRATE ahead of time!
Having your child (and you) drink water at least 24 hours ahead of any planned outdoors activity - like a baseball game - will help them on the field! Drinking water or Gatorade at the fields helps to keep them hydrated but doesn't prepare them to sustain the heat.
So please make sure you are giving the kids lots of H2O now! They may not thank you for it but they'll appreciate it on game day!