Coquitlam Metro-Ford Xtreme 90's Womens Soccer: My Site News
Sunday, September 16
The 07-08 Season - Graduating Year!
Well the senior year for youth soccer has crept up on our babies, who have rapidly become beautiful young ladies!
The 2007-08 Xtreme 90's has a few new faces this year including Natalie Fabbro, who returns to Coquitlam for her final year after spending the last few season with Burnaby Girls; Lauren White, who played last year with the provincial champion Wild; and Julie Ius, who joins us from Golden Ears, who folded following last season.
We are pleased to have Carly Williams back from injury for the start of the season and looking forward to having Michelle Francis rejoining the playing ranks before the end of September. We sincerely hope that the ACL injury bug that plagued us last fall will be firmly behind us when Carly Barnetson returns following the Xmas break.
The Xtreme had a more than respectable 4th place finish in the league, which provided a coastal cup playoff seeding, especially considering the adversity that plagued the team before Xmas with four (4) serious kneed injuries requiring operations.
A victory in the 1st round at home against Victoria (2-1) was followed by a second round away win against Golden Ears (0-3). Unfortunately, the top seeded North Shore Storm soundly defeated our Xtreme (0-3) away in the semi-final. This was followed by a poor performance at home against Burnaby Titans (0-2) in the consolation final and a missed opportunity to obtain back door entry into the provincial cup.
The result? A bit of a bad taste in the mouth and some unfinished business to take care of in 2007-08!!
Sunday, January 7
2007 is Out of the Gate
It almost seems like a new season altogether, given the number of weather related cancellations piled on top of the holiday break, but 2007 got off to a successful start with a makeup game (one down & three to go) win - away to Victoria United!
2006 is one which we are happy to see the back side of. We are happy that both Carly Williams (Nov 14th) and Michelle Francis (Jan 2nd) have their ACL surgery behind them and are rehabilitating and recuperating now. We hope the same will be true for Lauren Jones shortly and that Carly Barnetson will get some encouraging news on January 11th when she visits Dr. Shearer. In terms of bad luck with serious injuries it does not get any worse, although the ladies were dealt another blow when Kelsey Desjarlais decided to leave the team prior to Xmas. It has been a true credit to these young athletes to see how well the squad has responded to the adversity.
A depleted roster of 12 players, one coach and acting manager (Thanks Lana!) made the trip to the Island January 6th for the 1st fixture of 2007. Wins on the Island are difficult enough without following almost a month off since your last game, but the ladies started well and dominated the early going. Victoria found their legs about 10 minutes in though, started to organize themselves defensively and caused Coquitlam some difficulties with their long, ball-in-the-air game. A few adjustments in the middle of the pith and a bit of composure resulted in the Xtreme starting to regain control of the game around the 25th minute mark of the 1st half.
Veronica Ebner's industrious and focused efforts on the left wing were rewarded when she bravely attacked a slick through ball from Olivia Fournier and was taken down in the box. Anna Brancati, who had a solid game at sweeper, stepped up to adeptly slot what was one of the most calmly, almost casual, spot shots in the corner of the onion bag to take a 1-0 lead into half time.
The second half was tightly contested, but Meagan Price-Leibenzeder was never truly tested. The Xtreme were very unlucky not to make it 2-0 when Ayla Protopaltis just failed to chip in from close range. Alana Foster narrowly missed from a rocketed volley that just skated wide to the right and Olivia Fournier was unfortunate to have another solid blast blocked on its way to goal. The Xtreme held true through a couple of late corners, as fatigue started to become a factor, and the game finished 1 - nil.
New signing Tahira Larson, who played last season with the Burnaby Crush, made her first appearance for the squad. Ashley Bordignon and Veronica Ebner were players of the game, but is was a determined effort from the entire squad, in what is always a extremely physical test against a defiant Island squad.
So the team remains undefeated for the season and remains in the top three or four in the league which is important for provincial cup seeding. Another player is on the way and may be eligible for our next game against Golden Ears. Veronica Gregoris will be joining the squad from our U17 Gold team.
The latter part of our schedule will be a tough test of our resilience and if we can navigate the pitfalls of provincial cup scheduling with Spring Break and school trips, things look very promising for this committed group of young footballers.
Happy New Year to players, coaches, officials, parents and supporters!!
Sunday, March 11
League Play Finishes, Cup Play Begins and Spring Break is Upon Us!
The 2006-2007 Metro League play is behind us!!
Our final two games truly exemplified how strange this great game can be at times. On Saturday against the North Shore Storm, a stellar performance in the 1st half (especially Audra Pickering and Stephanie Russo) should have had the Xtreme entering the break up four-nil, instead we finished losing 2-0, courtesy of the sublime positional play and clinical finishing of North Shore's Chelsea Buckland. It was a super effort from the girls, one of their best performances in terms of team play/passing this season and especially pleasing coming on the heels of a tough 4-0 loss the previous week to the same North Shore squad.
The next day in Maple Ridge, with two additional players missing due to school travel (leaving us with one substitute), the Xtreme escaped with a 3-0 win against Golden Ears, in a game largely dominated by the home team.
This 06-07 Xtreme team can look back on this season as a one of many accomplishments, despite great adversity and take immense pride in what they have accomplished! The team finished fourth overall, scored 44 goals (third highest), allowed only 24 goals in 19 games (fourth best) and had a plus/minus of 24 goals (third best)!
Did we expect to do better? Yes, of course we did - both coaches and players alike and that is what has been refreshingly different about this year - the added commitment, effort, camaraderie and determination that this team has shown. Most pleasing of all, one could see that the ladies expected and in fact demanded more of each other both on and off the pitch.
This has been the result of higher expectations; better preparation; the insights and enthusiasm of new Asst. Coach Karen Jones; as well as the addition of some key players including Meagan Price-Leibenzeder, who has provided a steadying influence and big saves when we needed it, Emma Vogt, whose speed, fitness and never-say-die attitude has frustrated opposing forwards all season, the leadership of Olivia Fournier and the tenacity of Alana Foster.
Early in the season, after displaying a form that created great optimism about what was possible for this team, we lost three players (Michelle Francis, Carly Williams, Lauren Jones) to ACL injuries. Our backup keeper opted to move to Gold for more playing time and a more positive experience. In late November, Carly Barnetson went down with a partial ACL tear, after just getting back to her old self following an ACL tear of the opposite knee. In December, a second player decided to leave the team, not feeling as valued and as effectively utilized as she sought to be. What was the net effect? By the Xmas holiday break, the Xtreme found themselves down 6 players, including 4 starters.
Fortunately, the squad was bolstered by Veronica Gregoris and Tahira Larson, more affectionately known as "V" and "T", joining the team before the transfer deadline in January.
Going into the 1st round of the Coastal Cup, the squad was down another three starters due to school trips, bringing the total of missing starters to six. In addition, a number of players entered the game suffering from significant injuries, including a potentially broken nose, two cases of shin splints, a sprained ankle, and a lower back injury. The squad was truly depleted with only 11 players available and very much exemplified the walking wounded.
However, despite the adversity and monsoon conditions at Best, the Xtreme found away to defeat a difficult opponent in Victoria United by a score of 2-1, collecting goals from Shelby Sheppard (deflection off a defender) and Veronica Ebner. Hats off to the entire squad, as many played under duress. Not to diminish the efforts fo all the girls, which was stellar, but special kudos to stand-outs Shelby Sheppard, Olivia Fournier, Alana Foster, Veronica Ebner and Tahira Larson today!
It was a true demonstration of the meaning of team today in the 1st round of Coastal Cup, as the 11 present stepped up to ensure that those returning will have a shot at furthering this team's progress in the Coastal Cup upon their return. Although, the season has produced its share of frustrating moments and we wish for better, one cannot but step back and applaud the efforts of this resilient group of young ladies.
Take a bow ladies and thanks to coaches, managers, parents, families, fund raisers, drivers and the powers above, what a super season!!
Here's to an even better Cup run!!
Sunday, October 1
Top of the Table!
Sunday, September 10
The Metro 06/07 Season
Being a Winner
"Being a winner is not only about talent.  Mostly, it is about hard work, day in and day out.  Mostly it is about believing in yourself and your team and knowing your training and preparation has been harder than what your opponent can throw at you on even their best day. The work it takes to become a winner, is not necessarily pretty or fun or produce recognition or praise. It is doing things when is no one is watching and knowing on the inside that you have worked harder than any other player on the field. Many players have talent, but few have the desire or motivation or commitment to do what it takes to be great."
Michelle Akers
15 year US National team player, 2nd all time leading scorer
(Courtesy of our friends from the Washington Crossfire '89)
Confidence
"At this level you have to exude a certain confidence in yourself, even if you make mistakes. You have to know that somehow you're going to get better. I feel confident that if I get put on the field I'll do everything I can for my team and I'll play as hard as I can for my team. Becuase if I don't , I'm not doing my job. And, if I have to look my team-mates in the eye and have them see me in that light, I'll quit. I would never want to walk off the field knowing that my team-mates thought I didn't work hard enough. That is one thing I can control. I can't control if I score goals. I can't control if I play well or if I have a good first touch on the ball. But I can control how hard I work and that's a big part of my game. That's confidence."
Abby Wambach

US National Team Member (since 9 Sept 2001)
Washington Freedom (Drafted 2nd in 2002, Golden Goal Scorer in 2003 WUSA Championship)
University of Florida (96 goals, 10 hat-tricks and 49 assists)
Our Lady of Mercy HS (1997 National HS Player of the Year, 142 goals)
The Perspective of a World Champion
"Many people say I'm the best women's soccer player in the world. I don't think so. And because of that, someday I just might be." "I am a member of a team, and I rely on the team, I defer to it and sacrifice for it, because the team, not the individual, is the ultimate champion." "The person that said winning isn't everything, never won anything."

Mia Hamm
Generally considered to have been the best all-around woman soccer player in the world.
"Good Result Today Ladies!"
Sunday, September 24
Soccer Sports Medicine and Physiotherapy
New West Orthopaedic & Sports Medicine Clinic

Medical Assessments:

Dr. Carl Shearer, M.D. B.Sc.,M.Sc. Dip. Sport Medicine, (CASM)
65 Richmond Street, New Westminster, BC, V3L 5P5
Ph: (604) 526-7466          Fax: (604) 526-4320

Former Vancouver Whitecap (1979-1982), Dr Carl Shearer is a sports medicine physician with a special interest in soccer. Dr Shearer has been a team physician with the Canadian Soccer Association since 1993 and has practiced sports medicine for 10 years. He currently coaches with Golden Ears Soccer Club.
If an Xtreme player is in need of a sports medicine consultation Dr Shearer will be happy to see her on an accelerated basis. The player will need a referral from his/her family doctor. Please note: to obtain an accelerated appointment Dr Shearer's office will need to be informed you are a Coquitlan Xtreme player and have been referred by Alex B.
Physiotherapy:

Eddie Cannon
604-526-1886

Eddie holds a Bachelor's degree in Physical Education, a Bachelor's degree in Physiotherapy, and a Master's degree in Exercise Physiology. Eddie is currently working at New West Sports Medicine Center - Physiotherapy. He has worked as a research assistant at the UBC Center for Sport Analysis. Eddie has worked in the JM Buchanan Exercise Science Lab at UBC and has performed fitness testing with a number of elite level teams and athletes. Eddie has been involved in numerous Exercise Science research projects, which have been presented at various conferences throughout North America and Europe. Eddie is part of the medical staff for the Canadian Soccer Association.

Eddie was a member of the University of British Columbia soccer team that won two National Championships and competed at the World Collegiate Championships. He was a member of provincial select teams and national champion amateur men's teams. He is currently the assistant coach of the University of British Columbia's men's soccer team.
Reacting to Lack of Playing Time
Sol Campbell, Phil Neville & Rio Ferdinand
Recently, Rio Ferdinand, the 26-year old Manchester United and England centre back was left out of the starting lineup for the World Cup qualifying match against Austria by Coach Sven-Goran Eriksson - a first since February 2001!
Ferdinand like any player would reacted with surprise and anger, but Eriksson indicated "It's up to the players (who are left out) to show me that I am wrong. As a manager, you are always happy when people try in matches and training to prove that you are wrong. If you are on the bench for one or two games, then if you are a professional, you don't discuss it but you go out next time to show that you are better than the others."
As it turned out Sol Campbell, who was selected over Rio, was injured in the second half requiring Rio to step in again and resulting in his selection for the October 12th World Cup qualifier against Poland.
"When you take decisions like this, with great players who have never sat on the bench before, you can get two different reactions. One is head down, even worse, sad, whatever it is. Or you have the opposite - 'I will show you that you're wrong'."
The Message? Not playing - work harder, take your chance to show your stuff when it comes along. Don't let it get you down, as you never know what will happen and when that chance will come along. If you are not mentally and physically fit when it does you will not be able to capitalize on it.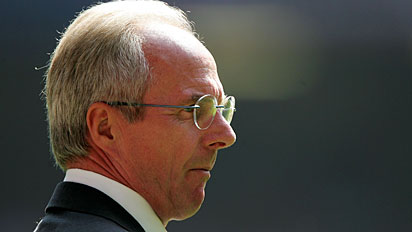 Coach Sven-Goran Eriksson
Attitude IS Everything!
The 4 P's of Defending
PRESSURE: Get close fast. Don't over commit. One or two yards from the opponent is good. Adjust your distance ...
An Enlightened Perspective - the Wisdom of Andy Rooney (60 Minutes)
Quotes
The rules of soccer are very simple, basically it is this: if it moves, kick it. If it doesn't move, kick it until it does. ~Phil Woosnam, 1974
The goalkeeper is the jewel in the crown and getting at him should be almost impossible. It's the biggest sin in football to make him do any work. ~George Graham, 1997
Some people say soccer's a matter of life or death, but it isn't. It's much more important than that. ~Variation of a famous saying
I am a member of a team, and I rely on the team, I defer to it and sacrifice for it, because the team, not the individual, is the ultimate champion. ~ Mia Hamm
You can't just beat a team, you have to leave a lasting impression in their minds so they never want to see you again" ~ Mia Ham
Making a Difference
You don't have to actually answer the questions. Just read the e-mail straight through and you'll get the point.
1. Name the five wealthiest people in the world.
2. Name the last five Heisman trophy winners.
3. Name the last five winners of the Miss America.
4. Name ten people who have won the Nobel or Pulitzer Prize.
5. Name the last half dozen Academy Award winners for best actor and actress.
6. Name the last decade's worth of World Series winners.
How did you do?
The point is, none of us remember the headliners of yesterday. These are no second-rate achievers. They are the best in their fields. But the applause dies. Awards tarnish. Achievements are forgotten. Accolades and certificates are buried with their owners.
Here's another quiz. See how you do on this one:
1. List a few teachers who aided your journey through school.
2. Name three friends who have helped you through a difficult time.
3. Name five people who have taught you something worthwhile.
4. Think of a few people who have made you feel appreciated and special.
5. Think of five people you enjoy spending time with.
Easier?
The lesson: The people who make a difference in your life are not the ones with the most credentials, the most money, or the most awards. They are the ones who care.
Pass this on to those people who have made a difference in your life. "Don't worry about the world coming to an end today. It's already tomorrow in Australia."
Charles Schultz (the creator of the "Peanuts" comic strip)