Coolboy Rangers: Welcome
Welcome to Coolboy Rangers Website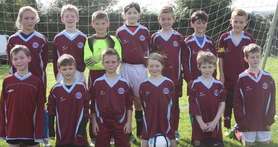 Coolboy Rangers U10 Team that Beat Wicklow Rovers 7-3 On Sunday 27th Sept 2015
Coolboy Rangers is a juvenile soccer club in the south west of County Wicklow catering for children from under 8's to under 16's . We play our soccer at Coolboy Sports Field, which is a community field based in Coolafancy.
For directions open the following link; Directions
All schedules and results can be viewed in the Calendar or the Fixtures/Results View.
Click Here for the latest news, registration details and information on all teams.
Also visit out facebook page at www.facebook.com/coolboyrangers
Monday, September 28
Wins for U9 Whites, U12's and U14's.
Click on the links in the "Recent Games" table (Bottom of Home screen) to view match reports.
Alternatively click on Fixtures/Results to access all match reports.
Wednesday, September 30
Training Moving from Coolboy Sports Field next week
Training has moved to Shillelagh GAA & Community Pitch for all teams bar the U8's and U9 maroons.
Training for U8's and U9 Maroons will be in Tinahely Community hall.
Click on individual teams on the Latest News Page or the Practice link for more details.