Coolboy Rangers: Welcome
Welcome to Coolboy Rangers Website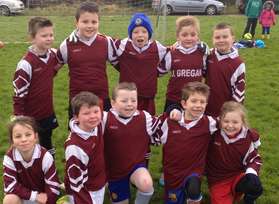 U8 Whites v Avonmore 15th Feb 2015
Click here for previous photos.
Coolboy Rangers is a juvenile soccer club in the south west of County Wicklow catering for children from under 8's to under 16's .
We play our soccer at Coolboy Sports Field, which is a community field based in Coolafancy. For directions open the following link; Directions
Upcoming games and recent results will be displayed below. All schedules and results can be viewed in the Calendar or the Fixtures/Results View.
You can also Click Here for the latest news, Hat Trick club, registration details and information on all teams.
Note: Initially games will be posted/assigned for the weekend without a time. It will be posted for a particular day but this may not be the actual day on that weekend. Usually by Wednesday evening of each week, a day and time will be posted. Your coach will also send out a text giving you details of the match and asking for a response.

It is important that all parents respond promptly to texts.
Monday, April 20
Cup heart ache for Coolboy this weekend.
There was cup heart ache for three Coolboy Teams this weekend. The U16's went down to a strong Arklow United team 3-1. Lorcan Rossitter got the goal. The U11's travelled away and while they had chances could not overcome a good Greystones side beaten 3-1. Luke Wallace getting the goal. The U10's also lost out to Greystones at home on a 2-1 scoreline. Again Coolboy had chances in this game. Tim Ivors got the goal.
The U'13's had a very easy win against struggling Arklow Town B team. They won 15-0 with Claudius Harbarta getting 7 goals and Matthew Ging 5, Daniel Hedderman 1 and Kean O'Neill 2.
Both U8 teams had draws with the Maroons drawing 4-4 away to carnew and the Whites drawing 3-3 at home to roundwood.
The U9's were beaten at home to Glencormac 3-1.