Connecticut NABA: Welcome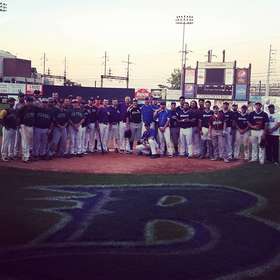 2015 CT NABA All-Stars
The Connecticut NABA is in it's 24th year. We are a 18+ wood bat league with 10 teams throughout the state. We play double headers every Sunday. Our season begins on April 24th and we go until August. Our website gets updated every Tuesday with results from the previous weekend.
-If you need to contact us feel free to send us an email @ connecticutnaba@yahoo.com
*National inquiries should be directed to our national offices by going on to www.dugout.org
April 24, 2016
The 2016 NABA season is finally underway and it started off with some really good games…
The CT Owls and Milford Monsters played in 2 tight games. The Owls took game one with steady hitting. Last year's Pitcher of the Year Tommy Roy got his first win of the season, going 6 1/3 with 4 strikeouts. Milford made things interesting with a sacrifice fly by Nick Campos, an RBI single by Catalano, an RBI double by Talone, and a fielder's scoring 5 runs in the 6 th but CJ Romanos came in to slam the door on a Milford comeback bid and secure the 8-7 win for the Owls. They were led by Steve Reiser and Mike Miniter offensively with two hits and two runs scored each. Romanos 2-3 was also at the plate. James Ineson also had a multi-hit game and an RBI for the Owls. Milford's Chris Peloso racked up three RBIs on three hits for Milford Monsters and Rich Catalano added an rbi single. Chris Flynn held The Owls hitless over 1 1/3 innings in relief, allowed no earned runs, walked none and struck out four in the loss.
In Game 2 The Owls completed the sweep in a close game that ended 4-3. Mike Miniter started for the Owls and pitched great, throwing 5 innings of 3 run ball while striking out 3. James Ineson got the win for the Owls, who came in to start the 6th inning of a tied ballgame and gave up no runs. Tommy Roy went 1-2 with a run scored and a stolen base, and Jeff Lutian delivered the pinch hit double in the 5th inning that tied the game. Jordon Colonese's sac fly in the 6th inning scored the go ahead run for the Owls. (CT Owls 2-0, Milford 0-2)
The Hackers and the Aftershock also had 2 great one run games on the opening day. Game one went to the Aftershock 4-3. Nick Dzioba earned the win on the mound tossing a solid 5 innings, allowing 5 hits and 1 earned run. Alex Roger didn't allow a hit in 2 innings of relief work to record the save. A four run 3rd inning was all the Shock needed for the win. Kyle Lentini, Neal Ayotte, Shans Fusco, and Matt Murray all tallied RBIs in the inning. Mike Fox took the tough game 1 loss, going the distance with 11 strikeouts. Matt Giglio walked twice and singled.
Game 2 the Aftershock won a back and forth affair in a close game by the score of 7-6. Tommy Stagis picked up right where he left off in 2015 recording his first win of the season pitching 6 innings, allowing 4 hits while striking out 5. Mark Cole pitched the 7th inning and recorded the save. Cole also led the offense going 4 for 4 with a double, 2 RBIs, a run scored, and a stolen base. Neal Ayotte and Nick Dzioba both batted 2 for 3 while combining for 2 doubles, 2 RBIs, and 3 runs scored. The Hackers got a huge game from Julien Casabuon going 4-4 with a homer and a double. Wes Dutton also went yard for Naugatuck and Zach Brech collected 3 hits in the lost. (Southington 2-0, Hackers 0-2)
Meriden put up plenty of runs to sweep Cheshire. Game one the Machines were sparked by Calistro and Francisco Asencio, who teamed up for four hits and four RBIs. Willie Rios added a RBI on a sac fly and Brad Lorusso got a rbi single in the 12-2 game.
In game 2 Meriden jumped on Cheshire early with an eight-run explosion in the second inning to coasts to 15-1 win. In that inning Meriden score on an RBI single by Ryan Thayer, a two-run double by Anthony Rodriguez, a two-run single by Derek Drag, a walk by Joshua Lovely, a walk by Brad Lorusso, and a bases loaded walk by Julian Mendez. Drag racked up four RBIs on two hits for the Machines. JD Tyler brought the heat against Cheshire during his outing. Tyler gave up just two hits, allowed one earned run, walked three and struck out six during his five innings of work. (Meriden 2-0, Cheshire 0-2)
Bridgeport also got a sweep against the CT Flyers. Game 1 was a tight game. Joe DeLuca pitched a great game for the flyers, allowing just one run but coming away with the tough 1-0 defeat to the Bridgeport All-Stars.
In Game 2 it was all Bridgeport. The All-Stars erupted for 26 runs in the game. Joe DeLuca's did everything he could for the flyers both games. He had a 2-2 performance at the plate in game. He singled in the first inning and tripled in the third inning in the 26-8 loss to the Port. (Bridgeport 2-0, CT Flyers 0-2)
The Durham Chanticleers used a big first inning to beat Nighthawks, 13-3 in game 1. They scored 12 times to put the game out of reach. A two-run single by Sean Zapatka, an RBI single by Dan Milardo, a double by Mike Giordano and an RBI single by James Charmichael in the second inning fueled Chanticleers' offense early. The Chanticleers' Steve Simon gave up 3 runs in the first, but kept the Nighthawks scoreless for the remainder of the game. Giordano, Charmichael and Dan Milardo helped lead Chanticleers. They combined for four hits and two RBIs. The Nighthawks Chad Sweeney went 2-3 and John Filip led the offense for the Nighthawks.
The Nighthawks showed some grit bouncing back to win game 2, 6-4. The Chanticleers jumped out to an early 3-0 lead in the top of the first. Steve Simon started the rally for Chanticleers with a single. Chanticleers pushed more runs across when Fonseca scored on a wild pitch and Simon scored. Then the Nighthawks, Shane Bulter got things going with a single and Malik Jackson got huge 2 rbi's hit. Tyler Mclain and Howie Miller pitched well in the win. Miller struckout 11 in the game and picked up the win. Dan Fonseca led the Chanticleers' offensive, as he got on base three times in the game. He singled in the fifth inning and doubled in the seventh inning. Mike Giordano was charged with the loss. He allowed six runs in 4 2/3 innings, walked six and struck out nine. (Nighthawks 1-1, Durham 1-1)