14U Conklin Raiders Futures Elite: Welcome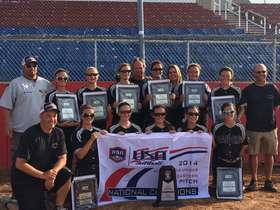 2014 ASA Eastern National Champions
Welcome! We are part of a growing family of Conklin Raider Teams and look forward to continue to develop young ladies in the Raider tradition. Please visit our 18 Gold Conklin Raiders at http://www.eteamz.com/conklinraidersny/.

Conklin Raider Futures Premier Tryouts!

Coached by Rich Wiggins. For girls ages 13-16 who are looking for the chance to be recruited at the best showcases and tournaments, such as Team NJ, Triple Crown, etc. Players will come from different areas of NY and Pa. Players will work on their skills at home then meet at the tournaments.

The best players will also have the opportunity to play with the Gold Team in championship play.

Tryouts for Futures will be held at Kirkwood River Park, in Kirkwood NY, on Saturday Aug. 9 from 10am-2pm.

For further information contact Rich Wiggins at 607-765-6938 or by email, rwiggins@hess.com.
---