Concord Timberwolves: Welcome
The Concord Timberwolves Basketball is an organization located in Concord, NC. established in March 2011. We offer basketball to boys and girls from ages 9 to 17 in the Cabarrus County area.
Mission Statement
It is the mission of the Concord Timberwolves to dedicate ourselves to the development of a healthy community. We strive to promote and provide the practice of good sportsmanship, character through fair play. Our primary focus is on a competitive spirit to succeed, with fun for all participants, while never compromising the welfare and safety of our children.
We are always looking for talented athletes and dependable coaches. All that are interested please contact Coach Mason at www.concordtimberwolves@gmail.com.
Please take the time to sign our guestbook just to let us know you stopped by.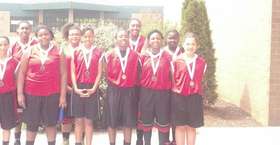 Runner-Up Champiions
Sunday, April 14
Runner Up Champions
This weekend the Lady Timberwolves gained their very first !st place seeding. They went on to claim their first Runner-Up victory! This is the first of many battles to come!
Saturday, July 23
Team Apparel
Family, friends, and fans;
Please take a look in our web store. You can help us earn money buy making purchases of the variety of goods offered. We also have a fundraising link for you to order magazines and coupons. This will also help us out tramendously. Thank you all for your neverending support!
Sunday, April 14
Alyssa Locklear
Alyssa was born on Nov. 6, 1998. She is approximately 5'10" and weighs 180lbs. Her favorite subject in school is Science. He favorite sport is basketball. Her favorite team is the Pheonix Murcury, but does not have a favorite player. Her favorite foods are ice cream, salads, and chicken. Her favorite celebrities are Chris Brown, Lil' Wayne, and Tyler Perry. She dreams of becoming a WNBA player and a Physical Therapist when she grows up. Her hobbies include dancing, singing, hanging with her friends, and playing with her dog. Her favorite colors are blue and green.