Concord American Softball: Welcome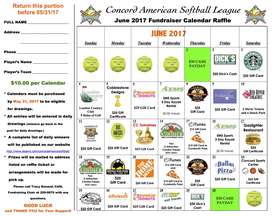 2017 Calendar Fundraiser
With the softball season underway, it is time to kick off our 2017 Concord American Softball League fundraiser!
This season's fundraiser is a calendar raffle with a prize drawing each day throughout the
month of June. The calendar is filled with a variety of prizes, all given in generosity by local merchants in support of the safe, encouraging and competitive softball experience Concord American provides all its players. Last year the calendar fundraiser was extremely successful and vital for league improvements and stability.
Calendars are priced at $10.00 each. Each player is required to sell five calendars. Monies raised from the calendar fundraiser will be used to: purchase new equipment with updated safety features and maintain the high quality condition of the Dillon Field facilities. If each player in the league works hard to sell five calendars, we will raise over $1,800 for the Concord American Softball League!
Support Our Fundraiser
Concord American Softball League
Help us raise $1,000 by shopping with Babe Ruth League -
we earn up to 50%.
Click on the link below to shop Under Armour, Kohl's, Jet, Groupon, Walmart, Papa Johns, Buffalo Wild Wings, Dominos, Texas Road House, Easton, Sketchers, Converse, Fitbit, Macy's, Shutterfly, Apple, East Bay, Lacrosse Gear and much more!
Babe Ruth FlipGive Fundraising
Search for campaign 72928
Practice and game schedules will be published soon. Below are when the games will be played at each level, whether home or away.
Senior games will be played on Friday and Sunday @ 5:45 PM, typically one maybe two practices a week, TBD
Majors will play on Wednesday @ 5:45 PM and Saturday @ 2:00 PM (There will be one game on Monday, May 1st @ 5:45 PM), one to two practices a week TBD
AAA will play on Tuesday @ 5:45 PM and Saturday @ 11:00 AM, one to two practices a week TBD
AA will play on Thursday @ 5:45 PM and Saturday @ 9:15 AM, one practice a week TBD
The season begins Saturday, April 29th...
2017 14U All Star Team
14U - The Capital Area Softball Organization is pleased to share that planning is taking shape for a 14U All-Star team that intends to compete in the Babe Ruth District Tournament, and to the extent qualified, the Babe Ruth State Tournament. While the planning is early going, we wanted to share this great upcoming opportunity with you so you could plan accordingly. Further information will come out in the future about an evaluation date and tourney specific information. Please contact Skate Murdough (skate@mcttelecom.com) with any interest or follow-up questions!
Babe Ruth is NOT "Just Rec Ball !"
Babe Ruth is a youth specific league focused on skills development, open play and fun for all ages.
Babe Ruth is NOT "Travel Ball !"
Babe Ruth focuses on healthy developmental league play culminating in post season tournament play for qualified and interested players.
Babe Ruth Tournament Trail is NOT "Summer Ball !"
Babe Ruth Tournament Trail is a season extension opportunity for a subset of the original League registered players. Tournaments will start in May with open invitationals, begin Official Tournament Trail play in July and then continue with more Invitationals.