Columbia Little League: Boundaries
Sunday, January 11
2015 COLUMBIA LITTLE LEAGUE AND GIRLS SOFTBALL BOUNDARIES
Here are the Baseball Boundaries for Columbia Little League and Columbia Girls Sotball for 2015.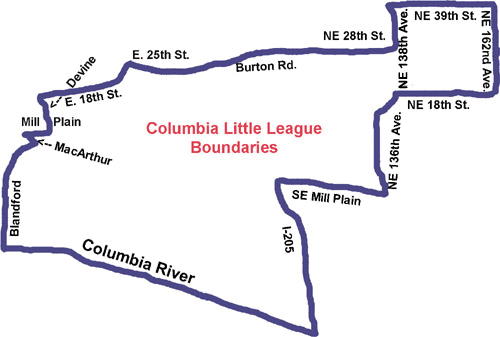 Sunday, January 11
Columbia Girls Softball Boundaries Were Changed in 2014
The softball boundaries were changed to be the same as the baseball boundaries in 2014. Fort Vancouver and Central Vancouver Little Leagues are offering a softball program also. However, if your daughter still played softball at Columbia last year, she can continue to play at Columbia this year.
Sunday, January 11
SCHOOL/LEAGUE BOUNDARIES RULE
Before you had to live with in Columbia Little Leagues boundaries, or had lived and played in those boundaries before moving, to play at Columbia. Now with a rule change in 2014, if your child goes to school that is in Columbia's boundaries, they can play at Columbia even if you live in another league's boundaries. A
School Enrollment Form
is on the Handouts page which will have to be filled out by the school.
http://www.littleleague.org/learn/rules/rulechanges/2014_Rule_Changes/Residence_Eligibility_Requirements_and_Regulation_II.htm