coloradobandits: Welcome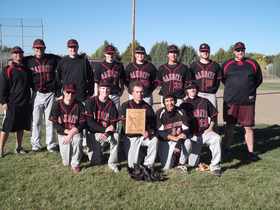 One Fifteen Baseball Bethoud Classic Champions
Welcome To Bandits Baseball
What We Do:
We're an 18U competitve Summer/Fall team that competes in the Colorado Connie Mack league and tournaments through out the nation, with a long and rich tradition of producing winning teams and getting our players to the next level. Bandit players pride themselves on playing the game the way it was meant to be played and respecting teammates, opponents, and the game of baseball. Playing in the Colorado Connie Mack league and tournaments enables us to get maximum exposure to colleges for our players.
****Like us on facebook at http://www.facebook.com/mobileprotection#!/ColoradoBanditsBaseball ****
**The 2013 Fall Fee is $750.00 ($550 for Pitcher Only's)**
_________________________________________________________________________
"Our mission is to get as much college exposure for our players as possible."
---
***In 6 seasons we have helped 57 of 60 seniors (95%) sign to play baseball at the college level*** (See Bandits Alumni to left)
---
Bandits Quotes:
"Always Look and Act Like a CHAMPION"
"THE POWER OF WE IS GREATER THAN THE POWER OF ME"
"Always give 100% you never know who is in the stands"
"The way a team plays as a whole determines its success. You may have the greatest bunch of individual stars in the world, but if they don't play together, the club won't be worth a dime." -Babe Ruth
"Baseball is a game that cannot be won, just played. It is the way you play that determines who wins."
"Hard work is the price we must pay for success."
"What's it worth"
Head Coach Scott Bland is looking forward to a fun, competitive, and successful 2013 season.


---


*ALL TOURNAMENTS AND GAMES SUBJECT TO CHANGE*
---
Contacts:
Coach Scott Bland:
(C) 303-550-2854
tcbincolorado@q.com
Coach Josh Bland:
(C) 303-550-7216
joshbland22@hotmail.com
The Boys Are Back In Town