(7) Adult Kickball: Welcome
SPRING KICKBALL
Team Registration Deadline - March 26th
Team Registration Fee - $250
Games Begin - Monday, April 13th
Game Day/Times - Monday evenings - beginning at 6pm or 6:30pm

To register, please contact Aaron Browning at 215-1408 or abrowning@cityofknoxville.org You can visit our office at 917 East 5th Avenue with cash or check to register your team.
CONGRATULATIONS TO JUPITER ENTERTAINMENT - 2014 FALL KICKBALL TOURNAMENT CHAMPIONS
For game status updates, please call 215-4636, check here, or follow us on Twitter @knoxathletics. If not a member of twitter, you can still see our updates by going to www.twitter.com/knoxathletics
For more information, click "Handouts" to view the registration dates, league start date, etc.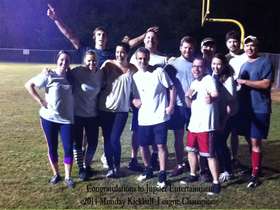 Jupiter Entertainment