(7) Adult Kickball: Welcome
WEATHER UPDATES - Call 215-4636 or check twitter @knoxathletics or click here to see our twitter feed
KPRD Night at Smokies Park - Join us Saturday, May 16th at Smokies Park for KPRD Night. Click here to see the flyer on how to get tickets for the pre-game buffet and the game. Invite your teammates, friends, and family. See you at the park!
For new coaches, please view the "League Overview" (located in "Handouts") for answers to Frequently Asked Questions
SPRING KICKBALL - League Schedule & Info posted in Handouts Section
Game Day/Times - Monday evenings - beginning at 6:30pm

To register, please contact Aaron Browning at 215-1408 or abrowning@cityofknoxville.org You can visit our office at 917 East 5th Avenue with cash or check to register your team.
CONGRATULATIONS TO JUPITER ENTERTAINMENT - 2014 FALL KICKBALL TOURNAMENT CHAMPIONS
For game status updates, please call 215-4636, check here, or follow us on Twitter @knoxathletics. If not a member of twitter, you can still see our updates by going to www.twitter.com/knoxathletics
For more information, click "Handouts" to view the registration dates, league start date, etc.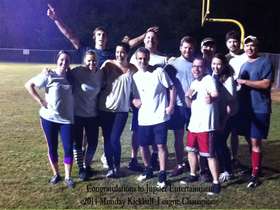 Jupiter Entertainment