(1) Adult Volleyball: Welcome
TUESDAY 2/24 - NO GAMES TODAY - Tournament will be re-scheduled for next Tuesday
SUNDAY 2/22 - NO GAMES TODAY. TOURNAMENT WILL BE COMPLETED NEXT SUNDAY.
NOTE 2/20 - Tuesday "B" Tournament has been updated. Seeds 5,6,7,10,11 were changed due to an error with scores from the last week of the regular season. Updated brackets, schedule,and standings are in the "Handouts" Section.
TUESDAY "B" TOURNAMENT GAMES SCHEDULED FOR FEBRUARY 17th are canceled and will be played on Tuesday, February 24th.
WINTER VOLLEYBALL - Tournament Brackets are posted in Handouts. Sunday A & B brackets are filled based on regular season finish. Teams will be filled in the Tuesday B Bracket as the Regular Season games are completed.
SPRING VOLLEYBALL INFORMATION
Leagues Begin - Sunday, March 1 & Tuesday, March 3
B Leagues - Sunday evenings & Tuesday evenings
A League - Sunday afternoons
Location - Deane Hill Rec Center (Cumberland Estates, if needed for overflow)
Team Fee - $160
To register, visit KPRD Athletics at 917 East 5th Avenue.
For more information, contact Aaron Browning 865-215-1408 or abrowning@cityofknoxville.org
OPEN VOLLEYBALL will return in March

FALL VOLLEYBALL CHAMPIONS -
Congrats to Intimidators - Fall Sunday "B" Tournament Champions!
Congrats to Bull's Hitters - Fall Tuesday "B" Tournament Champions!
Congrats to Cove Crew - Fall Sunday "A" Tournament Champions!
TIEBREAKER PROCEDURES
The first tiebreaker for teams with the same record is head-to-head result. If teams did not play or if there are 3+ teams tied with the same record and tie can't be broken by head-to-head results, scroll across the standings until the tie is broken (games lost, games won, points allowed, points scored). Teams will be listed in this order in the final standings.
Please click on "Handouts" on the left for all Adult Volleyball documents (registration information, schedules, standings, brackets).
Please see upcoming events on the calendar below: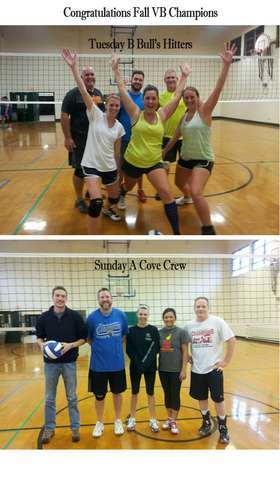 2014 Fall VB Champions