(1) Adult Volleyball: Welcome
Spring tournament brackets posted in Handouts. Seeds will be based on final standings.
SUMMER VOLLEYBALL INFORMATION
Leagues Begin - Sunday, May 31 & Tuesday, June 2
Register By - May 22
B Leagues - Sunday evenings & Tuesday evenings
A League - Sunday afternoons
Location - Deane Hill Rec Center (Cumberland Estates, if needed for overflow)
Team Fee - $160
To register, visit KPRD Athletics at 917 East 5th Avenue.
For more information, contact Aaron Browning 865-215-1408 or abrowning@cityofknoxville.org
OPEN VOLLEYBALL available at Deane Hill on Mondays & Cumberland Estates on Tuesdays (thru May 22)

Please click on "Handouts" on the left for all Adult Volleyball documents (registration information, schedules, standings, brackets).
Please see upcoming events on the calendar below: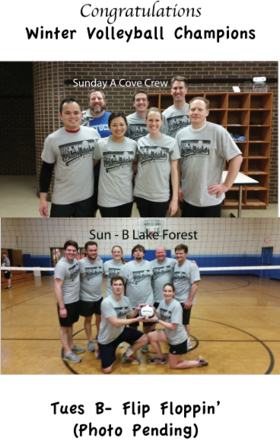 Winter VB Champions