Tuesday, October 28
Cobalt Golf Outing a Pant-Dropping Great Time
Look Mr. Golf Ranger, No Hands!
Thanks to all the golfers who found their way out to Deer Track Golf Resort and made the 2008 event a huge success! Great weather, friends, and beverages made for a top-shelf event!
The winning squad lead by Sunshine Morgan and Stiggy shot a 12-under par to bring home the loot.
The proceeds will help the Cobalts fund their 23rd year of baseball in 2009....thanks again!!!
Monday, December 15
Ricardo Retires from Cobalts
Rico was Swavay in a Uni too!
Smooth and Steady!
Two great descriptions of Cobalt OF/INF Richie Ayala who unfortunately (for us) has accepted a job promotion that takes him to Florida and away from the squad this coming season.
One of the true "nice guys" to wear our uniform, Richie was a Coach's dream:
* If there was a game, Richie was there and on-time.
* Plays a great Infield or Outfield
* Never complained - just hit for .325+ each season
* Great teamate and role model for younger 'Balts
Thanks Ricardo for your commitment and friendship. Best of luck to you and the family!!!
Coach and the Cobalts
Tuesday, November 18
Cobalts Shut R Down After Long and Winding Road
The 2008 Campaign has finally come to an end with a disappointing 5th place finish in the MABL Fall Classic Tournament. The 'Balts fought down to the wire but came up short in a bid to put some jewelry on their fingers...thanks to all the boys who humped it down to Clearwater - was a most excellent time!!!
So we end the 08 Season as reigning CRC City Champions - and made some decent showings in big time tournaments around North America...not too bad.
Now we can rest the weary bones, do some strategizing, and wait until Spring Fever drives the boys back out on the diamond once again.
Stay tuned here. We'll keep Cobalt Nation updated and sometimes entertained with the comings and goings of the Boys from Natti.
Cheers, Coach
Thursday, October 16
World Series Party About to Begin
Dude, why would anyone miss this trip???
The Countdown to Clearwater has begun and the Cobalts' first 4 games are set for the MABL Fall Classic:
(11/6) Thursday 2:45pm at Devil Ray's Complex vs. South Florida Mets
(11/7) Friday 11:30am at Phillies Complex vs. Susquehana Assault
(11/8) Saturday 11:30am at Phillies Complex vs. Tampa Shockers
(11/8) Saturday 3:30pm at Brighthouse Stadium vs. Long Island Black Sox
Cobalt's home base for this trip will be the Quality Beach Hotel located directly on 6 miles of sandy beach featuring tasty waves and a cool buzz.
Go 'Balts!!!
Wednesday, September 24
Wanna Golf with the 'Balts???
Don't Delay...Email Tommy TODAY!
Deertrack Golf Course will be the site of the always fun, always exciting, and sometimes dangerous 2008 Cobalt Golf Outing.
Saturday October 25th is the date. Invite open to any old, current, or recently rehabilitated Cobalt...as well as any friend or follower of the team.
So if you've got what it takes to hit the small ball, drink a sud, and scarf some grilled-up chow then Email Tom Taylor (director of golf) at:
Tuesday, September 16
Next Stop For Travelling 'Balts....Clearwater Beach, FL
Is that Franky's shoe - i mean cell phone there in the sand?
If there's baseball to be played in your neck of the woods, the Cobalts are likely to be heading your way. This November the boys from The Natti pack their gear and trek down to beautiful Clearwater Beach to play in the MABL Fall Classic.
Games will be scheduled in the stadium facilities of the Reds, Pirates, Devil Rays, and Tigers. Seeding Round Games will be Nov 6th-9th with championship on Nov 10th.
Stay tuned as the Cobalts prep for fun-in-the-sun...again!
Tuesday, September 2
Cobalts Knock Off San Diego Stars But Then...Idaho
They Grow Good Spuds and Good Hitters Out Dare
Cobalts couldn't have asked for a more exciting start to their GFI Tournament - taking down the defending GFI Champions, San Diego Stars, in a 6-5 thriller.
Rick Rosell grinded thru 5.3 tough innings against the Semi Pro powerhouse Stars. Then Shannon Morgan came on to throw 2.3 great innings to get the Win with help from Dave Prosser (save) in the 9th. Cobalt pitchers held the Stars to 7 hits total. Jason Cohill had 2 RBIs and Rocky Curnayn scored twice and Rex Baker reached twice to lead the offense.
That win was enough to get the Cobalts into the "Money Round" Final 8 where we fell hard to the Lewiston Truckers, eventual GFI Champions - just one of two incredibly strong Idaho Teams playing in the GFI.
If you ever hear anyone talk-up the talent that plays at Lewis-Clark (NAIA 16 time champs) or College of Idaho -- believe them! These guys can stroke the wood bats like no others. They lit up our best arms for 17 runs...then rolled over the Seattle Studs to become Champs. In earlier action the Caldwell, Idaho Coyotes put 16 on us.
Want to thank the guys who travelled so far to play some great baseball. Was fun suiting up against the best Semi Pros in North America.
Now we focus on the MABL World Series in Tampa in November.
Tuesday, August 26
16 Brave Cobalts Are Going Where???
12 of the Best Semi Pro Teams in North America stand between the 'Balts and glory....that, and about 2,500 miles of flying/driving.
"So where the heck are you going?" ask many Cobalt Fans.
Thought maybe a map would help folks visualize exactly how just far your Cobalts will go to find a good game of baseball.
Be sure to follow all the action LIVE on the world wide web: http://www.grandforksbaseball.com/
Cobalt's first three games are scheduled (EDT):
Weds (8/27): 11:00 pm vs. San Diego Stars
Thurs (8/28): 5:00 pm vs. Caldwell, Idaho
Friday: Off Day (bowling)
Sat (8/30): 11:00 am vs. Trail, Canada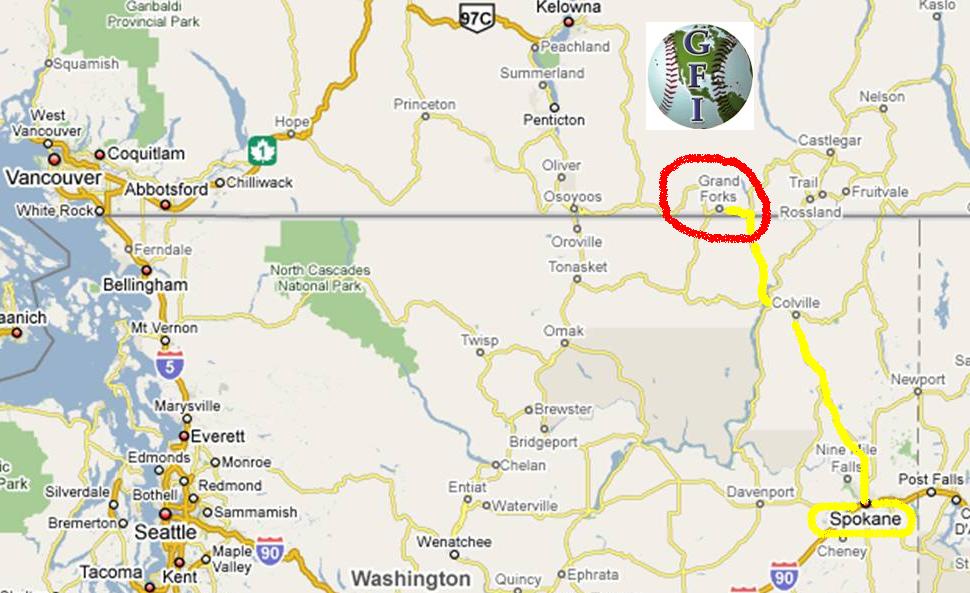 Aren't there games just down at Bank Street this Sunday?
Tuesday, August 12
Cobalts Packing Their Gear For Some International Baseball
Cobalts Can't Wait to Shoot The Boot in Right Field Bleachers
August 27th the Cobalts will be flying/driving/hiking over 2,500 miles to Grand Forks, British Columbia Canada to play in the famous GFI International Tournament.
The Cobalt's invitation includes the honor to play in the Opening Ceremony Game under the lights in front of several thousand fans at the GFI Stadium.
You can track all the games action LIVE on the World-Wide-Web from the GFI web site.
The impressive web site to check out is: http://www.grandforksbaseball.com/
The competition will be the BEST in North America...Team Canada is the host with Semi-pro powerhouses such as Reno Astros and San Diego Stars bringing in plenty of former major league ballplayers to test the Cobalts.
Keep checking in as your 'Balts get ready for more thrills...International Style!!!
Sunday, August 10
Cobalt NABF Run Ends - Body Parts Needed
Celebrex is New Team Sponsor
In another last at-bat thriller/killer, the Cobalts fall to the Cincinnati Flames 6-5 in the Final 4 game.
Trying to overcome their old bodies falling apart every half inning, the Cobalts fought to the bitter end coming from behind twice to tie the game with opposite field home runs. But the Flame's Shawn Aichel (part time Cobalt) did it all on this Saturday, going all 9 innings and hitting the game winning RBI.
Left somewhere on the field this weekend were 3 hamstrings, 2 groins, 2 vertabrae, and one red-head's glute. That sounds like excuse-making but it's something the 'Balts must address before heading to their next Tournament in British Columbia...tough to win with starters taking turns coaching first base. Getting old is a be-autch!
So the 22nd Summer of Cobalt Baseball comes to an end with a healthy 33-7 record. 'Balts prepare for their trip to the Grand Forks International...stay here for updates and details.
Saturday, August 9
Cobalts Advance to Final 4 of Regional
Gotta watch out for them little dudes
Cobalts did advance but did their best to also raise Ol' Coach's blood pressure during the 3 game round-robin Thurs/Fri...
First game was a 3-2 loss to the persistent Chiefs. Cobalts mustered a whopping 4 hits (non really solid) and gave up 3 total hits but found a way to lose the opening game on Thursday night - putting our backs up against the wall.
So Game #2 versus Cheviot on Friday afternoon had the Balts jump out to a 4-0 lead in 1st only to see Patriots score 7 in their half. So Cobalts put 5 more on in 2nd inning but of course that didn't hold....Many, many more tense hours later the Cobalts escape (thanks to a base-running snafu by Patriots) with a 14-12 victory. Mike Hatfield drove in 7 runs and Jason Campbell threw 3 good innings in relief. Admiral Heasley gets the close-shave save.
Game #3 was a late nighter versus Xenia Trophy. Winner advances, Loser goes home...Cobalts wheel Keith Becker out to the hill and he doesn't disappoint, throwing 4 scoreless in a 11-0 route. Wags hit his 2nd HR of day. Akers with 2 hits and 2 RBIs, Todd Taylor 3-3.
So Final 4 playing at 1pm looks like this:
* Cobalts vs. Cincinnati Flames
* Louisville Angels vs. Cincinnati Chiefs
Winners play at 4pm to see who represents at World Series.
Wednesday, August 6
Regional Round Robin Brackets Set - Cobalts Open 8:30pm Thursday
NABF Regional action heats up Thursday-Saturday at Roselawn Park!
8 Teams ranging from Louisville, Frankfort, Cincinnati, and Xenia all playing for a single bid to the World Series.
Cobalts Schedule is:
* Thursday 8:30 pm vs. Cincinnati Chiefs
* Friday 3:30 pm vs. Cheviot Patriots
* Friday 8:30 pm vs. Xenia Trophy Sports
Round Robin Pool Play will determine Top 4 Teams advancing to Saturday's Championship rounds.
Pool A: Frankfort Sweathogs, Cincinnati Flames, Louisville Angels, Yorkville
Pool B: Cobalts, Chiefs, Cheviot, Xenia Trophy
Ice up the coolers and come-on out and root for YOUR Cobalts as they try to return to the NABF World Series.
Friday, August 1
Cobalts Undefeated in City Tourney Heading into Finals
Cobalts get another GREAT pitching performance, this time by Mike Wagner, in a 7-1 victory over the Flames.
Wags threw 6 shut-out innings for the victory and was helped by old buddy Brian Akers who crashed into the fence in right field robbing the Flames of a 2-out, bases loaded triple in the 3rd inning. Akes still has the "grill marks" on his forehead to show the kids how a 43 year old still gets it done!
Offensively, Rocky and Jason Cohill each had multiple hits. Todd Taylor with 3 RBI's.
Cobalts now sit undefeated in the Final Bracket and face the winner of the Hawks/Flames on Friday.
Cobalts are 29-5 overall in 2008.
Wednesday, July 30
Cobalt's Pitching Staff In Lock-Down for City Tournament
Staff is tying up them bad guys
3 Games deep into the City Championship Tournament and the Cobalts find themselves in the finals thanks to a Staff of Pitchers allowing a TOTAL OF 1 RUN!!!
Shannon Morgan got the Game 1 victory over the Blackhawks. He went 3 scoreless and was relieved by Jeff Scrote Dietz and El Vicator Carreon. Final was 16-0. Offensively the highlights were too many to mention.
In Game 2 it was Rick Rosell going all 7 in a 6-1 victory over Cheviot. Rick recorded 11 strikeouts. Hitting was lead by Cohill (HR), Stoecklein (HR), and Hatfield (2 RBI).
Game 3 was Paully Krause's turn. Ol' Paul threw an unbelievably efficient 76 pitches in a 7-0 shutout win over the Ohio Heat. This one was a little tougher as the game went into the 5th inning tied at 0-0 but Stoecklein and Hatfield blew it open with a five run 5th.
So your 'Balts will take on the Flames in the 2-and-out final bracket action on Thursday night.
Cobalts are 28-5 in 2008.
Monday, July 28
Cobalts Finish Regular Season with a Vintage Win
Over 170 years of Collective Cobalt Experience in one picture
On a great night for baseball many of the Old 'Balts returned to the field one last time on Friday and delivered one last victory: 11-6 over the Cubs.
Highlights were many but here's a few worthy of mentioning:
* Diesel McManus pitching a full inning with no compound fractures
* Mick Pardee looking like he belongs back in the rotation throwing a scoreless inning
* Craig Wilhoit with two put-outs from behind the dish after 12 or so Buddy Lights
* Johnny Mederer with a legit base knock and, of course, a sac bunt
* Mike Ike Browning dishing it up and smacking a solid hit to left field - dead pull hitter still
* Baby Mulves donning Pudge's #72 in honor of Big Mulves - also in attendance
* Cuz Barry Martin making a cameo at the Park
* Drinking 4 cases of Natural Lite like it was 1987 again. Only now with wives and 32 kids at the tailgate
My thanks for the old guys suiting it back up one more time and re-living some of the great memories over past 22 years...thanks also to the current 'Balts who help the old guys win one last time on this great night!
Cobalts now stand 25-5 going into Tournament Play
Friday, July 25
Cobalts Co-Champs of Elite Thursday Night League with 11-2 Win Over Yorkville
In "Semi Pro Ball" sometimes you get the bear, other nights it gets you. Thursday night the Cobalts clicked on all cylinders and clinched their second CRC league title of the 2008 season - becoming both Friday night and Thursday night League Champions! (Thursday night co-champs with Cincy Hawks...congrats to them)
Keith Becker returns to form with a solid 4 innings of work and got the win. Jacob Campbell continues to impress with 2 innings of shutout relief and Mikey Taylor closed it out for the 11-2 win.
Offensively, highlights were many against the Yorkville ace who had previously beaten the 'Balts. Stoecklein, Todd Taylor, Rocky, Frank Arnold, and Mike Hatfield(HR) all with multiple hit and RBI games.
Cobalts now stand 24-5.
Thursday, July 24
City Championship Bracket
The always exciting Cincinnati Amateur Baseball City Championship Tournament began this Sunday afternoon!!!
So the brackets are set with 17 teams strapping it on. And the seedings make for some interesting early match-ups. And as always, great baseball will be played for a solid week...the prize? - a nice plack, bragging rights, and a bid to the NABF Regionals!
1st Rnd Winners 2nd Rnd 3rd Rnd Finals
* Ohio Heat * Heat
* Yorkville * Cobalts * Cobalts
* Cheviot
* Cobalts * Chiefs * Cobalts
* Chiefs * Flames * Flames
* Hawks
* Naturals
* Flames
Thursday, July 24
Todd Taylor Looking Good in 10-0 Win Over Royals
Todd obviously goes to the better barber shop
Todd Taylor, the good looking twin, has a perfect night going 4-4 with 3 RBI and 3 SBs leading a strong offensive night for the Cobalts. Brian Stoecklein also added 2 doubles with 3 RBIs (all to the warning track).
Shannon Morgan pitches 3 semi-perfect innings for the win and Admiral Heasley gets the hold.
Cobalts now stand 23-5 finishing up this last week of the regular season.
Saturday, July 19
Wags and Mikey T. Shake It Up Baby...Secure NABF Regional Bid
The Cobalts secured a bid to the NABF Regionals Friday night with a 9-1 victory over the Hawks.
Mike Wagner took the hill and threw a 2 hitter against a strong Hawks line-up. Mikey Taylor drove in 3 RBI and went 5-5 on the entire night.
In the second game, Mikey T took the hill and gets the win as Wags returns the first game favor with a home run and double. Enough for a 6-1 victory over Cubs.
Cobalts go into the final regular season week of games with a 22-5 record.
Friday, July 18
Cobalts and Chiefs Play Another One Down to Wire
Here, You Win It, Oh No Thanks, Your Turn
In a game that seemed like nobody wanted to win, the Cobalts hand the Chiefs a 7-6 win.
Chiefs exact some revenge on Rick Rosell by touching him for 5 quick ones. Then Cobalts come back with 6 runs in the 4th...that's the only good part of this story.
That one run lead held until a gut-wrenching throwing error allowed the Chiefs to tie it in the 6th. Then in the 7th, the 'Balts threaten but come up short and the Chiefs score their winning run on a walk-off wild pitch.
Good win for the Chiefs...not so pretty for Balts.
But back at it tonight against a surging Hawks squad. Cobalts are now 20-5 on the season.
Friday, July 18
Cobalts 20th Win Comes at a Cost
Thanks for the memories Jake
Shannon Morgan gets the 13-3 win over the much improved Naturals on Wednesday night. But the victory was an expensive one as Jake Smith (an original Cobalt of 22 years) returned to action and amazingly broke 3 bats in 3 plate appearances...and not one of the bats were his own.
Deuce Hock was the first to lose one, then Timmy Kid Klanke about cried when his prized 3 year old thumper shattered. Third down was Nick Schmidt who wisely lent Jake a vintage 1988 Wayne Krenchiki model that splintered in fine fashion.
Other highlights: Stoecklein hit his 6th homer. Doug Michelsen and Richie Ayala went 3 for 3.
Cobalts now 20-4.
Saturday, July 12
Cobalt's Veterans Carry the Load in 3 Big Victories
Daddy Hat still knows how to Misty Mountain Hop
The Cobalts started the second half of the 2008 campaign with 3 big wins.
On Wednesday it was Mike Daddy Hatfield who threw the 'Balts on his back leading to a 9-8 titanic struggle win over a fiesty Reds squad. Daddy Hat hit his 3rd home run of the season and shot-down the tying run at home on a relay from Deuce Hock. Tom Taylor also added 3 RBIs on the night. Kevin Heasley saved it for Brian Akers.
Thursday Night League action saw the young, fresh, and strong Ohio Heat take on what they thought was a bunch of old guys....right up to the point of the 'Balts laying a 6 spot on them in first two innings. From there it was the Paully Krause who dazzled for 5 strong innings. Jacob Campbell gets a couple key outs for the hold and Wags shuts the door in the 7th for an 8-5 victory. Tom Taylor drives in 3 more and makes several web-gems at SS. Daddy Hat's 3 RBI double sealed the deal.
Friday night under the lights was Cobalts vs. Yorkville. Rick Rosell took the hill again and went 6 1/3 before giving up a hit in a 4-1 victory. Tom Taylor, Mike Wagner, and Brian Stoecklein fueled the offense. Rick's complete game 1 hitter re-established his dominance over CRC hitters so far this year.
Cobalts are now 19-4 in 2008
Thursday, July 10
Kevin "Admiral" Heasley Raising the Cobalt Bar
Say what you want about the Cobalts over the past 22 years, but most would not call us the smartest group of guys to wear a uniform...well, that's changed thanks to The Admiral!
Kevin Heasley graduated from the Naval Academy this Spring with honors, a 3.7 GPA, and a Mechanical Engineering Degree. See link to article: http://navysports.cstv.com/sports/m-basebl/spec-rel/070908aaa.html
Cobalts are proud to have Kevin in our uniform this summer before he is assigned to a nuclear submarine in Charlotte and changes uniform to that of an Officer.
Hail to the Admiral!
Monday, July 7
July 4th Week Results and Battle of The Banks II Tournament
Cobalts started of the week with an 11-0 win over the Blackhawks. Brian Akers pitched 2 hit baseball and Mikey Taylor went deep.
Then rain.....then Battle of the Banks at Florence Freedom Stadium:
Game 1 Cobalts Win: 4-3 versus Hawks
Paul Krause pitched 6 innings of scoreless baseball in relief and the Cobalts put a one inning rally together against the Hawk's Jeff Saunders to secure the Cobalt victory.
Game 2 Hawks Win: 3-1 versus Dayton Braves
Game 3 Louisville Stallions Win: 2-0 versus Dayton
Game 4 Cobalts Win: 7-1 versus Louisville
Keith Becker goes 5 2/3 to get the win. Jacob Campbell gets the save. Pitching duel until the 6th when the Cobalts bust out with a go ahead double from Stoecklein and a bomb by Jason Cohill.
Game 5 Hawks Win: 3-2 versus Louisville Stallions
Game 6 Exhibition (Braves short pitchers/catchers - borrow Jeff "Scrote" Dietz (win) and El Vicator Carreon (save).
Game 7 Championship: Hawks 4, Cobalts 0
Hawks Win the Trophy as their pitcher shuts down any attempts of Cobalt rallies with 4 double-plays. If any Cobalt highlights, I missed them.
Cobalts now stand 16-4 as we start the "Back 9" of the 2008 Season...hope the bats wake up soon.
Thursday, June 26
Paully and Cobalts Keep Rollin with 11-1 Win
His aarrrmm has been a key to Cobalt success since 1990
Paul Krause improved his record to 4-0 on the season as the Cobalts win again. The Woodpushers, slang for chess players-we hope, kept it a close 1-1 game until the 5th inning when Stoecklein hit his 5th dong of the year and Timmy Kid Klanke went deep in his first game of the season... he still remembers how to pimp it!
THURSDAY NIGHT RAINOUT....
Friday night split with veterans winning first game 10-0 folllowed by a young-guy loss to Hawks 10-8.
Cobalts now stand 13-3
Tuesday, June 24
CoBALTS Accept 2nd Invitation to International Tournament...Global Again!!!
Memories of '04: Becker and Bo vs. San Diego
Your "International" Cobalts will once again take on the world's best Semi Pro Teams at the GFI Tournament in British Columbia, Canada.
It was 2004 when the Cobalts last used their passports and came within one out of the money round at the GFI. (Then almost brought down the bars of Spokane).
So once again, Cobalt Nation will be able to follow the Labor Day Tournament live on the World-Wide-Web from Aug 27-Aug 31st.
Here we go again!!!
Sunday, June 22
Friday Night DeLight - Cobalts Win 2 More
In game #1, the Cobalt veterans behind Paully Krause beat the Hawks 8-5. Jason/Jacob Campbell gets his second Save in as many nights. Mike Daddy Hatfield hit his second triple of the year and Tom Taylor drove in a few more runs to lead the offense. Couple of web gems from Corey Fischer also of note.
In game #2, The New Kids stormed the field and beat down the Cubs 10-5. Mikey Taylor went 6 innings for the Win. Steve Adams, Jeff Case, and Ben Bryan all with big hits but the night belonged to first year man Rob Tingale who went 4-4 with two doubles and 3 RBI.
After the double-header victories, Tingale shotgunned two Buddy Lights, brushed up against Rocky and mumbled something about "light-weight" and then pointed to the sky and dedicated his 4-hit performance to The Giuste!
Cobalts improve to 11-2
Friday, June 20
Cobalts and Beyerlein Stamp-out Flames
It took 8 innings but the Cobalts beat the Cincinnati Flames 5-3 in exciting Thursday night action in front of a capacity crowd at Roselawn Park.
The speedy Flames were held in-check by starter Mike Wagner, then Admiral Heasley who gets the "W", with a Save by youngster Jason/Jacob Campbell.
Offensively, Stoecklein drops another BOMB that tied the game up in the 6th. Tom Taylor drives in 2 big runs. Then Brando Beyerlein erupts in extra innings with a game winning RBI double followed by an insurance run - straight steal of home...ohhh soo pretty!
Cobalts are now 9-2 and feelin' good about it all.
Wednesday, June 18
THE BECKER Returns to the Mound!
Did I Just Hit Your Bat with My Fastball???
The Cobalt Pitching Staff had recorded 3 straight 1 Hitters (Paully, Heasley, Rossell)... Now make it 4 straight after Keith Becker returns from a male organ ailment and shuts out the Cincinnati Stingers 10-0 with another 1 hitter.
Web-Fan-Favorite Brian Stoecklein started the Hit Parade in the first and just about all 10 hitters contributed to the Wednesday night victory. Defensively, Jason Cohill gets MAJOR PROPS for walling up the dish on a tough night.
Your Cobalts are now sporting a rotation that includes 6 pitchers as tough as you can find in Semi Pro Baseball...and I'm not even counting The Lady's Man!
Cobalts stand at 8-2.
Saturday, June 14
Young Guns Put on their Game Faces in Week #3
Young Guys Throwin' Nasty
Cobalts get two nice wins in the third week of '08 action thanks to 2 great outings by the youngest Cobalt staffers...
In Wednesday night's 10-0 victory over Clubhouse AC (formerly Crosley's) it was Admiral Kevin Heasley who threw lights-out. He was helped by the entire Cobalt lineup who kept up their hot hitting.
Then in the top-tier Thursday Night League, it was Rick Rossell who took the hill and threw a 1 hit shutout against the tough Chiefs (whose own hurler threw a 3 hitter gem). But in the 5th, Richie Ayala scored the game winning run on Tom Taylor's base hit to give the Cobalts a 1-0 Victory.
'Balts now stand 7-2 on the season.
Saturday, June 7
Sometimes You're Hot...Sometimes Not So Much
Cobalts look better in Friday night duds
Cobalts were monsooned-out on Wednesday night so came into Thursday night's match-up against Yorkville with clean uniforms, fresh legs, and full coolers, but forgot to bring their bats. The Yorkville troops put a 9-0 butt-kicking on your Cobalts - all in just 90 minutes...But we quickly filed that game under "poop happens" while taking fustrations out on those poor 54 Natches that didn't stand a chance.
Boy's in Blue-and-Gold had to regroup because Friday is double-header night. In Game #1 vs. the Cubs, Brian Akers throws for the "w" and the bats were awoken with a 12 run outburst lead by Michelsen, Bitzer, and Curnayn. 12-2 was the final.
In Game #2, Coach gave the pearl to Ol' Paully who was absolutely "dealing!" Mr. Krause throws a 1 hitter in an 11-0 victory over the Hawks/Sting. Bats stayed awake late into the night with a bomb from Daddy Mike Hatfield and big hits from Stoecklein, Ayala, and newcomer Steve Adams.
So all good again at the bat rack. Cobalts stand 5-2 on the young season.
Sunday, June 1
Cobalts Open 08 Campaign with 3-1 First Week
After a freakish rainout on opening night in Dayton, the Balts got going with a Wednesday night victory over the boys of ATO, 14-0. Paul Krause and Wags looked in mid-season form while newcomer lefty Kevin Heasley finished out. Bats were led by Nick "i didn't retire" Schmidt who went 4-5 with 4 RBI. And newcomer Brian Stoecklein hit his 1st Homer.
Game 2, Thursday night League action versus Cheviot was another Shannon Morgan Show who went 4 for the win followed by newcomer Rick Rossell who was equally impressive going final three innings for an 8-1 win. Offense was helped by Cheviot miscues but Todd Taylor and newcomer Fred Breitling had big 2Bs driving in 2 RBIs each.
Game 3 versus the Hawks was not a game to remember as the Balts played poor defense, ran themselves out of innings (thanks to Hawks nice little catcher), and let a 7th inning lead evaporate into an 8-7 loss. Brian Stoecklein continued to impress going 7-9 on the evening.
Game 4 was second of the night on Friday versus Cubs. Mikey Taylor goes the distance in a gutty 1st outing and Balts win 8-6 behind more Stoecklein and couple of hits from Shannon Morgan.
Sorry, no humorous pictures or cute inside jokes - we got work to do boys!
Wednesday, May 7
Cobalts Open 2008 Under The Lights at WSU
The Dayton Braves have invited the Cobalts to open the '08 Season at Nitswitch Stadium on the campus of Wright State University in a 9 inning affair under the lights on Friday May 23 (7pm start).
The Braves are a perrenial power in the Dayton Roy Hobbs league and will be a great first challenge for the Cobalts. And, the Braves enjoy post-game beverages almost as much as the 'Balts so this gig may go well into the night.
So kick off the Memorial Day weekend by rooting for the Cobalts up at Wright State...directions on the "Yards & Parks" section of this web site.
Sunday, March 16
Semi Pro?....You Betcha!
We've Come A Long Way Since Milford River Park
For 22 consecutive years, the Cincinnati Cobalts have offered top level baseball players a chance to continue playing this nations greatest game while pursuing professional careers and raising families.
Each year, we strive to provide our players an opportunity to experience a higher level of play in tournaments and stadiums that are reserved for only the elite. Past events have been: Boston Red Sox's City of Palms, Minnesota Twin's Miracle Stadium, Grand Forks International in British Columbia, and Dayton Dragon Stadium.
2008 will be no different!
Cobalts will be hosting a July 4th Tournament at the Professional Florence Freedom's Stadium. The "Battle of the Banks II" will showcase the best Semi Pro Teams from Cincinnati, Louisville, and the NABA World Series Champions: Myrtle Beach White Sox....The stadium concessions will be ready to handle the onslaught of fans looking for hot dogs and beer!
Just another GREAT GIG for the 'Balts and their Fans!
Tuesday, February 19
Cobalts Getting Ready for 2008 with Winter Workouts
Coach doesn't look like its working for him in the middle
New Shiny Gloves from Santa!
New Fancy Lumber from Stiggy!
New Stud Players from Rocky!
New Uniforms from Coach!
And,
New Exotic Workout from Ricardo!
Just Great to Get the Boys Back Together!!!
Tuesday, January 29
Cobalt Winter Hooter Meeting Sets the Course for 2008
Another favorite Cobalt Tradition is the annual Winter Meeting held at the local Hooters each year. This year a gagle of Cobalts came together to discuss the coming year's plans for CRC League Play, Tournaments, Rosters, and Rocky's inability to grow a real beard.
After several plates of wings, frosty mugs, and long stares at Amanda, the Cobalts set the direction for what might just be their BEST season in their 22 year history. Let's just say there is BIG doin's in Cobalt Nation this off-season.
So get ready. Coach and the Boys will be back playing with a little edge this year...Can't wait!
Wednesday, January 9
Cobalts Invited to MABL World Series (18+)
Being a Cobalt sure is Groovey, Baby!
Continuing the Cobalt "Fall Tradition" of playing baseball in Florida, the Cobalts are close to signing an acceptance to play in the MABL (18+ year olds) World Series held in late October in Tampa/St. Pete, FLA !!!
The advantage of this National Tournament is that ALL Cobalts will be eligible to play, not just the "Old 'Balts." This means a full-strength squad of Cobalts can represent and hopefully bring home that elusive ring.
So....as we put together the 2008 squad, we'll be asking the hard questions for roster positions:
1) Do you like playing baseball in October?
2) Do you like frosty beverages on the Beach?
3) Do you like Gladiator Movies?
Submit all applications to cobalt41@msn.com
Friday, December 14
Mitchell Steroid Report Clears Cobalts
Recently uncovered beach pictures have cleared the Cobalts from suspicion of HGH and Growth Hormone use.
"There's just no way these guys are juicing" said CRC Semi Pro Commissioner Tom Nerl, "Sure the girth is there but...."
Coach was unexpectedly disappointed. Recent uniform size gains had given the Cobalt Organization some hope that maybe a few guys were actually going to hit with some power. Turns out to just be Natural Lite body weight-gain.
If there are any current steroid users looking for a team - we're interested! No pee tests - guaranteed.
Monday, November 26
Kwi Chang Swears He's Going to Make Cobalts in '08
Embarrassed by the inability to translate his Yakkute Swallow success into CRC victories, Kwi Chang has been throwing with both arms in the Semi-Pro Mexican Winter League.
Only time will tell if Kwi can make it on the Cobalt's 40 man roster this Spring...stay tuned!
Monday, January 21
COBALTS FOR $ALE ???????
January 21 - Cincinnati, OH
Is the Cincinnati Cobalt Semi Pro Baseball Team for sale after 22 consecutive seasons of being independently owned and operated?
The Semi-Pro Baseball Journal has quoted un-named sources inside the Cobalt Baseball Organization that the team may have already been sold to a wealthy consortium of former Cobalt players.
The potential buyers were referred to only as "Former-Friends of The Program." Reportedly, they are interested in not only owning the team, but also returning to play!
No comment yet from the Cobalt's current manager or any other Cobalt Shareholders....more to come!

How Much Did They Pay???
Tuesday, January 22
Hobbit Consortium Attempt Hostile Take-Over of Cincinnati Cobalts
Not one is over 5'2" Tall
Three former players who call themselves "The Hobbit Consortium" have made a hostile bid to buy-out the Cobalt Baseball Team and all its assets.
These 3 evil little people have been identified in grainy photographs taken at various ATMs around town:
Johnny Mederer: former fastest man on the team. Was shamed by Monster Spriggs and fustrated by Coach's refusal to let him pitch even just to one batter.
Burgess Doan: just bored with his life and wanted to start trouble with his extra cash. Former Situational Hitter. Not a pretty man when in uniform.
Shane Schirmer: an inside plant from the now defunct George's Falcons. Said to be insanely jealous of El Vic-a-tor's vast Cobalt wardrobe.
Not sure what this Hostile Take-Over could mean to the current roster members. But one player, who asked to remain annonymous, was heard saying: "Hey Man. I got no trouble wit dis. As long as I can drink. Shi% Man"
Friday, January 25
Annonymous Investor Saves Cobalts
Someone only calling himself "The Banker" has given the current Cobalt Management Team enough of a cash investment to spur the unwanted take-over bid.
In fact, the new investor has determined that the team would improve their tournament success by upgrading the player post-game rewards.
So, in 2008, the Semi-Pro Cobalts will celebrate with chilled Malt Liquor rather than the traditional Natches.
This upgrade is sure to have an impact on the Cobalt's level of play and is sure to arouse questions once again about the amatuer status of Cobalt Players... knowing that such hefty rewards are provided free.
Is it Opening Day yet???
Thursday, May 15
2008 Roster Will Have Some New Faces
Cobalts have always been a little stingy when it comes to adding new players to its roster. After all, twelve current members have 10+ years of being part of the Cobalt Family.
That said, each year we look to build a stronger squad with the addition of new talented players. 2008 may prove to be the best recruiting year EVER!!!
This year we welcome aboard:
* A well-groomed power hitter
* A true Roman soldier
* A big slashing Jason
* A hard throwing Rick
* A new Howitzer arm
* A TriAngle man
* An All-Star Wild Thang
* A famous lefty Admiral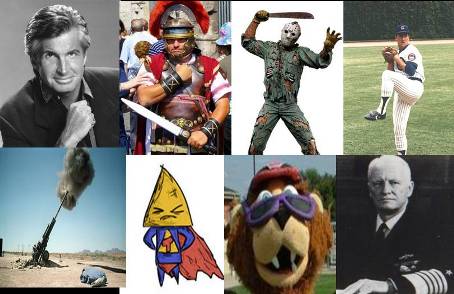 Hello: Breitling, Duty, Cohill, Rossell, Howser, Tringale, Stoecklein, & Heasley
Monday, May 19
OPENING DAY IS HERE....You Ready 'Balts???
NEW UNIFORMS ARE IN. NEW HATS LOOK NICE. BUT MOST IMPORTANTLY, THE NATCHES ARE ON ICE!!!
Friday, May 23
WEATHER-MAN....Not Even Close!
maybe that view of Doplar works better
Imagine a job where you have to be correct 0% of the time. Well that's also the batting average these weather-clowns had for this Friday. What was to be a fine Opening Night turned into "pop-up" constant showers and a washed out field....but we're not bitter!
Instead, we'll enjoy the Natches over the holiday weekend and prepare for the CRC Opening Night on Wednesday at beautiful Hille Park (6:30pm).
Monday, August 4
NABF Regional Starts Thursday Night
Cobalts in Search of Holy Grail
Cobalts continue their 2008 Quest this Thursday Night at Roselawn Park.......blind draw will determine the match-ups for a full 3 days of tough tournament competition.
Check here after 8:30pm on Wednesday night for Game Times and Opponents.

CANCELLED !!!
Wednesday, September 3
The Po-lice are Coming!!!
No couch burnings or car fires, please!
Saturday September 13th at Roselawn (1 pm) the Cobalts will welcome the Columbus Police Baseball Squad in a Fall double-header Exhibition.
We recommend anyone travelling north or south on I-71 that day to be cautious of your speed...
All Cobalts, whether going to Tampa or not, are invited out for a great day of baseball and beverages.
Stay tuned for more Fall Baseball as the 'Balts try to keep their girlish figures for the MABL World Series.