Cincinnati CoBALTS, Semi-Pro Baseball Team...A Higher Level of Play!
Welcome to the Cincinnati CoBALTS home page. The Cobalts are a Men's Semi-pro Baseball Team that has been ranked Nationally and consistently in Ohio's Top 5.

The Cobalts are playing in their 28th CONSECUTIVE year of baseball in the CRC Majors under Manager Mark Dietz.

We compete at the highest level of play available to amateur baseball players including the Roy Hobbs World Series, AABC World Series, Grand Forks International Tournament in Canada, MABL World Series and the NABF World Series.

Titles over our 26 year history include: Quatman Trophy Winners, TriState League Champions, CRC Suburban League Champions, AABC State Champions, Roy Hobbs AAA World Series Champions, Cincinnati RH League Champions in '05 and '06, NABF Regional Champs '06 and '04/'06/'08/'10 CRC City Champs and AABC World Series Semi Finalist in 2012.
Our creed is simple: God gave us only so many years to play this great game, don't waste them playing softball.

Please feel free to sign our guestbook to let us know what you think of our site.
Thursday, August 8
2013 Campaign Comes to an End in NABF
Jason Cohill..38 and still Has It
The Cobalts fall to Louisville Dry Wall in the NABF Finals 9-5 in a long Sunday in Derby City.
Jake Kenney took the hill battling a nasty foot injury and couldn't find the plate thus spotting the host team 6 runs before anyone knew what hit us.
But the Balts battled back all day, coming just short of a few clutch hits to get a victory.
Not So Young Steve Beiser impressed the Derby City crowd with 5 grinding innings of relief to give the Balts a chance in their comeback. J-Schunk also did a great job of keeping it close but it was not to be. Cohill finishes the Tourney with a .500 BA that showed what a true veteran Balt he is...great Tourney and Season JayCo!
So the 2013 season is over. A League Championship Year, which puts this squad up there in the top tier of all time Cobalt Teams across our 28 years.
Well done Cobalts!!!
Sunday, August 4
Cobalts Advance to Championship Round with Win Over Portland
Jumping out to a huge lead, then hanging on to get the 14-11 win on Saturday afternoon capped off a long day for the Balts.
Tyler Snoke fought thru his shoulder issues and went 6+ strong innings. Gas gets the emergency Save by throwing a 1-2-3 ninth inning and sealing the deal.
Gas, Cohill, Steve-O, Thole, Ryan Jesse, and Jay Schunk all have big game at the plate.
So we move into the Championships on Sunday versus the well rested host team from Louisville.
Calling all arms...calling all arms!
Sunday, August 4
Tough 1st Loss in NABF
Bats go cold as clutch hits were hard to find in a 3-1 loss to the host team, Louisville Star Drywall.
Adrian Schau deserved better as he gives up only 1 earned run.
This drops the Balts in to the Loser bracket to face the Portland Indiana Rockets later in the day on Saturday.
Winner will need to beat Louisville twice on Sunday.
Saturday, August 3
Cobalts Win 11-0 over Chiefs
Second round action of the NABF and your Cobalts display more power and speed by dropping the Chiefs for the 3rd time this year 11-0.
T-Stone gets the win with a dominating performance on the hill. Thole and Gastrich go deep and deeper while Cohill and the crew stay hot at the plate.
This takes the Cobalts into the 3rd round game against the winner of the Portland Indiana and Louisville Star Drywall game...winner gets a huge BYE.
Friday, August 2
Cobalts Open Tournament with BIG Win
Cobalts only need 6 innings to put away their first opponent in the NABF Regional, beating the Lexington Bombers 13-0.
Brett The Sidewinder goes the distance and gets the shutout win. It was a big night for the sticks lead by Gastrich, Kennedy, Cohill, and Cloyd with help from Hendrickson and Young Josh.
Next up in Round 2 are the Chiefs, who took the #2 bid from the CRC in place of the Bombers and won their opener against the Louisville Mustangs.
Tuesday, July 16
Cobalts Are Your CRC Champions...Earn Birth to Louisville
With 7 wins and only 1 loss in a shortened CRC League schedule this year (due to Roselawn construction) the Cobalts earn their way to a Regional Tournament appearance in Louisville at Derby City (Aug 1-4).
Looks to be a 6 Team Bracket with entries from Cincy, Louisville, Lexington, and Indiana.
Congrats Cobalts on another Championship Year!
Tuesday, July 16
Catching Up on SOVCL Action
The College Cobalts have been busy this year gaining valuable playing time in the SOVCL. The competition has been strong as the teams are attracting good local talent from the college ranks.
With games at Brian Wilson Field, Prasco Park, and The Flash Complex, the Young Cobalts have been well travelled and amassed a 7-4 record with wins over Legends, Yorkville, Champions, and The Flash. Losses coming from Champions and Spikes.
So now that CRC League play has finished, the Full Cobalt Squad is taking the field in SOVCL action and got off to a roaring start on Saturday against Beaver Creek Sox.
Thole goes YARD and adds 2 doubles in a 5-2 Win. T-Schunk makes maybe the best catch in the infield in 3 decades of Cobalt Baseball. He dives into shallow left field and grabs the ball bare-handed as he hits head-first.
Tyree gets the Win with 5 good innings. Tyler Snoke makes his injury comeback with 2 scoreless.
Then on a hot Sunday, the Balts take on a frisky Champions squad who has enjoyed a couple wins over the Cobalts this year. But today, they meet Mr Stone who throws 6 scoreless and the Balts cruise to a 6-3 win.
In game 2, the staff looks a bit thinner but the Cobalts hit their way to a W...going on to the weekend sweep!
Next up: Yorkville at UC Stadium. 6:30pm wear gold  
Wednesday, July 3
Rocky Leads Balts in July 4th Tourney Victory
Rocky Curnayn had 3 Ribeyes to lead the Cobalts in a 4-1 Win over Yorkville Wednesday night at UC Stadium. This was the first game of the July 4th SOVCL Tourney.
Jake Kenney went all 7 and looked impressive in the complete game W. Welcome back Tyler Schunk who dished a great game!!
Cohill, Mummy, and J-Schunk all contributed to the 6th inning rally that put the Cobalts ahead for good.
Next up in Game 2 of Tourney is versus Zanesville at UC stadium 7pm on Thursday night.
Thursday, June 27
Sidewinder Goes Distance in 9-1 League Win Over Chiefs
Brett goes all 7 in an impressive outing against the Chiefs on Tuesday night at Roselawn.
Leading the offense was AJ Thole who murdered the ball for his first HR of the year - a 3 run job. Adrian Schau added 2 RBIs and J-Cloyd had 3 hits on the night. Jay-Co looked strong behind the dish for his first catching assignment of the year.
The Win sets up a nice situation in the standings for your Cobalts with the NABF Regional birth in Louisville.
More to come on those details!
Thursday, June 20
JFK Leads Balts to Another CRC League Win
John Kennedy had 3 hits, 3 RBIs, and a Web-Gem in the outfield to lead the Cobalts in a 7-6 Win over Yorkville last Tuesday night.
Adrian Shau gets the Win with 4 solid and Steve Hendrickson gets the emergency hold & save after the injury bug hits the Balt bullpen. Props to Steve who seemed more relaxed since his power-hitting brother was not in attendance.
Other not-so-highlights included AJ Thole fielding with his knee cap instead of glove, Bobby Nacho officially retiring due the game of baseball being "gay" and the bucket-o-beer going untapped due to late night scare from the Popo.
Next up: Champions at Testerman Park
Wednesday, June 12
Bobby Nacho Flashes Leather and Cobalts Win 3-2 over Bombers
Cobalts move into a 1st Place tie in CRC League Play with a nice quick (1.5 hrs) game at Roselawn Tuesday night.
Cobalt Pitchers were dealing: T-Stone threw 3 solid and T-Snoke threw a strong final 4 both combining for 8 strike outs and only 1 earned run. Helping their cause was 3rd baseman Bobby "Nacho" Noeth who stole 2 hits away from Bomber batters at key times.
AJ Thole got his groove on at the plate with a "lift and seperate" smash off the fence scoring 2 and Adrian Schau added a couple hits in the win.
Thanks to the quick game the Balts crushed two coolers of Natches before the other field's game was even done.
Next up for the 8-3 Balts is a college game at Rotary Park vs. BeaverCreek Sox on Saturday.
Tuesday, June 11
Cobalts Use Speed and D to Defeat Queen City Legends
Monday night at NKU Stadium and the Cobalts spot the hungry Legends a 2 spot in the 1st inning...that gets the chirping started but it only makes the Balts more determined. Good Pitching by Joey, Chris, and The Side-winder shut down the Legends offense for the remaining 8 innings as the Balts put up 7 runs with two big innings.
John Cloyd lead the offense with a couple of hits and runs scored utilizing his wheels. Jay Schunk drove in a couple with a big blast to the wall in the 3rd inning. Good D at 1st by Mummy worthy of a mention.
Cobalts now 7-3 with Bombers up next on Tuesday at Roselawn. First place is on the line.
Monday, June 10
Young Balts Drop a Deuce in DH Loss
The Champion Baseball Academy came to Brian Wilson Field ready to play...Balts were still looking at the Classified Section when all of a sudden they realize they were no-noed in a 10-0 loss.
Fought back in game 2 but still lost 8-7 as the Balts drop to 6-3 overall after two SOVCL losses.
Next up: Queen City Legends at NKU Stadium on Monday Night
Friday, June 7
Kurt & the Cobalts Go-Off in 12-1 Win
Kurt Hendrickson hits 2 triples and collects 4 hits in a runaway victory over SOVCL opponent the Cincinnati Flash Thursday night.
Some on-lookers later reported that as Kurt slid into third base he looked in the Balt dugout and screamed, "I'm the REAL Hendrickson...Steve who?!?!?"
Anyway, joining the hit parade was Cloyd, Young Josh, and several others helping Tyree to his second Win of the season. He worked 6 innings of scoreless ball. "Lawson" also worked scoreless ininngs despite his Jimmy John open wound.
All good in Cobalt Land as the boys are now 6-1 on the season.
Wednesday, June 5
Cobalts Go Rabbit in 6-5 Win Over Chiefs
These Bunnies have big fangs!
Cobalts never claim to look good in sleeveless spandex or tight lycra, but we occaisonly have squads that like to run...2013 is one of those years.

Combining the speed of the yoots and the battling veterans at the plate, the Balts won a tough game against the Chiefs in CRC League action.

T-Stone kept the Chiefs bats relatively quiet until the 5th. Then Adrian Schau (Win) closed the door to allow for last inning heroics and a walk-off bunt (with error) scoring Steve Hendrickson for the Cobalts 3rd League victory and 5th overall.

Hendrickson scored 3 and stole 2. Cloyd scored 2 and stole 2. Even Bobby Nacho stole a base! Big hits and RBIs from Schau, Rocky, and JF-Kennedy. Multiple Web Gems at SS by Young Josh.

Next up: Thursday/Sunday games in the SOVCL. Then NKU game on Monday followed by Bombers on Tuesday at Roselawn.



Sunday, June 2


Great Venue, Great Day, and a Nice Win




The Cobalts welcomed Yorkville to NKU Stadium on Sunday and both teams were showing off their young talent in a non-league game.

Locked up 5-5 going into the final inning, Jake Wagner hit a bullet into right field scoring Everett Osbourne for the walk-off win.

Brent Wagner threw 3 solid innings in his 2013 debut and Lawson gets the Win.

Bobby "Nacho" had 2 hits and 3 RBI to lead the offense.

Next up: Chiefs on Tuesday night at Roselawn 6:30pm



Wednesday, May 29


Cobalts Take 2 on Tuesday and Review Ball Etiquette




Tuesday nights at Roselawn are rarely boring given the competitive level of League Play and the importance of each game in the 2013 shortened season...this past Tuesday was no different as the Palyground AllStars came out hyped-up ready to knock off the men in Gold.

And after jumping out 2-0 it looked like the youngsters might be up to the task. But don't count out the Balts and don't steal signs from 2nd base so obviously...something veterans Rocky and JayCo addressed with immediate "energy" as things got exciting in the middle of the field.

Anyway, the Cobalts rally with Steve Hendrickson, "Ryan" Seachrist, and JayCo driving in multiple runs for a 7-3 victory in Game 1.

So then the men of Yorkville in Game 2 who lock horns in a 4-4 game until the 6th inning when a 9 run jailbreak occurs and the Cobalts go on to win 13-4. Good piching by the young Balts on this Tuesday night: Lawson and Tyree with the Wins.

2 wins on a Tuesday...and Coach upgrades to Bud Light. Next up: game at NKU Stadium versus Yorkville.



Tuesday, May 28


Bounce Back Game


One great thing about your Cobalts, they have short memories...so shaking off the extra inning loss from Tuesday, the Balts took on The Meridians at beautiful Marge Schott Stadium on the UC Campus. Tyler Snoke, bouncing back from an elbow surgery, took the hill for 3 strong and the college boys showed up with bats and fresh legs leading to a 10-1 win. The squad looks strong when everybody's in uniform...let's keep it rolling!!! Next up: Double header CRC action against PG Allstars and Yorkville Tuesday night at Roselawn. Festivities begin at 6:30pm and go until lights off and Natches are sunk.

Thursday, May 23


...And sometimes, the bear gets you



Balts did kill a Natch 30 Pk postgame
After a washout of Sunday's Opener, the Cobalts took Roselawn field for Tuesday's CRC league game against the Bombers.
Knowing our 18 college players were unavailable due to awards and graduation ceremonies, Coach was working the veterans for some cameo appearances..but he is losing his touch and at gametime we had 7 players show.
Anytime Coach is in uniform (tight!) things are not looking good. But enough excuse making. We fielded 9 players and had our man T-Stone on the hill and jumped out to a 7-2 lead. The young Bombers fought back against the Cobalt bullpen and tied it up sending it to extra ininings. Then, the Bombers strung two hits together in the bottom of 8th and the Cobalts fall 8-7 in the opener.
Next up is the Meridians on Friday night at UC's Marge Schott Stadium. Gametime is 6:30pm.
Tuesday, May 14
OPENING DAY 2013 !!!
Here we go, here we go, here we go now!!!
Cobalts begin another campiagn on Sunday May 19th versus the Lexington All Stars at McNicholas Paradise Stadium.
This year's squad is poised and ready to make another Championship run with experienced youth coming back from our AABC World Series Semi-Finals and the grizzled veterans who play for Love of the Game and few cold Natches.
Strap it on....Here come your 'Balts !!!!
Monday, February 18
New Home Stadium for Cobalts
come a long way from Caldwell
The Cobalt Management Group is pleased to announce that negotiations have been completed with the University of Cincinnati and Marge Schott Stadium.
The home stadium of the UC Bearcats will also be called "Home Field" in 2013 for the Cincinnati Cobalts! So in addition to CRC League games at Roselawn Park, the 'Balts will also host non-league games at UC.
As the Cobalts enter into their 28th year, they continue to make the summer Semi Pro experience a great one for top level players who wear the Navy & Gold.
The Cobalts will be scheduling the best of the best in 2013 as they prepare for World Series action again. Stay tuned for more exciting 2013 Season News!
Tuesday, February 12
PROJECT "Co" PARTY GOES ON
Another year and, of course, another great winter gathering of the Cobalts. This year we invaded Rooster's and set them back a couple hundred wings and several dozen jaeger bombs.
Year #28 looks to be shaping up nicely with some good young talent joining the veterans to add speed and defense. One thing for sure, the youths can eat and drink with past Cobalt squads!
We'll mix in games with out of town powers along with Cincinnati area traditional foes throught the regular season. And the Plan is to march to another World Series appearance and capture a national title!
Stay tuned. Cobalts are back again!!!
Tuesday, December 4
Merry Christmas and Happy Holidays!
Best wishes to all Cobalts and Friends!
Here's to a safe and happy Holiday Season.
Cheers!
Coach
Sunday, August 12
AABC World Series Run Comes to End
The Cobalts took to the field at Digi Domain Stadium with high hopes of making it to the Final 4 of the world Series. But the Albany Athletics and their 8 year Triple A veteran lefty stood in the Balt's way.
Albany can also swing the bat as the Cobalt defense needed 3 double plays to get out of jams and went into the 7th inning down 1-0.
The Albany ex-pro was painting the black and getting and extra 8 inches just to make life harder on your sore and beat up Balts. So only one real rally - a two out bases loaded opportunity - was squelched by a strike out...."BOO" could be heard often and loud throughout this poorly umped tourney.
So down go the Balts in a 3-0 loss. But not bad given we headed into Amateur Baseball's top World Series with 13 patched together boys and veterans. We sent home two incredibly talented teams: Houston and defending champs Canton Stallions. And, we were in each game to the last out.
We came, we saw, we won, and we partied as only Cobalts can.....all good!!!
Thanks to the Balts who made the trip. It was one to remember!!!
Thursday, August 9
WORLD SERIES UPDATE
After a heartbreaking 2-1 loss to St. Petersburg in the opening round game, the Balts powered thru the normal blown hammies and locked up calfs to take 2 games and enter Friday in the Final 6!!!
First Win came with T-Stone throwing hot-mess-stuff to shut down the fast running and gap hitting Texas Express from Houston. Mike Gastrich with a 3 run bomb, Adrian Schau with an awesome gun from left field to nail a speedy go-ahead runner. Rocky and Stiggy with RBIs and the Cobalts win 6-4. Awesome plate work by Tyler Schunk.
But no rest for the weary as game 2 starts before Coach can buy a round of gatoraides....and lucky us, its the 2 time consecutive defending World Champion Canton Stallions. Not sure if the northern ohio bunch took the lowly 13 Natty Boys serious but Adrian Schau was getting their attention on the hill as we took a 3-3 tie into the 8th inning thanks to his right arm. Then hot hitting John Kennedy reached on his second hit of game, was bunted over, then stole 3rd, and scored on Jason Cohill's sac fly.....uh oh, Balts up 4-3! So Schau running on fumes takes on the meat of the powerful Stallions lineup in bottom of 8th. They hit a couple consecutive balls hard but good defense from Kennedy and Jinkins gets the outs but then a single, and a double with tying run rounding 3rd.... but an incredible relay from Thamann to Schunk guns their runner at home to end the inning! Adrian shuts them down in 9th for complete game and a huge win for the Balts.
Next up for the undersized, out-numbered, dirty uniformed and jaeger bomb smelling crew from The Natti is the Albany Athletics. Curfew set at midnight.....think any of the 13 Cobalts gonna be home by then?.?.?
Monday, August 6
COBALTS HEAD TO AABC WORLD SERIES
Tuesday, July 31
Cobalts Down Yorkville 13-1 and Natches Flow
She Lookin at You Phil???
Well, the lumbers woke from their slumber and the Balts hit a hard throwing righty in a good rebound win late Monday night.
The 21st Win of the season was sealed with T-Stone throwing lights-out for 4 innings and Steve Beiser finished again with great relief work.
Stiggy, Rocky, and Phil all with RBIs as the Hits were many. So were the Natty Lights after the game as the 2012 Cobalts prepare for World Series Baseball, tiki huts, and tiki huts....did I mention tiki huts???
Next up Bombers 6:30pm Tuesday night
Tuesday, July 31
Lefty Hypnotizes Balts in 2-0 Loss
Adrian Schau deserved better as he gives up 2 unearned in an opening round city tourney loss to the Chiefs.
Cobalts manage just 4 hits in the quick affair that sends us to the loser bracket for a long journey out.
Steve Beiser helped keep it close with two perfect innings of relief but the Chiefs wrong-hander was on his game this night and kept the Balt's bats silent.
Next up: Yorkville who lost to Bombers.
Sunday, July 29
Tuning Up the Engine For World Series
As Rocky prepares the Team Truck for another Cobalt Florida Adventure, Mike Soto and his Meridians graciously schedule a non-league game on Saturday afternoon - somewhere deep in Colerain Twp down by the river....
Nice day for a 9 inning ballgame and the Balts get everybody involved as Kent Jinkins, Bobby Seda, and Will Shortreed lead the offense. Aaron Kehres, Ryan Ruble, and Ryan Beard all work the mound for the 13-7 win. Cobalts looked spiffy in their new white uniforms. Nice and cool for Port St. Lucie.
The victory gets us our 20th on the season...another good Cobalt Year!
City Tournament up next versus Chiefs 6:30pm Monday night at Roselawn.
Tuesday, July 24
Catching Up with the 'Balts
Has been an interesting second half of the season, to say the least. Comings and goings too weird to mention but in the end, the Cobalts are always ready to do battle with the best.
In past couple weeks, we have taken steps to get ready for AABC World Series trip by adding depth to roster, and racked up 3 more Wins (Champions, Talons) 1 tough loss (Yorkville), and 1 wild tie (Chiefs).
Now we finish up the regular season with a game Saturday versus the Meridians (4pm at Heritage Park).
Then, the City Tournament kicks-off Monday night where the Cobalts and Chiefs square off again in ound #1...Always a good time!
So now you are up to date with "As The Cobalt Turns." We stand a healthy 19-5-1 with much work still to do. 
Sunday, July 8
Cobalts DefeatTalons in a Hot One
Monster's new 3rd base coach lid
Temp was above 100 on Saturday but the Cobalts came to play.
Mike Peterson goes 5 for the Win, Snoke, Stiggy, and Schau solid in relief for an 8-2 victory.
John Kennedy got the offense going with a 2 RBI double then stole home 3 pitches later. T-Stone and Sunshine Morgan showed that the staff is full of "true athletes" banging out 3 hits. JayCo and Mike Stidham also with RBIs on the hot day.
So Balts stand at 16-4 with Chiefs up Tuesday nite.
Wednesday, July 4
Once a Cobalt, Always a Cobalt
Douggy Fresh was in the House
Sometimes our Cobalt Team mantra takes on real-life form when needed most....late Tuesday night Douggy Fresh Hoff shows up at Roselawn Park out of nowhere. Coach hasn't seen Doug (our early 1990's Cobalt starting pitcher anchor) for almost 15 years but after a couple stories it seemed like yesterday!

Priceless memories of Big Douggy breaking into a Cabbage Patch Dance on the hill, or getting a direct-from-the-hose shower during mini heat stroke remind us why the Cobalts have been together for 26 years....it's about the bond that you share on the dusty diamond in the heat of a summer and the lifelong friendships shared over cans of Natches afterward.

Here's to you Douggy Fresh, and all Cobalts everywhere who went to battle together as teammates across 4 different decades.



Wednesday, July 4


Cobalts ReGroup & ReDirect...All Good!




The Royals give up a cheap win and the Balts take the opportunity to re-commit themselves to the march on a Title. This group is bonded...

It begins again this Saturday at Lakota West against the Talons (10am). Then next Tuesday vs. Chiefs will determine the League Champions.

All good in Cobalt Nation. Full Steam Ahead!!



Thursday, June 28


1st League Game Forfeit in 26 year History


Apologies to Yorkville's players.....all I can say.

Monday, June 25


Cobalts Win 2 Over Eastern KY Ridgerunners



Google's answer to how you Ridge Run.
A well rested Mike Peterson took the hill and went 5 strong to get the 7-3 Win in game 1 over the boys from Eastern Kentucky.
Then Brent Wagner dazzled for 7 innings in a 16 K effort for the 6-1 victory in Game 2.
Mike Gastrich and Rocky Curnayn lead the offense in both games while Tyler Schunk took over 1st place in the helmet anger-toss yardage race.
Thanks to the Ridge Runners who drove a long way to play the 'Balts on a steamy Saturday afternoon!!!
Cobalts now 14-3 on the season.
Wednesday, June 20
Cobalts 2-1 Winners over Chiefs
Another great game between the two squads with Cobalts outlasting the Chiefs deep into extra innings:
2-1 your score in 9 innings. T-Stone gives up only 3 hits in 7 innings and Josh Williamson gets the Win with 2 hitless and scoreless.
The bottom of 9th was drama filled after Gastrich singled and Tom Taylor hit a double with no outs....fast forward to bases loaded, 2 outs, full count on Rocky Curnayn and ol' Rock works the Walk-Off Base-on-Balls to bring home the winner just before midnight!
Cobalts now 12-3 overall and sit in 1st place in CRC League Play.
Wednesday, June 20
Weekend Split
Yorkville gets a little revenge in the first game of a Father's Day Sunday DH beating the Cobalts 5-1. The Yorkvillians' bats were hot and the Balts were not.
In game two, the Cobalts survived a long one against the Talons, 9-8....not a highlight reel of fielding prowess but we'll take the win.
Cobalts now stand at 11-3 going into Tuesday night league action vs. Chiefs.
Wednesday, June 13
Tringale Leads 'Balts to 10th Win
Veteran Cobalt Rob Tringale isn't the flashiest of ballplayers, but somehow he gets 'er done! This week he was on base 6 out of 8 ABs and played solid defense wherever he's needed...leading the Cobalts to a Tuesday Night League Victory over the Cincinnati Royals 10-0.
Mike Peterson gets the Win and Mikey Taylor, John Kennedy, Todd Taylor, and Curtis Hendrickson helped Tringale score the runs.
On Sunday, the Cobalts ran into a solid Portland Rocket Squad who saved their Ace for the Balts....he was dealing and the Boys in Gold only managed 1 hit in the 3-0 loss. T-Stone deserved better as he only gave up 3 hits in 5 innings.
Cobalts stand at 10-2 overall now in 2012.
Sunday, June 10
Cobalts Add More Wins in Early June
Coach Spriggs says, "Where's the Giust when u need him?"
Tuesday night saw the Cobalts dressing Coach Joe Monster Spriggs for duties at 1st base...is this 2004 or has everybody given a Gold & Navy jersey left town? Well, anway, the Balts notch a W behind T-Stone's strong outing in a 4-1 victory over Yorkville.
Wednesday night a bit better showing for the game at Univ. of Cincinnati stadium. Mike Peterson and Tyler Snoke combine for a solid win against the talented Champions Academy. 4-3 your final. Morgan Gregory, Rob Tingale, Mikey Taylor and John Kennedy with big hits.
Saturday back to dressing the batboy to make 9.....but again, Cobalts get a Win: 17-1 over the Talons thanks to Rob Nesterhoff going absolutely nuts. He hits for the CYCLE PLUS A GRANDSLAM!!!
Tuesday, June 5
Solid Doubleheader Gets Cobalts Back on Track
Brent Wagner throws another gem with help from Josh Williamson for a 6-2 victory in game 1 and Curt Moenter gets his 1st victory in a Cobalt uni with help from Tyler Snoke in an 8-1 second game win over Yorkville.
Hitting leaders: Tyler Schunk (triples and doubles), AJ Thole (4 RBIs), Jake Daugherty (3-5), and Rob Tringale (3-4) who continues to press for the early MVP votes.
Cobalts move to 6-1 on the season.
Friday, June 1
One of Those Nights...Hopefully the Last!
Tuesday night has Coach watching the parking lot for position players arriving despite playing league rivals, Chiefs....something not right when you start season with 30+ dudes having a gold jersey in their bag but 3 pitchers are in your batting order for a big game.
Well, anyway, the 'Balts give up 2 Grand Slams in an impressive a$$ kicking by the Chiefs: 12-1
Hats off to Nathan Hale who kept the Cobalts in check with help from solid Chief fielding.
Natches eased the pain a bit but fact remains that this year's squad will under-achieve if we don't take big games serious.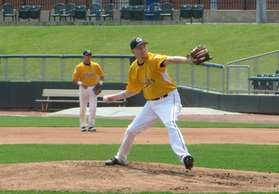 T-Stone with Schunk ready at 1b
Friday, June 1
Memorial Day in Stadium a Great Day!
Gastrich set to hit a gapper
Nice hot day. Perfect field. Good competition. And a Cobalt Win. all making for a great Memorial Day!
T-Stone gets the W with 4 strong innings of 1 hit baseball. Sunshine Morgan worked 2 perfect, as well as Steve Beiser and Mike Peterson in the 7-0 voctory over the CABL All Star Cougars.
Thanks to Jeff Sanders and Shannon for pulling the boys together for a great holiday of baseball.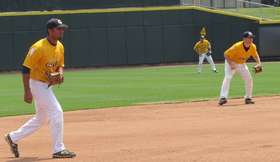 Gregory, TT, and Kennedy are ready
Monday, May 28
Arms Strong in DH Victories over Yorkville
Brent Wagner threw a gem in Game 1 on Saturday leading the Cobalts to a 2-0 win. AJ Thole with 2 doubles and Mike Gastrich uses his new 4-Leaf Clover to power a solo shot HR. (I guess CF gets boring for natural born catchers).
In game 2, both Thole and Gastrich knocked in runs again in a 3-2 victory. Josh Willaimson gets the W with relief help from Schunk and Stiggy, who also added 2 runs scored...Welcome back old Balt vet!
Thursday, May 24
WOW!!! Cobalts Swing the Lumber on Opening Night
With a 15 run explosion in the second inning, the 26th version of your Cobalts began the 2012 campaign with a huge win!
Snoke gets the win, Moenter and Williamson finish it for an impressive 18-1 victory against the Cincinnati Royals.
Hitting was done by many including Thole, Kennedy, Gregory, Todd Taylor, Gastrich and rest of lineup!
Good start Balts!!!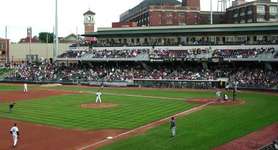 May 28th Dayton Dragon Stadium
Monday, May 21


Only Top-Shelf for the Semi Pro Cobalts!




Once again the Cobalts will celebrate Memorial Day with a game at the Professional Fifth Third Bank Stadium - home of the Dayton Dragons!

Game time is 12 noon. Fans can come as early as 11:30am but seating is limited to the first 8,000 who wear tube tops or daisy-dukes.

Opponent for the 9 inning game will be the CABL All Star Cougars.

Please only bring soft-sided coolers and canned beverages - NO GLASS PLEASE.

Free Parking in the left field service parking lot...enter thru main gates in front of stadium.

See everyone there!!



Sunday, May 20


2012 Opening Day May 22




Your Cobalts begin their 26th consecutive year of baseball on Tuesday night at Rosleawn Park, 8:30pm vs. Cincinnati Royals.

Not sure there has been this high a level of expectation for a Cobalt squad since '06 when the Toppers and Balts joined forces......this year should be one to remember!!!



Sunday, April 29


Lookin & Feelin Good in PreSeason Action




Thanks to Mike Soto and his Meridians for hanging tough on a wet weekend of weather and playing some great baseball at McNick today.

Was good to knock the rust off and get some peaks at the incredible new talent that has gathered to wear the blue & gold this season and drink a few Natches with the Cobalt Vets who are ready to roll.

Exciting stuff coming your way soon!



Sunday, April 22


We Seek The Ring




Pieces are coming together.

Plans are in place.

And your Cobalts begin their Quest to a World Series title this Sunday in Pre-Season action at McNick HS.

Our favorite colors are Blue...no Gold!



Friday, April 6


WORKOUTS BEGIN




While our College-Age Cobalts are getting their reps in games, the Veteran 'Balts have begun Spring Workouts on the field and in the weight-room. Reports are that Deuce Hock has dramatically increased his squat-thrusts thru Latitudes late-night workouts and Scrote (pictured left) has been building up his core-strength with P90x tapes and Natural Lite Aroma Therapy.

Anyway....the Cobalts take to the field on April 10th at McNicholas HS for pre-season scrimmage. The Regular Season will kick-off on May 22nd.

You Go Balts!



Friday, January 20


MONSTER IS BACK!!!


Rumor mill is swirling that "The Monster" will once again wear the #7 Cobalt Uniform.


Monday, November 28


2012 Season Discussions VERY Serious...at Hooters



26 Consecutive Years and Going Strong!!!
Hot, Medium, or Mild Wings......Miller Lite or Bud Light.....Ranch or Blue Cheese.....
All some of the hard decisions your Cobalts faced at this year's Annual Winter Meeting.
The one usual question: "Are the Balt's Players & Coach up for another year?" was already answered. After 48 Natches following last season's final out it was determined that we're comin' back, and hell's comin' with us! (quote: Johnny Mulves)
Good to see Old Timers (even Pudge Mulves & Gilly) and Youngins together during the Holiday Season. We wish all friends, fans, and family a very safe and Merry Christmas. We'll see everyone again in 2012!
Cheers!
Coach
Wednesday, January 11
Updates for January, 2012
Thought it worth a quick update on topics/questions that are on many people's minds during this off-season:
* Yes, the CRC has invested in major repairs to the Roselawn Complex...now up to teams using it to keep in top shape.
* Yes, the CRC League has retained the rights to host the NABF Regional Tournament again in 2012.
* Yes, the World Series for NABF has moved to Buffalo, NY (instead of Derby City Louisville).
* Yes, the AABC World Series has moved to Florida!!!
* Yes, as in some other year's past, there are attempts to create other leagues around the Greater Cincinnati area.
* Yes, they always come back because they find "schemers" cannot fulfill promises.
* Yes, your Cobalts are rebuilding...Better, Stronger, Faster. We have the technology!
* Yes, Cobalts should get ready for another Road Trip!