coachmo.com: Articles and Testimonials
Mo Know's....
Coach Mo Knows NFL Draft Preparation
NFL receiver Shaun McDonald ran a 4.2 40 with Coach Mo, he ran 4.6 prior to that
By DevilsDigest.com
These days Dale Robinson is participating in the NFL combine as he starts his journey towards playing on Sundays. Time will tell how high the co Pac-10 Defensive Player of the Year will be drafted, but one thing is for sure – he would have been trained by one of the best in the business. Coach Mo, who also trained former Sun Devils and current NFL players Shaun McDonald and Terrell Suggs, talked to Devils Digest about his program and Robinson's training regimen in specific.
"We really work on track and field technique," said Coach Mo. "ASU and (strength and conditioning) Coach House have a great weight training program. So when players come out of the school and into their draft, their bodies are almost ready for the NFL. I work with the players on their 40 (yard) time, shuttle times, cone drills and things like that. They are all football players and they know how to do it. My job is just to make them do it faster." Coach Mo added that he employs the same techniques that were used by sprinters like Marion Jones and Maurice Greene. Former and current NFL players such as Aeneas Williams and Simeon Rice have used the program, as well as MLB player Tony Womack.
The old sports saying 'you can't teach speed' still applies in Coach Mo's program, but there's nothing that states that you can't get faster through the proper training. "A faster player in a more lethal one," he claimed. "That's the mentally I had after I got out of the military (13 years in the Air Force). Getting someone to be well-trained – you can use different approaches. Shaun McDonald was a track and field guy in high school and after playing football for a few years I had to get back that track and filed rhythm in him. With Terrell Suggs, I harnessed his strength to train him not to run so recklessly and run more like a track guy. But I'm not trying to turn football players into track athletes, but I want them to have the track mentality. No scout wants to see a player run pretty like a track guy, they want to see them run like a football player and run aggressively."
Coach Mo has known Dale Robinson from his days at Glendale Community College, and that friendship led the linebacker to put his trust in the coach and use his program for the pre-draft preparations. In Robinson's case, the correct approach was vital since he wasn't 100% healthy at season's end. "I had to let his body get in running shape again and get rid of all the bumps and bruises, but at the same time start using my sprint technique," Coach Mo stated. "He reminds me of (wide receiver) Roddy White who ended up with the Atlanta Falcons last year – very raw and aggressive and not a track type of guy. Once he bought into the technique, without taking away from his tough New York mentality (smile) – he was OK. When you're a linebacker, you're running and analyzing the offense at the same time, so your running style will probably not be pretty. Now he's running more efficient."
Coach Mo's program utilizes the hilly terrains around Phoenix, as well as the more conventional tracks for the running exercises. Thus, home cooking allowed Robinson to excel in the program and should also help him in the vital Pro Day coming up on ASU's campus. "Scouts tell me all the time that they put more value in the Pro Day than they do the combine," claimed Coach Mo. "They want to see how well you do at home. That worked very well for Shaun and Terrell because they did do better in their Pro Day than the combine, and I think that will be the case with Dale too." And come the end of April, Robinson should be another success story for a program that has benefited so many players trying to realize their professional
Speed Coach is "The Best At What He Does"
By Odeen Domingo
Arizona Republic
The basics of what you need to know about Mo Streety, better known as Coach Mo, was in his white SUV.
Near the passenger seat sat a Bible, which speaks of his deep faith.
Stacked in backseat where a few Arizona Cardinals book bags, gifts for some of his many inner-city kids to whom he has donated his time.
On the floor of the passenger side was a stopwatch, an instrument that has become as essential as footwear for the nationally known speed and track coach.
And, of course, there was his cellphone, which was ringing again. Like it always seems to, oh, every two minutes or so.
Streety strayed his his eyes away from the road and glanced at the buzzing phone.
"It's Simeon Rice" Streety, said.
But he didn't bother to pick it up and talk to the boisterous Tampa Bay Bucs All-Pro defensive end, who was one of the best athletes to ever attend his speed camp. Streety uses facilities at Phoenix Christian and Apollo high schools.
Explained Streety, "I don't want to hear him remind me of how great he is. But he is pretty good you know. He brought the "Hat trick" to pro football with his record of most multi sack games in a season", Streety, said.
Oh, but on the contrary, it was Rice who spoke volumes of Streety during a nationally televised interview. Rice, a former Cardinals player, gave credit to Streety for his speed and performance on the field, calling Streety "the best at what he does."
And what Streety does isn't just making athletes run faster. Streety's speed camps, which cater to every age and skill level, focus on explosion, change of direction and quickening reaction times to enhance real game-time performance. Youth and prep teams accross the nation have bought Streety in for weeklong or weekend camps.
Streety's reputation has grown since his humble beginning in 1990 when he worked with two local prep running backs who wanted to do some extra training. Both backs became state class sprinters and All-America football players.
His success career coaching sprinters and jumpers at Moon Valley, Desert Vista and Phoenix Christian high schools also helped his status. Then in 1999, former Cardinals player and all-pro defensive back Aeneas Williams began working with Streety.
Now, his speed camps have notable alumni such as Rice, Williams, Tony Womack, Terrell Suggs, and Lofa Tatupu. He has also has NFL prospects the past four years who have impressed scouts at the NFL combine.
Physical therapist Brett Fisher, has called Streety's teaching techniques "A-maze-ing." Twice.
"It's unbelievable. Through his hard work, his athletes have had the fastest 40 yard dash times," Fischer said. "The previous year, JJ Arrington put on 11 pounds and still ran the fastest 40 time at the combine (for all the running backs). Manny Lawson ran the fastest time in the history of the NFL combine time for defensive ends (4.43).
Saved by a best seller........
Coach Mo's testimonial: Hebrews 12:1-4
Sitting at my observation point at the Boy's & Girls club (my then summer job & where we began our now very popular indoor football league), I grabbed my daily copy of USA Today, and my life was changed forever by the following article.
Saved by a best seller Enraptured with end times, 2 novelists spread the Word
Captain Rayford Steele is flying a 747 across the Atlantic when dozens of passengers suddenly vanish, leaving everything behind -- clothes, billfolds, glasses.At that same moment, planes drop out of the sky, cars careen off the road and trains crash as millions of other people disappear around the world.
Steele is convinced he has just witnessed the Rapture -- a time when some believe Jesus Christ will appear in the sky and take the faithful to heaven instantly. Everyone else is left behind to face seven horror-filled years of mayhem, earthquakes, famines, poisoned water, war and death.
These dramatic events launch the opening chapters of Left Behind, the first book in the wildly popular -- and highly controversial -- series of apocalyptic thrillers by Jerry B. Jenkins and the Rev. Tim LaHaye.
Didn't have to be told twice. This article changed me and the rest of my world. This article led me to seek The Lord and eventually led me a sprit led reletionship with my mentor and close best friend Aeneas Williams.
Click on the link bar above for more on the USA Today article, published in 1999.
Wednesday, May 26
Paul Vitale on Coach Mo....
| | | | | | |
| --- | --- | --- | --- | --- | --- |
| MAY 26, 2010 | VOL. VIII | ISSUE 3 | | | | | |

TURNING UP THE HEAT

by Paul Vitale

The Arizona heat was no match for the rush of enthusiasm pouring out of the 700 plus student athletes attending the eighth annual "Football Skills and Education Camp" hosted by the Arizona Cardinals Football Club this past weekend. Seeing first-hand the intensity from the high school players, both on offense and defense, encouraged me as I was preparing to deliver a message of heroism to those thirsty for affirmation.

Directed by Coach Mo Streety, Youth Football Coordinator for the Arizona Cardinals, the camp provided attendees the opportunity to receive on-field instruction from professional players and Cardinals coaches. The involvement of current players as well as those retired was inspiring as they diligently worked to expand the horizons of kids and show them that anything is possible.

Luis Zendejas, Senior Director of Community Relations for the Arizona Cardinals; Coach Mo Streety, Cardinals Youth Football Coordinator & Paul

The Cardinals were founded in 1898 and are the oldest continuously run professional American football club in the United States. As a charter member of the NFL, it is obvious to me that the franchise wants to continue doing what it can to support their community while growing strong, well-balanced athletes. That is why during the day long camp, not only does instruction take place on the field, a classroom segment off the field is mandatory as well.

Focusing on the key points found in my signature presentation, A Hero Within, I had the distinct pleasure of presenting a 30-minute message intended to challenge each participant to focus on the moment, yet have a plan in place for the future. My hope was to reinforce the importance of not only

Coach Al Gross & Paul during the Arizona Cardinals Football Skills &
Education Camp

dreaming courageously, but also seeing ambitions through by being resilient. Success is a planned event and as Coach Al Gross stated in his remarks to the students, "It takes commitment, character and the right attitude in the classroom to be an all-around top notch performer."

Even though the majority of the athletes will take home mental snapshots of running various routes and practicing drills with players such as offensive lineman Herman Johnson, rookie wide receiver Juamorris Stewart and rookie quarterback Max Hall, they will also take home an important mantra shared by Coach Mo focusing on "Be." "Be on time…be a happy person…and be as focused off the field as you are on the field."

Student Athletes & Paul
University of Phoenix Stadium

Having the opportunity to speak on behalf of the Arizona Cardinals to kids from not only Arizona but surrounding states was a true privilege. To the entire Community Relations Department, camp organizers, parents and coaches, I am thankful. The Arizona heat was no match for those young men enthusiastic to learn and improve while making the most out of a once in a lifetime opportunity!

Our New Look!

In keeping with our recent website redesign, we've taken this opportunity to revamp our newsletter format. The team at Vital Communications, Inc. sincerely hopes the new layout will be easy to read while being informative and entertaining. Please share our newsletter with anyone you feel may enjoy receiving it. To read past issues and subscribe online, please visit our online library.

_______________

Spotlight

Speed Training

Since 2003, Coach Mo Streety has trained the finest in NFL draft prospects, helping them to run & react faster. The results have been nothing less than phenomenal! Teamed up with some of the best agents in the business, his trainings represent more than a technical leap forward. Coach Mo adds a spirit-led dimension to speed training, pre-combine conditioning & year-round training for all athletes, for all sports.

A 13-year Air Force veteran, Coach Mo began working as a coach in the Phoenix area in 1990. His military training, education & experience have given him unique knowledge in a wide range of areas including training systems development, kinesiology and astrophysics, giving him a unique perspective in the areas of speed development.

_______________

Did You Know?

The Arizona Cardinals began as a neighborhood group that gathered to play football in Chicago's South Side under the name Morgan
Athletic Club.

The Cardinals home field, the University of Phoenix Stadium, contains 1.7 million square feet with a regular game seating capacity of 63,400 expandable to 73,000 for Super Bowls and college bowl games.

_______________

Featured Product

Order Yours Now: The Sell With Confidence—Unlock Your Potential Instructor's Guide has been created as a valuable resource for training those eager to learn fresh and innovative approaches to the age-old topic of salesmanship. The companion instructional resource to his book Sell With Confidence, Paul's guide encourages participants to recognize their potential no matter the product, service, cause or idea being promoted.




From the first page to the last, this manual will assist individuals to take hold of the practical ideas that help polish sales methods and increase productivity, including how to handle objections gracefully, methods utilized to transform leads into sales and techniques used when honing an effective approach.

TODAY'S MAN

Paul was recently honored to be featured in the May 2010 issue of TODAY'S MAN magazine. A monthly publication about experiences and knowledge that have clear value and meaning, its editorial focuses on health and fitness, financial news, sports, business, trends and community.

Click the photo above to read the
feature article online in its entirety!

This month's cover story is about none other than the most influential sports figure of the 20th Century, the Natural State's beloved Coach Frank Broyles. Congratulations Coach Broyles on receiving the 2010 Arkansas Cultural Enrichment Award!

Five-Star Review:
Sell With Confidence

Many businesspeople feel that sales are something they're just naturally good at or (more often) bad at. Many more recognize that sales are unavoidable in their work, but see it as a burden-something they have to suffer through so they can do the work they prefer. In fact, I've read that the average professional salesperson spends 15 minutes getting into the mood to make that first call of the day.

For the thousands who aren't professional salespeople and yet have to make sales (job hunters, entrepreneurs, small business owners, fundraisers) the level of anxiety and procrastination can be enormous.

Vitale doesn't just provide a pep talk. He goes into the daily habits that lead to self confidence when giving a presentation or making a sales call, from caring for your health to establishing a daily work routine, from analyzing your competition to maintaining a professional appearance...(more)

Newly Redesigned Website

Last month we announced the launch of our newly redesigned website at paulvitale.com. Your response has been tremendous. Many of you have taken the opportunity to vote in our weekly polls, subscribe to the RSS feed or write on Paul's "Wall," helping to make the site a truly interactive experience for all. Please continue to check back often for new polls, items of interest and featured products. Thank you for your input and support!

Join Us On Facebook!

For those of you who are friends of Paul on Facebook, you're familiar with his weekly postings of both a motivating challenge and inspiring quotation. If you have a favorite quote or idea for a challenge that you'd like to share, send it to Paul and he'll consider including it in "MONDAY'S MOTIVATIONAL CHALLENGE" or "THURSDAY'S THUMBS UP!"

If you haven't yet joined Paul's page, please click the photo below and "Like" it now!
Saving Grace
Aeneas Williams, Coach Mo's spiritual Mentor
How did I get to where I am today. It began with a spiritual mentor at moon valley high school, then a USA Today article on the "Left Behind" series, and finally....getting up at 4:30 a.m. in the morning to train & keep up with Aeneas Williams. Join us.............
by David Fleming
ESPN The Magazine
As the Super Bowl looms on the horizon, The Magazine delves into NFL Nation -- the world's only sports superpower. Here's a look at the Minister of Defense.
You stand there in utter disbelief as Aeneas Williams approaches and all the people around you immediately fall to their knees. Congregated in the north end zone of the Dome in St. Louis on Dec.30, just after the Rams have defeated the Colts to clinch the NFC West title, the faithful wait for Williams above the players' tunnel. Williams pops up off the field, massages his NFC West Champions hat onto his head and bounces -- to the tune of "We Are the Champions" -- toward his sea of supporters. And when they see him coming, all of them -- kids and grown-ups, black and white, male and female -- drop to their knees and stretch their arms over the guard rail, hoping to touch him. Some catch a hand. Some brush his pads with the tips of their fingers. And as Williams disappears into the tunnel, shaking his head in a mixture of joy and disbelief at the scene, you hear a voice that may still be circling through those cement corridors today: "Thank you, Aeneas! Thank you for saving us!"
A few minutes later in the locker room, Rams linebacker London Fletcher says, "I'm telling you, the guy has a special aura to him. He has a special kind of glow. He's one of those rare people you meet who you know right away is gonna have an impact on your life."
The skeptic in you is piqued. You dig through Williams' background and read how opponents refer to him as Clergy ... how in 1996 he passed up an offer from Jacksonville in order to stay loyal to the Arizona Cardinals ... how he has started 173 games in a row ... how he's fourth among active players with 50 picks ... and how he's a licensed minister who uses the Pacific Ocean to baptize players at the Pro Bowl. ("Maybe this year we'll use the Jacuzzi," he laughs while opening the Pro Bowl packet that's just arrived from the league office.) Then, of course, there are the 21 points Williams accounted for -- 14 on two picks he returned for touchdowns, seven more after he forced and recovered an Antonio Freeman fumble -- in the Rams playoff win over Green Bay, and you understand where Fletcher may be coming from.
It's 9 a.m. on his day off. Williams, 33, has already finished a workout and is sitting in the back row of the team's darkened auditorium. He patiently answers questions, then turns the tables and begins to ask a few of his own -- about your college, your family, your job. Then, after a calm debate about religion, Williams hands over the phone number of his older brother, Achilles -- and leaves you wondering who in the family was a Trojan War buff.
Achilles Williams runs the nine car dealerships that Aeneas owns in their home state of Louisiana. Older brothers are always good for some serious dirt, right? Not Achilles. A pointed question is asked, and the phone goes dead silent for several seconds. "No," he finally replies, "there are no flaws with Aeneas that I can think of."
Really? Is it possible that one player -- even a seven-time Pro Bowl corner who gets up at 4:30 a.m. every day to pray -- can be credited with the miraculous turnaround of the Rams defense? Is it possible that someone could be that good? Both on and off the field? Two words, you think to yourself: Eugene Robinson.
Even Rams head coach Mike Martz had his doubts. "You hear so many good things about Aeneas, it's a little hard to believe," says Martz, who lobbied Rams GM Charley Armey hard for the predraft trade that sent a second- and a fourth-round pick to Arizona for Williams. "His attitude, his leadership, his preparation, his play -- it all seemed a little too good to be true. Then he shows up and is actually better than that. He's become to our defense what Marshall Faulk is to our offense -- the standard we all hold ourselves to."
Setting standards is practically a way of life for Williams. Raised in New Orleans, he passed up an academic scholarship to Dartmouth to follow Achilles to nearby Southern U., where he made the dean's list and became active in student government. Football? Not until his junior year, when -- just five days before the start of the season -- Williams decided to walk on. A month later, he was starting. A year after that, he led the nation with 11 picks and graduated with a degree in accounting. After the Cards took him in the third round of the 1991 draft, he tied for the NFC lead with six interceptions on his way to selection as the NFC Defensive Rookie of the Year. In 1994, he was selected for his first Pro Bowl.
Then, after wandering in the desert for a decade with the notoriously cheap Cardinals, Williams finally reached his breaking point: 10 seasons, 10 losses a year (on average), one playoff win. Williams was prepared to retire rather than play another down for the Cards. That was when St. Louis came calling.
"The difference in the two teams is like night and day for Aeneas," says Achilles, who speaks daily with his brother. "It's like a car dealer who's happy to make the bills each month as opposed to one who maximizes every opportunity that comes along to be the best in the business."
That second car dealer? That would be the Rams. Last off-season, St. Louis dumped eight starters and revamped a defense that gave up a league-worst 471 points in the 2000 season. Three moves proved especially critical in this process. First, Martz hired former Tampa assistant Lovie Smith to bring the Bucs ferocious, attacking-style D to St. Louis. Second, they dumped disruptive defensive end Kevin Carter on the Titans for an extra first-round pick, which mitigated the loss of the picks sent to the Cardinals for Williams. And finally, they landed their leader.
"One person can change a whole team," Martz says. "Kevin Carter had the effect on this team in a negative way. Aeneas had it in a positive way. It was a huge swing." (No kidding. Last year the Rams ranked 23rd in the NFL in fewest total yards allowed. This season, they jumped to third.)
Normal protocol in the NFL is to have an intern or a member of the personnel department go to the airport to meet new players coming to visit for the first time. But when Williams landed, both Smith and Martz were waiting for him, and they immediately dropped this on him: We want you to be the Marshall Faulk of our new defense. After dinner, Smith actually ran some clips of his old Bucs defense so there would be no confusion as to what he expected of Williams. The dinner and the movie were nice, but the Rams had him at "Faulk."
"Something just went off in me that said, yes, I can do that," says Williams, who was voted defensive captain of the Rams practically before the ink had dried on the contract. "I know in my heart that I hadn't even come close to reaching my full potential, and here I saw a chance to do it. Besides, I love Lovie Smith. I really do. I love him. This right here with this team, this is what I always thought it could be like."
Before his first minicamp, Williams asked Rams defensive backs coach Ron Meeks to coach him like a rookie. He took notes in meetings like a first-year law student. He did extra crunches waiting for his turn during drills. And Williams continued his habit of returning every pick in practice all the way back to the end zone. "You want an example of how to be a pro?" Meeks asked his players. "Follow Aeneas. Do what he does." A few weeks later, a proud-papa smile spread across Smith's face when he noticed the young Rams DBs -- guys like Dre' Bly, Dexter McCleon and Adam Archuleta -- as well as vets like Fletcher taking notes in meetings, banging out extra crunches in their spare time and taking picks back 90 yards to the end zone during practice.
At some point during the season -- maybe it was when he returned a pick 42 yards for a TD (the seventh of his career) against the Jets, or when he notched 14 tackles against the Dolphins, or when the equipment man handed him a commemorative hat for the first division title of his career -- Williams became the Ray Bourque of the Rams. "He's younger by being here," says Smith. "Aeneas has Hall of Fame credentials. All he needs is a Super Bowl ring. He's been such a shining example on and off the field in this league, he deserves a ring, and we want to get him one."
Smith brings out videotapes of St. Louis' two games with San Francisco. In both, Williams sets up opposite All-Pro wideout Terrell Owens, the kind of blue-chip matchup Aeneas used to have with former Cowboys WR Michael Irvin. All NFL corners are separated by the power, balance and fluidity of the two strides they take in transition out of their backpedal. And against Owens, Williams' technique is flawless. "Aeneas comes out of his backpedal as well as anyone ever," Rams wideout Ricky Proehl confirms. "You have to work hard all game to get open on him once, if that."
Game two, Dec.9, the two teams are tied for the NFC West lead with 9-2 records. Williams grabs two picks and bangs heads like a rookie free agent. Following his lead, the Rams defense flies to the ball on every play: St. Louis 27, San Francisco 14.
Owens, in the two games combined, finished with eight catches, no scores and even less class. "He didn't do anything except hold me," Owens said after the second game.
Physical gifts combined with a relentless work ethic, a perfectionist nature (he stubbornly refuses to concede even five-yard flares) and an uncanny feel for the game (he often calls out the exact play the other team is about to run) have carried Williams to the NFL elite at his position. Two summers ago, the Pro Football Hall of Fame placed him -- along with Deion Sanders, Darrell Green and Rod Woodson -- in the defensive backfield of the NFL's All Decade team of the 1990s. Only Williams remains at the top of his game.
What keeps him there is his seemingly unquenchable thirst for knowledge. Deep into his 11th season, he still tracks down the best players in the game to pick their brains. Recently, he's interviewed, among others, Jets coach Herman Edwards; Green, the ageless Redskins wonder; former Raiders great Mike Haynes; and former Oilers and Redskins safety Kenny Houston, who until this season held the NFL record for career picks returned for TDs. But no one has had as much impact on Williams' mental approach as former Chargers star Gill Byrd.
"Like me, Gill wasn't the fastest guy," says Williams. "But he played the position with the kind of skills that neutralized speed. From a mental approach he told me, 'Don't look at the position like you have to stop them. Think of it as, they have to get by you.' For me, that was a paradigm shift."
Williams is on the verge of another. If the Rams win this week, he'll return home to New Orleans for Super Bowl XXXVI. ("What an ending that would be if this all ends up where it started, in New Orleans. Wow!") The game will be played in the Superdome, where a teenage Williams used to sell peanuts and popcorn during Saints games, competing for customers with Faulk, another New Orleans native and former peanut vendor.
The obvious question hangs in the air, like a football floating just above a wide receiver's fingertips. "Yeah," Williams says with a chuckle, stepping in to snatch it away before it's asked, "I probably outsold Marshall."
Funny. Aeneas Williams is still giving fans sustenance.
Thursday, May 31
Hitting Top Speed (By Rocky Stiles)
Written by Rocky Sites
Thursday, 31 May 2007
Tenths of seconds can literally decide whether a player is the top overall pick or a second rounder in the NFL draft. Outside of size, speed is the key ingredient an NFL team looks for when deciding who they are going to draft. Some players go into the draft with one knock being their speed. What do they do about this? Most players go to speed coaches, but these guys don't get the credit they truly deserve and NASFA has sat down with the best in the business, Coach Mo Streety.
Who is Coach Mo? Coach Mo is a man who specializes in speed, conditioning, and overall athletic agility. He is a busy man in Arizona who prepares athletes for the NFL draft as well as athletes in high school looking to go to college and also baseball players and youth athletes. A man who does all this still finds time for coaching a local high school track team, running the Arizona Cardinals' Youth Football club, and most importantly family and god.
You may have some players like Terrell Suggs, Shaun McDonald, J.J. Arrington, Manny Lawson, Gaines Adams, and Darrelle Revis post blistering 40 times at the NFL combine in recent years, but one thing you didn't know is that all of these guys were coached by Coach Mo Streety prior to doing that. Something you probably DID know is that Terrell Suggs came to Coach Mo running 4.9's; McDonald, Revis, Arrington came running 4.5's, Lawson came to him with 4.7's and left running 4.4's; I'd say this is a pretty successful program and his track record backs up my sentiment.

There is so much more to being fast than natural speed; there is physical and mental preparation, running technique, conditioning, and just a basic knowledge of running the proper way. We all know how much training the athletes put into it, but what does a guy like Mo Streety do? You can read in-depth about Mo and his services at www.coachmo.com. What you can't read at his site is that Coach Mo is like an athlete himself; he studies film of track sprinters, film of combines, and film of athlete's he's going to work with to see how HE can improve his program to help better the athlete. Coach Mo credits former CB Aeneas Williams with developing his passion for bettering himself and always looking for ways to improve and stay on top of his game and in turn keeping his athletes progressing. That work ethic was also developed because of Coach Mo's military background. That background is what Coach Mo says separates his speed program from other programs.

Is it just Coach Mo that works this program? It is a two-pronged program. Coach Mo does some training by himself, but he works with Fischer Sports (www.fischer-sports.com) and according to Mo, the absolute best results come from athletes who work both programs. Coach Mo says, "Brett Fischer has an excellent conditioning & sports therapy program. We started working together three years ago and the results have been phenomenal".

This is just a little preview to what you'll be getting here at NASFA and in PFN Magazine published by NASFA in the future as Coach Mo has signed on as a contributor to the magazine. Coach Mo will be doing a monthly "Athletic Perspective" that will include some speed tips and things that will help YOU get better as an athlete.
Coach Mo
Director, Head Coach A 13 year Air Force Veteran (Training Systems Specialist), Coach Mo began working as a coach in the Phoenix area in 1990 at Luke Air Force base where his 56 Medical Group football teams enjoyed a 40-4 record in 4 years with 4 championship appearances (winning 3). His military training, education & experience and has given him unique and use knowledge in a wide range of areas to include training systems development, nutrition, kinesiology, biomechanics, biolocomotion and astrophysics, giving him a unique perspective in the areas of speed development. As a track coach at Peoria Centennial (91-94), Phoenix Moon Valley (93-98) and Desert Vista (99-2000) high Schools his athletes enjoyed phenomenal success dominating the sprints, jumps & hurdles in their respective regions.
In 1999 Coach Mo's sprinters won every sprint, hurdle & long jump title in the region while he was at Moon Valley (he also tutored sprinters from Apollo, Independence, Cactus & Centennial High Schools). His Lightning Track Club (LTC) trained athletes won nearly every sprint, hurdle & long jump event in the region during his ttenure based out of Moon Valley in the Glendale District. In 1997 & 98, he coached back to back state sprint champs Jamaal Peterson (100m, silver at 200, 4th in the 100HH) and Brandon Bardwell (200m, silver at 400, 4th in the 100m). He was also the receivers & defensive backs coach at Moon (93-94) tutoring 4 all-region selections.
Since 1994, Coach Mo speed campers & LTC alumni won dozens of regional titles, three dozen top 4 state finishes and over 40 state Championships. In 2000, he helped Desert Vista's girls team to the 5A title, coached 5A triple jump state champ Bobby Wade (Chicago Bears/Tennessee Titans), All-America spinter and Footlocker classic finalist (100m) Chris Snow, a major league baseball draft pick (Los Angeles Dodgers) and all state sprinter Alexis Welch. He was also an assistant coach for the region champion Thunder football team and members of Desert Vista's state championship baseball team. In 2002, Coach Mo reunited with former Desert Vista football and track Coach Jim Rattay at Phoenix Christian High School. Since then, the two continued their winning ways as the Cougar football team has won consecutive region and a state titles (2003 & 2004).
In 2002 Mo also took on Athletic Director duties at the Murphy Field Of Dreams and would soon take over as youth football manager for the Arizona Cardinals. After stints as an Assistant Principal at Career Success and Ahwatukee Horizon Schools, Coach Mo became the Cougars head track & field coach in 2003, coaching the Cougar sprinters, hurdlers & jumpers. During his tenure, the Cougars have had their best showing in 20 years with 90 top 10 finishes and 14 championships in the 2A metro region including second place team finishes in 2003 & 2004. At the state championships, his athletes have had 62 top 10 finishes and three state titles. The boys team was state runner up in 2005. In 2006, PC hurdlers Matt Kredit and Domoneek Staton swept the boys & girls hurdles at the 2A metro region championships. Kredit went on the take third at state.
2005 brought in a who new dimension to Coach Mo's resume as many of the NFL combine's top performers had ties to his speed camps. After two years of working with future NFL draft picks in Shaun McDonald (Rams 4th rounf 2003) and Terrell Suggs (Ravens first round 2004), he teamed up with Brett Fisher. After that his success had a multiplative results in 2005 with Roddy White (first round/Atlanta), JJ Arrington (2nd round round/Arizona), Vince Jackson (second round/San Diego), Kelvin Hayden (Kelvin Hayden 2nd round Indianapolis), Lofa Tatupu (2nd round/Seattle) all being drafted. In all, 12 players with ties to Coach Mo were drafted. In 2006, Manny Lawson was drafted by the 49ers in the first round while Brandon Marshall (Broncos), Stephen Tulloch (Titans) and Darryl Tapp (Seattle) were all selected in the first day and had instant impacts on ther respective teams. All shined brightly at the Indianapolis NFL combine and their home Pro Days.
Coach Mo still trains the finest in NFL prospects and several free agents. Dozens of basketball, softball and volleyball players that attended Coach Mo Speed Camps have been named to all-state teams, forty three were honored by their regions in their respective sports. A succesful string of All-state running backs like DJ Hollingsworth (Cactus '98), Kyran Jones (Peoria '99), Chasda Martin (Moon Valley '99/Northwestern), Bobby Wade (Desert Vista '00/Arizona), Philo Sanchez (Tucson Sunnyside '01/Northern Arizona) C.R. Davis (Moon Valley 02/Wyoming) and Kyle Gingg (Phoenix Christian '03/Boise State) all spent time with Coach Mo's speed training. He's also trained all-region and all-state recievers at four different schools. A former Air Force & college sprinter and guest speaker at the Nike Coach of the Year Clinic, Coach Mo's client list has included Aeneas Williams (St. Louis Rams), Simeon Rice (Buccaneers), Javon Walker (Packers), Shaun McDonald (Rams), Terry Fair (Steelers), Tony Womack (Boston Red Socks), Michael Bankston (Redskins), Travis Brown (Bills), Allen DeGraffenried (Broncos), Terry Irving (Titans), Terrell Suggs & Frank Sanders (Ravens), Bryan Gilmore (Cardinals), Kwamme Lassiter (Chargers), MarTay Jenkins and other NFL, baseball, college and high school athletes. Recently, his speed camps have been instrumental in preparing college stars like Arizona State's McDonald, Suggs, Jimmy Verdon, Skyler Fulton, Regis Crawford, Jason Shivers and Dale Robinson for the NFL draft and training camps.
For testimonials and more on Coach Mo, scroll down on this page.
James 3:13
Tuesday, July 14
Cheer Camp Testimonials
From our camp hosted by Beth Snow
at Art Hamilton School
Hamilton Cheer Camp
July 11, 12th 2005
Reflections; Students short summaries on day's events, what they learned, liked etc.
Joselin Marquez 8B
Today I learned how to make a high V, low V and some cheers. I also learned that to be a cheerleader is not only jumping and screaming it means a lot more. Also I learned how to sit down and how to stand up.
Today I had lots of fun learning how to dance with a cheerleader from the cardinals.
I would like for our teachers for these two days to be our official teachers for cheerleading.
Marina Ruiz 3rd grade
I learned a bone-arrow. (Bow-arrow) I cheered with those things and I learned how to do a " T". I had fun doing that. I had fun doing the exercise. It was so fun in the gym. But the most that I liked were the songs. What I liked so much I did a lot of things in the gym I put some of the uniforms and they are about "Huskies".
Lextia Olmos 4th
The new Cheers, the Steps, our positions. What I learned in cheerleading are new cheers, the steps and our positions, how to stand in line.
A teacher showed us how to dance. Dance in position.
Jennifer Falcon 2nd I have fun in cheering (:
Itzel Berber 6th
I learned arm how to do a K and also a lot of things. Also I learned how to dance and do things with my body. I also loved it. Also yesterday we have fun. I like that when we were running and we were doing exercising. I liked that we were dancing and we were doing cartwheels and were doing fun things and we were playing fun stuff that what I love about today.
Arlet Valdes 3rd grade
We learned cheer practice and it was fun.
I learned fun TaTIKX (cheer moves)
Leslie Lopez
Having Fun being a real cheerleader. Having some cheerleading exercise.
Having a big smile in cheerleading.
Having a great time, having so much fun learning how to cheer wonderful. And we got to dance and a professional cardinal showed us. We had a great peacetime.
Yvonne Palma
What I learned today is how cheerleaders sit. I also learned how to make letters with my body. I learned half T and high V low V / diagonal learned lots of stuff. I love to cheer for the Hamilton Huskies.
What I learned today is how to do a cool kick. Also loved the program and I hope there's a same program next year.
Vanessa Alvarez 7th
What I learned today was cheer it was very cold (cool) because I never been in a cheer. We made a lot of new cheers and moves. They were fantastic and very fun I am glad that we're cheerleading now I learned how to stand and moves.
What we learned today was that we did a lot of moves a girl from the cardinals came showed us some moves and it was fun we were dancing.
Irma Mayo
I learned new cheers. And how to do new exercise. Also how to sit right if you're a cheerleader. Also I learned to be healthy. I also learned to do T.K.
Today a cheerleader came she showed us how to dance she was a cardinal cheerleader. Her name was Rachel.
Adle Vargas
Today I learned the stretches. The other this is I learned how to sit like a cheerleader and how to stand like a cheerleader. I learned how to dance like one. My favorite part was starting to cheer. I saw a cheerleader of the cardinals. We danced with Rachel. We ran a lot today.
Rosa Mayo
Today I learned many things. I learned how to cheer and how to work together. It was fun and I learned how to yell and even how to be a team. That's why I liked it and I am glad I was here.
Cheyenne Brown 3rd What I learned to day is cheering is fun do. I liked low V, the best.
Crystal Lopez
I learned how to loose weight and be healthy. They told me if I was a cheerleader last year I said yes. Today I learned more cheers than last year. But the coaches are better then last year. I had fun and met more people.
Today is the last day of cheerleading. We took a picture. We danced we performed. We were doing court wheels and a cardinal cheerleader was here.
Maria Ornelas 7th
I learned arm movements. I also learned that I have to stretch so when we are cheering we won't get hurt. I also learned 5 cheers.
Madeline Jones 2nd
I learned to stand like a cheerleader. I leaned how to sit. I learned how to cheer. It was so fun.
The teacher taught us how to dance. I learned how to stomp; I learned how to clap,
Irene Viscaya
I liked the cheers and the coaches and the PoPo's but I liked the dance, and every one was fun.
Lesley Manajares
My favorite part is when I have to cheer. I learn to dance. I learn how to kick. I learn how to sing.
Yelitza Olmos 2nd
Cheers! Moves! Position!
A teacher showed us how to dance. We danced and position.
Araceli Burciaga 6th
I learned the cheer site (coaches) different then us. They have to work a lot and they have to practice three hours a day to get to dance really good. For they don't get any mistakes. All the cheer has to work all day at least. It is hard to work and practice all day and all the day to get it right. They have to do a lot of exercising in the gym.
I learned that the cheer is too hard for us
Anabel Navarro 8th
Today what we did is that we exercised and we learned some of the cheers. Then we went to lunch then after that we came back in the gym and we did some warm ups and we did some other cheers.
I really had fun. I hope that we can have this next year. I learned a lot of cheers and I also learned a dance.
Guadalupe Soto 8th
3 things I learned
1). Cheer is a whole different thing.
2). There's a lot to it.
3). It's not a easy thing to do.
1). Today I met Rachel a Cardinal Cheerleader.
2). I danced with my group.
3). I had a lot of fun. I had a great time.
Thanks! X o x o Guadalupe Soto!
Miriam Ruiz 7th
I learned a bone-arrow. A high V and a low V. I was hard but I was fun! I had fun being a cheerleader cause I didn't know I was gonna be a cheerleader. But the most important is being here. So I can get an important life.(life skill) I learned a diagonal. And were going to wear a dress and were going to get pom -poms . Were going to try hard o win! I learned a (:
Heidi Falcon 2nd
I have fun cheerleader. I learn a lot it was fun we dance and we (; (smiled)
Ruby Olivas 4th
Today I learned to stand right, sit right and cheer. I also learned to do motions.
Jessica Navarro 2nd-What I learned today got a you and for K T V . (letters arm motions)
Yesenia Sierra 5th
I learned some stretches and words to cheers. I learned if you want something you must work for it. I also learned how to make a V with my body.
Today I learned how to do a kick and dance and lots of other things.
Evelyn Burciaga 4th grade
I learned that stretching is so hard and I learned how to cheer. I learned how to do the K and T Being a cheerleader is a hard job.and today we are going to cheer in the school and they are going to give us presents. I love to cheer. My mom is going to see us cheer and she is happy.
Miriam Mendez 6th
My favorite part is when I have to cheer. I learn to dance. I learn how to kick. I learn how to sing.
Article about Coach Mo & Phoenix Christian Track
Richard Obert
The Arizona Republic
Apr. 9, 2004 12:00 AM
Mo knows, and that's why Phoenix Christian is starting to make Chandler Valley Christian's formidable track program sweat.
Mo Streety, who became the head boys track and field coach this season, has worked with everybody from St. Louis Rams cornerback Aeneas Williams to Valley 12-year-olds in the need for speed.
Now, with a stable of state champion football players, he's got the Cougars on track to give Valley Christian a challenge at the 2A state championships next month.
Senior sprinter Nate Huss is among those who became believers of Streety's program.
"Coach Mo is an amazing coach," said Huss, who has run track for only two years but should be among the favorites at state. "I have fun working with him. He's definitely gotten me faster."
Streety has coached track at Moon Valley and Desert Vista and came to Phoenix Christian last year to help Jim Rattay in the football program and to assist the track program.
He was handed the main track job this season, and he's still got time to work with pro athletes, using Phoenix Christian's facilities, along with Glendale Apollo's.
Williams, Tampa Bay defensive end Simeon Rice, Chicago Bears receiver Bobby Wade and St. Louis Cardinals second baseman Tony Womack are among his clients.
Streety also runs a five-on-five flag football league for youths aimed to help with their overall athleticism.
"Phoenix Christian was so different," Streety said. "I was confronted with a bunch of kids who didn't know me or my system. They bought into the system, and coach Rattay told them about my background." This is where he is & who he is....Phoenix Christian.
Streety believes football and track go hand in hand in building the respective programs.
Track works on speed, agility and quickness, some of the main qualities required in football.
Huss was a top kicker in football and a top soccer player this past winter.
Sam Ledford, who starred at tailback on the football team, is one of the best jumpers in Class 2A. And fullback/linebacker Kyle Gingg, the Small School football Player of the Year last season, adds depth to the relays and sprints. Quarterback Josh Schlueter is emerging as one of the top small-school hurdlers.
The Cougars finished fifth at state last season. Some of the field events hurt them then.
"I kind of handicapped the (state) meet," Streety said. "It's going to come down to Nate Huss and our jumpers. Nate has adapted to the lows and highs (hurdles).
"I think Nate will medal in the 100 and the (400) quarter mile. He's the second best (400) quarter miler in 2A."
Bourgade, Valley Christian, Tombstone and Phoenix Christian could all knock each other off in the sprints, Streety believes.
Article on Nate Huss
Family the top prize for 3-sport star
Richard Obert
The Arizona Republic
Apr. 16, 2004 12:00 AM
Nate Huss knows he is half Black and half White. He knows the hard-luck story of his birth mother. He knows he has a father out there somewhere. But right now, none of that matters. The Phoenix Christian High senior sprinter concerns himself with winning the race, helping his school and church, and being a leader among teammates.
He was one of the lucky ones, brought into a home where parents didn't care about color and race, didn't care about blood and history.
Nate is the youngest of eight children of varying nationalities adopted by Dave and Sylvia Huss, transplanted New Englanders who came to Phoenix 23 years ago.
"When I first met Nate, it appeared to me that he was a spoiled, rich kid who had it all," Phoenix Christian track coach Mo Streety said. "He drove a nice car. He had his own cellphone.
"But he wasn't anything like you'd perceive. He's one of the most unselfish kids I know."
Unable to have their own children, Dave and Sylvia Huss opened their hearts and their home.
"We wanted a family, and this is the way the Lord provided them for us," Sylvia said. "Each one was a blessing."
They couldn't stop at one.
"At first, I wanted five boys, all tall," Dave said. "I wanted to coach them in basketball."
Dave said that when the couple began looking to adopt in the 1970s, few babies were available for adoption and the process had become more difficult in the United States.
"So we adopted back from Korea," Dave said. "It became apparent to us in a short time that nationality didn't matter. We realized it was not a priority at all."
Twin girls are from Guatemala, left homeless after their mother died during their births. Another of the children is from Haiti.
Just when it seemed the Husses were content at seven children, the phone rang. It was the local adoption agency.
"They said, 'We realize you have seven, but can we send another one in?' " Dave Huss said. "We prayed about it."
Nate came into the Huss home the next day.
"If you have seven, what's eight?" Dave said. "He fit right in.
"He was the last of the Mohicans."
Nate was only 21 days old.
He knows some of his story.
He was born at St. Joseph's Medical Center in Phoenix. His mother was single.
"She found a relationship," Nate said. "She got pregnant with me. She didn't want me to be raised in the atmosphere she was in and gave me up."
That's all he knows. He doesn't know her name.
For now, Nate excels in sports, church and school. He taught himself guitar and leads worship during Bible studies.
And his family couldn't be prouder.
Seven of the eight children live close enough that they all get together on Sundays for dinner.
"The fact that all of us being adopted, it's a different bond," said Dan, the oldest at 34, who lives in Scottsdale. "We often talk about where we come from, where our mothers come from. We all talk about, had we not been adopted, our situations would have been much worse.
"I think our parents are incredible people who just love the Lord and give kids an opportunity and decided to help kids. They gave us an opportunity to achieve in life."
The family members rarely miss Nate's track meets, just as they were there to see him kick in football and soccer.
In the fall, Nate made 63 of 64 point-after tries and 9 of 11 field-goal attempts, including a 42-yarder in Phoenix Christian's Class 2A championship win over St. Johns. He also started at cornerback on defense.
He made The Arizona Republic's 1A-3A first team in soccer after scoring 37 goals to lead the Cougars. His brother Gabe, 21, who got a soccer scholarship out of high school to Oregon State, is now at Yavapai College in Prescott.
Now, Nate is into only his third season of competing in track and field, and he's among the state's best in the 100 meters (10.9 seconds), 300 low hurdles (40 seconds) and 400 meters (50 seconds).
"He's very well-grounded," Streety said. "He's like a sponge. He enjoys teaching others.
"He's a take-charge kind of guy. I train Aeneas Williams, and he's like a baby Aeneas Williams. If he saw someone slacking, he was all over you. He has high expectations of his teammates and higher expectations of himself."
Dave and Sylvia made sure sports were a main outlet for their children.
After Dan, there is Mike, 32, Becky, 30, twins Ruth and Rachel, 26, Joel, 24, Gabe, 21, and Nate, 18.
The oldest child at adoption was 18 months, and that was only because it took that long with paperwork for the Haitian government to release Gabe to the Huss family.
"Every child is unique, regardless, perhaps a little more when adopted," Dave said. "There is a different set of genes you bring into the home, a different set of givens in their bodies. But when you have your own kids, they can turn into trouble. You just trust the Lord to do the best."
Dave, a former engineer for the United States Bureau of Reclamation, and his wife had a five-bedroom, three-bathroom home in north Phoenix.
"We had it all filled up with bunk beds," said Dave, now a science teacher at Phoenix Christian and an elder at his church.
The family recently sold the house and bought a smaller one in southwest Phoenix with just Nate left.
Some of the children have found their natural parents - with blessings from Dave and Sylvia.
It brings closure.
Some day, Nate might want to find closure.
Not now. He is just beginning to live.
"We're a close family," Nate said. "It's been a great experience."
High School Quarterack running hard in Tucson
Ironwood Ridge QB has big night against Cabs
CASEY CROWE
Tucson Citizen
Saturday, August 28, 2004
Ironwood Ridge High School quarterback Ryan Crawford showed he can do more than pass the ball.
The senior racked up 158 rushing yards and two touchdowns on 13 carries as the Class 4A Nighthawks beat 5A Flowing Wells 41-7 last night.
Although Crawford loves using his high-powered right arm, over the offseason he realized the need to add quick feet to his offensive arsenal.
"I'd rather use my arm, but the main thing I worked on during the off time was my speed," Crawford said. "I went up to Phoenix this summer, and I got faster. That really helped me improve my legs."
Under speed & conditioning coach Mo Streety, Crawford trained alongside NFL standouts Simeon Rice and Terry Fair, as well as numerous other pro and college athletes.
Last night, Crawford displayed his new speed, exploding for runs of 20, 23, 30 and 34 yards in leading visiting Ironwood Ridge to 391 total rushing yards.
Track Alumni nationally ranked
Desert Vista senior Haley Paul is ranked first in the nation in the mile at 4 minutes, 51.83 seconds, set two weeks ago at Arcadia, Calif. She ranks eighth nationally in the 1,600 (4:59.35) and 15th in the 800 (2:13.09). Haley ran for the Lightning as a middle schooler winning two USATF state titles.

From these 8: Christ's Church of The valley, the city's fastest growing league
Fun runs & turkey trots are a big part of our fitness program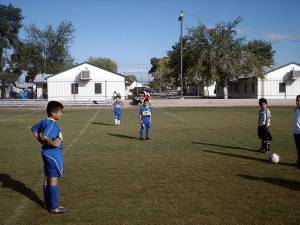 Soccer is a mainstream sport in the Hamilton school area