Coachmo Speedcamps: www.coachmo.com (Phoenix, Arizona): FACILITIES
Training Venues
Rooted in the valley since 1988, Coach Mo has developed parterships and relationships giving him access to several facilities. The centerpiece is Phoenix Christian High School, located in central Phoenix, where Coach Mo is head track & field coach. The track is one of the fastest & safest in the southwest.
As a partner & consultant with Fisher Sports in central Phoenix & The Barney Family Sports Complex in Queen Creek and Apollo High School in Glendale, and the Feild of Dreams Sports complex (also in central Phoenix) as we also have access to those facilities.
The valley also has various parks for hill & agility training.
See below for pictures of various site used for training.

Phoenix Christian high school
Getting Faster: Hill & track venues
We do most of our speed work at Phoenix Christian high school and on occasion, Ahwatukee Mountain Pointe high school. Both have fine facilites and fast surfaces.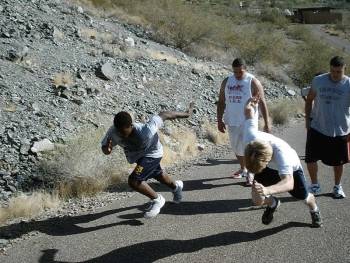 North Mountain
Therapy & Weights at BFSC in Queen Creek
Therapy & Weights at BFSC in Queen Creek