Coachmo Speedcamps: www.coachmo.com (Phoenix, Arizona): COMBINE, PRO DAY & MINI CAMP PREP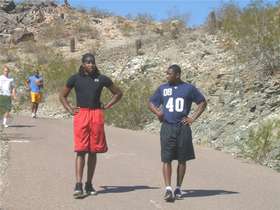 Speedcamper Darelle Revis (R) with Tyrone Timmons
Training Basics
Rates vary & depends on the type & length training. Contact Coach Mo regarding those specifics.
Room, board & transportation are not included & are usually provided by player agents.
TRAINING WILL NOT BEGIN UNTIL THE RELEASE IS SIGNED & INITIAL FEES PAID. NO EXCEPTIONS.
We use various facilities depending on our training phase and the players ability.
In addition to the weightrooms & track at centrally located Phoenix Christian high school our other facilities can be seen at www.facilities.coachmo.com,
Workouts can be found at www.run.coachmo.com & www.lift.coachmo.com .
We also have a hill regimine, a proven method to strengthen players as well as to help aid in explosion. I also work with several physical therapists on site & around the valley.
Typical workouts can be viewed at www.video.coachmo.com scroll down to our pro combine workouts as many are posted on youtube & sent to pro scouts & teams that we have working relationships with.

We usually train Mon, Wed, Thurs & Fridays. Usually to session in the first month, then once a day, four days a week, depending on the workload & the athletes ability.

For example, Darrelle Reavis (Jets), Gaines Adams (Bears) & Roddy White (Falcons) arrived with nagging injuries and required a longer prep time. They were placed on a three day a week grass onlyworkout for a week, 3 day track workout schedule for a week, two weeks on the hill twice a week, one day on the thrack, then three weeks before pro day he was on the hill Mondays, the grass for agility on Wednesdays and on the track for sprint & mini combine workouts. He ran a 4.3

Players such as Manny Lawson, Lofa Tatupu, Terrell Suggs and Vince Jackson arrived in a little better shape and ran 4 days a week the first two weeks, then two days a week on the hill and a track day for two weeks, then two weeks of grass & track work. The results speak for themselves.

I have to deal with each player on a case by case basis. There may be 5 to 15 guys there, but working on two to four different types of workouts.

I'd need to know who the players are, how many when the are able to start that I can send releases in plenty of time. If I can aid you in signing players, let me know as I do have a well-earned reputation and I've worked with a lot of high schoolers that are now NFL prospects now & in the future.

This is not a club med atmosphere. We also do not have a "run til you puke" mentality. The guys will be helped and guided so safe venues for their time off, but they will not be "wined & dined". Our success stories are those who were focused & by faith, attained their goals. We are nothing like the large complexes, in fact there is nothing luxurious about us. Just a focused organization that produces results to those who have a strong faith and a belief in themselves. Through a relentless series of drills and classroom work, we build, piece by piece, a picture of speed & agility, providing our athletes a spiritual outlet & keys to prepare to perform at their best, anytime, anywhere.
Coach Mo has a well earned reputation for training the finest in pro, college & high school athletics. Our training trandscends football helping all athletes reach their goals....FASTER!!!
...Join Us!
Individual & Group Workouts