Coachmo Speedcamps: www.coachmo.com (Phoenix, Arizona): Welcome
Speed Training
Speed & agility training
Coach Mo Speed Camps
Coach Mo Speed Camp
Team Training
On-Site Training
Individual Training
Sport Specific Training
We Offer Training Year-Round!

Develop your speed & talents BEFORE the season starts. Stay in shape during the season and during the off season. We offer pre-season, pre-training camp and pre-combine training. Clients may select weekly, monthly, quarterly or year-round training. We offer training and instruction in sprint technique, speed improvement, fitness and conditioning teams, individuals and groups. Using hills, resistance training, all-weather tracks and a relentless series of drills, we build piece by piece, a physical model of speed while improving explosiveness, overall athletic ability and endurance. With innovative training techniques, we train our athletes to develop the responsiveness and ability perform with rapid, sustainable speed anytime, anywhere.

Tony Womack
Where The Faster Get Faster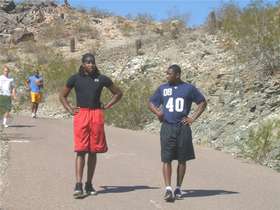 Tyrone Timmons & Darelle Revis

Dennis Gile (4.38) & Shaun McDonald (4.28...TWICE)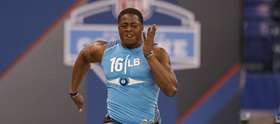 Undrafted: Steven Johnson (Denver Broncos)
Coach Mo Speed Camp Alumni

Raven's Terrell Suggs (Click on the photo to see alumni link!!!)
(Waaay-Back Workout)
Teachable moment: Terrell Owens teaches Angel Ortiz the art of separation, Arabin Justin & Javon Walker nearby
Undrafted: Demitrius Bronson (Seahawks)

T-time drills
NFL Combine Training Camps (Phoenix, Arizona)

Shuttle run drills

Using our technique, Skyler Fulton dropped from 4.6 to a 4.3-40 on Pro Day!
Pro Day Speed Training
Sprinter/LA Dodger: Chris Snow

Hall Of Famer: Aeneas Williams
Coach Mo Speed Camp: The Hill

Gerald Flunder & Brant Fraezee
Coach Mo Speed Camps: Agility
Softball & Baseball players in speed & agility training

Pro hopefuls players train for the upcoming season
Coach Mo Speed Camps: Running The Stairs
Coach Mo Speed Camps: On The Track
Coach Mo Speed Camp: Youth Programs
Football specific speed training