Coach Mo Football: Welcome
Register For COACH MO SPEED CAMPS***** Now!

COACH MO SPEED CAMPS*****

Year-round: morning & evening sessions available
Arizona, Michigan, Las Vegas, Indiana
Phoenix , AZ
Click here to register now!

Brief Description:
Through a series of drills, hills training and instruction in sprint technique, we build...piece by piece a physical model of speed.
Fees:
Prices vary

Monthly, Weekend or Weekly Camps Individual, team and league training East valley & West Valley locations

Our speed camps are designed to improve quickness, speed and agility. These programs will develop straight ahead speed, change of direction, obstacle avoidance, and speed necessary for quick decisions. Strength and core stabilization are emphasized, as are individual needs and the athletic team performance. Core stabilization and strength are essential for sports related injury prevention especially for female athletes. Athletes are trained in first-step explosion, lateral movement and quick feet.

CONTACT US IF YOU WISH TO HOST A CAMP!




Register For COACH MO SPEED CAMPS***** Now!

---

Register For COACH MO FOOTBALL CAMPS***** Now!

COACH MO FOOTBALL CAMPS*****

Phoenix, Arizona (Metro area locations)
Metro Phoenix Arizona, Yuma, Tucson, Sierra Vista, Mayer, Kingman, Bagdad, Flagstaff , AZ
Click here to register now!

Brief Description:
OFFENSE/DEFENSE POSITION SKILLS TRAINING Our football camps are designed to benefit football players who possess desire to develop the skills necessary to play at a higher level. Coducted in a relaxed but competetive atmosphere, this camp is fast paced, intense and competitive. On the field our expert coaching staff will instruct players and conduct a wide variety of drills aimed at developing their individual technique. This will be followed by periods of 1 on 1, 7 on 7, and team periods.
Fees:
Prices vary

OFFENSIVE & DEFENSIVE POSITION SKILLS TRAINING All sessions begin & end with speed and agility warmups designed to improve overall speed, agility and athletic ability

LINEMEN SPECIFIC TRAINING Offensive and Defensive linemen are trained as to enhance their individual skills & techniques by working with Coach Mo and his coaching staff, as well as some of the finest in high school, college and professional coaching. Players will rotate through a series of stations designed as to improve their skils in the trenches. Each session concludes focused instruction and an opportunity to work on both sides of the ball allowing our players to leave with skills to both protect and sack the quarterback! Camp registration will begin 30 minutes prior to the start of the camp.

SKILL POSITION SPECIFIC TRAINING QB's, WR's, RB's, TE's, LB's & DB's enhance individual skills & techniques by working with Coach Mo & his staff as well as some of the finest in youth & high school coaching and periodic special guests. Through a series of drills, 1 on 1 competition, and an intense 7 on 7 competition, players will learn how our skill position players prepare and practice.

FOOTBALL CAMP DATES Contact Coach Mo for Details!!!! Basic tackling technique from beginners to the experienced. Especially geared to those new to football but at a pace for experienced athletes to also have a great learning experience. Conducted in a relaxed, but competetive environment, players are taught, step by step, basic form and the most advanced methods in blocking, tackling and football skills training.

Speed Sunday/Seven on 7: First two weeks of March Last two weeks of April (Includes spring game) First two weeks of May (Includes spring game) Last two weeks of June Third week of July *7 on 7 Follows speed training*

CONTACT CAMPS Tackle football Specific training and development

First two weeks of March Last two weeks of April (Includes spring game) First two weeks of May (Includes spring game) Last two weeks of June (Includes scrimmage) Third week of July: Mini-camp, speed and agility clinic First week of August: Mini-camp and tackle football clinic

All contact camp instruction is supervised by Coach Mo, a trained Head's Up Football trainer and Player Safety coach. For more on Head's Up Football, visit www.usafootball.com, for more on Coach Mo visit www.coachmo.com

DAYS/DATES SUBJECT TO CHANGE: CONTACT COACH MO FOR DATES AND TIMES (480) 2170175 (call/text) coachmo@live.com (email)




Register For COACH MO FOOTBALL CAMPS***** Now!

---

Register For Coach Mo Track & Field Camp***** Now!

Coach Mo Track & Field Camp*****

Year-round: morning & evening sessions available
Arizona, Michigan, Las Vegas, Indiana
Phoenix , AZ
Click here to register now!

Brief Description:
Through a series of drills, hills training and instruction in sprint technique, we build...piece by piece a physical model of speed.
Fees:
Prices vary

Monthly, Weekend or Weekly Camps Individual, team and league training East valley & West Valley locations

Our speed camps are designed to improve quickness, speed and agility. These programs will develop straight ahead speed, change of direction, obstacle avoidance, and speed necessary for quick decisions. Strength and core stabilization are emphasized, as are individual needs and the athletic team performance. Core stabilization and strength are essential for sports related injury prevention especially for female athletes. Athletes are trained in first-step explosion, lateral movement and quick feet.

CONTACT US IF YOU WISH TO HOST A CAMP!




Register For Coach Mo Track & Field Camp***** Now!

---

Register For Coach Mo Sprint Camp***** Now!

Coach Mo Sprint Camp*****

Year-round: morning & evening sessions available
Arizona, Michigan, Las Vegas, Indiana
Phoenix , AZ
Click here to register now!

Brief Description:
Through a series of drills, hills training and instruction in sprint technique, we build...piece by piece a physical model of speed.
Fees:
Prices vary

Monthly, Weekend or Weekly Camps Individual, team and league training East valley & West Valley locations

Our speed camps are designed to improve quickness, speed and agility. These programs will develop straight ahead speed, change of direction, obstacle avoidance, and speed necessary for quick decisions. Strength and core stabilization are emphasized, as are individual needs and the athletic team performance. Core stabilization and strength are essential for sports related injury prevention especially for female athletes. Athletes are trained in first-step explosion, lateral movement and quick feet.

CONTACT US IF YOU WISH TO HOST A CAMP!




Register For Coach Mo Sprint Camp***** Now!

---

Register For COACH MO FOOTBALL***** Now!

Brief Description:
Managed by Coach Mo, our program serves local Schools and neighboring communites . Starting at age 5, we accept all skill levels welcome and everyone plays. The leagues are "kid" driven with instruction in basic athletic and life skills. Our goal is to provide athletes, parents and coaches a spiritual outlet through sports and to develop within each athlete, strong values and attitudes....and everyone plays!
Fees:
$50-$100
Coach Mo Football:
Developmental Tackle Football: Managed by Coach Mo, our program serves local Schools and neighboring communites . Starting at age 5, we accept all skill levels welcome and everyone plays. The leagues are "kid" driven with instruction in basic athletic and life skills. Our goal is to provide athletes, parents and coaches a spiritual outlet through sports and to develop within each athlete, strong values and attitudes....and everyone plays!

League director Coach Mo has a well earned reputation as a fair & competent league administrator. Coach Mo trains the finest in NFL. college & high school athletes.




Register For COACH MO FOOTBALL***** Now!

---
A & D Autobody, Phoenix Outlaws, coachmo.com .....PROUD Sponsors, Proud Supporters!!!
Have I not told you?....Joshua 1:8-9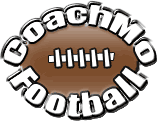 Managed by Coach Mo, our program serves local Schools and neighboring communites.
NFL FLAG FOOTBALL
Fall League: August-September
Spring NFL Flag Football (March-April)
NFL Flag Passing League (June)
TACKLE FOOTBALL
Youth Developmental League: Fall & Spring League
Murphy League: Fall & Spring League
NFL High School & Junior Player Development
Football Fridays Developmental League Fall, Winter & Spring Leagues
Monday Nite Football: Fall, Winter & Spring Instructional Leagues
PHOENIX PUBLIC SCHOOL LEAGUE FOOTBALL
The PSL
Phoenix Grizzlies Sullivan Chargers South Central Cougars East Central Wildcats
Facebook link, Twitter ...Follow Us!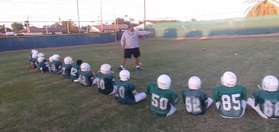 Feed My Sheep..John 21:15
www.coachmo.com .............................Join Us!
Developmental Youth Football
Learn more: Click on the photo for details!
Our program serves local Schools and neighboring communites . Starting at age 5, we accept all skill levels welcome and everyone plays. The leagues are "kid" driven with instruction in basic athletic and life skills. Our goal is to provide within each athlete, parents and coaches a spiritual outlet through sports and to develop within each athlete, strong values and attitudes....and everyone plays!
Using newly developed techniques used by USA Football, we help , peice by peice and through careful development a model of youth football withing each player, depending on his or her ability.
Link: https://www.youtube.com/watch?v=zk6mq35gdrU&feature=youtu.be
Designed to develop football players who are relatively new to tackle football or lack the resources to compete, possess or wish to develop skills necessary to play at the highest level of high school and eventually collegiate football. On the field, our staff will instruct players and conduct a wide variety of drills aimed at perfecting their individual technique, physical and spiritual fitness.