Coach Mo Football: Welcome
A & D Autobody, Phoenix Outlaws, coachmo.com .....PROUD Sponsors, Proud Supporters!!!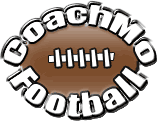 Managed by Coach Mo, our program serves local Schools and neighboring communites.
NFL FLAG FOOTBALL
Fall League: August-September
Spring NFL Flag Football (March-April)
NFL Flag Passing League (June)
TACKLE FOOTBALL
Youth Developmental League: Fall & Spring League
Murphy League: Fall & Spring League
NFL High School & Junior Player Development
Football Fridays Developmental League Fall, Winter & Spring Leagues
Monday Nite Football: Fall, Winter & Spring Instructional Leagues
PHOENIX PUBLIC SCHOOL LEAGUE FOOTBALL
The PSL
Phoenix Grizzlies Sullivan Chargers South Central Cougars East Central Wildcats
Facebook link, Twitter ...Follow Us!
...Feed My Sheep (John 21:12
7 On 7
Designed to develop football players who possess or wish to develop skills necessary to play at the highest level of high school and eventually collegiate football. Please take into consideration that this camp is fast paced, intense and very competitive.
May & June: Saturday and/or Sunday nites at Phoenix Christian High School or Arthur Hamilton elementary school.
On the field our staff will instruct players and conduct a wide variety of drills aimed at perfecting their individual technique. This will be followed by periods of 1 on 1, 7 on 7, and team periods. 7On7 is usually preceeded by SpeedCamp. Periodically, our players wear helmets and/or shoulder pads NOT for contact, but for a more realistic effect..
Contact Coach Mo for details.
Handout:
7On 7 & Flag Football Forms
www.coachmo.com ..............Join Us!!

Tracknite starts in January, club track in spring
League & Club Basketball starts in October

League & Club Basketball starts in November
www.coachmo.com .............................Join Us!