Coach Mo Basketball: Welcome
Register For Murphy Mustangs League Now!

Brief Description:
Starting at age 5, all skill levels welcome and everyone plays. The leagues are
Fees:
$150 club, $50 intramurals
Online Reg. Closes:
August 4, 2018 11:59 PM Pacific Time

We represent more than a athletic leap forward. We add a whole new spirit led dimension to athletic development, conditioning and year-round training. Our athletes are trained to have the ability to compete, react and play faster, anytime.....anywhere.

Our top players wil be selected for our travel teams.

Join Us!




Register For Murphy Mustangs League Now!

---

Register For COACH MO SPEED CAMPS***** Now!

COACH MO SPEED CAMPS*****

Year-round: morning & evening sessions available
Arizona, Michigan, Las Vegas, Indiana
Phoenix , AZ
Click here to register now!

Brief Description:
Through a series of drills, hills training and instruction in sprint technique, we build...piece by piece a physical model of speed.
Fees:
Prices vary

Monthly, Weekend or Weekly Camps Individual, team and league training East valley & West Valley locations

Our speed camps are designed to improve quickness, speed and agility. These programs will develop straight ahead speed, change of direction, obstacle avoidance, and speed necessary for quick decisions. Strength and core stabilization are emphasized, as are individual needs and the athletic team performance. Core stabilization and strength are essential for sports related injury prevention especially for female athletes. Athletes are trained in first-step explosion, lateral movement and quick feet.

CONTACT US IF YOU WISH TO HOST A CAMP!




Register For COACH MO SPEED CAMPS***** Now!

---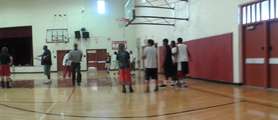 Coach Mo Basketball
We offer intramural leagues, open gym and travel play
Making a difference one person at a time.....

OUR PURPOSE


To improve the skills, promote and improve visibility of our member schools, administrators, coaches, athletes and parents.

To promote excellence in academics and amatuer athletics for youth age 7-19.

To enhance and strengthen participation and competition in our member clubs and schools.

To promote community service, good sportmanship and citizenship.

To foster opportunities for college scholarships.

To promote our core competencies and distinctive capabilities on a shared commitment to three core values -- integrity, service, and excellence in all we do.
We fullfill our purpose by providing instruction and guidance to players and coaches, by providing opportunities for local, regional, national, and international competition and by working with other sports organizations established to benefit amatuer athletics.
Especially designed for athletes living in the Murphy, Washington, and Phoenix Christian Unified School Districts, our primary goals are to improve the skills of the player on and off court. Our programs, clinics, and tryouts, are open to all players, regardless of skill level. We are driven to provide athletes, parents and coaches a spiritual outlet through sports and to develop within each athlete, strong values and attitudes.

OUR PHILOSOPHY: PRAY TOGETHER, PLAY TOGETHER AND WIN!


.....Join Us!
Follow Us On Facebook @ Coach Mo Basketball
Youth Basketball
Click on the pic for team & league details
Age group basketball starting at age 5. Intramural and league play based at Art Hamilton elementary school. Travel teams based at Hamilton, Kuban and Garcia schools. All four schools have weekly open gym and tryout sessions. The schools, based in the Murphy school district, are located in the Durango curve area in south central Phoenix.
Open gym
Intramural leagues
Competetive leagues
Travel teams
Contact Coach Mo For details
High School/Club Basketball
Boys & girls camps & teams!
We are pleased to offer multiple opportunities for male and female high school and junior high school aged players to improve their games. With two high school developmental programs and three junior high programs our players can choose the route to improvement being through club play, skills development camps or intramural and league play.
Team Hope Club Basketball
Murphy Mustangs JHS player development
Team Hamilton Rotary player development
Through play and a relentless series of drills, your player can make strives towards improvement. Join us! Contact Coach Mo for details!
Basketball camps, Clinics and Tournaments
Track star, line backer: Richard Jefferson
We offer basketball camps and clinics for members of teams and for the public as well. Contact us for camp and clinic information.
Skills camps
One on one sessions
Developmental intramural leagues
Player combines
Speed & agility training
Speed camps
Strength training
Internships
Coaching opportunities
NBA and former Uof A star Richard Jefferson trained with Coach Mo while at Moon Valley, Wisconsin's Ryan Evans and many other players in multiple sports either trained with or at one time ran track with Coach Mo.
Follow Us On Facebook @ Coach Mo Basketball