Central Little League: Welcome
Tuesday, October 14
Central Little League 2014
Central Little League Baseball
General League Meeting 10/23/14 @7PM at Greenbrier Elementary library
Central Little League is again considering a merger with McIntire Little League to combat the declining numbers in our league and strengthen the overall youth baseball program for our kids. The Central Board of Directors will be hosting a General League Meeting on Thursday October 23rd at 7PM at Greenbrier Elementary in the library for all interested league supporters to attend in order to discuss this potential merger and the long term future of Central Little League. A vote will be taken at the end of the meeting to proceed with a merger request through Little League Headquarters or not. This will be the only meeting held, so please plan to attend if you would like your voice heard.
*****************************************************************************************************
Our Rain out Line is 434-879-1767 * dialing from a land line requires dialing the area code. Mobile phones do not require dialing the area code.
***
Central Little League Volunteering

We need your help! We are an all volunteer league. Please give of your time & talents so the children can have a fun and instructional experience. Volunteers needed at all levels for: Team Coach/Manager, Assistant Coach, Team Parent, Central LL Board Member, Fund Raising Director, Concessions Assistant, Field Maintenance Assistant, Upper Minor Umpire, team parents. We and Little League have plenty of tools to assist you if you are not sure what to do. Please e-mail League President John Kuehler if you would like to volunteer: Jdkuehler@gmail.com

Central Little League remains committed to providing area boys and girls with an enriching, challenging and exciting baseball experience. Last spring Central Little League served 135 children in T-Ball through the Majors. We have wonderful volunteers serving as team managers, instructional coaches, board members, event planners, fundraisers and concession workers. Our refurbished, Bermuda grass playing field and new concession stand present as one of the best, if not the best, facilities in the area. We continue to be proud of the League's accomplishments and remain dedicated to providing a safe and rewarding activity for our children.

Thank you for your continued support of Central Little League.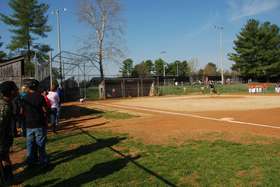 Keith Werman throws the Opening Day Pitch!