Central Little League: Welcome
Welcome to Central Little League!
Batting cage improvement work day
Saturday 11/21/15 9AM to Noon
We need a few volunteers to help complete our batting cage improvements!
We plan to duplicate the gravel base for the batter's box in the left field batting cage to match the one we did over the summer in the right field batting cage. We will also do a final cleanup of our concession stand (very minor stuff left to do) and take down the batting cage nets and sponsor signs for the winter. If you can help out (even for part of this time) or if you have any questions please mailto:cvillecll@gmail.comso we can get an idea of how many folks we will have. Please bring a shovel and a wheelbarrow if you can. Thanks!
Annual Central Little League general membership meeting:
Central Little League (CLL) will host its annual general league membership meeting Thursday November 19th at the Greenbrier Elementary library at 7:30 PM.
Central Little League is an all-volunteer youth baseball organization for boys and girls. Skills are taught not just for baseball but also for life and we need your help to grow our league which began 64 years ago! Please consider coming to the meeting where we will discuss the status of the league and the ideas we have for future growth.
To continue to offer a fun, meaningful and rewarding experience for our area youth we need many volunteers and your input! We are in need of several board volunteers for the following positions:
Vice President

Sponsorship Coordinator

Controller (we have a treasurer)

Concessions Director

Volunteer coordinator

Communications coordinator (website, online registration, CLL e-mails). This position is filled but we need someone to shadow the current coordinator in preparation to take over this role in October 2016.

At large members
And of course we always welcome those who would like to coach.
Please consider giving of your time and talents……can't commit to a board position? No problem… any help is appreciated. Know nothing about baseball/coaching? No problem, Little League has a lot of resources and our board members are glad to share ideas and lend support. Can't make it to this meeting but want to help? Just drop us a line at cvillecll@gmail.com
Thanks,
Your Central Little League Board
Rainout info: Your coach will communicate any rainout info
*****************************************************************************************************
Central Little League is committed to providing area boys and girls with an enriching, challenging and exciting baseball experience. Last spring Central Little League served over a hundred children in T-Ball through the Majors. We have wonderful volunteers serving as team managers, instructional coaches, board members, event planners, fundraisers and concession workers. Our refurbished, Bermuda grass playing field and new concession stand present as one of the best facilities in the area. We continue to be proud of the League's accomplishments and remain dedicated to providing a safe and rewarding activity for our children.
Thank you for your continued support of Central Little League.
******************************************************************************************************
Central Little League Volunteering

We need your help! We are an all volunteer league. Please give of your time & talents so the children can have a fun and instructional experience. Volunteers needed at all levels for: Team Coach/Manager, Assistant Coach, Team Parent, Central LL Board Member, Fund Raising Director, Concessions Assistant, Field Maintenance Assistant, Upper Minor Umpire, team parents. We and Little League have plenty of tools to assist you if you are not sure what to do. Please e-mail League President Raul Arbelaez if you would like to volunteer: cvillecll@gmail.com

Thanks to TSS photo for this team Photo of the 2015 CLL champs Dominos!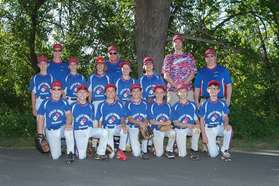 Congratulations to the 2015 Central Little League Champs Dominos!