Central Little League: Welcome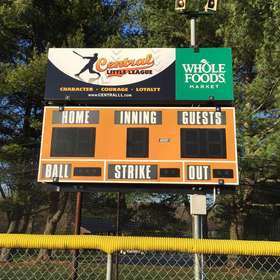 Thanks to Whole Foods Market for their scoreboard sponsorship!
Tuesday, April 12
Welcome to Central Little League!
We hope to see you all at Central Little League's 2016 Opening Day Ceremonies at Pen Park Upper Field on Saturday, April 16th!
Our opening ceremonies are a great way to kick off the season where we emphasize sportsmanship and recognize each player by name. Our keynote speaker will be former Central Little Leaguer and current Albemarle High School player Scott Reid. The Charlottesville High School Choir will sing the National Anthem. Your child should receive his/her uniform at practice in the week prior to opening ceremonies and should wear the uniform to the opening ceremonies. If by chance you do not receive your uniforms prior to opening day, they will be given out on opening day so plan to arrive a little bit early so your child can change.
Opening Day Schedule:
8:45 AM - All teams assemble at lower field in their uniforms. Please arrive on time. Board members & coaches will direct where each team will line up.
9:00 AM - Teams march from lower field to the upper field and line up in the outfield just beyond the infield.
9:15 AM – Teams, players and coaches are introduced
9:35 AM – Acknowledgements and announcements.
9:45 AM - Keynote speaker: AHS baseball player and former Central Little League Falcon Club player Scott Reid. Scott will lead the players in reciting the Little League Pledge followed by board member Karen Fink leading everyone in the Parent's Pledge.
9:55 AM National Anthem-performed by the Charlottesville High School Choir
10:00 AM – Ceremonial first pitch: Scott Reid Time to play Ball!!
At 10:00 AM the teams playing in the 10:30 AM games may take the fields for warm ups. Games begin at 10:30 AM at both upper and lower fields.
Our concession stand will be open! Central Little League 65th anniversary t-shirts will be on sale ($15 youth and adult sizes)! **Families who registered before 1/31 that have not picked up their shirts can get them from the stand.**
Thanks from the Central Little League Board and we hope to see you there!
Volunteer for Central Little League!
Central Little League is an all-volunteer youth baseball organization for boys and girls. Skills are taught not just for baseball but also for life . We are committed to providing area boys and girls with an enriching, challenging, safe and exciting baseball experience. A tradition that began nearly 65 years ago! We need your help, as a volunteer to grow our league and carry on this tradition. At this time we are in need of several board volunteers for the following positions:
Controller (we have a treasurer)
Concessions Director
Volunteer coordinator

At large members and of course we always welcome those who would like to coach or volunteer in any capacity
Please consider giving of your time and talents……can't commit to a board position? No problem… any help is appreciated. Know nothing about baseball/coaching? No problem, Little League has a lot of resources and our board members are glad to share ideas and lend support. Not sure what to do? We have lots of tools to help you!
Please contact our league president Raul Arbelaez if you interested at cvillecll@gmail.com
*****************************************************************************************************
Rainout info: Your coach will communicate any rainout info
******************************************************************************************************