Central Little League: Welcome
Monday, April 15
Spring 2013 Little League Season
Our Rain out Line is 434-879-1767 * dialing from a land line requires dialing the area code. Mobile phones do not require dialing the area code.
All T-Ball and Coach Pitch games for Saturday May 18 are CANCELED! Our Picnic on Sunday May 19 is on rain or shine!
Central Little League Baseball
Spring 2013
Thanks to all who came out for our 2013 Opening Day Ceremonies on Saturday 4/13. Special Thanks to all our sponsors; our key note Speaker Nolan Schaffer of the Baseball Company; and the No Fella A Cappella group who sang the National Anthem!
Thanks also to Donna McDaniel or organized our raffle and all who participated. The raffle raised $975 for Central LL!
**Central Little League Team & individual Photos may be ordered from TSS Photography @ this link: TSS Photography
There are also order forms in the concession stand.
Central Little League spring picnic is Sunday May 19th!
Rain or shine!
Events 12:30 PM-2:00 PM:
Radar Gun in right field batting Cage
Long Toss - right field foul line towards left field
Accuracy throw- area between shortstop and mound towards visitor dugout
Timed sprint from home to 1st base
Lunch: 12:30 PM - 2 PM:
Korner Restaurant's BBQ, Cole Slaw, Baked Beans, Mac & Cheese & Lemonade
Team "pot luck" deserts- each team bring a desert item-ask your coach for details
Central coaches and players eat free! Suggested donation for non-players: $3 for Kids & $5 for Adults.
Awards: 2-2:30PM:
1st, 2nd & 3rd place winners of events announced for each league age 4-12.
John Perkins Award announced: Honors a league age 12 player who has best demonstrated Character, sportsmanship, and a team first attitude. This award is named in honor of late former Central Little League President John Perkins.
Home Run Derby: 2:30 PM till complete
All league age 12 year olds or any player who has hit an out of the park home run is eligible to participate in the home run derby
Don't forget to Check our "Handouts" section for a 2013 season specials coupon from Downtown Athletic! Offer expires 7/1/13

Central Little League Volunteering

We need your help! We are an all volunteer league. Please give of your time & talents so the children can have a fun and instructional experience. Volunteers needed at all levels for: Team Coach/Manager, Assistant Coach, Team Parent, Central LL Board Member, Fund Raising Director, Concessions Assistant, Field Maintenance Assistant, Upper Minor Umpire. Please e-mail League President John Kuehler if you would like to volunteer: Jdkuehler@gmail.com

Central Little League remains committed to providing area boys and girls with an enriching, challenging and exciting baseball experience. Last spring Central Little League served 183 children in T-Ball through the Majors. We have wonderful volunteers serving as team managers, instructional coaches, board members, event planners, fundraisers and concession workers. Our refurbished, Bermuda grass playing field and new concession stand present as one of the best, if not the best, facilities in the area. We continue to be proud of the League's accomplishments and remain dedicated to providing a safe and rewarding activity for our children.

Thank you for your continued support of Central Little League.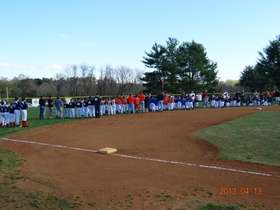 Opening Day 2013