Central Little League: Welcome
Tuesday, August 18
Fall Ball registration is now open!
Registration for the 2015 Fall Ball season is extended to August 28th!
Central's Fall League will run from approximately August 31 to November 7th. There are 3 levels of play being offered and the fee is $75:
Coach Pitch (ages 6 – 8) Developmental/Minors (ages 8 – 11) Competitive /Majors(ages 9 – 12)
Games will be interleague with McIntire Little League and possible other area leagues. Practices for the Competitive level will be twice per week and once per week for the other levels of play. More specific details on game days will be determined as the season gets closer. You should be contacted by your coach in the last weekend of August.
This is an excellent opportunity to improve on skills in the more laid back fall baseball season.
To register for Central's Fall Season, follow this link: Fall Ball 2015 Central Little League Registration site Registration closes Friday August 28th
Central Little League will provide scholarships for those in need. Please e-mail cvillecll@gmail.com for details or if you have any other questions about the fall ball program.
For Players who have "aged out" of Little League (i.e. who were League age 12 in the Spring 2015 season) and older than 12, check out Charlottesville's Lane Babe Ruth Baseball League for their Fall Ball offering: http://www.lanebaberuth.org/. Their registration closes 8/14.
---
H3 Coaches Training for Fall baseball and seeking coaches for Fall baseball:
H3 baseball is offering to host a clinic for the volunteer coaches who will be coaching for the various fall leagues across the city. The clinic is free and will be Saturday August 22nd from 9-12 at Mcintire Park (Korbon Field). There will be instruction on how to teach hitting, throwing, fielding, and pitching (for coaches of older players).
If you would like to attend please sign up at this link: https://docs.google.com/spreadsheets/d/1z716ZNYDtHjCtExpUiTTANFF0BtS6DQSNEKX8J7AUp8/edit?pli=1. If you are interested in coaching this fall season or have any questions, please e-mail cvillecll@gmail.com for more info.
*****************************************************************************************************
Central Little League is committed to providing area boys and girls with an enriching, challenging and exciting baseball experience. Last spring Central Little League served over a hundred children in T-Ball through the Majors. We have wonderful volunteers serving as team managers, instructional coaches, board members, event planners, fundraisers and concession workers. Our refurbished, Bermuda grass playing field and new concession stand present as one of the best facilities in the area. We continue to be proud of the League's accomplishments and remain dedicated to providing a safe and rewarding activity for our children.
Thank you for your continued support of Central Little League.
******************************************************************************************************
Central Little League Volunteering

We need your help! We are an all volunteer league. Please give of your time & talents so the children can have a fun and instructional experience. Volunteers needed at all levels for: Team Coach/Manager, Assistant Coach, Team Parent, Central LL Board Member, Fund Raising Director, Concessions Assistant, Field Maintenance Assistant, Upper Minor Umpire, team parents. We and Little League have plenty of tools to assist you if you are not sure what to do. Please e-mail League President Raul Arbelaez if you would like to volunteer: cvillecll@gmail.com

Thanks to TSS photo for this team Photo of the 2015 CLL champs Dominos!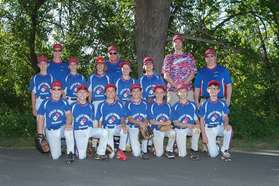 Congratulations to the 2015 Central Little League Champs Dominos!