Central Little League: Welcome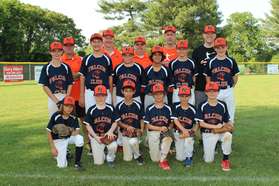 2016 Central Little League Champs-Falcon Club (photo courtesy of TSS Photograpy)
Sunday, July 17
Welcome to Central Little League!
Registration for Central's Fall Season is open.
Follow this link to register: Central Little League 2016 Fall Ball Registration site.
Registration closes Monday, September 5th.
Registration Instructions:
Fees for the fall 2016 season are as follows and include team uniforms:
$75 T-Ball...ages 4-6
$75 Lower Minors (Coach Pitch)... ages 6-8
$75 Developmental (roughly equivalent to Upper Minors/Kid Pitch in the Spring)... ages 8-11
$75 Competitive (roughly equivalent to Majors in the Spring)... ages 9-12
So that we can continue to offer scholarships to players in need and keep fees low, we ask that you consider making a donation in any amount in addition to the above fees. On average it costs CLL approximately $100 per player to run the fall season. Once you begin the registration process you will be given the opportunity to make a donation. We appreciate any donation you can make.
General Fall Season Info:
Central's Fall League will run from August 29th through early November. Games will be interleague with McIntire Little League and possibly other area leagues. Practices for the Competitive level will be twice per week and once per week for the other levels of play. All practices will be held at Pen Park. Most teams will have one game per week - more specific details on game days will be determined as the season gets closer. Registration fee includes team hat and jersey. Players provide their own baseball glove, pants (white preferred), and athletic shoes or cleats.
You should be contacted by your coach in the last weekend of August. If you do not receive a phone call from your child's coach by the last weekend in August, (or if you have questions regarding play) contact our Board of Directors at cvillecll@gmail.com.
---
65th Anniversary T-Shirts Still Available!!
Reserve yours at this link.
---
Fun and Laid-Back Summer
It has been referred to as the "Sandlot Experience". When we were kids it didn't have a name, it was simply a typical Saturday afternoon with the neighborhood kids. No worries of letting down parents or coaches, but rather quality time with kids our age, while playing the game we love.
For the past few Saturdays, assisted by some CLL board members and coaches, a group of majors and minors players has gotten together for pick-up games at Pen Park. It has been a great way for them to keep their skills up, work on teamwork, and more importantly HAVE FUN. There is no coaching from adults. The kids work together to field teams, decide appropriate positions, batting orders, strategies, etc...
If your child is interested in participating, email Clinton Hensley and he will provide you with the logistics. All that your child would need to bring is a mitt, a bat and a helmet (if they have one), and a love for the game.
---
Volunteer for Central Little League!
Central Little League is an all-volunteer youth baseball organization for boys and girls. Skills are taught not just for baseball but also for life . We are committed to providing area boys and girls with an enriching, challenging, safe and exciting baseball experience. A tradition that began nearly 65 years ago! We need your help, as a volunteer to grow our league and carry on this tradition. At this time we are in need of several board volunteers for the following positions:
Controller (we have a treasurer)
Concessions Director
Volunteer coordinator
At large members and of course we always welcome those who would like to coach or volunteer in any capacity
Please consider giving of your time and talents……can't commit to a board position? No problem… any help is appreciated. Know nothing about baseball/coaching? No problem, Little League has a lot of resources and our board members are glad to share ideas and lend support. Not sure what to do? We have lots of tools to help you!
Please contact our league president Raul Arbelaez if you interested at cvillecll@gmail.com
***********************************************************************************************************
Rainout info: Your coach will communicate any rainout info
***********************************************************************************************************