Central Little League: Welcome
Saturday, February 22
Central Little League 2015
Central Little League Baseball
On-line Registration for our 2015 Spring season is open !
We are forming teams but there are a few slots left so the registration deadline has been extended for our T-Ball, Coach pitch and Kid pitch divisions.
Follow this link to register:
Spring 2015 Central Little League Registration
Fees for Spring 2015 season: $75 for Majors and Minors. $60 for T-Ball. The maximum fee for any family with two or more registered players is $120.
Four levels of play will be offered this Spring:
Tee-ball: ages 4 - 6
Coach pitch: ages 6 - 8
Minors (kid Pitch): ages 8 - 11
Majors: ages 9 - 12
For tryout info & team formation info see the Spring 2015 tryout tab on the left side bar (there has been an update).
Watch this site for upcoming info on opening day date and players and coaches clinics dates.
Central Little League Boundary Area:
Before registering your child please check that your home address or your child's school address is within Central Little League's boundary area so you know for sure that Central Little League is the correct league for your child! You can confirm this at the Charlottesville Little League site which has a quick and easy boundary map tool. If you are not certain if you are within the boundary area after checking the map, or if you have any other questions please let us know by e-mailing our League President Raul Arbelaez at cvillecll@gmail.com.
If you are not certain if you are within the boundary area or if you have any questions please let us know by e-mailing us at Charlottesville Central Little League <cvillecll@gmail.com>
Financial Aid:

Any player who is seeking financial aid will be unable to register online. Please complete a scholarship application that is found on this website in the Handouts section. Any questions can be directed to Charlottesville Central Little League <cvillecll@gmail.com>
Family Discount Information:

Central Little League offers a family discount. The maximum fee per family with 2 or more children registered is $120. Sibling registrations must be in the same cart and in the same transaction for the discount to apply. The Discount will be applied at checkout.
*****************************************************************************************************
Central Little League is committed to providing area boys and girls with an enriching, challenging and exciting baseball experience. Last spring Central Little League served over a hundred children in T-Ball through the Majors. We have wonderful volunteers serving as team managers, instructional coaches, board members, event planners, fundraisers and concession workers. Our refurbished, Bermuda grass playing field and new concession stand present as one of the best facilities in the area. We continue to be proud of the League's accomplishments and remain dedicated to providing a safe and rewarding activity for our children.
Thank you for your continued support of Central Little League.
******************************************************************************************************
Central Little League Volunteering

We need your help! We are an all volunteer league. Please give of your time & talents so the children can have a fun and instructional experience. Volunteers needed at all levels for: Team Coach/Manager, Assistant Coach, Team Parent, Central LL Board Member, Fund Raising Director, Concessions Assistant, Field Maintenance Assistant, Upper Minor Umpire, team parents. We and Little League have plenty of tools to assist you if you are not sure what to do. Please e-mail League President Raul Arbelaez if you would like to volunteer: <mailto:cvillecll@gmail.com%3E

Congratulations to CLL's Majors Fall Ball team for winning the Charlottesville City 2014 Majors Fall Ball City Championship!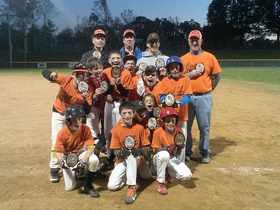 2014 Fall Ball City Champs!