Central Little League: Welcome
Tuesday, April 8
Central Little League Spring 2014
Central Little League Baseball
We hope to see you all at Central Little League's 2014 Opening Day Ceremonies at Pen Park Upper Field this Saturday, April 12th !
Our keynote speaker will be former UVA player Keith Werman and No Fella A Cappella from Albemarle High School will sing the National Anthem.
Opening Day Schedule:
8:30 AM - All teams assemble at lower field. Please arrive on time. Board members & coaches will direct where each team will line up.
8:45 AM - Teams march from lower field to the upper field and line up in the outfield just beyond the infield.
9:00 AM – Teams, players and coaches are introduced
9:20 AM – Acknowledgements and announcements.
9:30 AM - Keynote speaker: Keith Werman UVA Baseball team 2009-2012
9:40 AM National Anthem-performed by No Fella A Cappella
9:45 AM – Ceremonial first pitch
Time to play Ball!!
At 9:45 AM the teams playing in the 10:00 AM games may take the fields for warm ups.
Games begin at 10:00 AM at both upper and lower fields.
Our concession stand will be open!
********************************
Congratulations to the Central Little League 2013 Majors Champions and City Little League Champions Falcon Club! The City Championship final was played at McIntire over two nights due to rain delays. Falcon Club rallied from a 1-0 deficit to a 6-2 victory over Monticello Little League's Lions on 6/18/13.
***
Our Rain out Line is 434-879-1767 * dialing from a land line requires dialing the area code. Mobile phones do not require dialing the area code.
***
Central Little League Volunteering

We need your help! We are an all volunteer league. Please give of your time & talents so the children can have a fun and instructional experience. Volunteers needed at all levels for: Team Coach/Manager, Assistant Coach, Team Parent, Central LL Board Member, Fund Raising Director, Concessions Assistant, Field Maintenance Assistant, Upper Minor Umpire. Please e-mail League President John Kuehler if you would like to volunteer: Jdkuehler@gmail.com

Central Little League remains committed to providing area boys and girls with an enriching, challenging and exciting baseball experience. Last spring Central Little League served 135 children in T-Ball through the Majors. We have wonderful volunteers serving as team managers, instructional coaches, board members, event planners, fundraisers and concession workers. Our refurbished, Bermuda grass playing field and new concession stand present as one of the best, if not the best, facilities in the area. We continue to be proud of the League's accomplishments and remain dedicated to providing a safe and rewarding activity for our children.

Thank you for your continued support of Central Little League.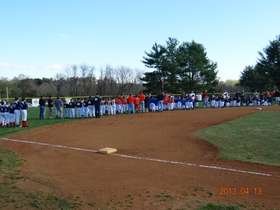 Opening Day 2013