Central Little League: Welcome
Saturday, June 13
Come on out for the Charlottesville City Little League Majors Championship-see schedule above!
*****
Congratulations to CLL's Dominos in their 12-7 win over Monticello Little League's Cosner Brothers in the City Championships playoff game 2.
CLL's Falcon Club had a very strong effort against McIntire Little League's (MLL) Craig Builders but ultimately Craig Builders prevailed 10-1 in playoff game 1.
Dominos will square off against MLL's Craig Builders in the City Little League Championship Final tonight June 15th at 6:00 PM at Pen Park. Come on out and support Central Little League! We hope to see you there!
*****
************************************************************************************
Charlottesville Tom Sox free baseball Clinics !
McIntire Little League, in conjunction with Tom Sox baseball, will host baseball skills clinics on the following Saturdays this summer at no charge:
13 June from 9:00 - 11:00 a.m.
11 July from 9:00 - 11:00 a.m.
18 July from 9:00 - 11:00 a.m.
Clinics are available for players aged 8 - 12 and space is limited so please sign up and reserve your spot today at the following link:
https://docs.google.com/spreadsheets/d/1rVKDkBFlpxVEqkTpurpfNIkdTWUpr1k6kfxLrRbDGCM/edit?usp=sharing
More Charlottesville Tom Sox events:
Saturday June 13th is Little League Day at the Tom Sox game at Cville Weekly Ballpark at Charlottesville High School! Game time is 7PM. Central players get in free if they wear their jersey or team hat and family members with them get in for $1 each. 5% of concession sales that night will go to Central LL. There will also be post game running of the bases and Little League players can visit with Tom Sox players. There will be a Pre-game Band& an appearance of Cosmo the Sheepdog. Follow this link for more info: http://tomsox.com/june-13-little-league-night/
*****************************************************************************************************
Central Little League is committed to providing area boys and girls with an enriching, challenging and exciting baseball experience. Last spring Central Little League served over a hundred children in T-Ball through the Majors. We have wonderful volunteers serving as team managers, instructional coaches, board members, event planners, fundraisers and concession workers. Our refurbished, Bermuda grass playing field and new concession stand present as one of the best facilities in the area. We continue to be proud of the League's accomplishments and remain dedicated to providing a safe and rewarding activity for our children.
Thank you for your continued support of Central Little League.
******************************************************************************************************
Central Little League Volunteering

We need your help! We are an all volunteer league. Please give of your time & talents so the children can have a fun and instructional experience. Volunteers needed at all levels for: Team Coach/Manager, Assistant Coach, Team Parent, Central LL Board Member, Fund Raising Director, Concessions Assistant, Field Maintenance Assistant, Upper Minor Umpire, team parents. We and Little League have plenty of tools to assist you if you are not sure what to do. Please e-mail League President Raul Arbelaez if you would like to volunteer: cvillecll@gmail.com

Thanks to TSS photo for this team Photo of the 2015 CLL champs Dominos!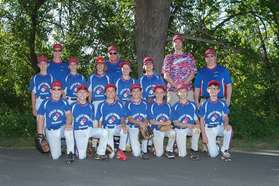 Congratulations to the 2015 Central Little League Champs Dominos!