Cleveland Heights 50+ Hockey League: Welcome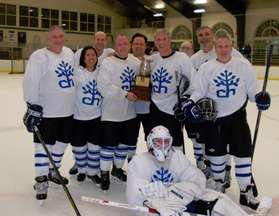 Blues 2018 Champions
Thursday, February 14
Cleveland Heights 50+ Hockey League (CH50+HL)
The CH50+HL gives senior hockey players a chance to play competitive hockey in a recreational setting. The league is open to the following players:
"B" and "C" 50+ Skaters. Intermediate and novice ("B" and "C") skaters (men and women) who are at least 50 years of age by December 31, 2018.
Some Women Under 50 and Men Between 47-50. Women skaters under age 50 and men skaters between ager 47 and 50 if those persons appear to be a good fit based upon their skill levels and the overall comptitive balance of the League.
Goalies. Goalies can be of any age if approved to play by the League, but most men goalies should be at least age 40 by December 31, 2018 and most women goalies should be at least age 30 by that date.
Advanced "A" level skaters will not be allowed to enter or continue in the League. Because goalies rotate between teams, advanced "A" level goalies may be admitted to the League on a permanent or subsitute basis if it appears likely that they will not adversely affect the League's overall competitive balance during the course of a full season.
Our emphasis is on good clean hockey. Anyone who persists in dangerous play or abuse of officials after one warning will be removed from the League with no refund of fees
The League consists of 4 teams. Each team has 13 skaters plus a goalie.
Updated Scheduling Info - 2018 - 2019 Season
Another updated League schedule is now available. Go to the "Handouts" tab to the left.
Please Note: The new schedule has make-up dates for both 10/26 games and. both 11/2 games. These games will be made up on various Tuesdays in March 2019. See new schedule for details.
We also now have a make-up date for the open skate of 1/18. This will take place between the semi-finals and final.
We are still trying to find a suitable make-up date for one game originally scheduled for 11/19. This is still up in the air.
Scheduling Info - In General
The following is the general scheduling plan:
Each team will play approximately 21 games, one game per week, with all games on Friday evening on both rinks. However, some Fridays will be off due to holidays, weather condition, rink conflicts or other rink-related issues. In addition, all teams will qualify for the playoffs.
Games will typically start between 8:30 p.m. and 10:30 p.m. There will be some starts as late as 11:00 p.m., but the rink administrator tries not to give us these late starts whenever possible.
Further, if a game is postponed for any reason, it's possible that any make-up date will be on a night other than Friday.
Please confirm all games with your team captain, assistant captain, and/or the rink (phone 216-691-7349).
NOTE: All game times are subject to postponement due to rink closures or other rink-related issues.
Registration
Registration is now closed for the 2018 - 2019 season.
Please contact John Sullivan at jesullivan3@sbcglobal.net if you would like to be added to the sub list or to our e-mail list for next season's registration period.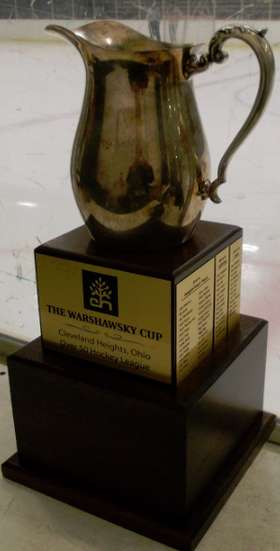 Warshawsky Cup