Clearwater Little League: Welcome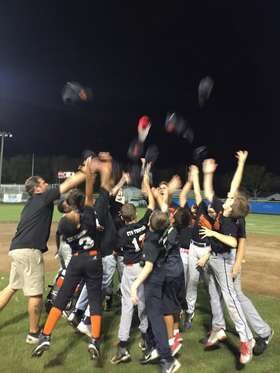 CLL Giants Victory
Majors Giants
Take 1st Place

in the Fall 2015 Majors
Tournament!!!
Congratulations to our Majors Giants team for taking 1st Place in the District 12 Majors fall tournament!!! Great job by all the boys on making this a TEAM victory! They won 3-2 against a tough Holiday Tigers team. Congratulations to our Majors Tigers as well for making it to the semi-final game . Great to see our 2 Majors teams in the top 4 out of 36 teams in the tournament!!! (Continue reading ....)
______________________________________
Check the Registration Tab!!!
For Clearwater Little League Spring 2016
Registration & Sign-up Information
------------
For Important Fall Ball Rules and a Downloadable 2015 Fall Ball Calendar
--- ---
---Celebrate Clearwater Centennial 2015---
---
Rain Outs and Canceled Games
Please visit this web site or facebook page to find out if games have been canceled.
Concession Duties
We are an all-volunteer league. All parents are required to sign up and help with concession duties. We have decided that the home and visiting teams on fields 1 and 4 shall have 2 parents per 3 innings to volunteer in the concession. Example:
Team A is the visiting team and will have to supply 2 parents 30 mins before the game starts to open the stand IE( Cook hot dogs, hamburgers, French Fries, ect.). At the end of the 3rd inning the home team then sends to parents to relieve the visiting parents for the remainder of the games.
+++++++++++++++++++++++++++++++++++++++++++++++++++++++++++++++++++++++++++++
A new Little League International Rule allows ANY player that does not live in the Clearwater Little League Boundary area BUT DOES ATTEND A SCHOOL in the Clearwater Little League Boundary to be able to play with Clearwater Little League. This is a new rule that is intended to allow children that attend school together to be able to play after school baseball together with their school friends if they choose to.
++++++++++++++++++++++++++++++++++++++++++++++++++++++++++++++++++++++++++++++
New Clearwater Little League Telephone Number
727-639-0359
________________________________________________________
Littler League Pledge
I trust in God
I love my country
And will respect its laws
I will play fair
And strive to win
But win or lose
I will always do my best
++++++++++++++++++++++++++++++++++++++++++++++
Click Here for Information on Proof of Residency Requirements for Clearwater Little League
Little League International has strict Boundaries. Children who live outside of our boundries will not be able to register to play at Clearwater Little League...but IF they attend a school that is within the Clearwater Little League boundary they can choose to play with Clearwater Little League so they can play baseball with school friends.
Please see Boundry Maps provided on this web-site.
---