Clarkston Wolves Football: Welcome
Rockford Travels Across State for Regional Matchup Saturday at 1PM
Varsity, Junior Varsity, Freshman: 9-0 Regular Season OAA Red Champions
I would like to welcome you to the UNOFFICIAL site of Clarkston Wolves Football. This site was created as another tool to increase the excitement created by the young men who play the game for Clarkston High.
The Clarkston Wolves finished the season as Back (2011) to Back (2012) OAA Red Division Champions. Now the Seniors must lead this young team through the playoffs. This is a tough road, but the community has its fullest support and confidence in our local Wolves. Let's enjoy our home field advantage as our boys have secured at least 3 home games if they are successful.
I hope you have enjoyed the Clarkston Wolves Football website. We are very proud of our Wolves as they are OAA Red Division Back to Back Champions at the Varsity (7-0,9-0), Junior Varsity (7-0,9-0) and Freshman (7-0,9-0) levels. It is the first time, all three levels have gone undefeated in Clarkston Wolves Football history. See photo above of all three teams with the Varsity in front followed by the Junior Varsity and Freshman.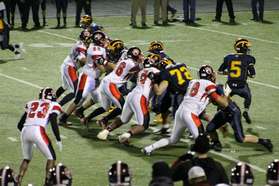 Clarkston vs Grand Blanc (via Grand Blanc Facebook)
Saturday, November 5
MHSAA PLAYOFFS - Region 1
Countdown Regional Finals vs Rockford