Cincy Thunder Girls Basketball: Welcome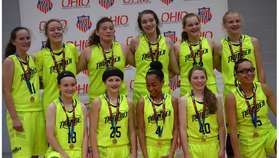 Class of 2022
Cincy Thunder 2018 Tryouts
Class of 2022 will be holding tryouts the first week of March of 2018. If you are interested in trying out for our upcoming Spring/Summer season & you are playing basketball during the Winter; please contact us via our website & our coaches will attend one of your games to see you in real game action. Most of our current girls earned a spot on our team by us watching them during their school games. Although we are the class of 2022; our goal is to prep our girls for Varsity basketball & beyond; therefore, we play up to challenge our girls & prepare them for thier future. With that being said we are extremely interested in girls from the class of 2021. Our primary need is Center/Power Foward but we will be looking at other positions as well because no positions are given, they are earned each year. If you are an Elite girl from the class of 2023 & want challenged; please reach out to us also.
Class of 2023 will be holding tryouts the middle of February of 2018.
Class of 2024 teams (Neon & White) will be holding tryouts on Friday 1/26/18 and Sunday 1/28/18 from 6 pm - 8 pm at Montessori Academy of Cincinnati. 8293 Duke Blvd, Mason, OH 45040.
Thunder