Thursday, October 19


Crawdads Fall 2006 Baseball Schedule


September 10 Practice
September 17 @ Falls Legion (DH)
September 23-24 ECTB LEHIGH WOOD BAT Birdsboro (wood)
October 1 vs. Falls Legion (9 innings) CANCELLED
October 7-8 ECTB COLUMBUS DAY BASH Allentown
October 15 vs. Delco Bandits (DH) Neumann College (wood)
October 21-22 ALL STAR BASEBALL ACADEMY TOURNAMENT Villanova CANCELLED
October 28-29 Neumann College Tournament Aston (wood) CANCELLED
November 4-5 ECTB END OF SEASON FINALE 18/19U (Allentown) (wood)

Saturday, July 1
CRAWDADS 16'S 2006 SCHEDULE

Baseball Heaven, Long Island
February 18 - 20 Cocoa Expo Cocoa, Florida
July 18 @ All Star Academy Blue Claws Downingtown, PA
July 19 @ Delaware Diamonds Newark, DE
July 22-23 Kinteco Mid-Summer Classic Berks County, PA
July 26 @ Bandits Baseball Neshaminy, PA GAME CANCELLED
July 28-30 Keystone Games York, PA
August 4-6 East Coast Nationals Yaphank, NY
August 9 vs. Delaware Wave Cal Ripken Stadium, MD
August 10 vs. Delaware Blue Rocks Cal Ripken Stadium, MD
August 11-13 ECTB National Championships Reading, PA



Ripken Stadium


Thursday, May 25
CRAWDADS SHINE IN HIGH SCHOOL SEASON
Congratulations to Joe Wendle, Brandon Snyder, Paul Glenn, and Josh Hampton on helping lead Avon Grove to a South Central League undefeated regular season.

Congratulations to Stephen Richter and Max Kenan on helping Conestoga to its Central League championship. Stephen was named second team All-Central League designated hitter and Max was named first team All-Central League pitcher.

Wednesday, November 30


CRAWDADS COMBINE WITH BANDITS TO FORM PENNSYLVANIA WARTHOGS FOR FALL BALL


FALL 2005 SCHEDULE -- PENNSYLVANIA WARTHOGS

Sept. 18 9:30 am vs. Lower Merion Lasers L 8-9
Sept. 25 10:30 am @ Whitpain Legion W 6-2
Oct. 2 11 am @ Conestoga Legion W 7-6
Oct. 9 1 pm @ Whitpain Legion RAINED OUT
Oct. 22 9 am @ Caravelle High School RAINED OUT
Oct. 30 1 pm vs. Maple Grove Bats @ Chichester W 3-2
Oct. 30 4:30 pm @ Concord Legion W 8-7
Nov. 7 10 am @ Lower Southampton Legion L 4-13





Pretzel City Champions 2005
Thursday, August 9
CRAWDADS CRUNCH PRETZEL CITY CLASSIC
STANDING: STEVE SNYDER, JABAIR KHAN, PAUL GLENN, RYAN KRAUS, PETEY KARCEWSKI, ANDREW LACAVARRA, BOB BENTZ.
KNEELING: BRANDON SNYDER, SEAN GRIMES, BROOKS BENTZ, JIM MCCONLOGUE, JOE WENDLE.


The Chester County Crawdads 15's won the 16U Berkshire Baseball Pretzel City Classic with a 8-2 victory over the Berkshire Red Sox on Sunday, August 7, at George Field in Reading. Jim McConlogue (Haverford School) was 4 for 4 and won MVP honors while Sean Grimes (Conestoga) was named Outstanding Pitcher. Andrew Lacavara (Archbishop Ryan) scored two runs and Pete Karcewski (Frederick, MD) and Jabair Khan (Henderson) had two hits each.

Joe Wendle (Avon Grove) played his normal flawless defense for the Crawdads as the speedy shortstop did not make an error all tournament. Grimes had three key short relief appearances in the tournament for the Crawdads.

The Crawdads season continues to amaze all those associated with travel baseball in the Pennsylvania area. In four tournament entries this year (3 while playing up in the 16U bracket), the Crawdads have two championships and two runners-up positions. Note that one of the runners-up titles was decided on runs allowed when day two of the competition was rained out. Over the past two seasons, the Crawdads sport a sizzling 46-18-2 (.719) record. A recent poll in USA Sports Rankings shows the Crawdads rated #2 in the Commonwealth of Pennsylvania.

With several players away on vacation, the Crawdads entered the Pretzel City Classic with just ten active players and one 16-year-old. The host Red Sox downed the Crawdads in the first game of the tournament 6-5 on a seventh inning tally. Paul Glenn (Avon Grove) recorded eight strikeouts in game two and Wendle scored the winning run to give the Crawdads an important 4-3 win over the Harrisburg Capitals 16's. Khan got the game winning hit in the third and final pool game as the Crawdads downed the Flint Hill Flash 4-3. Brandon Snyder (Avon Grove) picked up the victory and Grimes recorded a save.

In the semifinals, the Crawdads met an outstanding Montco Militia team and the Crawdads eeked out an exciting 7-6 win. A 12-strikeout performance by McConlogue in his six innings of work helped shoot down the Militia. Ryan Kraus (Radnor) finished the game by pitching the seventh and picking up the crucial save. Brooks Bentz (Radnor), suffering from Pete Hissey Disease (see Fall photo below), had two hits and two RBI's to send the Crawdads into the championship game against the Red Sox.


BOXSCORE AB R H BI

Lacavarra CF-P 4 1 1 0
Wendle SS 3 0 0 0
McConlogue 3B 4 2 4 2
Khan P-CF 4 1 2 2
Bentz 2B 4 0 1 1
Snyder RF 4 0 1 0
Kraus 1B 2 0 0 0
Glenn LF 1 1 0 0
Karcewski C 3 1 2 1
Grimes EH-P 3 0 1 2

2B: McConlogue, Khan, Snyder SB: McConlogue 2, Karcewski, Kraus. Sac: Wendle

Pitching IP H BB SO ER

Khan 1.2 2 3 1 1
Grimes(W) 2.1 1 1 0 0
Lacavarra (S) 3 2 1 1 0

Crawdads 120 031 1 - 8
Red Sox 020 000 0 - 2






Brandon Snyder pitched a No-Hitter on 9/11
Wednesday, June 29
2005 SCHEDULE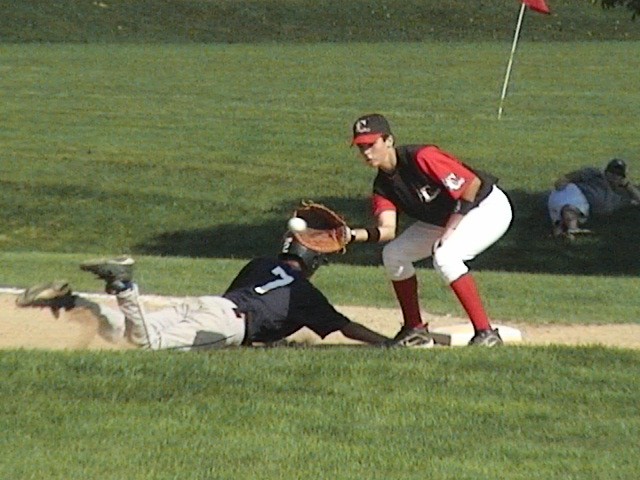 Beau Reese

Planning schedule for 2005 season.

Nov. 14, 2004 Winter Workouts Begin (Downingtown)
Jan. 5, 2005 Pitching Workouts Begin (Downingtown)
Feb. 19-21 President's Day Tourn. (Cocoa Beach, FL) www.cocoaexpo.com
Feb. 25 Exton Senior Legion (6:30)
Feb. 25 Avon Grove Varsity (8:15)
Mar. 4 Exton Senior Legion (8:15)
Mar. 11 Avon Grove Varsity (8:15)
Mar. 12-13 ECTB Stadium Season Opener (Allentown)CANCELLED
Mar. 19-20 AAU/Delmarva Super Regional (Salisbury, MD)CANCELLED
Mar. 26-27 USSSA New Jersey March Madness (Hackensack,NJ)CANCELLED
Apr. 3 @ Pennsbury Falcons (Lower Makefield) RAINED OUT
Jul. 16-17 Clash of the Champions (Reading)
Jul. 22-24 Berkshire Mid-Summer Classic (Berks County)
Jul. 26-29 Keystone Games (York, PA)
Jul. 30-31 WEEKEND OFF
Aug. 2 vs. Delaware Rampage @ Frawley Stadium (Wilmington, DE)
Aug. 5-7 Pretzel City Classic (Reading)
Aug 11-14 ECTB National Championship (Reading)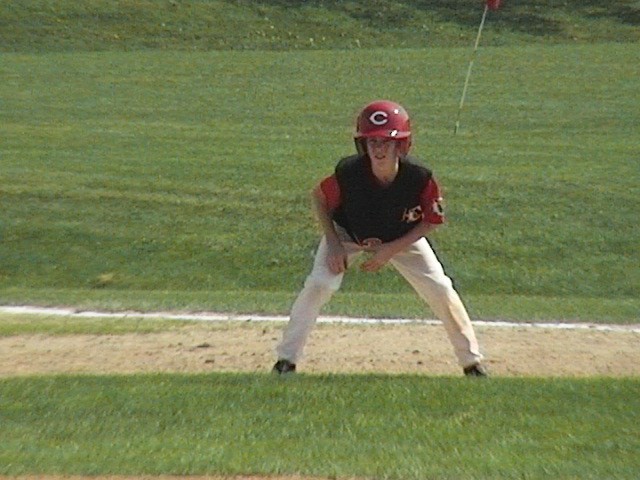 Joe Wendle


Saturday, March 5
Crawdads Nip Exton Senior Legion
West Chester -- The Chester County Crawdads 15's defeated Exton Senior Legion on Friday, March 4, 2-1 in an indoor game held at All Star Academy Stadium in West Chester. The Crawdads got some excellent pitching from Brandon Snyder, Paul Glenn, and Brooks Bentz against the older Exton American Legion team. The Crawdads led 2-1 after four innings when Bentz came in to close the door with two hitless innings to pick up the save. Andrew Rufo's double off the right field tarp, followed by Stephen Richter's RBI single, were the key hits in the Crawdads two run first inning.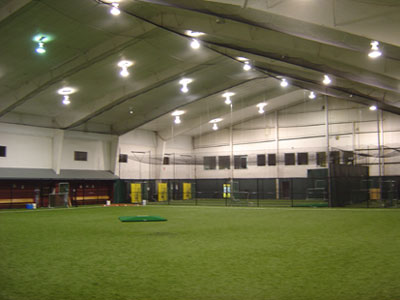 All Star Baseball Academy Indoor Arena

2005 President's Day Challenge Cocoa Expo Champions
Monday, March 5
CRAWDADS BAKE FLORIDA CHAMPIONSHIP

Click for Tournament Results

STANDING: BOB BENTZ, STEVE SNYDER, PETEY KARCEWSKI, PETE HISSEY, MATT CARROLL, BRANDON SNYDER, JABAIR KHAN, SEAN GRIMES, RYAN KRAUS, ANDREW RUFO, JON KRAUS.
KNEELING: BROOKS BENTZ, JOE WENDLE, COREY SNYDER, RYAN HISSEY, GREG CARROLL.


The fifth time was the charm!

The Crawdads have been going to tournaments in Florida over President's Day for five years now. The 15-year-old team, playing up in the 16 and under division, was hardly expecting to come home with gold as it made its annual trip to the Sunshine State. Instead, the Crawdads won the first ever Florida title for any age team in the franchise's history.

Ironically, the Crawdads opened the Cocoa Expo tournament with a local foe, the Delaware Angels, that plays just 20 miles from the Crawdads home base in Pennsylvania. The Crawdads snapped a 2-2 tie in the third inning thanks to Jabair Khan's RBI single followed by a mammoth triple by Matt Carroll and then an RBI single from Brooks Bentz. Pete Hissey, the team's leading hitter in '04, started where he left off last year with a 3 for 3 game with 4 runs scored. Joe Wendle, Carroll, and Ryan Kraus added two hits each. Meanwhile, on the mound, Brandon Snyder and Pete Karcewski combined for a no-hitter.

On Monday, the underdog Crawdads entered the playoff round against the undefeated Green Cove (Florida) All Stars who had defeated the Crawdads 5-1 just a day earlier. Trailing 4-2 in the top of the seventh, the never say die Crawdads rallied. Carroll's single scored two Crawdads to tie the game and then Kraus and Bentz singled to put the Crawdads up 5-4. Then, Andrew Rufo belted a bases loaded double off the wall in left-center to give the 'Dads a cushion 8-4. Sean Grimes had four excellent plays in the game at third base. Hissey came on in relief to get the final two outs to preserve the win for Bentz.

The championship game was all Crawdads as the red and black scored four times in the first inning and eight times in the second to turn the championship into a laugher. Wendle had four hits in his leadoff spot and Snyder had a career day going 4 for 4 with 5 RBIs. Hissey and Khan had three hits days and Bentz had two knocks. For the second consecutive tournament, Carroll was the winning pitcher in the championship game. Snyder got five consecutive outs to close out the title.

BOX SCORE
CRAWDADS AB R H BI
Wendle ss 5 3 4 1
Hissey cf 4 4 3 2
Khan lf 5 2 3 1
M. Carroll p 2 2 0 0
G. Carroll rf 0 0 0 0
Kraus 1b 4 1 1 3
Bentz 2b 4 3 2 2
Rufo c 2 1 1 0
Snyder rf-p 4 2 4 5
Karcewski dh 2 0 0 1
Grimes 3b 1 1 0 0

Pitching IP H BB SO ER
M. Carroll (W) 3.1 3 5 5 2
Snyder (S) 1.2 0 0 2 0

Crawdads 4 8 1 0 6 -- 19
Del Sox 0 0 0 3 0 -- 3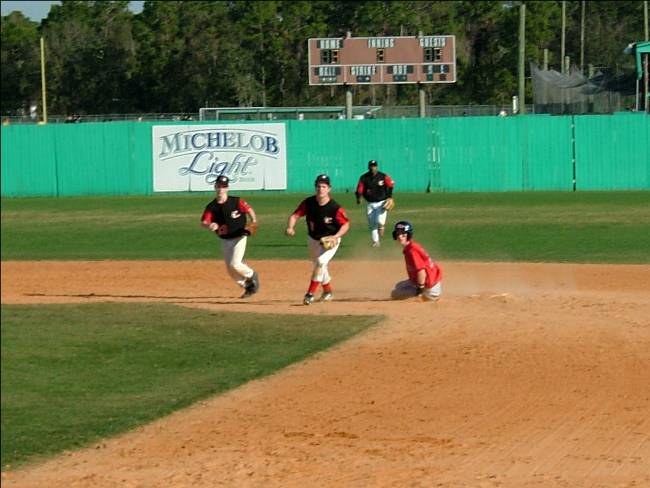 Wendle & Bentz combined for two twin killings versus PB.

Coach Bentz discusses what he saw with the men in blue.
Saturday, February 26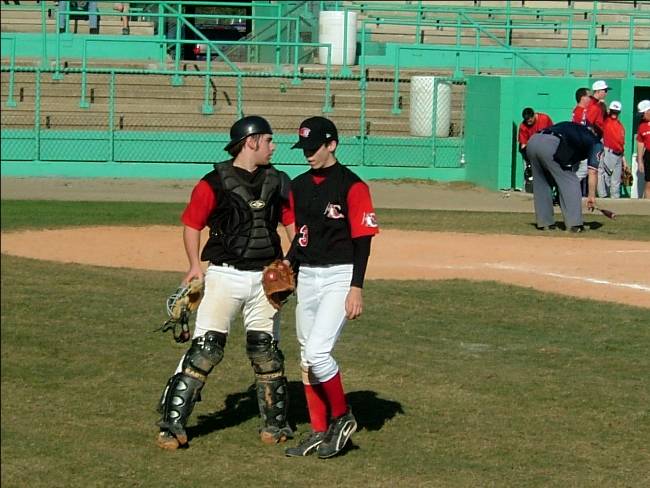 Crafty lefthander Beau Reese and his battery mate, Andrew Rufo.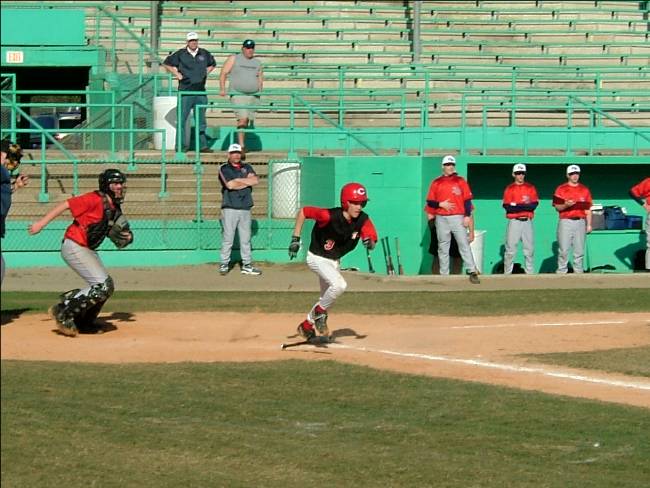 Hissey with another hit. Note Lasorda resting his belly on the railing in back.

Brandon Snyder was a perfect 4 for 4 in the championship rout.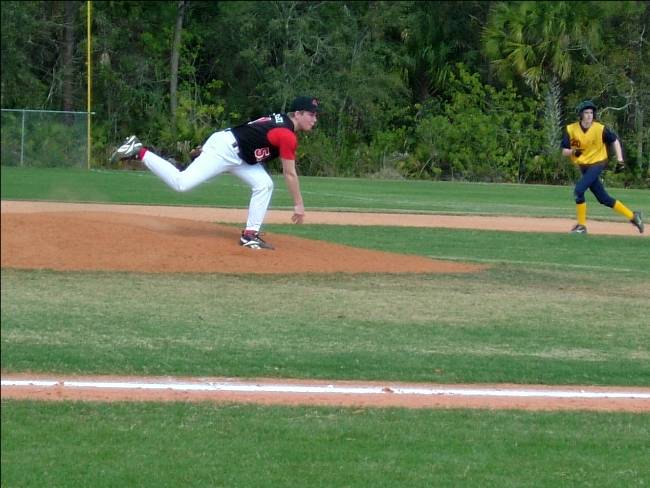 Pete Karcewski combined with Snyder for a no-hitter in the Crawdads first game.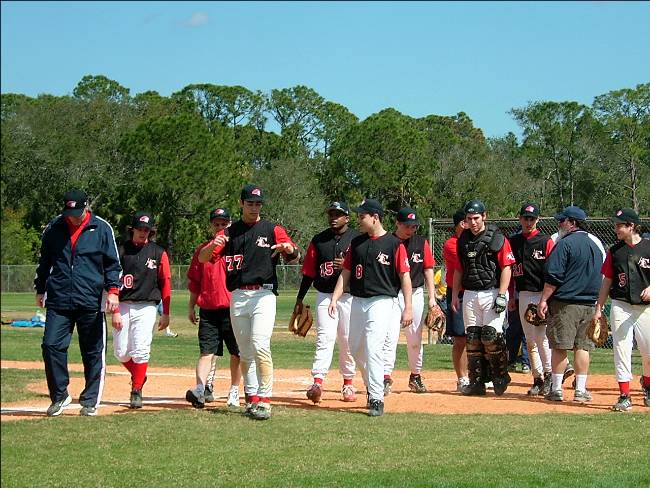 Crawdads leave the field after the 19-3 drubbing of the Del Sox in the 'ship.

Metalwood Bat Champs
Wednesday, September 29
SENSATIONAL PITCHING GIVES CRAWDADS METALWOOD BAT TITLE
MIDNIGHT WARRIORS
STANDING: ANDREW RUFO, MATT CARROLL, PAUL GLENN, BEAU REESE, STEVE SNYDER, JABAIR KHAN, ROB REESE.
KNEELING: BOB BENTZ, BRANDON SNYDER, BROOKS BENTZ, JOE WENDLE, JOSH HAMPTON.
LIEING: PETE HISSEY (unable to stand)


Sensational pitching led the Crawdads to its first Fall Ball championship as the Crawdads won five and tied one to win the MetalWood Bat tournament on September 26.

The Crawdads gave up only seven runs in six games and pitched three shutouts along the way as Chris Cowell, Brandon Snyder, and Paul Glenn pitched shutout gems. In the championship game, played at Bicentennial Park in Allentown, Matt Carroll and Jabair Khan combined for the 10-2 victory over Falls.

The Crawdads met with some unfortunate luck on Sunday as two players unexpectedly were unable to attend. They were able to field a team of only nine players who did a yeoman's job of winning four games and playing the championship game until 12:10 am in Allentown and then going home to do their homework. Ironman catcher Andrew Rufo caught many of the innings with the small squad and did his normal stellar defensive job.

The Crawdads began the tournament with a 2-0 shutout of the Brooklyn Rebels. Cowell pitched all seven innings yielding only two hits and striking out eight. Cowell also contributed a key run scoring double. Pete Hissey had two hits.

In game two, the Crawdads tied the Spring Creek (NY) Blazers 3-3. Matt Carroll, who had two hits in the game, had a key single in the 7th to tie the game for the Crawdads. Hissey pitched three scoreless innings in relief to earn the tie.

In game three, the Crawdads defeated the Atlantic Coast (NJ) Starz 4-1. Beau Reese went the distance on the mound to earn the complete game win. Josh Hampton, a call-up from the Crawdads 14's team, went 2 for 2 including a mammoth triple in the 7th inning.

Game four, the quarterfinals, it was all Crawdads as the 'Dads posted a 11-0 mercy rule against the same Blazers that it had tied the previous day. Hissey, Jabair Khan, and Snyder had two hits each and Paul Glenn added three RBI's. Snyder pitched all four innings and gave up only one hit.

The semifinal was billed as a premiere game between the Crawdads and the tough Lanco Cobras. The Crawdads had been scheduled to play the Cobras on several occasions this season, but were rained out each time. The Crawdads prevailed 5-1. Khan and Carroll had two hits each and Glenn pitched a masterful four hitter with eight strikeouts in the victory that sent the Crawdads to the title game.

The championship game against Falls did not start until nearly 11 PM as the Crawdads began their fourth game of the day under the lights in Allentown. Khan, Carroll, and Glenn had two hits each. Joe Wendle, Hissey, Carroll and Reese scored two runs each. Khan, Glenn, and Bentz had two RBI's each. The Crawdads won 10-2 to earn the championship. The pitching chores were split between Carroll and Khan who combined on a 4-hitter against the tough Falls club.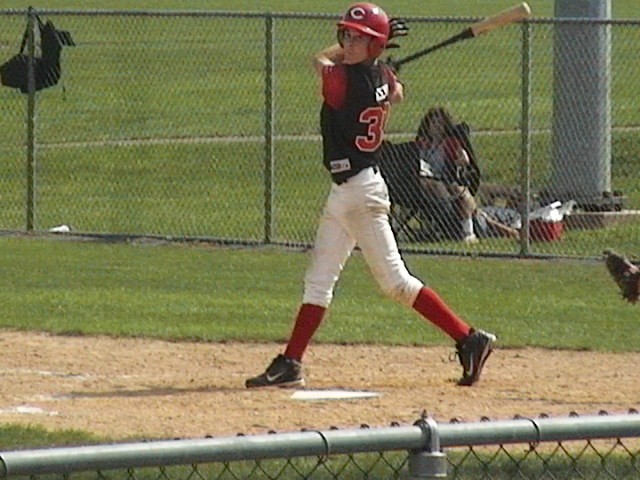 Paul Glenn

SHAMROCK SHOOTOUT CHAMPS
Wednesday, March 17
CRAWDADS WIN SHAMROCK SHOOTOUT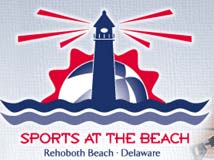 Crawdads Win Championship

Beau Reese pitched a complete game victory and Jabair Khan went 4 for 4 in the championship game and was named MVP as the Chester County Crawdads broke a 7-game losing streak to the Delmarva Shorebirds to win the Sports at the Beach Shamrock Shootout 7-4 on March 14 in Georgetown, Delaware.

Reese baffled the hard hitting Shorebirds with an array of offside pitches that nibbled the outside corner all night. He scattered six hits and walked only one in his strongest performance of his Crawdads career. Khan was a beast at the plate with a 3 for 3 performance with a sacrifice fly, double, and three RBI's in earning tournament MVP honors. Newly acquired free agent Matt Carroll was deserved of his hefty contract as he had two hits and three RBI's in the final. Brooks Bentz also added two hits for the winners.

The victory was especially sweet for the Crawdads after their disappointing loss in game three to the Shorebirds. The Crawdads led in the final inning 5-2 and were just one strike away from victory when the wheels fell off in the eventual 10-7 loss. Matt Carroll hit a monster home run for the Crawdads and Matt Regan pitched three shutout innings in the heart breaker.

Game one saw the Crawdads defeat the Maryland Cardinals 11-1 as Khan was the winning pitcher and guest player Steve Mazanek got the save. Khan and Regan had two hits each in the game. Game two was all Crawdads as they pounded out 20 hits enroute to a 17-6 thrashing of the Delmarva Titans 17-6. Carroll and Reese had four hits each, Regan had three, and Wendle, Khan, Andrew Rufo, and Bentz two each.

After the disappointing loss to the Shorebirds in game three, the Crawdads faced a must win situation in game four versus the Delaware Angels. After falling behind 5-0 in the first, Bentz entered the game on the mound down 5-0 and bedeviled the Angels. Bentz pitched 5 2/3 and held the Angels to just one run as the Crawdads bats came alive in a 13-6 win. Carroll had two hits and Stephen Richter added two as well.

The Crawdads now move to March in the Park next weekend in Mountville, Pennsylvania.



"When Pete pitches, they drag the warning track."
Sunday, August 15
Crawdads Post Win at Frawley Stadium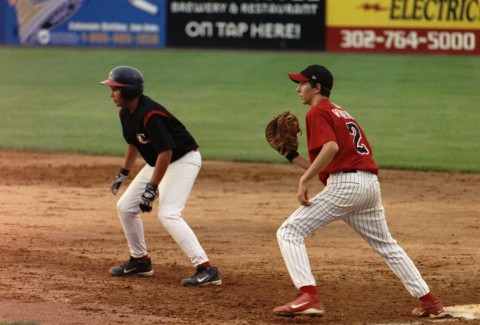 Matt "Country" Smith after his first inning single.

The Crawdads defeated the Lower Bucks Bandits 9-6 on Thursday, August 5, at Frawley Stadium--home of the Wilmington Blue Rocks. The Crawdads were outhit 12-7, but made no errors in the game enroute to the victory. Pete Karcewski was the winning pitcher and Jabair Khan rapped two hits. Beau Reese picked up the save after throwing up in the dugout.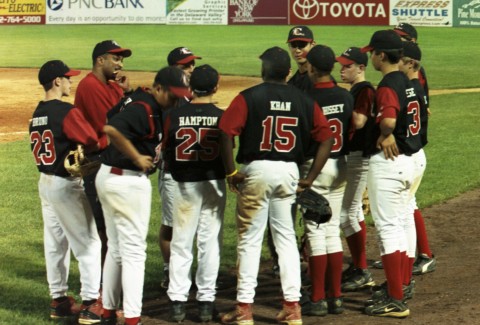 Coach Khan and Coach Bentz congratulate the team after the victory.


Sunday, August 15
Crawdads Compete in Keystone Games
Five Crawdads competed in the Keystone Games in Wilkes-Barre from August 3-6. Brandon Snyder, Joe Wendle, and Paul Glenn represented Delaware Valley which had players from Chester, Montgomery, and Bucks counties while Brooks Bentz and Andrew Rufo suited up for the Metro team made up of top players from Philadelphia and Delaware Counties.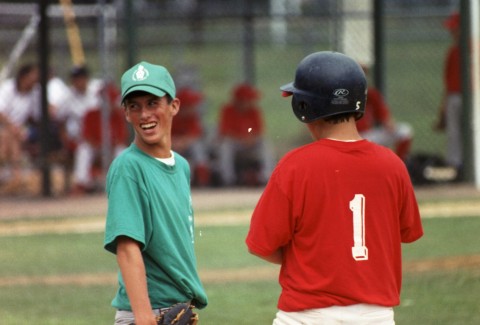 Brandon Snyder and Brooks Bentz


Monday, August 23
Crawdads End Season on High Note
The Crawdads season ended August 15 with a 6-2 loss in the Elite Eight of the ECTB Eastern Championships in the ECTB Eastern Championships and finished in sixth place in the 28 team championship tournament. The Crawdads went 4-1 in the tournament to raise its record to 32-13-1 on the season.

The Crawdads started off the tournament by trouncing the New York Gothams 13-0 in just four innings. The Gothams are made up primarily of players from the exciting Harlem, NY team that played in the Litte League World Series in 2002. Paul Glenn pitched a brilliant three hit shutout, Matt Carroll hit his second home run of the season and Ryan Kraus went 2 for 2. In game two, the Crawdads dumped the #1 seed in the tournament, the Bergen Thunder, 9-4. Matt Carroll got the win and Brooks Bentz got the save by twirling three scoreless innings and giving up only one hit. Matt Carroll ripped his third home run of the season, Beau Reese had two hits, and Andrew Rufo had three hits. In game three, the Crawdads scored three in the seventh to beat a scrappy Malvern Bandits team 8-5. Paul Glenn, Matt Regan, and Ryan Kraus had two hits each. Brandon Snyder won the game in relief of Reese. Snyder tossed 2 2/3 innings of hitless ball and struck out four. In game four, the Crawdads held on to beat the New York Highlanders 7-6. Kraus continued his torrid hitting with three hits and Stephen Richter and Rufo added two hits each. The Crawdads lost their fifth game of the tournament to the Lower Bucks Bandits 6-2. The Crawdads stranded 13 runners on base in the game and exited the tournament in the quarterfinals. Kraus was the hitting star of the tournament by going 8 for 13 in the five games.

Pete Hissey and Matt Carroll were two of the hitting stars of the team as they both batted over .400 for the season. Carroll also cracked four homeruns. Brooks Bentz, Jabair Khan, and Ryan Kraus were also big contributors with the bat as each batted over .390 while Beau Reese and Matt Regan each topped the .350 mark. Bentz led the team in RBI's and Khan in doubles. Shortstop Joe Wendle was the sparkplug in the leadoff spot and led the team in runs scored and walks. As a team, the Crawdads batted an amazing .350 for the season.

On the mound, Reese led the team in wins while Kraus and Bentz were both undefeated and tops in ERA. Fireballing Paul Glenn got most of the toughest mound assignments and led the team in strikeouts and saves.

But the biggest improvement for the team was its all around defense. Andrew Rufo was outstanding behind the plate and threw out 67% of the would be base stealers in the last three tournaments. Joe Wendle made spectacular plays routine at shortstop as did Stephen Richter at third base. The outfield made up of Regan, Glenn, Hissey, and Brandon Snyder was solid all season. Regan, in fact, did not commit a single error all season.

The Crawdads will now enter Fall Ball in the 15 year old division and plan to play in Florida over the winter.



The Crawdads ignition: Joe Wendle
Tuesday, March 16
CRAWDADS IN FLORIDA 2004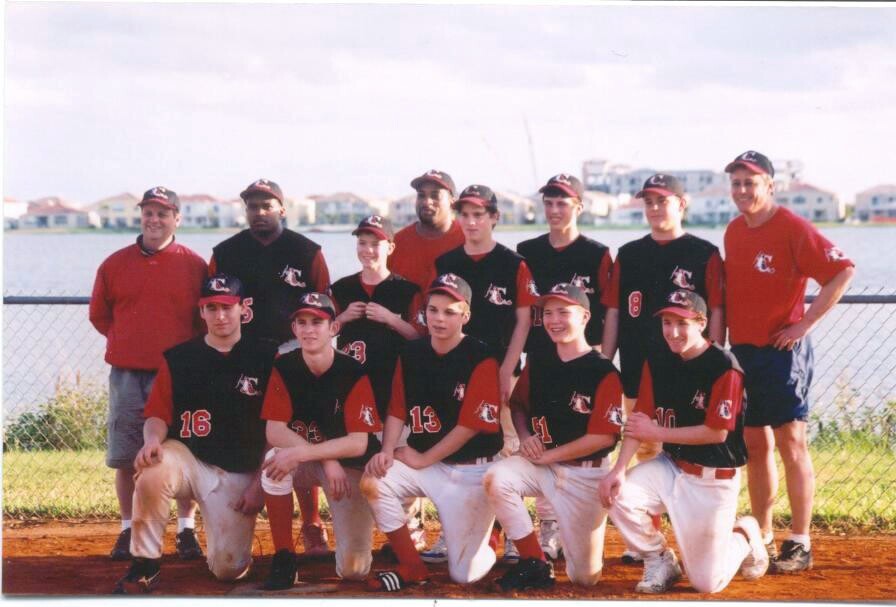 2004 Triple Crown Sports President's Day Tournament, Ft. Lauderdale, Florida

PICTURE ABOVE ARE:
Standing: Bob Bentz, Jabair Khan, Joe Wendle, Rizwan Khan, Brooks Bentz, Brandon Snyder, Ryan Kraus, Jon Kraus.
Kneeling: Andrew Rufo, Paul Glenn, Beau Reese, Pete Karcewski, Dan Heron.
Missing: Stephen Richter, Matt Regan, Pete Hissey.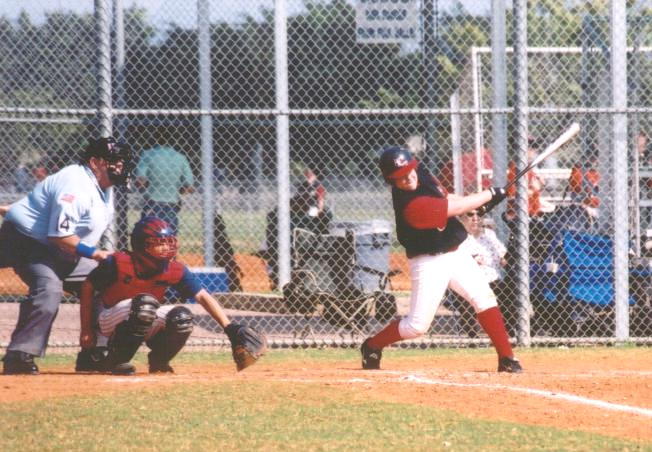 Ryan Kraus swats another base hit.
Tuesday, August 24
2004 CRAWDADS 14's SCHEDULE
Personalitee Quilts -- Make a quilt out of your old team shirts
INDOOR SCHEDULE

Jan 29 vs. Media Babe Ruth
Feb 19 vs. All Star Baseball Academy of Downingtown
Feb 26 vs. All Star Baseball Academy of West Chester
Mar 4 vs. Collegeville Crush
Mar 11 vs. Concord Legion

PRESEASON SCHEDULE

Feb 13 @ Weston Rattlers Weston, FL (6:30)
Feb 14-15 Triple Crown Sports President' Day Fort Lauderdale, FL
Feb 16 @ Miami Scorpions Miami, FL (12:00)
Mar 6-7 Southern Maryland March Madness Salisbury, MD
Mar 13-14 Shamrock Shootout Rehoboth Beach, DE
Mar 20-21 March in the Park Mountville, PA
Mar 20 @ East Coast Starz (5:00) Millville, NJ
Mar 27-28 New Jersey USSSA March Madness Jersey City, NJ
Apr 3-4 ECTB April Fools Wilmington, DE
Apr 10 @ South Jersey Sand Sharks (DH) (1:00) Tuckerton, NJ

MIDSEASON SCHEDULE

Sat. May 15 @ Lower Bucks Bandits (5 pm)
Sun. May 23 Delaware Thunder (5 pm Home)
Tue. Jun 8 Delaware Blue Rocks (8 pm Home)
Sat. Jun 19 Delaware Diamonds (4 pm Home)

POSTSEASON SCHEDULE

Jul 14 @ Wilmington Stars Bear, DE
Jul 17-18 Clash of the Champions Lancaster, PA
Jul 23-25 End of Summer Classic Turnersville, NJ
Jul 27 @ Flint Hill Flash Springtown, PA
Jul 31-Aug 1 CABA Classic Harrisburg, PA
Aug 5 vs. Lower Bucks Bandits @ Frawley Stadium Wilmington, DE
Aug 7-8 OFF
Aug 10 @ Wilmington Stars Wilmington, DE
Aug 13-15 ECTB Championship Series Reading, PA


FALL SEASON

Sep 11-12 Hero's Classic Lansdale, PA
Sep 25-26 Wood Bat Classic Reading, PA
Oct 1-2 Fall Festival Allentown, PA
Oct 23-24 Halloween Classic Allentown, PA




Thursday, August 14
AAU NATIONALS
The Crawdads made the first ever trip of any age group to the AAU Nationals in Kinston, North Carolina in late July. It gave the athletes a chance to compete against the best in the nation. Included in the trip was a game at Grainger Stadium in Kinston -- home of the Carolina League's K-Tribe. This was the second time in a week that the Crawdads had played at a Carolina League Stadium (the other being in Wilmington, Delaware).



Crawdad Power Rests on Bus's Broad Shoulders
Thursday, August 14
CRAWDADS 2003 SCHEDULE
THE CRAWDADS 2003 SEASON WAS WIPED OUT BY NUMEROUS RAINOUTS AS LISTED BELOW.

February 15-16 Triple Crown Sports Tournament (Penbroke Pines, FL)
February 16 @ Plantation Stars (Plantation, FL)
February 17 @ Weston Hawks (Weston, FL)
March 8-9 Southern Maryland Spring Classic (Lexington Park, MD) CANCELLED
March 15-16 St. Patrick's USSSA Qualifier (Prince George, VA)
March 22-23 ECTB March in the Park (Reading, PA) CANCELLED. Now Spring to the Beach (Georgetown, DE)
March 29-30 March Madness USSSA Qualifier (Ridgefield, NJ)CANCELLED
April 5-6 AAU National Qualifier (Wilmington, DE)
April 12-13 King of the Hill (Lexington Park, MD)
April 17 @ South Jersey Swamp Dragons (Williamstown, NJ)CANCELLED
April 18 @ South Jersey Sand Sharks (Absecon, NJ)CANCELLED
April 19 @ Holly City Hornets (DH)(Millville, NJ)
May 3-4 Bat & Battle at the Beach (Georgetown, DE)
May 10-11 Mother's Day (Reading)
May 17-18 Heat at the Beach (Georgetown, DE) CANCELLED
Jun 7-8 Mid-Atlantic AAU Qualifier (York, PA) CANCELLED
Jun 26 @ Lower Bucks Bandits CANCELLED
Jul 10 vs. Lionville Falcons CANCELLED
Jul 19-20 ECTB Clash of the Champions (Reading)
Jul 22 vs. Meadowlands Braves (Frawley Stadium; Wilmington, DE)
Jul 23 @ Lower Bucks Bandits (Bensalem, PA) CANCELLED
Jul 25 -Aug 2 AAU Nationals (Kinston, NC)




2003 AAU Baseball Club


Friday, June 14


CRAWDADS 2002 SCHEDULE


CURRENT 12-YEAR-OLD TEAM SCHEDULE

Feb 16-17 Triple Crown Sports Miramar, FL
Feb 18 @ Sunset Knights Miramar, FL
Feb 24 @ Horsham Magic Horsham, PA
Mar 3 OFF
Mar 9-10 Early Bird Prince George, VA
Mar 17 @ Horsham Magic Horsham, PA
Mar 23-24 March in the Park Reading, PA
Mar 28 @ Tidewater Drillers(DH) Virginia Beach, VA
Mar 29 @ Virginia Storm(DH) Chesapeake, VA
Mar 30 @ Peninsula Pilots(DH) Hampton, VA
Apr 6-7 Beast of East Lexington Park,MD
Apr 14 @ Lower Bucks Bandits Bensalem, PA
Apr 20-21 Penn. NIT Reading, PA
Apr 28 OFF
May 5 Lionville Falcons West Chester, PA
May 10 Marsh Creek Brawlers West Chester, PA
May 19 Meadowlands Braves(DH)West Chester, PA
May 25-26 Memorial Day Classic Reading, PA
Jun 2 Bergen Storm (DH) West Chester, PA
Jun 8-9 Mid-Atlantic AAU Reading, PA
Jun 14 Lower Bucks Bandits West Chester, PA
Jun 22-23 PA USSSA Finals Reading, PA
Jun 29-30 Parkwood Classic Philadelphia, PA
Jul 6-7 OFF (LL Districts)
Jul 14 Lower Bucks Bandits (DH) West Chester, PA
Jul 20-21 Clash of Champions Reading, PA
Jul 27-28 Grand Slam Youth Allentown, PA
Jul 31 Brandywine Blast West Chester, PA
Aug 3-8 Dreams Park Cooperstown, NY

Wednesday, December 25


Crawdads Set All-Time Club Record with 53 Wins


The Crawdads set an all-time club record with 53 victories on the 2002 campaign. This is a mark that will likely be challenged by next year's 12-year-old Crawdad club that has vowed to top it. The Crawdads won three tournaments and placed in six of the 11 tournaments that it entered during the season. Included was a sweet sixteen appearance at Cooperstown Dreams Park.

FINAL RECORD 53 - 21

March in the Park -- 2nd Place
Pennsylvania NIT -- 3rd Place
Mid-Atlantic AAU Qualifier -- Champions
Pennsylvania USSSA -- Champions
Viking Classic -- Champions
Grand Slam Youth Series -- 2nd Place

CRAWDADS WIN PENNSYLVANIA USSSA CHAMPIONSHIP
The Crawdads won its second championship of the season as it followed up its Mid-Atlantic AAU title with the Pennsylvania USSSA championship with an exciting 16-9 victory over the Hudson Valley (NY) Bombers under the lights in Reading on June 23.

The Crawdads had lost its morning game to the tough New Yorkers by a 5-1 score and went into the championship game thanks to some help from others. This game was a back and forth affair. Both teams scored in each of the first four innings to make it 9-9 going into the sixth inning.

In the sixth, however, the Crawdad bats exploded with 7 runs. Matt Regan whacked a 2-RBI double to deep left field to score Brooks Bentz and Stephen Richter. Sean Bennett thrilled the crowd with a bases loaded triple to the left-center field gap to score Ryan Kraus, Matt O'Neill, and Luke Deandria. In all, nine consecutive Crawdads reached base in the sixth inning uprising.

Meanwhile, Bennett was masterful on the mound as he did something that none of the eight pitchers for either team could do--quiet the bats of the hitters. In his third relief stint of the tournament, Bennett twirled scoreless fifth and sixth innings to pick up the win.

The Crawdads were led by Regan and Richter who had eight hits in the five game tournament. Regan also added a team leading seven RBI's. Bentz had seven hits and John O'Donnell and Hack O'Neill had six hits each.

Monday, June 10
Crawdads Win Mid-Atlantic AAU Championship

2002 Mid-Atlantic AAU Champs
Behind tremendous all-around play, the Crawdads won the Mid-Atlantic AAU Championship with a 7-1 victory over the Forks Falcons.

The Crawdads won five in a row and three games were mercifully stopped by the 10-run rule. The Crawdads outscored their opponents by a combined 64-7. They lashed out 55 hits in just 22 batted innings.

Pitching was also strong. Pete Karcewski went five innings in the game one win. Colin Turner twirled a shutout in game two and Matt Regan followed with a shutout of his own in game three. In game four, Sean Bennett pitched a masterful 4-hit complete game. And, in the final, Nolan Kearney scattered 7 hits and held Forks to just one run in his complete game effort.

The Crawdad defense was stellar making only two errors in the five games. Regan had the web gem of the tournament as he laid out in left field for a miraculous diving stab of a low liner.

At the plate, the Crawdads were spinning out the hits faster than a Casey Kasem countdown. Take a look at some of the averages for the weekend: Kearney (.769); Brooks Bentz (.636); Stephen Richter (.600); Dan Heron (.583); John O'Donnell (.500); Karcewski (.500); Sean Bennett (.429); Regan (.400). The power was also evident as Kearney, Richter and Regan all went yard.



Mid-Atlantic AAU Champions



Wednesday, July 10
Crawdads Win Third Consecutive Crown
The Chester County Crawdads completed a 5-game sweep of the Parkwood Viking Classic in Northeast Philadelphia on June 30th with a 12-3 victory over UMAC (MD) from the suburban Washington, DC area. Nolan Kearney, who entered a 3-3 tie game in the fourth, pitched three scoreless innnings of relief to pick up the win. Dan Heron had quadruple threes in the game with 3 hits in 3 at bats with 3 runs and 3 RBI's. John O'Donnell added two hits and Stephen Richter knocked in two.

In game one, the Crawdads whipped Tri State Arsenal Grey 11-0 as Dan Heron knocked in four runs and Sean Bennett twirled a shutout. The Crawdads imploded the Arsenal in game two 12-2 as Brooks Bentz scored three runs and knocked in three as Colin Turner picked up the win. Pennsbury gave the Crawdads its toughest game in game three as the Crawdads won 4-2. Matt Regan won the game in relief of Pete Karcewski and Heron and Richter had two hits each. Richter had an amazing 6 RBI's and a 3-RBI dinger in the game four victory over Marsh Creek Brawlers 15-5 as Bentz picked up the complete game win.

Heron and John O'Donnell had nine hits each in the five game tournament and Richter added 10 RBI's.