Cherokee Trail Baseball: Welcome
Wednesday, July 17
2013 Cherokee Trail Fall Baseball
Monday, June 10
Annual Golf Tournament
Annual Cougar Golf Tournament: What a tremendous success this has been! Our 6th Annual Cherokee Trail Baseball Golf Tournament will be held Friday July 12th,2013. The tournament will be a morning Shotgun Start at Saddle Rock Golf Course. We ask that each family be responsible for securing "Two" golfers. We had 108 golfers last year and are anticipating selling all 144 spots this year. We have a Putting contest, Closest to the Pin Contest, and Longest Drive Contest where we award prizes. Food, beverages, auction, and Awards Banquet follow the tournament. Cost per "twosome" is $250. We will also need volunteers to take pictures, set up the auction, and run the contests. This is a great day that involves many extended members of the Cougar Baseball Family.
**Note: If payment is made online, there is an additional cost for PayPal fees. Questions??? Please Contact Maggie Halverson at mzhalverson@gmail.com
****Great Opportunity to earn incentive credit for selling Hole Sponsors****
CT Dugout Committee Reps
Dugout Club Chair: Amy Achtermann
Golf Committee Chair: Maggie Halverson
Concession Chair: Angie Dzuirgot
Outfield Sign Chair:
Sunday, June 23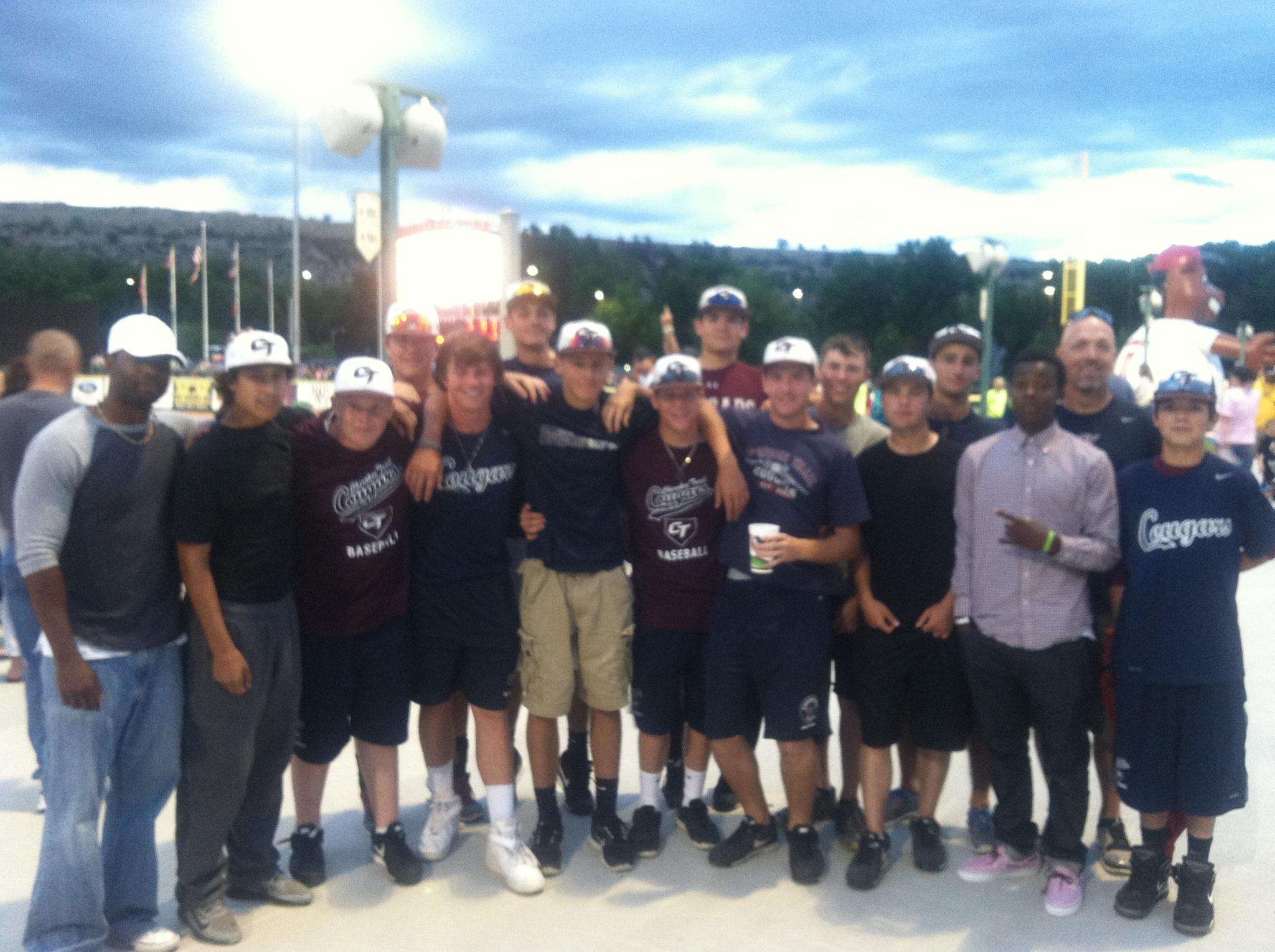 Coach Leisge and Coach Johnson with the CT Summer Varsity Team in Billings.
King Soopers Card Information
Support Cherokee Trail Baseball
Purchase a King Soopers Gift/Reward Card
Cards can be purchased for face value (Amounts from $2.50 to $500.00) Cards are reloadable at checkstand or Guest Services Cards can be used for anything, but services Your CT Baseball player will receive 5% cash back on the cards he sells Sell cards to friends, family and neighbors. Once they have a card, your job is done. They can reload the card and it continues to receive 5% back.

Email card orders to Andrea Edwards at andreajedwards@yahoo.com. I will collect orders throughout the week and place my order when I receive payment in the mail. Cards will be available for pick-up on the following day and will be sent into school for Coach Dyer to distribute to players to bring home.
Please include the following with your order:
Players Name
Email Address
Telephone number
# of cards and amount for each card(ie: 1 @ $25.00, 1 @ 100.00, 3 @ $150.00)
Name of person purchasing card
Once email order is placed, please follow up with a check made out to CT Dugout Club for the total amount. It is your responsibility to get payment for the cards you order.
Checks should be made out to CT Dugout Club and sent to:
Andrea Edwards
7324 S Kellerman Way
Aurora, CO 80016